Bucuti & Tara Beach Resort, Aruba brought home the gold – LEED Gold – once again. The Caribbean's first certified carbon-neutral hotel was just recertified as LEED Gold v4.1, the most stringent level. This comes as the United Nations' March 2023 Synthesis Report from the Intergovernmental Panel on Climate Change drastically cuts short by 10 years the timeline humanity has to avoid the 1.5 degrees Celsius global warming caused by emissions.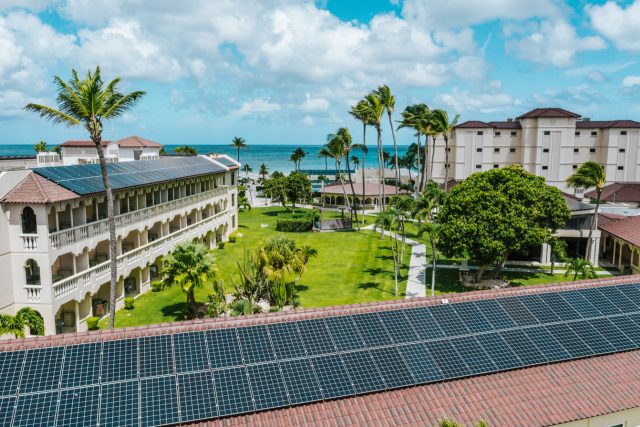 The importance of being LEED certified
LEED (Leadership in Energy and Environmental Design) is the world's most widely used green building rating system in the world. Available for virtually all building types, LEED certification provides a framework for healthy, highly efficient, and cost-saving green buildings, which offer environmental, social and governance benefits. LEED certification is a globally recognized symbol of sustainability achievement and leadership. 
 Harnessing Aruba's abundant sun tops the list
Since the resort's last LEED certification inspection and recertification, it has continued finessing its sustainability program within multiple departments. This continues to improve the guest experience for a guilt-free vacation. Improvements include: 
 ● Sun-powered hot tub. The poolside hot tub is now heated 100% by solar panels.
● Solar water heaters. Installation of new solar water heaters for the hot water system for accommodations further reduced gas consumption for heating water by more than 55%.
● Smart insulation coating and air system. The resort's interiors and exteriors have been coated with cutting-edge MIG insulation coating that keeps the warmth of the sun's rays out, and air-conditioning in. The MIG coating is more effective than insulating paint. This combined with the installation of a new, even more efficient variable refrigerant flow air-conditioning system in one wing of the resort led to a 15% reduction in energy consumption in that wing making for an additional 6% decrease in energy consumption for the entire resort.
● Quieter, cleaner groundskeeping. Upgraded some lawn equipment from gasoline to electric, which produces less noise and less pollution.
● Purified air. Conducted air quality audits to maintain the resort's high standards of indoor air quality for guests and associates. 
 The resort invested 1.5M Aruban Florins in its ongoing sustainability initiatives for the solar water heaters, new more energy-efficient air-conditioning system and MIG insulation coating. Together, the three further reduced the resort's energy consumption by another 25%. 
A standout accomplishment in the resort's LEED scoring is that Bucuti & Tara ranks 6 points above the global average for energy conservation. The resort decreased its overall total energy use and the total energy usage per occupant has also decreased by 12%+ from 2021 to 2022. Even though the pandemic was also occurring, the property still had its normal high occupancy rate of 97%+. 
New construction is easier to build to LEED certification standards versus retrofitting. Bucuti & Tara's commitment to being as sustainable as possible includes that the resort extensively retrofitted its two main buildings, which are 18 and 35 years old, to originally achieve LEED certification in 2015. 
Closing in on net zero
Bucuti & Tara holds the most eco-certifications throughout the Caribbean. It is the only hotel in the world to hold both a United Nations Global Climate Action Award and the World Travel & Tourism's Tourism for Tomorrow Climate Action Award. The property first became LEED certified in 2015 after an extensive retrofitting. Since becoming the Caribbean's first certified carbon-neutral hotel in 2018, it continues using the framework of the world's top eco-certifications such as LEED as it implements more initiatives to achieve our next goal, net zero. Ultimately, the resort is propelled to become one of the world's first carbon negative hotel. 
"Bucuti & Tara continues to elevate their understanding of sustainability both in their offering to guests and in their core hospitality operations. The concentration to maintain LEED GOLD building certification and perform in the top tier of globally recognized buildings who reduce emissions and integrate healthy indoor environments to fight climate change is no easy task," shares K. Denaye Hinds, LEED AP. "The team is dedicated to finding environmental solutions that benefit the environment and their guests." 
"Bucuti & Tara Beach Resort continues to follow the science including the renowned framework of LEED as we drive forward towards becoming one of the world's first carbon negative hotels and doing our part in the world to keep global warming 1.5°C," says Ewald Biemans, Owner/CEO of Bucuti & Tara Beach Resort, Aruba. 
The resort continues its commitment to providing every staff member a safe working environment and every guest a guilt-free vacation. It is also focused on preserving travel for generations to come.