Bucuti & Tara Beach Resort, the Caribbean's trailblazing and only certified Carbon Neutral hotel, kicked off its Earth Week festivities with an exhilarating and successful beach clean-up of the magnificent Eagle Beach on Wednesday, April 19th. This year's event witnessed an impressive turnout, with an army of 27 guests and associates from the resort, 57 enthusiastic school children and inspiring teachers, Paola Pappers and Chantal van Ruijven, from Mon Plasir Basisschool and 12 volunteers from the Aruba Airport Authority (AAA), all coming together to give back to the environment and the community through the beach clean-up.
The event started with an inspiring speech by Aruba's Prime Minister, Mrs. Evelyn Wever-Croes, emphasizing the importance of Earth Day 2023, sustainable tourism, and taking care of Aruba's beaches and environment for future generations. The participants then cleaned a 1-KM stretch of Eagle Beach, collecting 65 kilograms of debris and litter to help keep the beach pristine and marine life protected.
"We are humbled by the unwavering support and commitment shown by Aruba's Prime Minister, Ms. Evelyn Wever-Croes, the school children and teachers from Mon Plasir, Bucuti & Tara's guests and associates, and the volunteers from the Aruba Airport Authority (AAA) in making our Earth Week beach clean-up an inspiring success. We are also grateful to De Palm Tours for sponsoring the transportation for the children. At Bucuti & Tara, we have always believed that sustainability is not just a commitment, rather a way of life. Our Earth Week beach clean-up was a powerful reminder that we can make a positive impact on our planet when we come together as a community. Let us continue to work together to create a brighter, cleaner, and more sustainable future for all," Crescenzia Biemans shares on behalf of Bucuti & Tara Beach Resort.
Inspiring the next generation of environmentalists
This is the second year in a row that Mon Plasir Basisschool has joined forces with Bucuti & Tara for its Earth Week beach clean-up. As Paola Pappers, teacher at Mon Plasir, aptly puts it, "We believe it's crucial to educate our children about sustainability. They are the future, and we want to equip them with the necessary skills to create a better planet. Ending our project with a beach clean-up is an incredible experience for them because they get to be hands-on and actively contribute to the environment. It's an opportunity for them to put their learning into practice and feel empowered to make a real difference. As the saying goes, 'Jong geleerd oud gedaan!' – teach them young and they will continue to do the right thing throughout their lives. It's truly heartening to see our young generation so enthusiastic and committed to preserving our planet."
De Palm Tours' charitable arm, The Giving Palm, also teamed up with Bucuti & Tara and the students at Mon Plaisir Basisschool to support the Earth Week beach clean-up event. "As part of our commitment to giving back to the community, environmental awareness, and sustainability, The Giving Palm is proud to have provided transportation for the students participating in the beach clean-up. The Giving Palm remains committed to supporting local organizations and initiatives that align with its mission of giving back to the community and preserving the island's natural resources," Astrid Winterdal, representative of De Palm Tours, explains.
Bucuti & Tara was also thrilled to have the Aruba Airport Authority (AAA), an esteemed leader for sustainable tourism in the aviation sector, join the beach clean-up with their dedicated volunteer group Wings of Hope. "In light of our company's focus on Sustainable Development Goals (SDG) adopted by the United Nations, AAA frequently partners up with other entities/companies in projects or events that benefit the community. Tourism remains the main pillar of Aruba's economy and making sure our residents and visitors can safely make use of our beautiful beaches is of utmost importance to AAA," Angeline Flemming, AAA's Director Health, Safety and Sustainability, shares.
A Legacy of environmental stewardship
Bucuti & Tara's commitment to preserving the environment goes beyond Earth Week festivities in celebration of Earth Day For the past 30 years, every third Wednesday of the month, Bucuti & Tara has conducted a beach clean-up on Eagle Beach. Management, associates, and guests come together to give back to the community and show their appreciation for the beauty of Aruba's beaches.
Annually, approximately 500 pounds of debris are removed. These monthly clean-ups have become a beloved tradition for many guests, who enthusiastically join in the effort to keep the beach pristine and marine life protected. Bucuti & Tara's dedication to environmental protection is not just a one-time event, rather they are a way of life, and the monthly beach clean-ups are just one of the many initiatives that demonstrate the resort's commitment to sustainability.
Bucuti & Tara Beach Resort has already set the bar high with its successful Earth Week beach clean-up, and now the resort is setting its sights on the rest of the planned activities:
● Recycled Crafts Contest. Each year for Earth Week, employees tap into their imaginations to create beautiful works of art by recycling items from Bucuti & Tara. Guests serve as judges, enthralled by creativity, passion, and ingenuity.
● Nature Preserve Tree Planting. With the recent debut of The Bucuti Tara – GMC Nature Preserve in celebration of the resort's 35th anniversary, for Earth Day, 54 trees will be planted at the nature preserve. Associates, guests, and the public are invited to participate in this reforestation effort that provides clean air and serves as a carbon sink for the area.
● Movies Under the Stars. The resort's biweekly tradition of inviting guests to snuggle on loungers on the beach and watch a movie outside will commemorate Earth Day with special feature, A Life on Our Planet. Broadcaster, writer, and naturalist Sir David Attenborough shares this inspiring piece that is dedicated to caring for one other by caring for the planet.
View more information on Bucuti and Tara Beach Resort.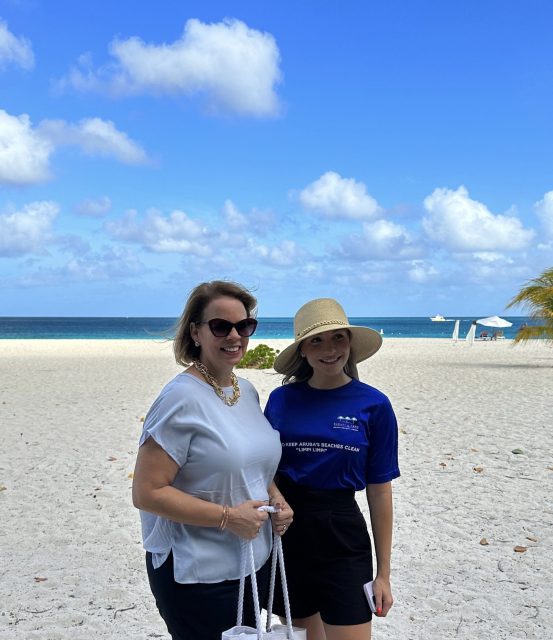 Article written by Bucuti and Tara Beach Resort