L.G. Smith's Steak & Chop House located inside Renaissance Wind Creek Aruba Resort today announced the launch of their new Coravin wine preservation system. Rated the No. 1 steakhouse in Aruba on TripAdvisor, L.G. Smith's has a longstanding reputation of providing guests and locals alike with the sophistication and elevated culinary experience of the world's most discerning steakhouse restaurants, including an award-winning wine list by Wine Spectator. With the introduction of this new system, the renowned steakhouse will now add the ability to serve 120 wines by the glass to their extensive menu of elevated culinary offerings and interactive cocktail experiences.
"We've built a truly unique, entertaining and most importantly, a delicious dining experience unlike anything else in Aruba and arguably most steakhouses around the world," said Heidi Michiels, Restaurant Manager and Junior Sommelier at L.G. Smith's Steak & Chop House. "The introduction of the Coravin wine preservation system allows us to go a step further. We were already offering an elaborate and sought-after wine list, but now we can offer the opportunity to taste a wide variety of wines in one sitting."
The Coravin wine preservation system extends the life of a bottle after a single glass service through the injection of inert gas allowing the venue and taste testers to maximize the wine tasting experience that was once limited by price and accessibility. At L.G. Smith's, prices range from $14-$58 per glass and allow guests to curate their individual wine tasting. Whether sticking to one favorite or testing the menu, wine lovers can try everything from Caves D'Esclans 'Whispering Angel' or a glass of Chateau Montelena Chardonnay before moving on to a Barolo or a Bordeaux.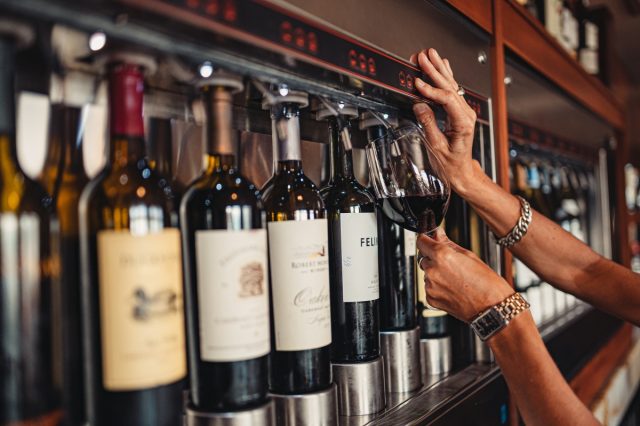 "Our mission is and always has been to craft great experiences for our guests at Renaissance Wind Creek Aruba Resort," said Paul Gielen, General Manager at Renaissance Wind Creek Aruba Resort. "L.G. Smith's has been at the forefront of that mission, allowing us a stage to be creative and test the boundaries of common gastronomy, wine, and spirits. The new Coravin system will add yet another opportunity to provide our guests with an experience that can't be replicated anywhere else in Aruba."
From Coravin to craft cocktails, L.G. Smith's mixologists have created signature cocktails for spirits enthusiasts that embody the elements: Water, Fire, Smoke, Earth and Mist. Each cocktail is carefully crafted to perfection and incorporates fresh organic juices, local Aruban aloe; premium whiskey, bourbon, gin, port and cognac; and/or herbs such as lavender, sage and sweet bay leaf, among other ingredients. The unexpected presentation of each drink is what takes the cocktails to the next level, incorporating all the trends of modern mixology and is taken to new heights with the restaurant's Cocktail Trolley available with our mixologist on hand to provide the perfect craft cocktail tableside ensuring our guests' satisfaction and delight.
Both L.G. Smith's wine list and craft cocktail menus have been curated to showcase the sophisticated cuisine that often steals the show. Known for its USDA-inspected, aged-prime steaks and house specialties, including rack of lamb and fresh local seafood, L.G. Smith's features local flavors and international ingredients that enhance each dish taking their menu beyond the standard steakhouse selection. 
L.G. Smith's Steak and Chop House is open nightly for dinner from 6 pm to 11 pm. Guests interested in making a reservation can do so here.
View more information on Renaissance Aruba's L.G. Smith's Steak and Chop House.
Article written by Renaissance Wind Creek Aruba Resort