Holiday Inn Aruba initiated their 50th anniversary celebration with the "Run for Gold" 5K and 10K event this past Sunday. Hotel employees, locals and tourists were amongst the 194 participants who joined in for the fit celebration early morning.
The Holiday Inn organizing committee together with Aruba Triathlon Association guided the entire walk and run starting at 6 AM. The participants were divided into two separate groups; one for the 10K runners and the other for the 5K power walkers completed their race starting from the Holiday Inn hotel towards the Fisherman's Hut and Tierra del Sol then back to the finish line at the hotel.
"We are extremely happy that we can officially initiate our 50-year celebration with this wonderful walk and run and have our locals and tourist celebrate together with us. But more so we're proud we can also contribute to the Aruban community with such an important contribution to Fundacion Respetami", expressed the General Manager of the Holiday Inn Aruba, Mr. Kevin Anderson.
What made this first event of the golden celebration so special, was the participation of locals and tourists alike which also resulted into a wonderful donation to "Fundacion Respetami" who is one of the island's well-known NGO's that focuses on child and domestic abuse.
For the Holiday Inn management and staff this lustrum represents a perfect occasion to celebrate not only with hotel employees but also with locals, express their gratitude for the support throughout these 50 years and to give back to the Aruban community.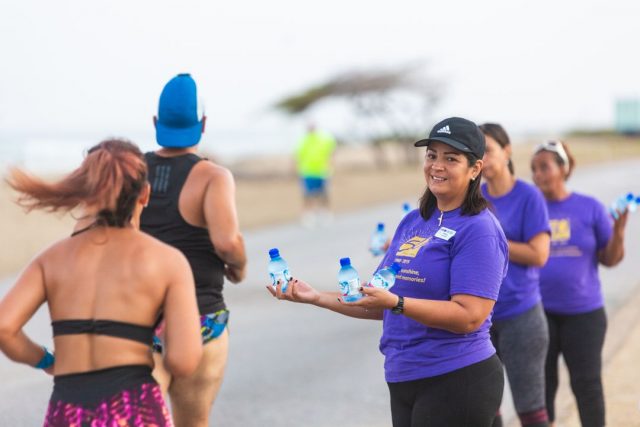 "We are really happy, excited and very proud to be celebrating 50 years, but we're also very proud of the fact that 'Holiday Inn' has maintained its name and flag throughout the years and has remained 'Holiday Inn' since the very first day it was inaugurated on the island", said Lila Fernandez training manager HR and coordinator of the walk and run event.
The "Run for Gold" walk and run was completed successfully by everyone and all the participants in the 5K category also participated in a raffle with great prizes such as weekend stays, dinner vouchers and breakfast vouchers. Jude Pieters, Reginald Williams, Jrvin Nicolaas, Glenn Van Nes, Gemma Semeleer and Natasha Shou were amongst the prize winners of the 5K category.
The winners in the 10K female category were, Yuli Tineo finishing in 1st place, Sonja Schooneveld in 2nd place and Famory Perez in 3rd place. The winning runners of the 10K male category were Alexander Hodge who finished his race in 1st place, followed by Calvin Gama in 2nd place and Gabriel Prato in 3rd place.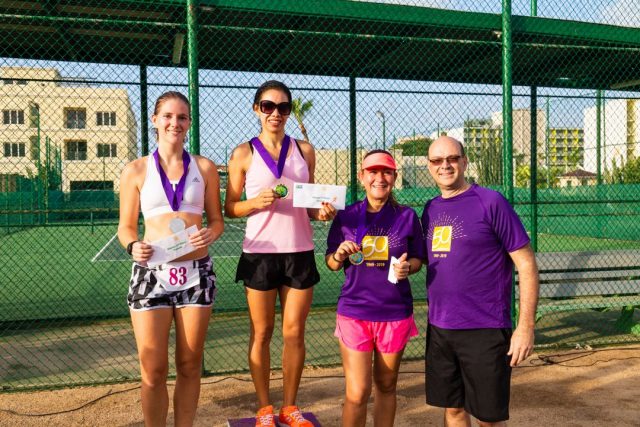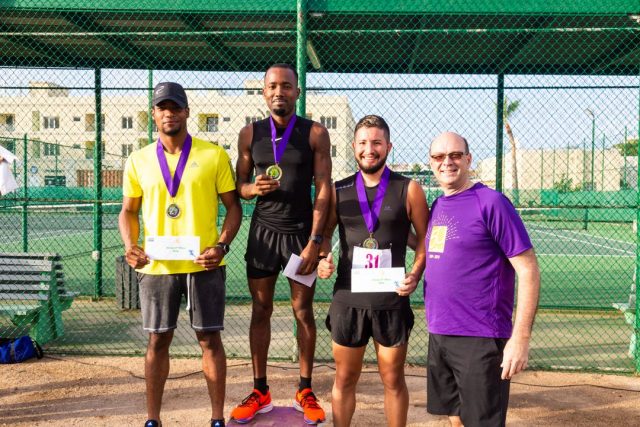 The Holiday Inn "Run for Gold" organizing committee thanks everyone for their active participation and also invites the entire local community to be pending for all the other upcoming events related to the hotels 50th anniversary.
All proceeds from the walk and run were donated to Fundacion Respetami.
For more information and to see pictures of the "Run for Gold" walk and run event visit: https://www.facebook.com/HolidayInnResortAruba/
*Article written by Holiday Inn Resort Aruba
*Photos by Holiday Inn Resort Aruba