The Hilton Aruba Caribbean Resort & Casino invited members of the media, for an exclusive wellness journey, recently, featuring treatments from eforea spa followed by yoga on the beach, paired with a sparkling sunset.
The marketing team totally transformed an area of the ballroom into a Balinese spa, with bamboo beams and white gauze curtain-panels, and members of the media were asked to travel from station to station, for sample treatments, starting with a hand cleansing ritual, through a hand-massage, HyperVolt percussion treatment, head & scalp rub, Nuface therapy, Sound Bowls and Reiki energy healing, concluding the experience with the balancing of chakras by famed yoga master, Maria Pucci.
Invitees were later greeted on the beach by yoga teacher Vicky Lovera, for a guided meditation and wrapped up the extraordinary afternoon by sitting in a half circle on baby blue Adirondack chairs, enjoying lightly seared tuna on skewers, live oysters on the half shell, and ceviche in a cactus bowl. Fantastic light food, over bottomless flutes of bubbly.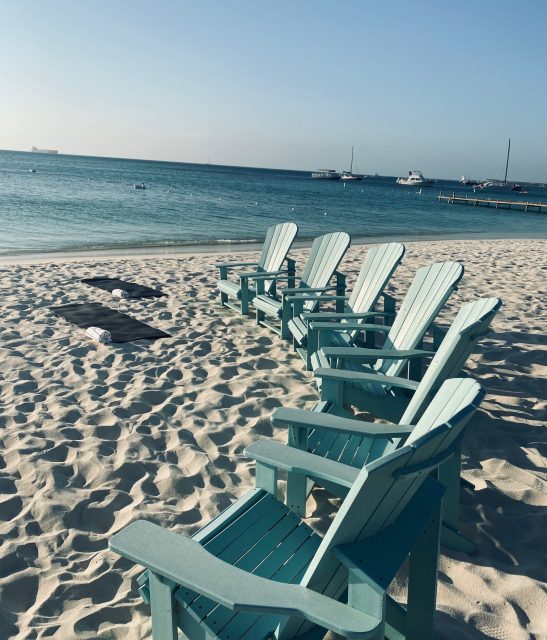 The sunset that day, did not disappoint, and was as expected spectacular.
Among treatments sampled by members of the media, the hand cleansing ritual. The spa now includes it with most treatments, using local, famed Aruba Aloe products, to sanitize, scrub, and hydrate hands as a welcome ritual. A hand massage followed, with dermatologist-recommended Aruba Aloe and Babor beauty products, infused with potent natural ingredients.
Also introduced, the HyperVolt percussion treatment, powered by award winning Quiet Glide™ technology, one of the most popular massage options at eforea spa, kneading muscle cramps out, promoting circulation, and relieving tension, clients welcome it to successfully alleviate sore areas, and soothe tightness.
Members of the media enjoyed a relaxing Head & Scalp rub, and rejuvenating Nuface therapy, including NuFace Eye-Lifter and NuFace Wrinkle Reducer, using soft wave micro-currents to deliver subtle stimulation, and provide the face with a non-invasive solution to improved appearance.
The Sound Bowls and Reiki Energy Healing, a unique and exclusive feature of eforea spa, received excellent reviews. The Tibetan bowl sound heals and enchants, it is used to reduce stress and calm minds into a meditative state. This innovative therapy restores a deep sense of well-being, and clears bad energy waves.
Yoga master Maria Pucci then met the invitees for a Chakra meditation practice, balancing energy center, and contributing positively to a feeling of calm and harmony.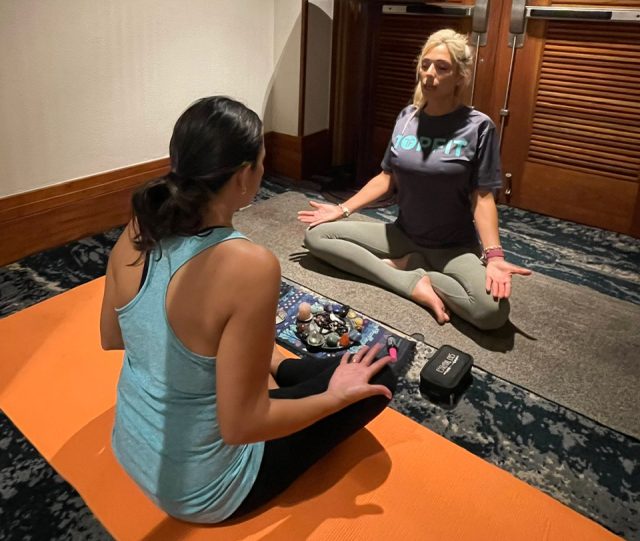 Almost at the end of the day, on the beach, each of the media members posed on a yoga mat facing the ocean, for a series of stretches leading to Shavasana, total relaxation, with yoga teacher Vicky Lovera.
While maintaining its core business of quality face, hand, and body treatments, eforea spa considers the introduction of new services an important aspect of its business, striving to practically implement novel ideas, that result in an improved spa visit for its many guests, locals and visitors.
The opening hours of eforea spa are Monday to Saturday, 10 am – 6 pm, Sunday 9 am – 5 pm.
View more information on Hilton Aruba's eforea spa or make a reservation.
Article written by Hilton Aruba Caribbean Resort & Casino