Hilton Aruba is thrilled to announce the promotion of Nayla Geerman to Sales Manager. Nayla began her career at the resort as an intern in the Sales & Marketing department, assisting the Weddings & Catering team. In March 2019, Nayla joined the team full-time as the Events Coordinator.
Nayla explains she was destined to work at the resort, where she started her career during her university years, and assisted in the Sales and Marketing department. She must have left an excellent impression because she was later called back to help the Department of Human Resources.
Sales and Marketing, knocked on her door again in August 2018, and Nayla was eventually asked to stay on as Events Coordinator, on a temporary basis.
She became a full-time Team Member on March 8, 2019, and having proved herself on all fronts was just promoted to Sales Manager, effective October 1st, 2021.
In her capacity as Event Coordinator, she worked hand in hand with legendary Bridal Specialist Lisa Dammerman, and together they landed the WeddingWire Couples' Choice Awards®, an accolade earned annually by top wedding professionals.
During the 2020 pandemic, and subsequent lock down, Nayla continued her work, rebooking all 2020 postponed events, including wedding, accommodating all special requests. The resort opened successfully in July 2020 and the first wedding unfolded that month.
For 2022 and 2023, the resort already has many weddings and events booked, and Nayla reports that Sales in general, is one of her strengths, and all indications point at exciting two next years.
A graduate of the University of Aruba, Nayla spent almost 10 years working in the Netherlands. She has one daughter, 8, her pride and joy, and she is looking forward to organizing her First Communion event. Wedding? No, not so fast.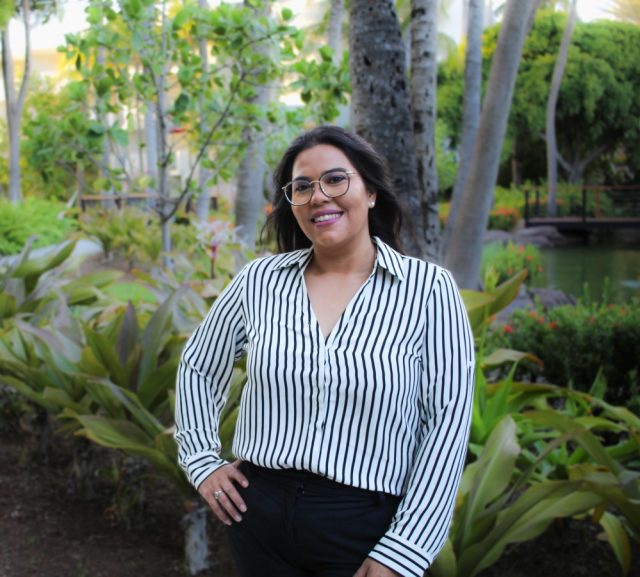 View more information on Hilton Aruba Caribbean Resort & Casino.
Article written by Hilton Aruba Caribbean Resort & Casino