Hilton Aruba Caribbean Resort & Casino invited its team members to participate in the official Mi Compromiso, the Aruba certification program, given by the Aruba Excellence Foundation, designed to make those working in the island's hospitality sector into true Aruban ambassadors having reached exceptional knowledge of the island, paired with a commitment to provide best service to visitors, with Zjeito.
Mi Compromiso cu Aruba, meaning my commitment or promise to Aruba, is a government sponsored educational program targeting all persons working in tourism.
The program enhances participants' knowledge of the island's tourist product, with a focus on excellence in service and the sustainability of the island's environment.
Designed by the Ministry of Tourism, it is an investment in people, improving the level of professionalism and upgrading knowledge of the island.
Hilton Aruba Caribbean Resort & Casino hosted a number of rounds of the certification program, scheduling many employees. Together they explored the most important chapters of Aruba's history and the development of the tourism industry.
They also reviewed natural resources, culture, attractions, service standards, and awareness of their own personal development, along with the official program curriculum which included Tourism, Sustainability, History of Aruba, Excellent Service, Excellent Communication and Winning Attitude.
Most importantly, the program revived an old Papiamento concept Zjeito, the secret of Aruba's cordiality and friendliness. Together, the forum explored the deep meaning of the local Zjeito, and its manifestation in the island's way of life and how it is transmitted to visitors.
Pictured here, the happy graduates smiling with Zjeito, and showing off their certificates of course completion.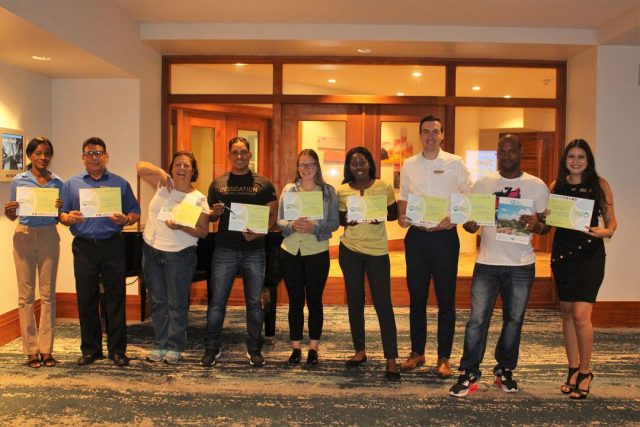 View more information on Hilton Aruba Caribbean Resort & Casino. 
Article written by Hilton Aruba Caribbean Resort & Casino