eforea Spa at Hilton Aruba Caribbean Resort & Casino held an exclusive press day event, to thank the local members of the media for their hard work and dedication. Members of the press were welcomed upon arrival in the spa reception area with a cool face towel and a refreshing Aqua Aloe cocktail. Following some networking and conversations with Spa Manager Lisa Dammerman, Food & Beverage Director JC LeVarrat and Marketing Manager Joanne Dirksz.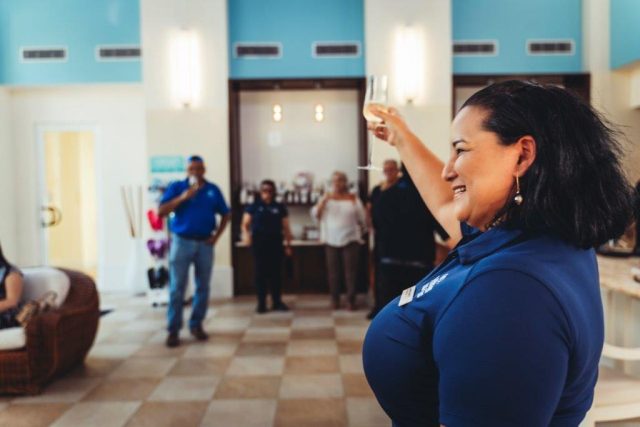 Joanne thanked members of the press for their long-time collaboration with the resort and support of its PR and marketing strategy. They were then escorted into individual treatment rooms where they enjoyed a hand cleansing ritual followed by a full body massage. This traditional full-body massage relieves muscular aches and pains combined with the powerful soothing local Aruba Aloe Vera, a perfect treatment to soothe the tired.
The popular oceanfront Palm Beach spa location, with ten treatment rooms, one outdoor cabana, sauna, steam room, cold plunge pool and nicely appointed, private locker rooms, made good on its promise to delight and relax its ordinarily busy guests.
As their treatment concluded, press members congregated for cocktails and hors d'oeuvres in the relaxation pavilion with a black beach-stone garden, for networking and conversations with Marketing Manager Joanne Dirksz. Press members were also invited to join the Retrograde Ritual on eforea beach, at sunset, to further help alleviate their mood and help lift their spirit just before the weekend.
The Hilton Aruba Caribbean Resort & Casino has always maintained close ties with the local media, and fostered open and engaged two-way communications.
View more information on Hilton Aruba Caribbean Resort & Casino.
*Article written by Hilton Aruba Caribbean Resort & Casino