Palm Beach – What happens when 1 hotel grows to 5,600+ hotels over a century, has employed nearly 10 million team members in 113 countries, having generated $1 trillion in economic impact, and has called more than 3 billion people our guests? Positive. World-altering. Impact. This is the Hilton Effect.
Hilton Worldwide Holdings Inc. will be celebrating its 100-year anniversary on May 31st 2019, concluding a century of innovation, hospitality, and revolutionized thinking.
It all started in 1919, when Conrad Hilton purchased his first hotel, the Mobley in Cisco, Texas. His vision was to fill the world with the light and warmth of hospitality. As he embarked on the journey to make his dream a reality, he couldn't have imagined how his dream would take off and evolve into so many directions, let alone have such a social and economic impact on billions of people in the past century. That phenomenon of how Hilton impacted the world is being described as the Hilton Effect.
The Hilton Effect is the positive, world-altering impact that Hilton has had, and continues to have, on billions of lives and thousands of communities around the globe – pioneering new travel markets and bringing people and cultures together.
To commemorate the important date, Hilton worldwide Holdings Inc. hired business authors with backgrounds in social science to examine how the world was changed through the remarkable Hilton Effect. The team examined three stake-holder segments of the market, namely: the guests, team members and communities.
Their findings confirmed that the Hilton Effect on guests is considerable, and had an enormous impact in making travel easy and safe. The chain has continuously pursued innovations, introducing many firsts, from air conditioning to a mobile-friendly hotel room, helping to shape modern business travel, innovate guest experiences, and pay close attention to the comfort and needs of female travelers and families. The Hilton Effect on team members can be measured by the entrepreneurial spirit fostered in team members and the wide-ranging career opportunities they enjoy, the kids they send to college, the homes they buy and the culture of job security, rewards for merit and the ability to introduce innovations, from every corner of the company. The Hilton Effect on communities and economies manifests itself in the history, economy and infrastructure, of practically everywhere, with its constant delivery of attractive work places, revitalizing commerce, and helping communities thrive.
"I think the world is a better place because Hilton was born into it one hundred years ago," said Christopher J. Nassetta, president and CEO of Hilton. "And if we continue to do our job, the world will be a better place because Hilton is in it for the next one hundred years."
Today, Hilton Worldwide Holdings Inc. is a leading global hospitality company, with a portfolio of 17 world-class brands comprising more than 5,600 properties in 113 countries and territories. Dedicated to fulfilling its mission to be the world's most hospitable company, Hilton earned a spot on the 2018 world's best workplaces list, and has welcomed more than 3 billion guests in its nearly 100-year history.
As we are nearing Hilton's 100th anniversary on May 31st 2019, we look back at a few of "Hilton's firsts":
1927: Hilton opens its first hotel (the Waco Hilton) with cold running water and air-conditioning in the public rooms.
1947: The Roosevelt Hilton in New York City becomes the first hotel in the world to install televisions in guest rooms.
1948: Hilton becomes the first hotel company to introduce a multi-hotel reservations system, which is the beginning of the modern day reservation system.
1950: Hilton creates its first special amenity for female travelers – a sewing kit and booklet with helpful names and telephone numbers.
1957: Hilton offers its first brand-wide direct-dial telephone service.
1959: Hilton opens its first airport hotel (San Francisco Airport Hilton) and pioneers the airport hotel concept. Business travelers everywhere rejoice.
1973: Hilton develops the first centralized reservation service using computer technology, a breakthrough in customer service.
1987: Hilton introduces its guest loyalty program, Hilton Honors.
2008: Hilton Vancouver Washington makes history as the first hotel to be both Leadership in Energy and Environmental Design (LEED) and Green Seal certified.
2010: Less than five months after its October 21, 2010 opening at Hilton Short Hills, eforea spa operates in China, Thailand and the United States.
2011: Hilton Hotels and Hilton Resorts Launches Hilton Huanying. Inspired by the Chinese word for "welcome" (Hilton Huanying), the program is tailored for Chinese travelers abroad.
2013: Hilton launches new dining concept, Herb N' Kitchen worldwide.
2014: First hotel brand to live stream a concert on YouTube (Hilton Times Square).
2016: Hilton expands its footprint to 100 countries and territories around the world with the opening of Hilton N'Djamena in Chad.
2017: Hilton Introduced a ground-breaking concept –Connected Room- the first truly mobile-centric hotel room that let guest personalize and control their stays from the Hilton Honors smartphone app
About Hilton Aruba Caribbean Resort & Casino
Located on the largest beachfront stretch of Palm Beach and less than 10 miles from the capital city of Oranjestad, Hilton Aruba Caribbean Resort & Casino welcomes guests to a premiere resort experience. Featuring iconic architecture (the resort was designed by Morris Lapidus, renowned architect of some of Miami's most famous hotels, as well at The Condado Plaza Hilton and DoubleTree by Hilton Hotel Metropolitan – New York City), unmatched beaches, enchanting gardens, expansive pool complex, kids club, watersports and dive center, world-class eforea Spa, on-site casino and culinary choices for taste buds of all varieties, this resort offers something for everyone.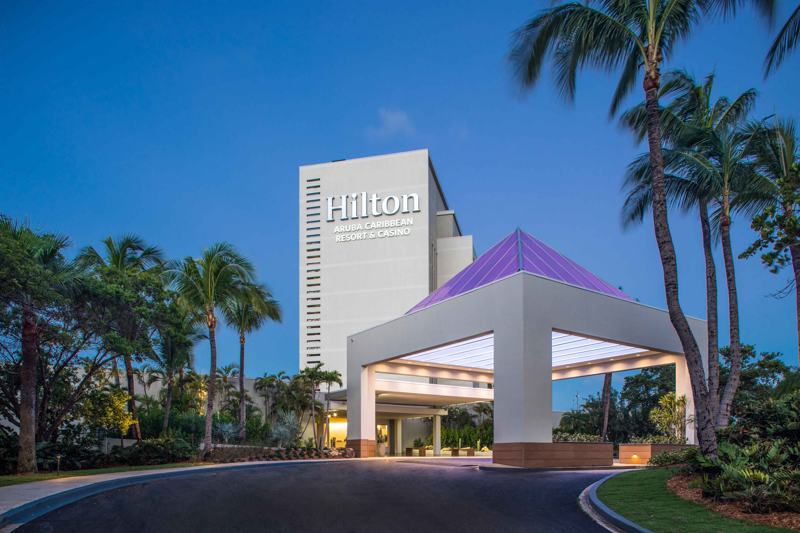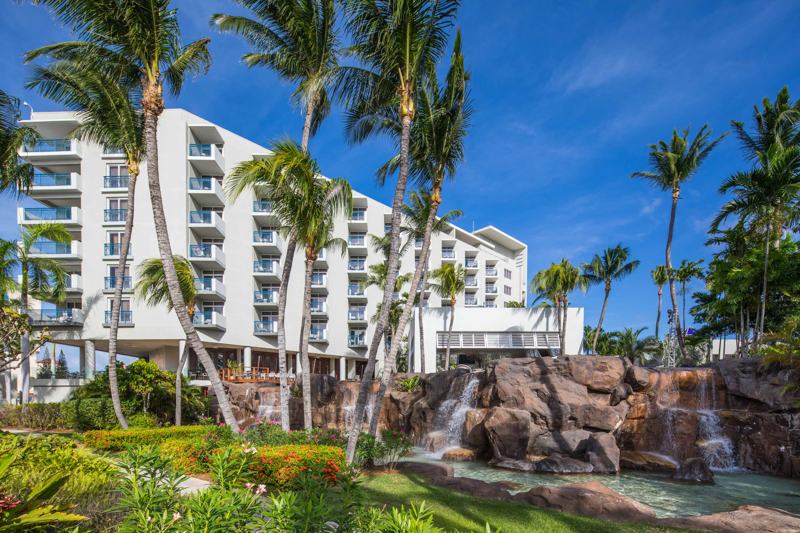 *Photos by Hilton Aruba Caribbean Resort & Casino