Director of Front Services Nelson Winklaar started working at the Aruba Caribbean Resort & Casino in 2012. He was promoted to Director of Front Services in 2017, and won the coveted Manager of the Year award in 2018.
Wiklaar and his fellow team members at the Front Service Department are the ones entrusted with making that first impression on arriving guests. Starting with the team's bellmen, standing at the resort's entrance ready to assist guests with their luggage and directing them to the check-in area, to the smiling faces of the front office agents who then check them in, and the concierges on the Palm Beach Club level who further enhance guests' experience.
For Winklaar, the first and last impressions are the ones that count the most, and he further explains that much of the guests' vacation experience relies on his teams' efficient and timely collaboration with each other, and other hotel departments.
Admittedly, Winklaar shares that there can be pressure at times, especially since his team aims to please all guests. With a resort running a high occupancy year round, team members are obliged to think fast and are empowered to handle all challenges that come their way, while still promoting Hilton Honors membership, the restaurants, and Aruba in general.
"What I appreciate most," says Winklaar, "is the opportunity to teach and guide my multi-tasking team members, and have the sense of shared satisfaction when we meet our department goals."
Winklaar, a university hospitality graduate, worked at several other properties on Aruba before being recruited by Hilton Aruba Caribbean Resort & Casino, and he appreciates the local touch that is so prevalent in the resort culture, the most.
"That local feel", he says, "translates into the guest experience", and while Hilton International was named the #1 company to work for in the U.S., earning the top spot on the prestigious Fortune list in its 100th year, the Aruba property, now in its 60th year, also provides team members a place where they can grow and thrive, and interact with like-minded guests, looking for that home-away-from-home involvement and friendship.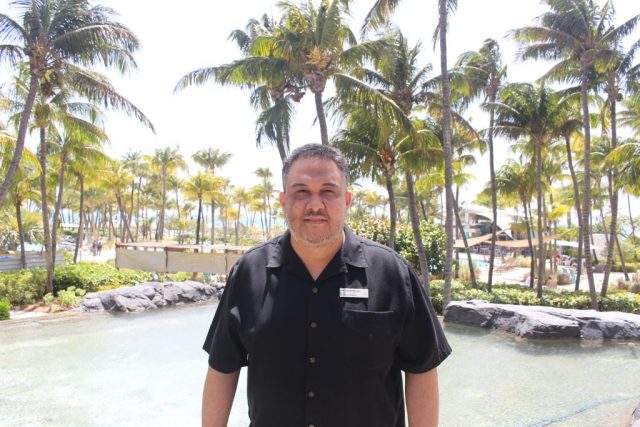 Thank you Winklaar for your hard work and dedication to your team. Your leadership style of helping your team develop and perform as highly as possible has a deep and lasting impact on your department's performance and the resort. Enjoy the compliments and keep them coming.
View more information on Hilton Aruba Caribbean Resort & Casino.
Article written by Hilton Aruba Caribbean Resort & Casino