As is the custom, on the 1st night of Hanukkah, the Jewish Festival of Lights, locals and visitors, members of the Jewish faith joined together at the Hilton Aruba Caribbean Resort & Casino for an informal, family-style lighting of the resort's custom-made khanukiyah.
The honor to conduct the candle lighting ceremony was given to Rabbi Daniel Kipper, of Beth Israel Synagogue in Oranjestad. He congratulated guests on the occasion of the holiday commencement while guest guitarist Ryan Maduro, accompanied the ceremony and the enthusiastic sing-along.
The resort enjoyed a great event turnout, and the prepared traditional Hanukkah treats, were met with animated approval: Latkes, warm potato pancakes with a dollop of apple sauce, or sour cream, and round donuts, dusted with powder sugar and stuffed with jelly.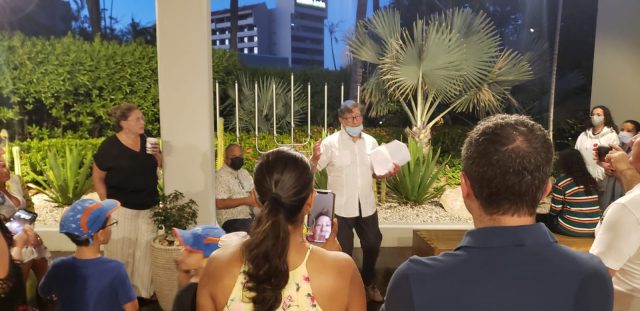 View more information on Hilton Aruba Caribbean Resort & Casino.
Article written by Hilton Aruba Caribbean Resort & Casino