More than 100 political world leaders, Queen Elizabeth and tens of thousands of negotiators, government representatives, businesses and citizens will be in attendance at COP26 for 12 days of climate discussions and negotiations, deemed the world's most significant summit to date on climate change.
Aruba in the Global Spotlight
Being the only hotel certified Carbon Neutral in the Caribbean, and with a replicable model believed to have the potential for significant impact due to the large number of hospitality businesses around the globe, the UN awarded the coveted Climate Action Award to Aruba's Bucuti & Tara Beach Resort in 2020.  Ewald Biemans has therefore been invited to present his success to the conference attendees and will be honored during a ceremony on November 9th at COP26, Glasgow, UK.
What is COP26?
For nearly three decades the UN has been bringing together almost every country on earth for global climate summits – called COPs – which stands for 'Conference of the Parties'. In that time climate change has gone from being a lesser-known issue to a global priority.  COP26 will take place from Oct. 31st – Nov. 12th in Glasgow, Scotland and is the United Nation's 26th conference on climate change.
Why is COP26 more critical than ever?
Leading climate scientists worldwide see evidence and have been warning that irreversible changes in Earth's climate systems are underway and have us in a state of planetary emergency. Global heating conditions with a global temperature rise of 9 degrees Farenheit, sea levels rising 20 to 30 feet would result in the complete loss of the world's coral reefs, the Amazon forest, and which will cause coastal areas such as the Eastern Seaboard, large portions of Asia and all Caribbean islands to be underwater, displacing millions of people who will become climate refugees as large parts of the planet will be uninhabitable. COP26 is in response to this global emergency to make a plan with a goal to limit warming to 2.7 degrees Fahrenheit (1.5 degrees Celsius).
How it began:
It has been 29 years since the world-famous 1992 United Nations Rio de Janeiro Earth Summit and Ewald Biemans, Owner/CEO of Bucuti & Tara Beach Resort is still as inspired as the day he heard the call to action given to the world at that conference. An avid news follower, Biemans read and watched all the coverage he could find as the pivotal 1992 gathering took place. Describing it as "a wake-up call," the conference accelerated his early efforts to what is now the Caribbean's most eco-awarded and first carbon-neutral hotel by 2018 and ultimately, a United Nations honoree.
During the 1992 summit, scientists painted the picture of what our world would look like if we did not reduce our carbon emissions. Left unchecked, global warming would cause sea levels to rise to the point where Aruba may no longer have beaches. The science was clear and Biemans began to search out and implement solutions.
Twenty-eight years later, Bucuti & Tara became the first hotel in United Nations' history to win the coveted Global UN 2020 Climate Action Award for Climate Neutral Now. This year, Biemans has been invited to attend as a speaker at UN's 26th annual climate change conference, Conference of the Parties, or COP26, November 1-12, 2021 in Glasgow, Scotland. Queen Elizabeth and over 100 political world leaders will be in attendance with COP26 deemed the world's most significant summit on climate change in the race to keep a temperature rise limit of 1.5 degrees within reach cited by the 2015 Paris Agreement with just nine years left before ecological consequences would be catastrophic and irreversible.
Learn more about Bucuti & Tara Beach Resort.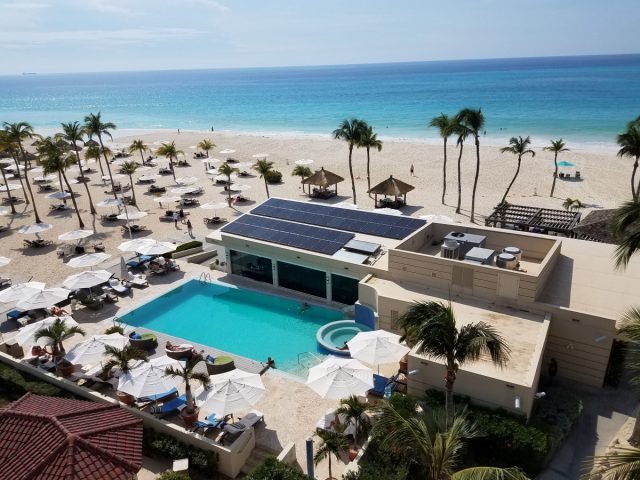 Article written by Bucuti & Tara Beach Resort