Boardwalk Boutique Hotel, the recently revamped 46-room boutique property in Palm Beach, Aruba has identified multiple new workstations for its guests that provide the perfect background for online team calls and meetings. Hotel guests that prefer working outdoors and want to stay connected to their Caribbean surroundings can now choose from poolside or beachside open-air workstations with extended desk facilities. Both locations provide the most tropical live backgrounds that can't beat the standard pictures provided on online meeting platforms.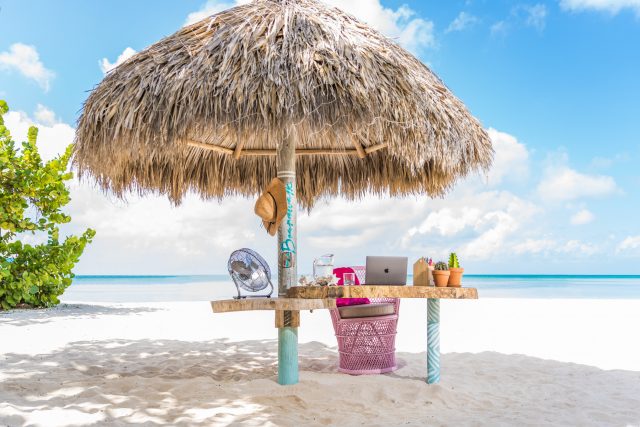 Two outdoor workstations will be available on a first-come, first-serve basis, and are free of charge. To not disturb the vacation experience of other guests on the beach and at the pool area, conference calls at these outdoor stations are only allowed when using a headset. The official launch of the open-air workstations this week was supported by a tongue-in-cheek social media campaign highlighting the unique, scenic backgrounds of both workstations. The campaign is live @boardwalkhotelaruba on Facebook and Instagram, and can be viewed here:
Since Boardwalk's introduction of longer stay deals and packages, along with the new trend of working remotely, the boutique property had already added work-related amenities focused on the indoor. "We create a workstation in our spacious 750 square foot casitas upon request, along with a computer screen, keyboard, mouse, and extra table addition. Recently we also upgraded the overall internet speed and wifi connectivity on property, ideal to quickly get those work calls and emails done", comments hotel owner Stephanie Rooijakkers.
"Our guests typically come to Boardwalk to enjoy the tranquility on our lush property, the spacious casitas with exclusive extras like a private patio with barbecue and hammock, a full kitchen, even a private plunge pool or outdoor shower— things that in the new reality add extra value when searching for a healthy and safe vacation environment", says co-owner Kimberly Rooijakkers.
"The new outdoor workstations we've created add to that new reality and integrate Aruba's beautiful surroundings and nature with our guests needs to get some work done while enjoying their stay in Aruba", Kimberly adds.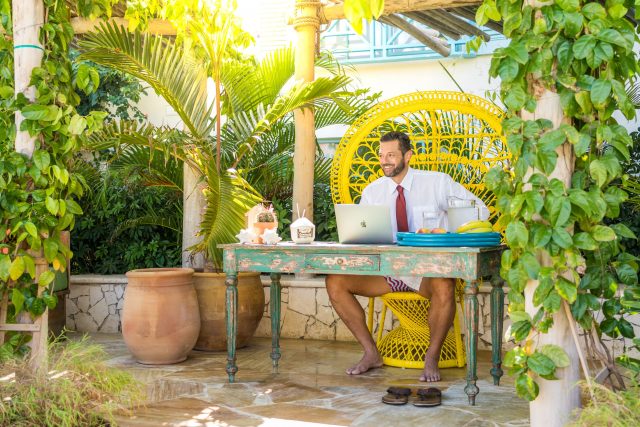 Hotel reservations may be canceled up to 24 hours in advance, penalty-free. For guests planning to stay for a longer period of time, Boardwalk offers long stay specials with discounted rates starting at $250 a night for stays of 21 days or more.
View more information on Boardwalk Boutique Hotel Aruba.
Article written by Boardwalk Boutique Hotel Aruba