Hooiberg
Hooiberg - which translates to Haystack - is a volcanic formation which 165 meters above sea level, and is located at the approximate center of Aruba. Although Hooiberg seems like the highest point of the island it is in fact the second highest. Jamanota, a hill located in the Arikok National Park stands at 189 meters above sea level, and is the true highest point of Aruba.
Although the exact origin of its name is not known, it is believed that Hooiberg came by its name due to its resemblance to a "hooiberg" the Dutch word for haystack.
One of the contributing factors to Hooiberg's popularity, and the often mistaken belief that it is the highest point, is the fact that it stands out as a solitary mountain surrounded by a flat landscape.
A depiction of Hooiberg can be seen on the Aruban Coat of Arms. It symbolizes Aruba rising out of the sea.
Rock Composition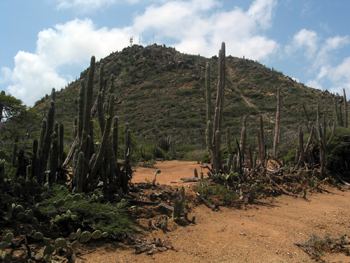 Geologists have discovered that the Hooiberg is made up of a distinctive variety of quartz diorite only found on Aruba. Due to the fact that Hooiberg is made up of this distinctive rock, this variety was named Hooibergiet.
The Famous Steps
In 1951, Mr. Eduardo Tromp built a staircase on the Hooiberg consisting of 900 steps.
Due to erosion and an imminent danger to anyone using them, in 1990 after 35 years, the government decided to renovate of the steps. By this point almost all of the steps had been worn away. The renovation project was completed in 1991. The stage has been somewhat extended at the foot of the mountain and the steps are now wider and longer. There are now approximately 587 steps. A gazebo has been built halfway up the stairs for as a rest stop. It is also an excellent spot to relax and enjoy of the view.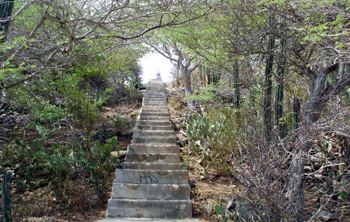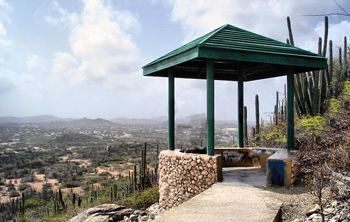 Visitors
Hooiberg is visited by tourists and locals on a daily basis who come to enjoy the beautiful view, or get a nice workout. You will often see many athletes working out on the stairs.
Top of the Mountain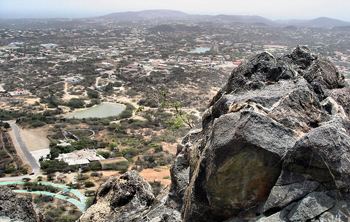 At the top of the mountain you will find two small buildings and some radio antennas. One of buildings belongs to a radio station and the other to the local telephone company SETAR. All cellular phone signals are sent through SETAR building as well as the radio or television broadcasts from other countries.
Try to reach the top of Hooiberg and you will have a nice view over the island and the sea. On clear days you can even see Venezuela to the south.
Hooiberg is covered with cacti, divi-divi trees and some Kibrahacha trees that will flourish and decorate the mountain with beautiful yellow flowers after a heavy rainfall.