In need of a romantic getaway? Elevate your Aruba vacation experience with the perfect accommodation for you and your other half.
Browse our list of the most romantic places to stay in Aruba and enjoy a dreamy and love-filled vacation for two!
Bucuti & Tara Beach Resort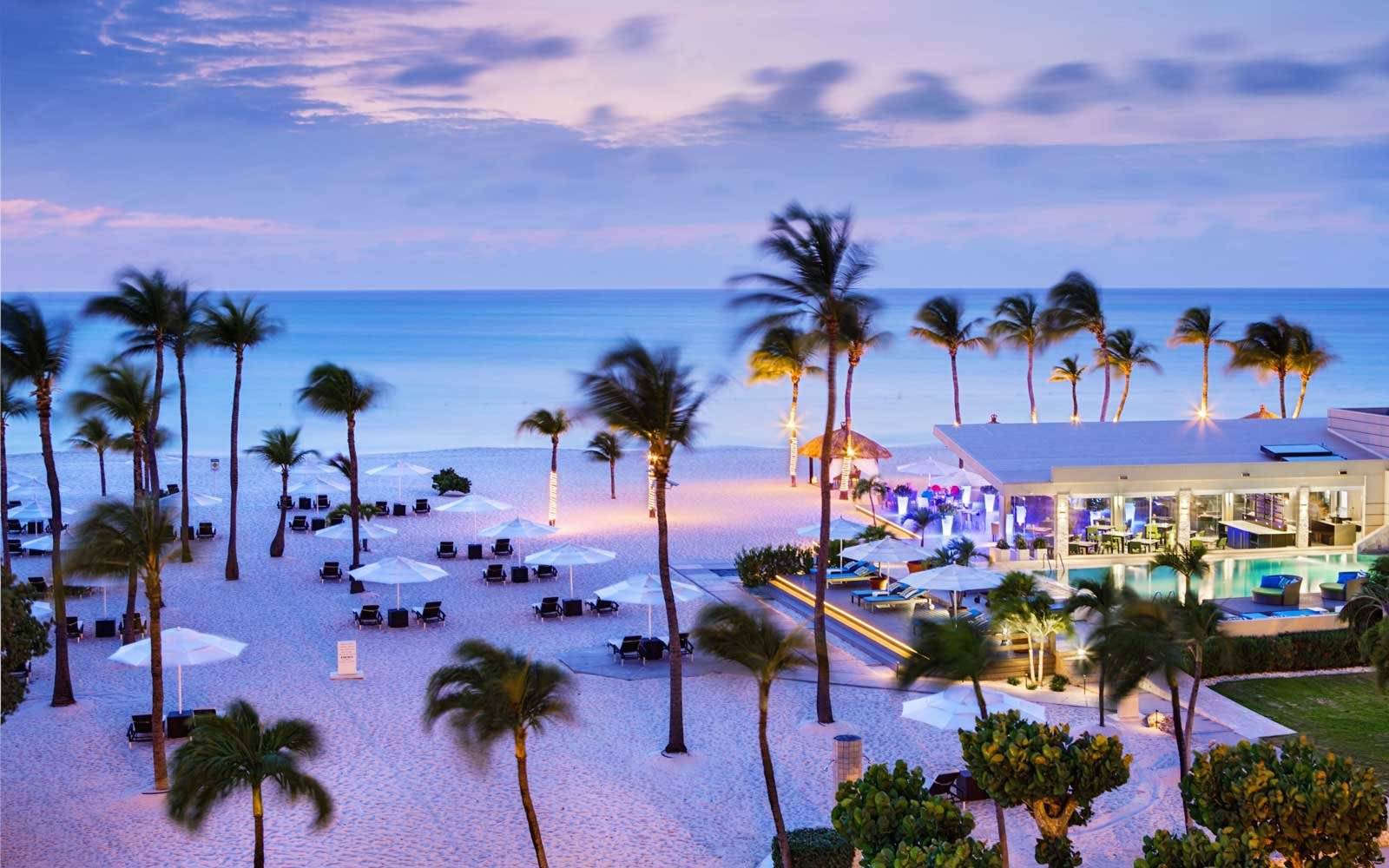 It's not a coincidence we started off our list with Bucuti & Tara, as they have been named among the best and most romantic hotels in the world by TripAdvisor (and countless other leading travel companies) time and time again. This adults-only property is simply immaculate from its service, quiet and relaxing ambiance, dining, to its location on the one and only world-famous and pristine, Eagle Beach.
Highlight: Elements, their dreamy beachfront restaurant, was chosen by Tripadvisor to be included on the list of 2021 Travelers' Choice Award Top Date Night in the World. Need we say more? Ahem… yes, go ahead and book that table for two.
Hilton Aruba Caribbean Resort & Casino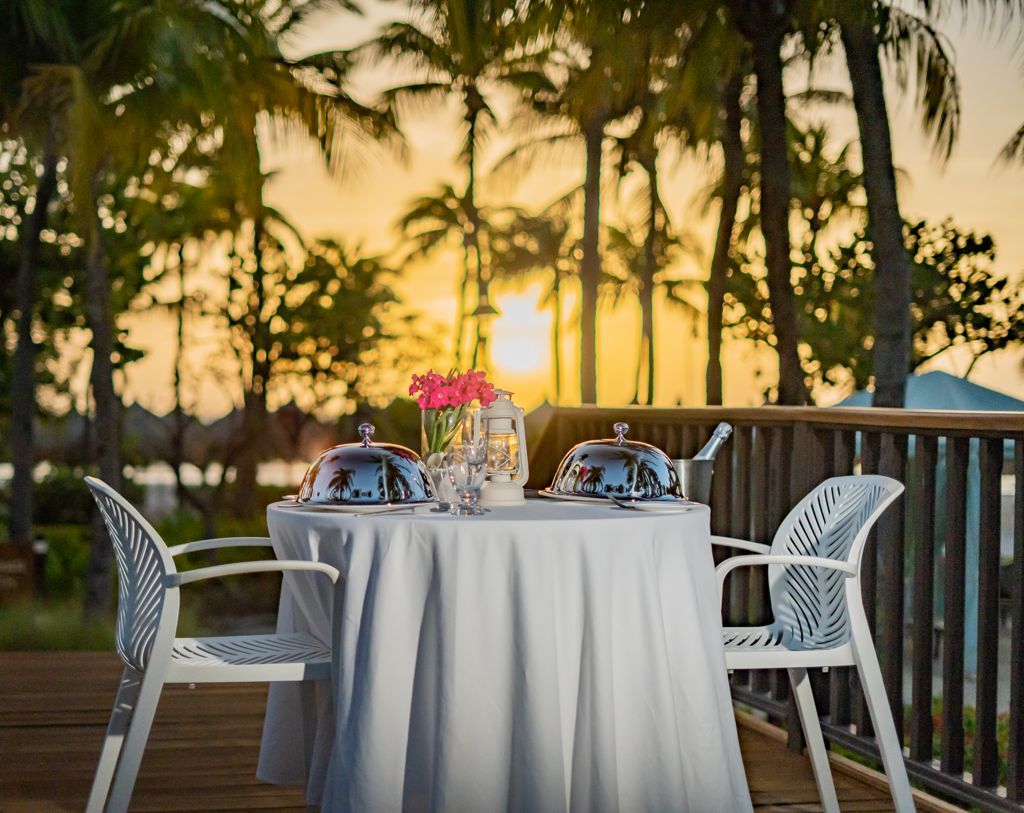 You are bound to enjoy Hilton Aruba's lush and tropical property, there are plenty of nooks and crannies to find, giving you all the romantic vibes. Take a stroll down one of their many walkways through the tropical palm gardens or watch the sun go down from the bridge stretched across the pool area. Hilton Aruba offers a variety of exceptional dining options including Sunset Grille, when it comes to the Sunset Grille dining experience, their flavors, presentation, service, and chic tropical restaurant ambiance simply go unmatched. In addition to on-property dining, do not forget to try eforea Spa for a day of pure zen and relaxation with your partner!
Highlight: Try their Sunset Concierge Private Dining Experience, where you can choose your own unique sunset dining adventure and enjoy a four-course culinary experience at a breathtaking location of your choice (on or off property).
Boardwalk Boutique Hotel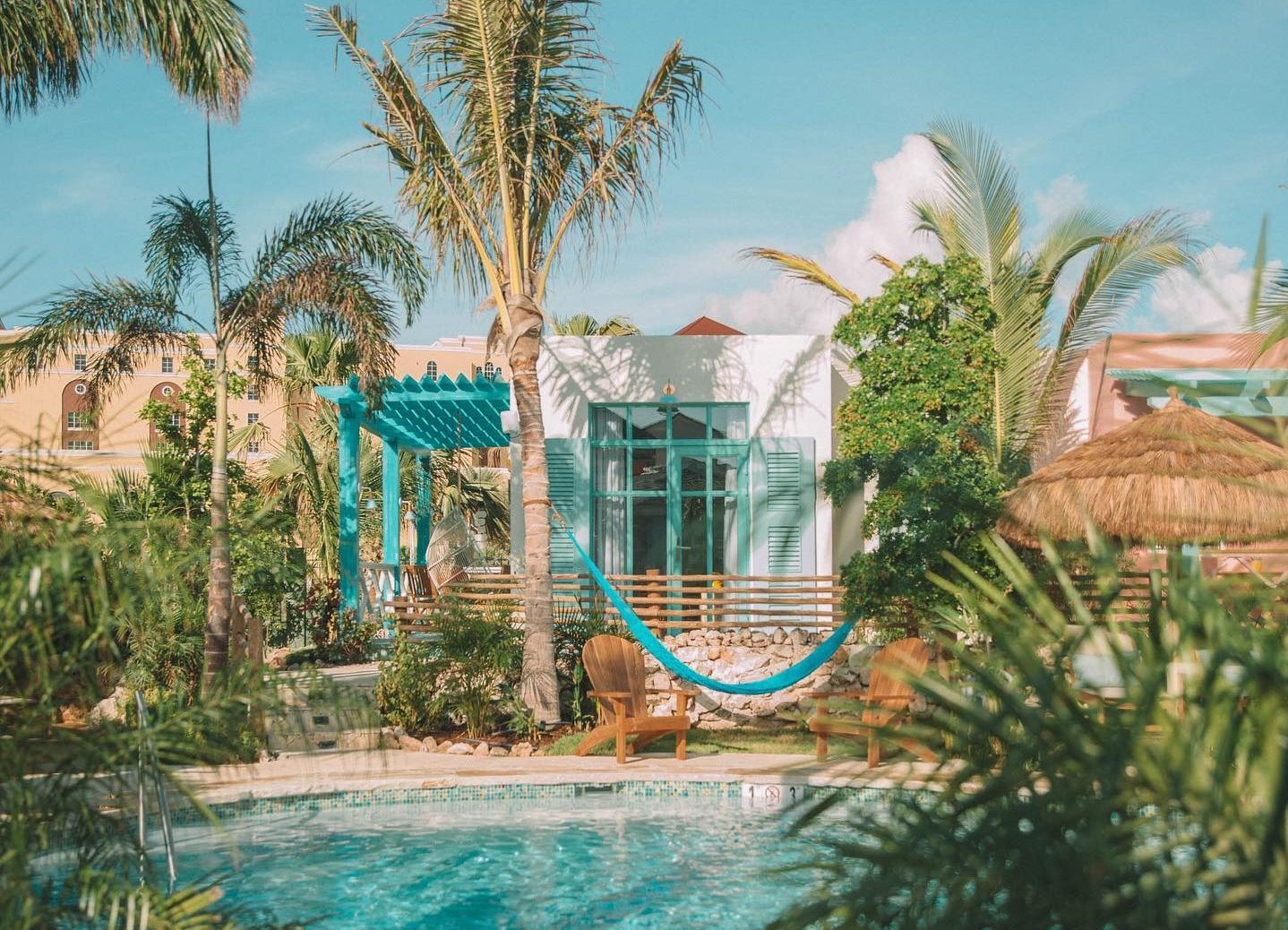 There is no doubt that Boardwalk will mesmerize you with vibrant tropical colors, lush gardens, charming casitas, and cozy and intimate atmosphere! Located on a former coconut plantation, every square inch of the property (both interior and outdoors) is charming, authentic, vibrant, cozy and intimate…it is pure paradise! The property is comprised of unique, spread-out casitas (a cute name for small house) with private patios. Each casita is decorated to tropical perfection and is filled with everything you need to make your stay one to remember! Tip: Ask to reserve their Plunge Pool Casita for the ultimate romantic and private stay!
Highlight: Boardwalk has its very own beach area with palapas and lounges reserved just for their guests, only a short walk away, located across the street at Palm Beach!
Radisson Blu Aruba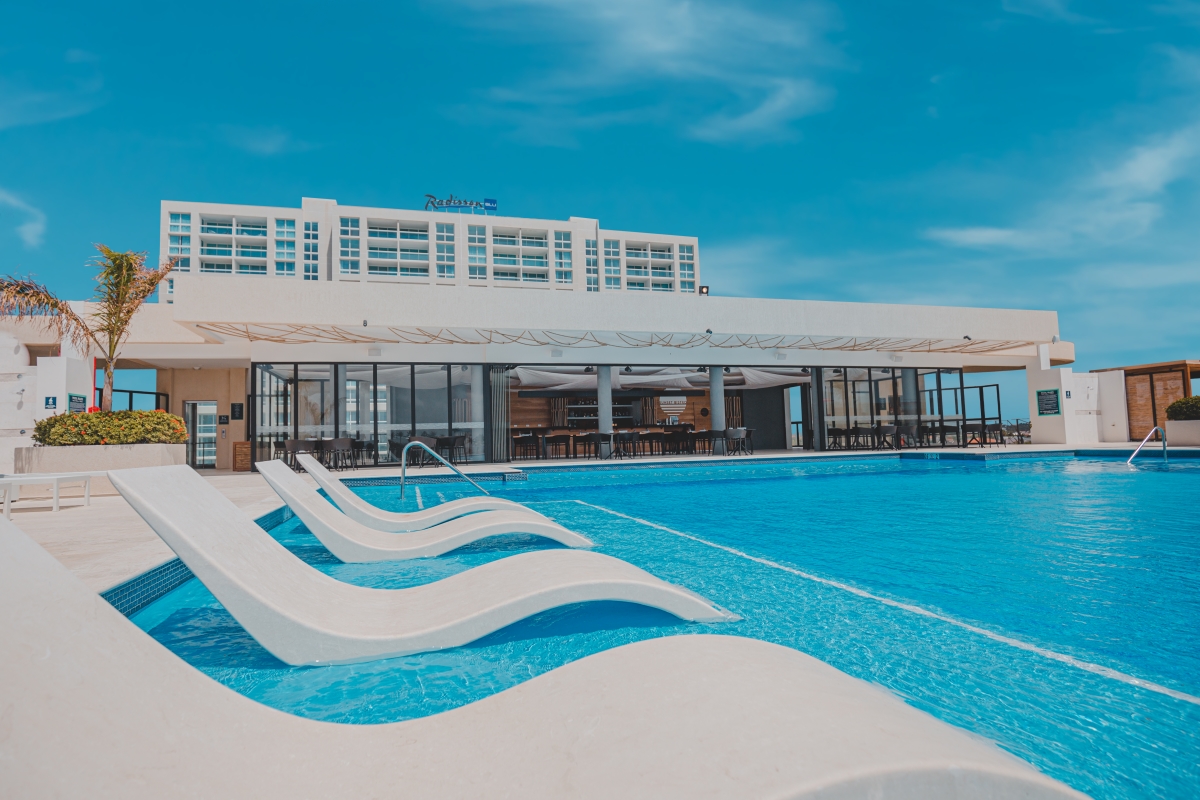 One of the newest resorts introduced to the Palm Beach area, Radisson Blu is a beautiful modern, unique and spacious property giving off chic and tropical vibes. Comprised of spacious rooms, each suite features a breathtaking view of Aruba, whether it be of the beautiful island landscape or the hustle and bustle of Palm Beach, with the ever-so-inviting Caribbean Sea waving in the background. The resort grounds include an adults-only whirlpool, a kids pool, a large family-friendly pool, a pool bar, an alluring rooftop infinity pool, rooftop dining, and more!
Highlight: The resort is located just down the street from the beach (just over a 5-minute walk), however… beach lovers, worry not! They have a designated beach area with lounge chairs and umbrellas, reserved especially for Radisson Blu guests. It's located in between MooMba Restaurant & Bar and the Holiday Inn Resort, a prime location on Palm Beach.  Don't want to walk? Hop on their free shuttle for a quick and easy ride.
Paradera Park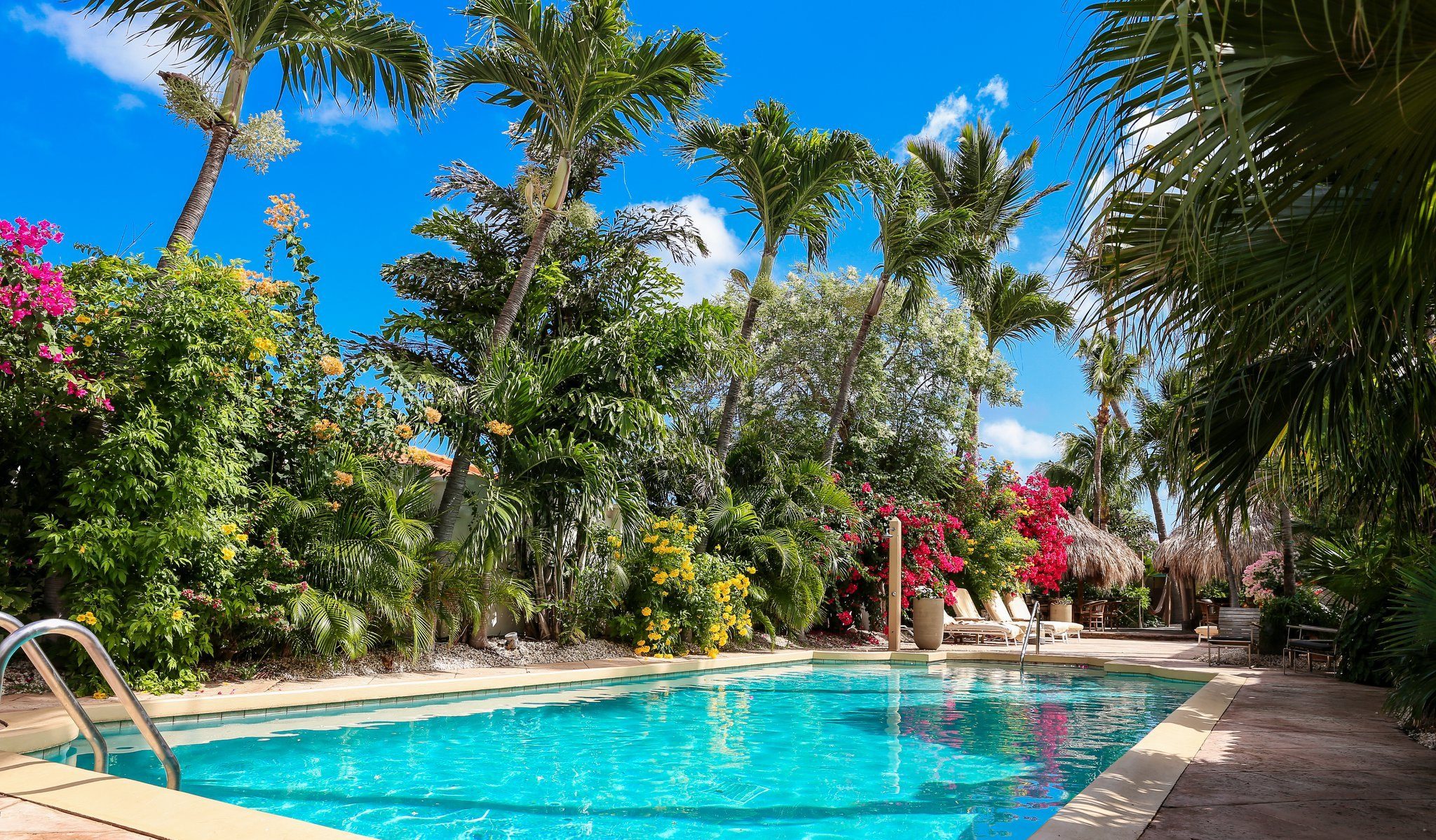 Tucked away in a beautiful residential area of Aruba, Paradera Park truly embodies an intimate oasis. The property consists of tropical gardens, a large refreshing pool, spacious and fully equipped rooms with a private patio, a quiet and central location, personalized service, and much more to fall in love with!
Highlight: This property exemplifies the theme, "Do not disturb", you will find yourself to be in an oasis of relaxation with no disturbances from the outside world, allowing for perfect quality time with your bae. Talk about having yourselves the perfect date night in!
Renaissance Wind Creek Aruba Resort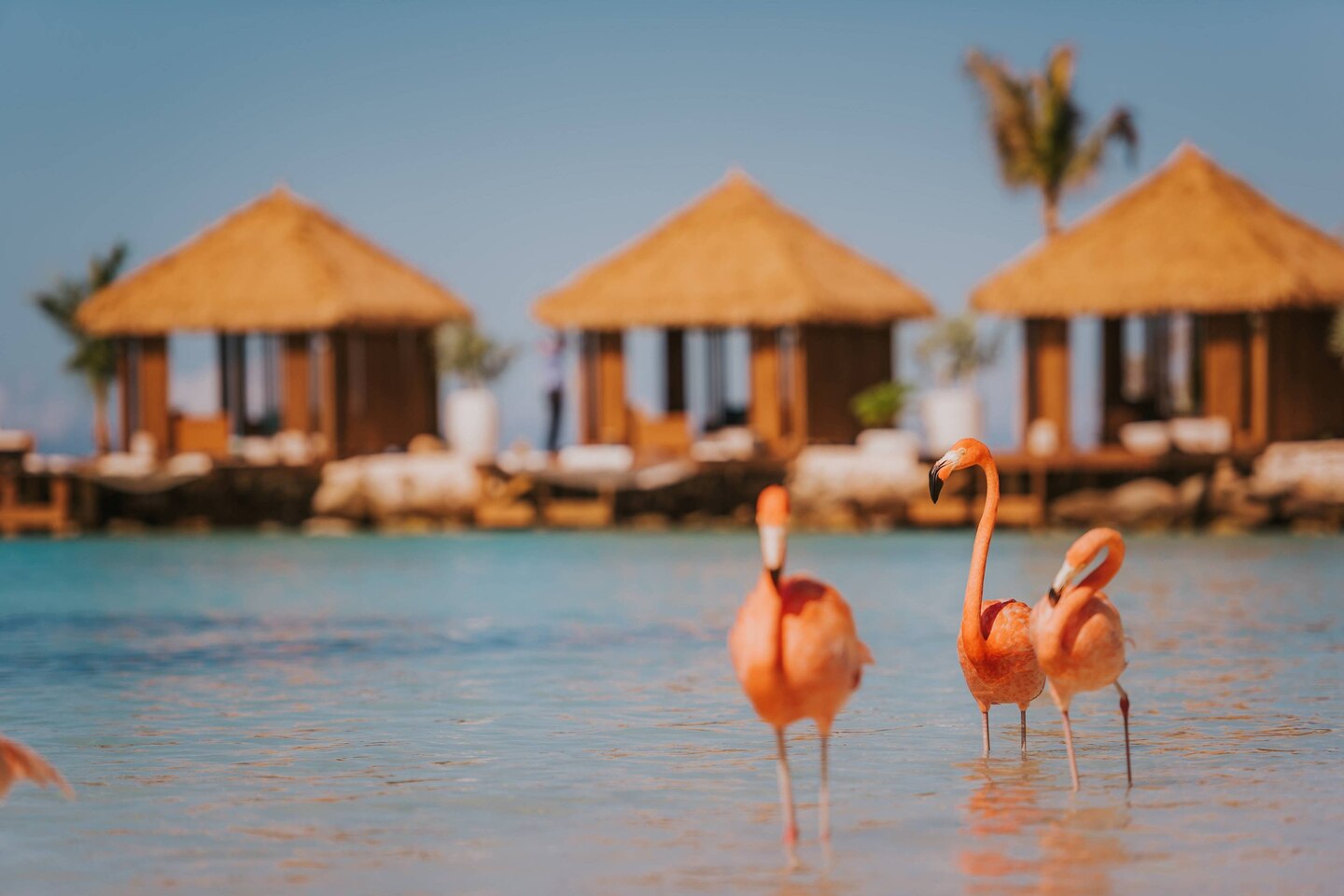 Renaissance Aruba's adults-only Marina Hotel is located overlooking the marina and hustle and bustle of downtown Oranjestad. The resort has plenty of grown and chic dining and entertainment options to choose from, such as L.G. Smith's Steak & Chop House, a  24-hour Wind Creek Casino, rooftop bar, and a relaxing and sophisticated infinity pool.
Highlight: The resort has a water taxi, that within minutes, brings you to Renaissance Aruba's 40-acre private island where you can spend the day relaxing on the beach with the roaming pink flamingos, or, on an overwater bunglow for a luxurious and intimate experience to remember. The private island also includes an onsite bar, restaurant and spa…making for the perfect pick for your romantic getaway!
Holiday Inn Aruba Resort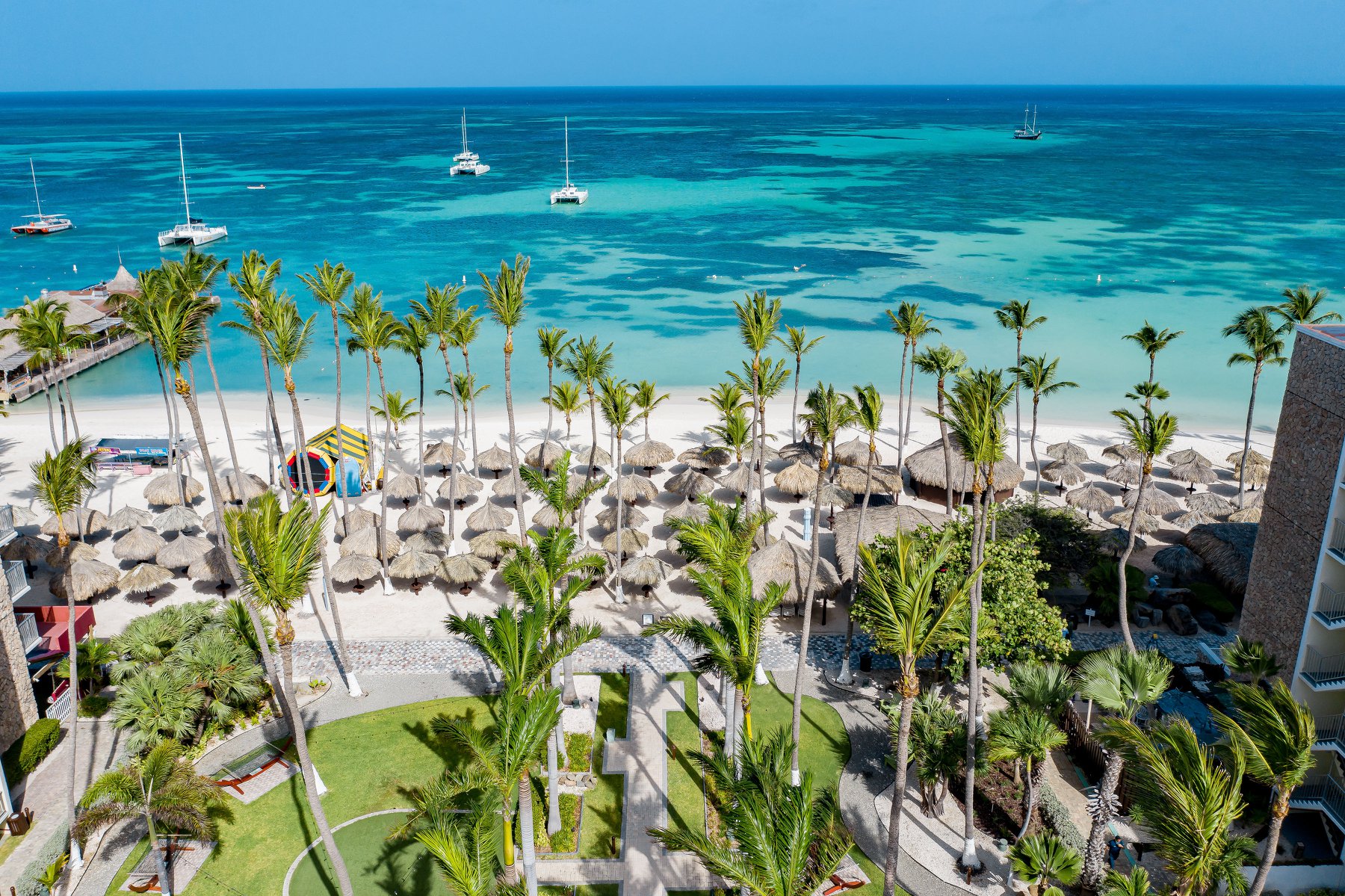 Get ready to enjoy yourself on a one-quarter mile of white sand and crystal blue waters, situated at a primate location of Palm Beach. Holiday Inn Resort Aruba is one the best places to stay if you're more of an active couple looking for fun, convenience, and plenty of things to do. The resort's guest rooms are spread across three different towers offering amazing views just steps away from the beach. 
Highlight: The resort has a number of different restaurants and bars to choose from, try Sea Breeze, their beachfront restaurant & bar for a meal and view to remember!
OceanZ Boutique Hotel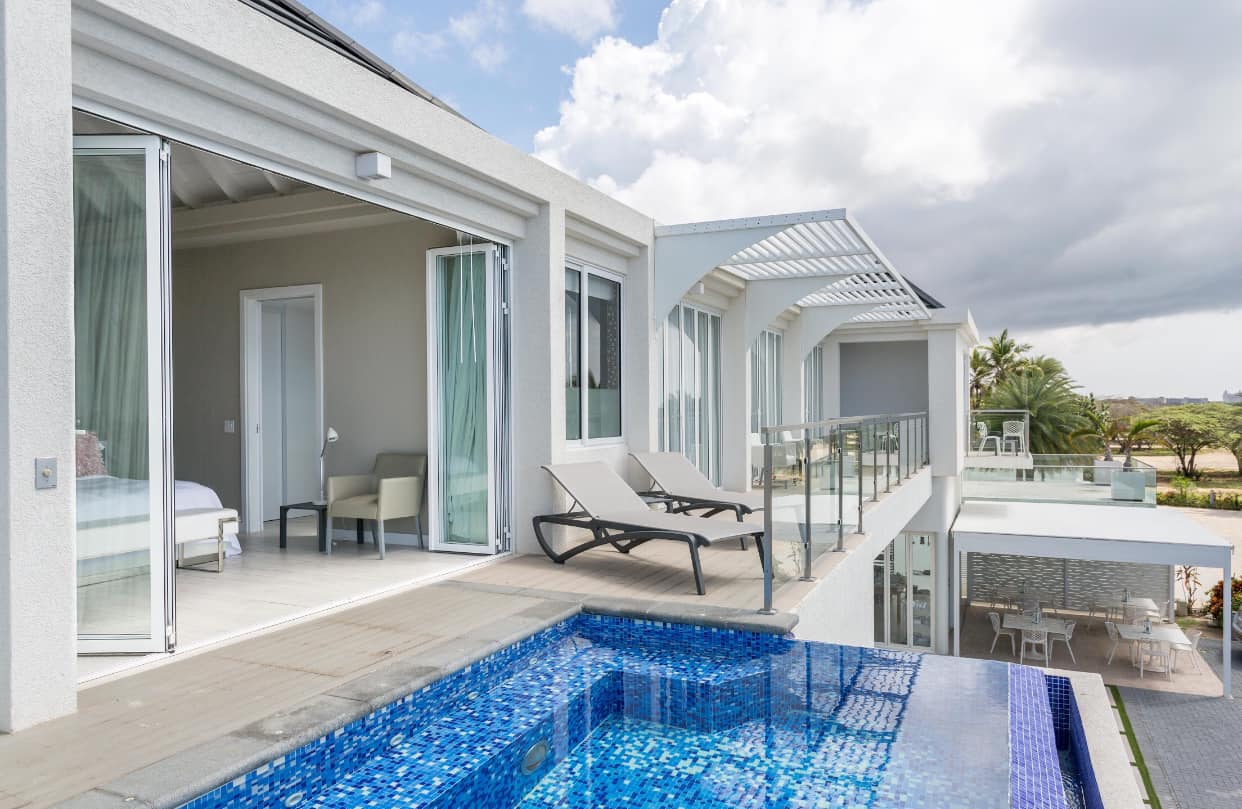 Craving a luxurious stay but prefer something quiet, peaceful and intimate? OceanZ Boutique Hotel is just the place! It's located down the street from the popular Palm Beach area and directly across from Malmok Beach with a gorgeous uninterrupted view of the water. While the resort is not located directly on a beach, you won't miss a thing, the hotel has a shuttle service to Arashi Beach, one of the most beautiful beaches on the island, just minutes down the road.
Highlight: The hotel has a variety of different style suites to meet your needs and desires, including a master king ocean view suite with a semi-private infinity pool! In addition to their chic and private suites, the hotel is also home to one of the best fine dining restaurants in the Caribbean, Ocean Z.
Aruba Ocean Villas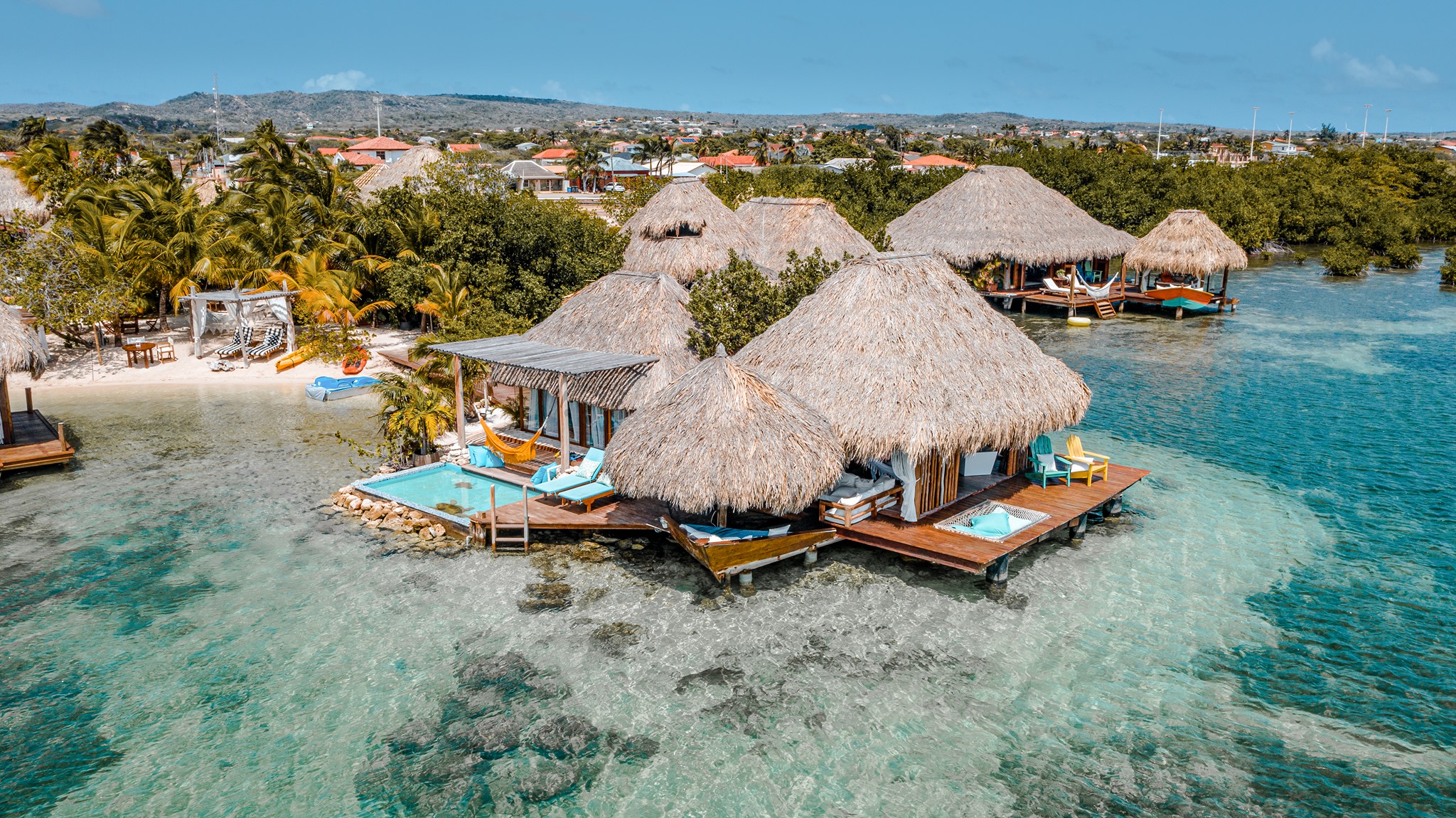 Aruba Ocean Villas, located in Savaneta, south of the airport is comprised of overwater villas, authentic beach bungalows and a small sandy beach covered in lush palms. Each villa and bungalow is uniquely and creatively designed, great attention is put into each and every detail. This small and quaint adults-only boutique resort is a no brainer for couples looking to take their celebration of love to the next level.
Highlight: In addition to their romantic and dreamy villas, the property also offers a unique open-air, feet-in-the-sand restaurant (The Old Man & the Sea) that makes for the perfect dining experience. Whether you are planning a honeymoon, engagement, or everyday celebration of love, it makes for the perfect ambiance!
Browse more resorts and accommodations in Aruba.