Don't let the warm weather and palm trees fool you, the holiday season in Aruba is just as magical as anywhere else in the world and with plenty of jolly vibes, too! The island is filled with twinkling, colorful lights at every turn, festive music, plenty of places to shop, celebrations, and last but not least… plenty of mouth-watering delights to indulge in!
Since the jolliest time of year is already upon us, I felt it was only right to share some of the most delicious Aruban holiday delights with you! Perhaps it will inspire you to try and make some of these dishes for yourself at home, or if you find yourself in Aruba… go seek them out on the island!
Take a peek at VisitAruba's favorite holiday food in Aruba!
Ham di Pasco
Also known as Christmas Ham, you may be familiar with this dish as it is quite popular during the holidays throughout the world. However, you will find Aruba adds a little island twist to this savory, yet sweet delight! You haven't experienced a Christmas Ham until you've tried one in the Caribbean.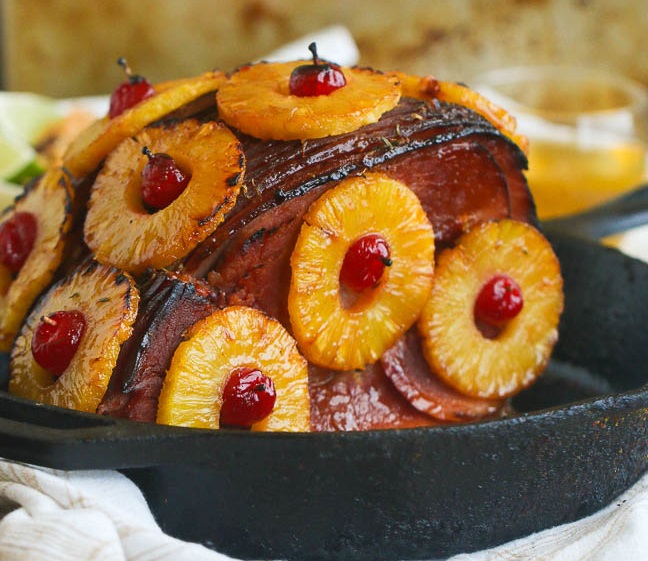 Ayaca
Perhaps the most traditional and sought-after holiday treat on the island! Made slightly different by each person and family, however, all following the general recipe, which was originally adopted from South America. It consists of cornmeal stuffed with a mixture of chicken, pork, ham, spices, raisins, olives, prunes, cashews, onions, and then folded and wrapped with plantain leaves and at last boiled! It truly is a must try to understand the magnitude of deliciousness it holds.
Don't forget to put your own twist on the recipe, that's what makes it so special!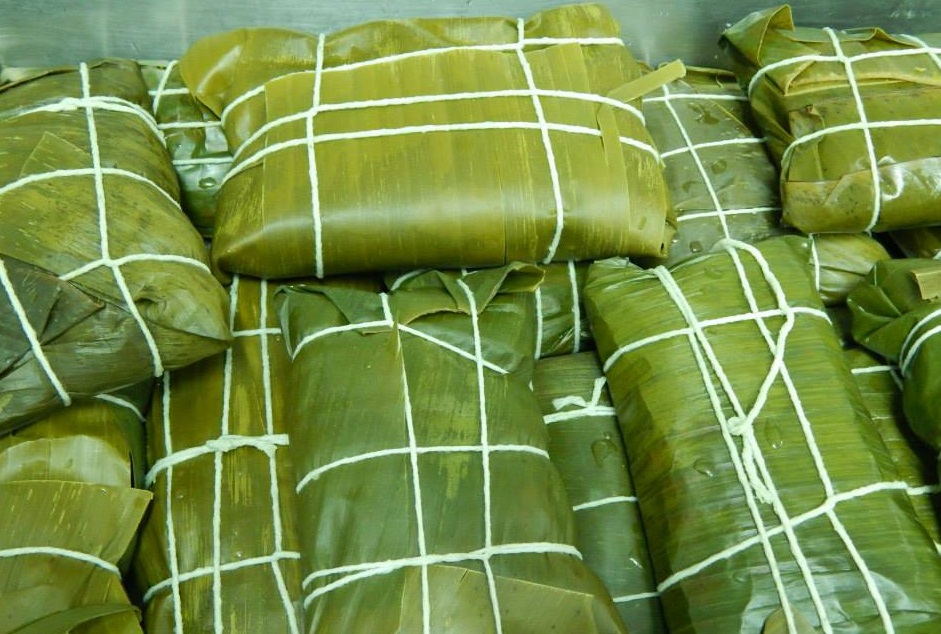 Ponche Crema
For our visitors, I like to describe Ponche Crema as the Aruban version of Eggnog (it has a bit thicker consistency and a different flavor). You can find it in just about any store or market during the holiday season. It is made up of egg yolks, cream, rum, spices and the end result makes for a rich, smooth and delicious drink. It seems every holiday season there is a new flavor offered, this year you can find the original flavor, pistachio, red velvet, coffee, white chocolate, and coconut. A personal tip from me to you, try pouring it over ice to keep it cool and refreshing, especially in this warm Aruba weather!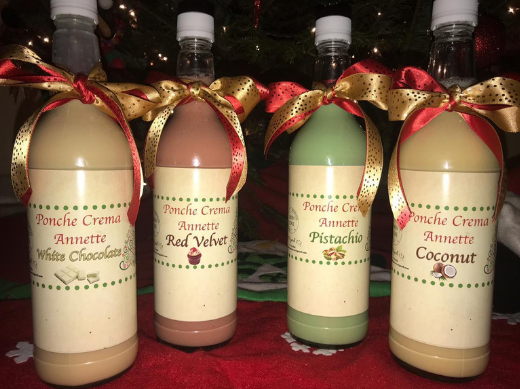 Warning: Ponche Crema is quick to disappear, so stock up for the holiday season!
Oliebollen
We can blame the Dutch for this delicious, irresistible and not so nutritious holiday treat. Imagine an extra-large fried doughnut hole. They can be made plain or with raisins and currants, then they are deep-fried and topped with powdered sugar goodness.
Oliebollen are made specifically to be enjoyed while ringing in the New Year but are served all throughout the entire month of December because they are just too good to enjoy only one night!
Foodie Tip: Ling & Sons Food Market has an Oilebollen truck outside all month long so get a fresh batch while you can!
Cashupete
This traditional Dutch Caribbean Cashew Nut Cake is the ultimate holiday dessert served at any and every party! It consists of heavy cashew cream with a rich, decadent flavor. Despite the rich flavor, the cake consistency is soft and moist, allowing room in your belly for a second piece! Around Christmas time you'll find plenty of Cashupete cakes decorated with festive red and green candied cherries, so be on the lookout for them!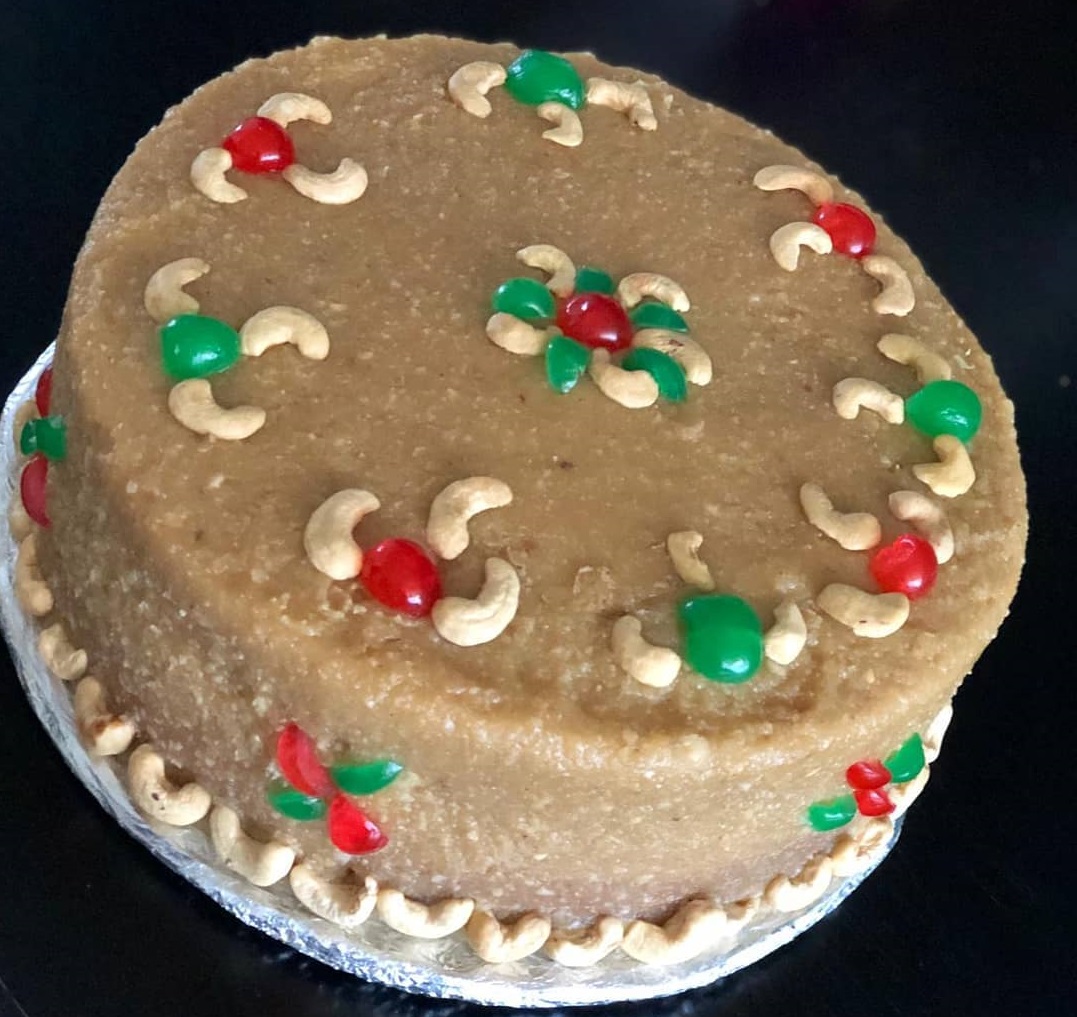 Foodie Tip – Some people add almond extract to the recipe and others opt to add local rum, which one fancies your tastebuds most?
Pan de Jamon
This unique bread recipe made its way to Aruba from Venezuela. Pan de Jamon (ham bread) is a typical Venezuelan Christmas bread, filled with a unique mix of ingredients, including ham, raisins and green olives. Some people like to add cream cheese and other fillings.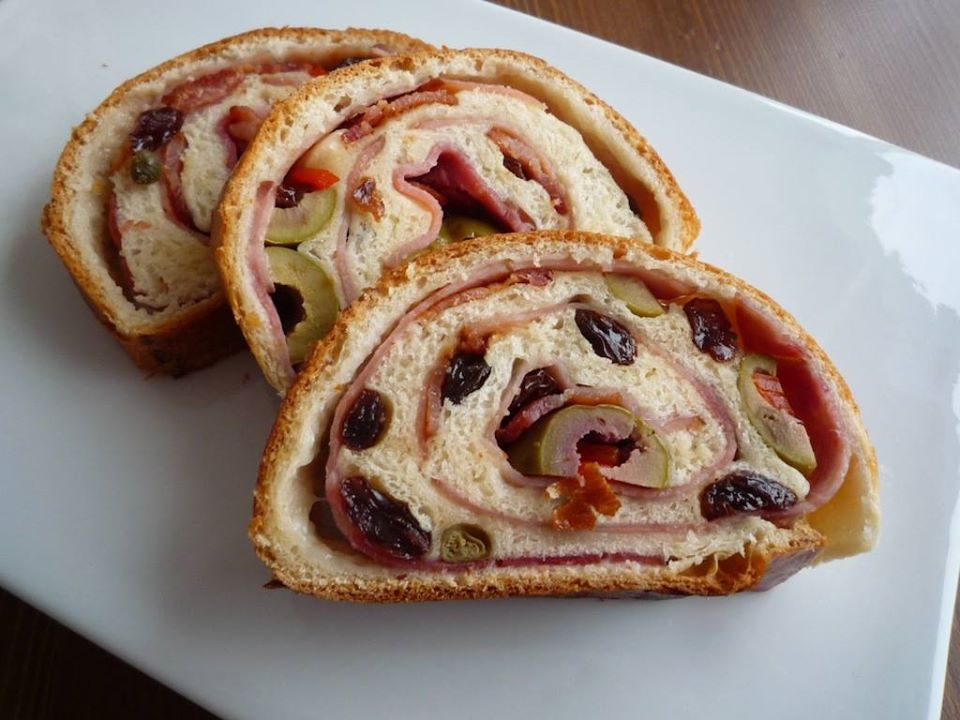 Quesillo
This is Aruba's version of what is known in the US as 'flan'. You must try it for yourself to taste the difference in flavor. If you've got a sweet tooth this one is for you without a doubt! You cannot go wrong with serving this sweet treat at your holiday party, it has always been a crowd favorite.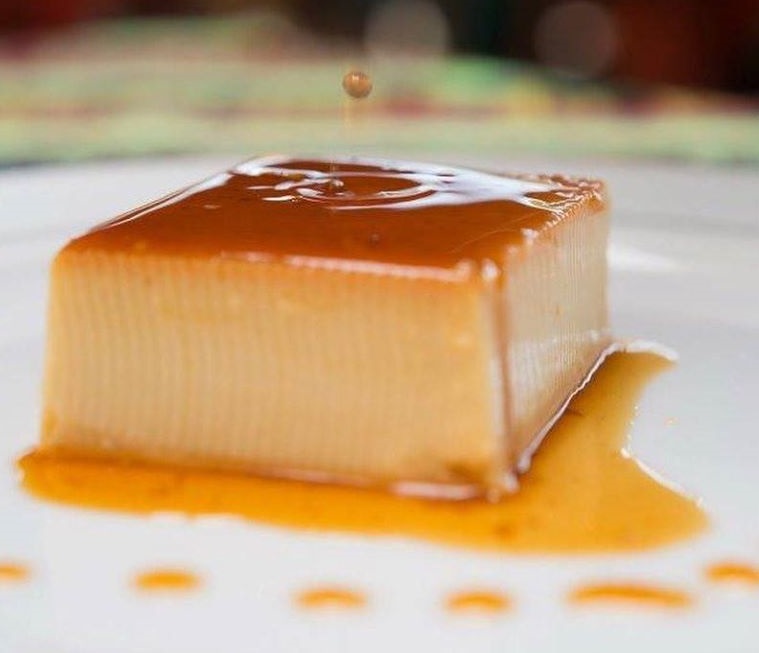 Poffertjes
If you haven't had quite enough of the sweets yet, how about a sweet and tasty breakfast dish for dessert?! Yes, this Dutch treat can be enjoyed in the morning for breakfast and at night for a 'lekker' dessert to complete your holiday dinner! Imagine tiny, light and fluffy pancakes covered in delightful toppings of your choice. If you aren't feeling up for the challenge to make a batch at home, be on the lookout for the Pofferdorie truck this holiday season, currently located at "The Village" in Palm Beach!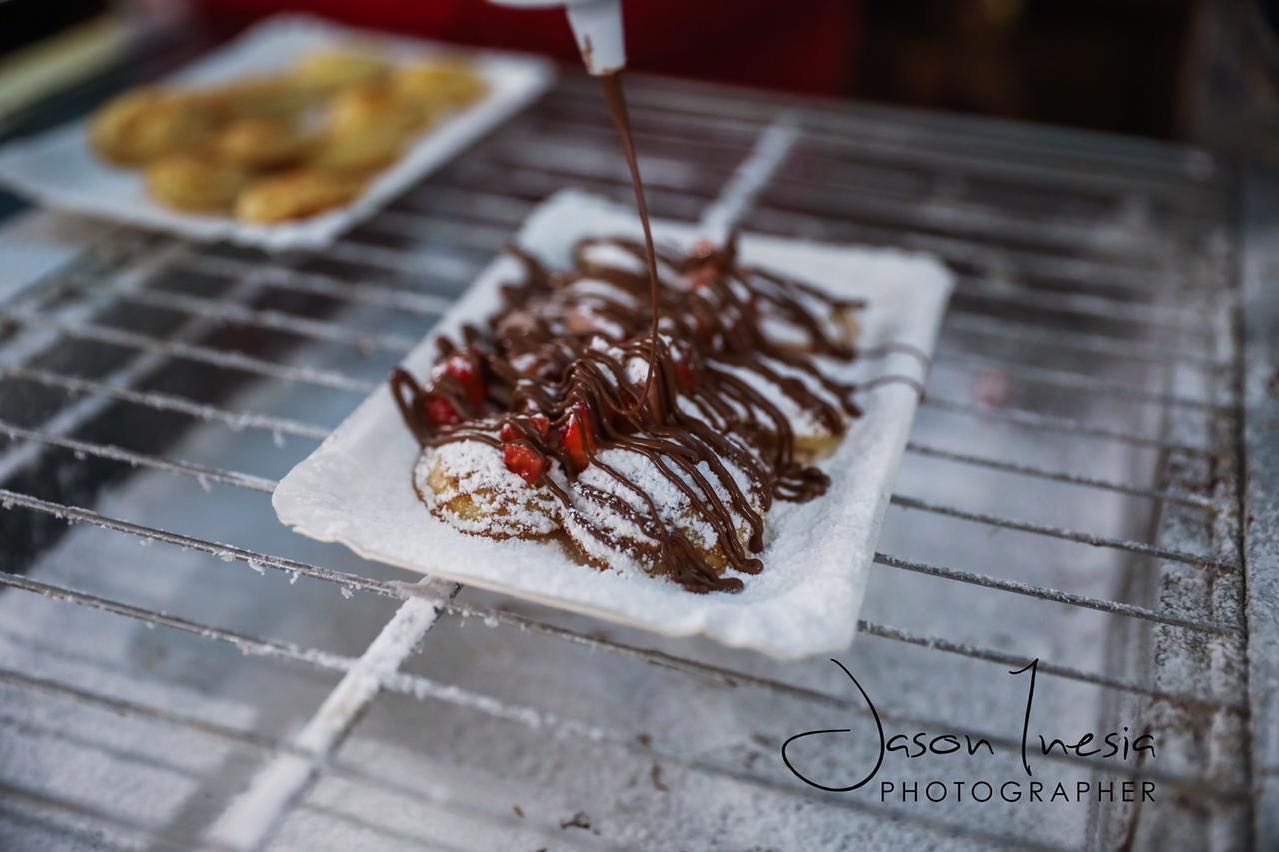 Party Snacks
Snacks on snacks on snacks! That is what you can expect at a typical family gathering or holiday party in Aruba. There are usually so many snacks being offered that you can count on skipping dinner because you will surely fill up!
Some of the more popular snacks include Webo Yena (Deviled Eggs), Bolita di keshi (Cheese Balls, my personal favorite), and Bitterballen (deep-fried balls filled with meat gravy). There are plenty of other snacks served, it just depends on the family's "specialty".  Some other popular snacks include Meatballs, Soesjes, Deditos and mini Krokets (croquettes).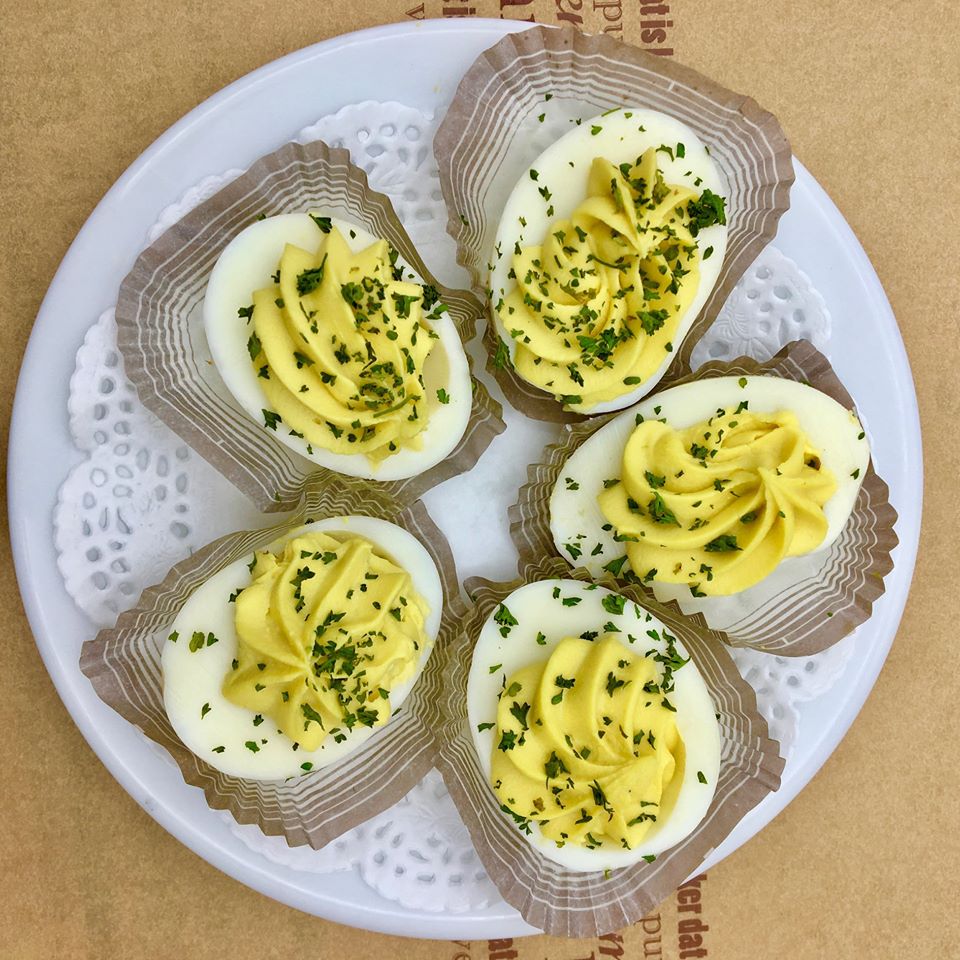 Dying to try some of these local snacks but not sure where to find them? Just ask us, the "professional snackers"! We are happy to point you in the right direction!
Foodie Tip: Never pass on the cheese balls (Bolita di Keshi), trust me, you will regret saying no!
I don't know about you, but after sharing all of these delicious holiday delights with you, I find myself rather hungry and ready to indulge.
If you want to whip up one of these dishes yourself, head on over to Ling & Sons Food Market Aruba to buy all of your necessary ingredients. They also have already prepared goodies if you're not feeling so ambitious in the kitchen this holiday season!
Not in the mood for cooking or shopping? If you find yourself spending the holidays in Aruba with family or friends, make sure to stop by one of these restaurants for a festive and mouth-watering holiday meal!
Have a merry time indulging all season long!