Juliet Carvalhal loves the ocean. Whether she's diving, snorkeling or simply sitting on the shore and watching the sunshine glint off the surface of the water, there's something about the sea that's always spoken her. Luckily, as an Aruban native, she never really has to be all that far from her happy place.  
However, one evening in December 2013, the ocean wasn't making Juliet Carvalhal all that happy. She was watching a local news segment about a clean up in the area of Parkietenbos, Aruba and the sight the broadcast over here TV screen horrified her.  Instead of the gorgeous stretch of coast she remembered from years past, the sight that met her eyes wasn't gorgeous at all – it was bogged down in a soupy, polluted mess of slowly decaying plastic bags.
If you look closely, you can see layer upon layer of plastic bags, twisted around the branches of the mangrove trees – which need their roots exposed so they can breathe. An unholy amount of single use, plastic bags were blowing away from the dump and straight into the ocean. The whole area inundated with layer, upon layer, of plastic bags in various stages of decomposition. The top layers were crumbling under the relentless Aruban Sun while the lower levels, filled with stagnating seawater, were mouldering in the sand. It was (to say the least) an unmitigated, plastic disaster.
Several days later, Juliet arranged a meeting with her friends, Anthony Hagedoorn, the gentleman who'd been interviewed in the news segment she'd seen. They arranged a site inspection of the area for a few weeks later. The sight that met their eyes was abysmal. Since a picture is worth a thousand words, here's what it looked like back then: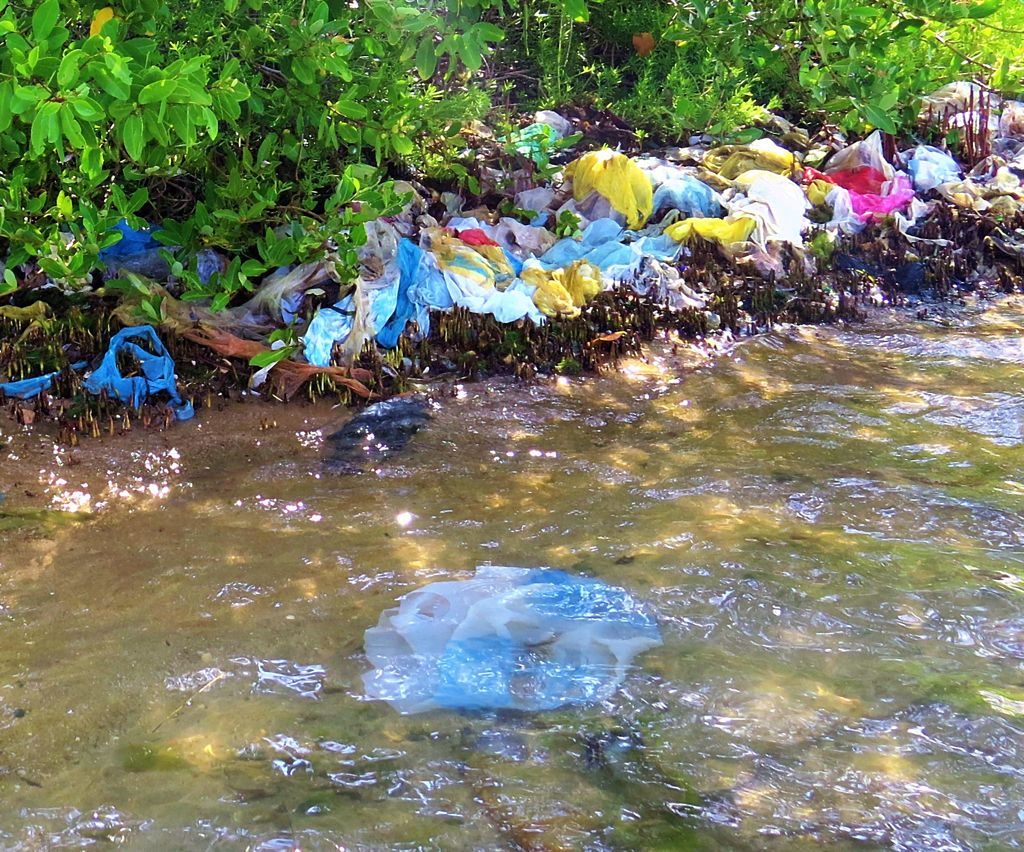 The answer wasn't as simple as cleaning it up, either. Some of the bags were so badly decayed that they'd all but disintegrate when disturbed; more importantly, it's rather pointless to go through the effort of an environmental clean up if the source of the contamination is left unchecked. As Anthony Hagerdoorn and Laurenz van Mook (primary organizers of coastal clean-ups) describe, 'it's like trying to clean up a flood in your house without first stopping the water that's causing the flood'. If you want to see what they mean, click here.
Water connects us all. Most of our planet, as well as our bodies are made of water. Every creature needs water to grow and thrive. Rainfall trickles down into streams that run into rivers which eventually spill out into the sea. Humans have designated names for the major oceans of the world; however, just looking at the world from space, will show you that planet has no borders when it comes to the Ocean.
By now, we've all heard of the floating cesspool of plastic that's floating in the Pacific Ocean. It's 15 million square kilometers of flotsam – bigger than Texas. What you might not realize is that it's not just garbage, like plastic bottles and lost, left flip-flops; it's also a soupy mess of microplastics. Most of the plastic that ends up in the ocean breaks down but never completely decomposes. Microplastic does not refer to a specific type of plastic, but rather the size. These tiny pieces of plastic are each no bigger (and often much smaller) than a sesame seed and they aren't just limited to that floating patch of plastic in the Pacific – they are everywhere.
The creatures that live in the sea are literally being choked with plastic. A recent study has found that many fish eat plastic materials because when it's breaking down, it's smells like krill – small, shrimplike plankton that sustain a cavalcade of marine life. Plastic has been discovered in fish, seabirds, whales, turtles…the list goes on and on. In a nutshell, non biodegradable human waste is vastly contributing to the destruction of our seas.
The heartbreaking scene Juliet witnessed at the mangroves on Aruba's westside at Parkietenbos, put Aruba's plastic problem into sharp relief for her. Juliet realized that implementing a ban on the island would 'close the tap' on the most visible part of Aruba's plastic problem. Changing the law is no easy feat but Juliet had determination and a lot of local support.
From 2014-2016, Juliet worked closely with a three person team, researching the benefits of banning single use plastic bags from an inclusive and collaborative approach; and putting the new policy in place. Her hard work paid off in a big way. On January 1, 2017, the bag ban took effect after being unanimously approved by parliament on June 28, 2016. Last year, on World Oceans Day, Juliet, with private sector partners, launched Impact Blue – a non-profit organization dedicated to bridging the gap between the private sector and the environment.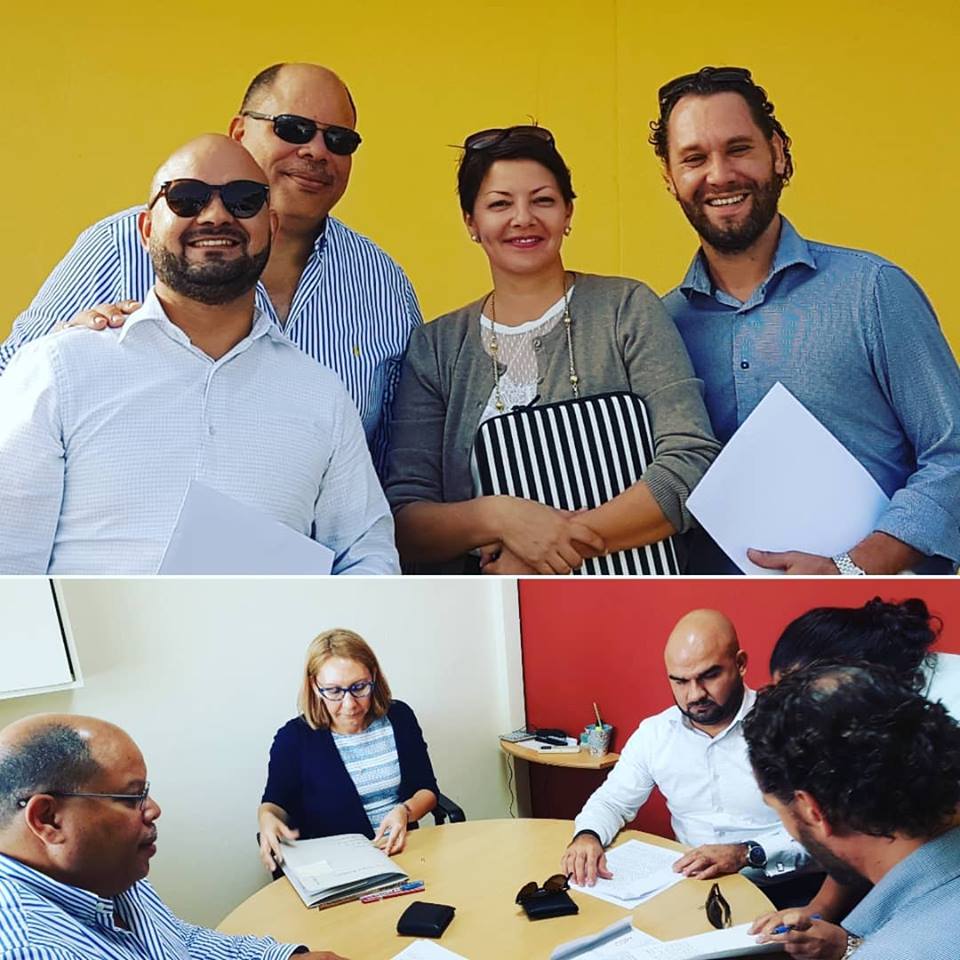 Impact Blue's first act was a scientific evaluation study regarding the results of the plastic bag law, two (2) years of its implementation. The study focused on the business performance of the retail sector considering they are the ones that had to carry the law. The private sector partners that supported the study included Total Finance, Arubabank, ASD Aruba, Marriott International Aruba, Hilton Aruba, VNO Aruba, Bucuti & Tara Beach Resort and the Aruba Trade and Industry Association (ATIA). Check out this short video for a summary of the evaluation study https://www.youtube.com/watch?v=O_4O4oKEqGo&t=28s
Here are the visible results: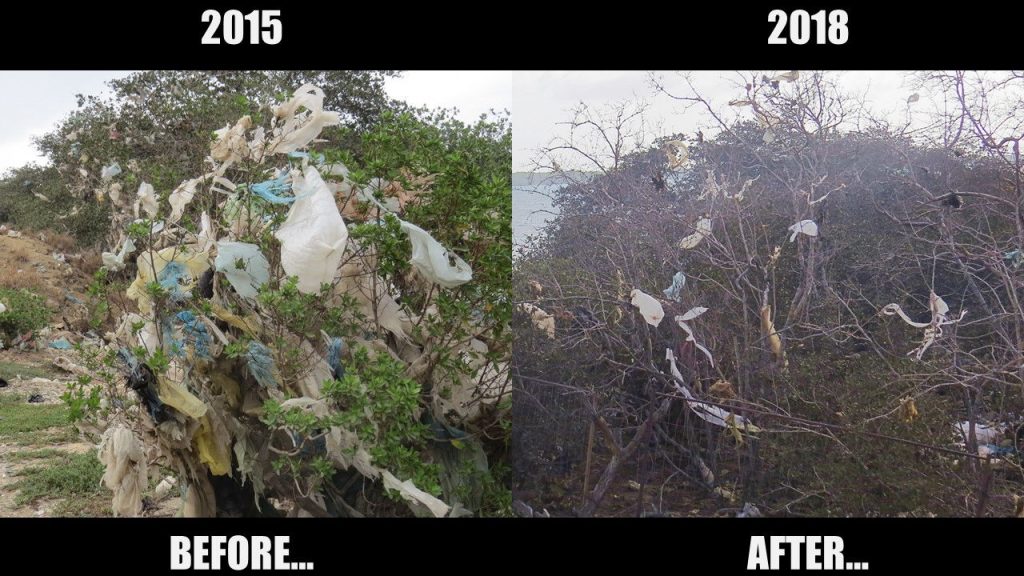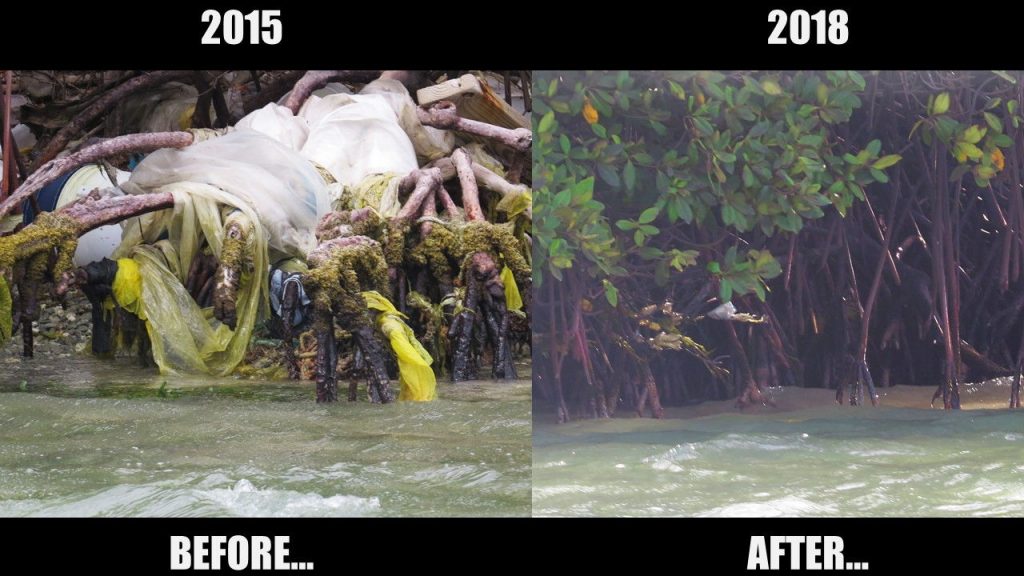 Juliet hasn't stopped there. Her next mission will take her far beyond Aruba's sunny shores. This winter, she'll be conducting research with eXXpedition, an all-female sailing voyage, that travels to different parts of the world, studying the effects of plastic pollution in our oceans. eXXpedition Round the World 2019-2021 is a two-year voyage circumnavigating the globe, gathering data and raising awareness of the dangerous implications single use plastic has for the planet. Here's a short video of one of eXXpedition's past voyages: https://www.youtube.com/watch?v=LhNGBoNTQ_Q&t=2s
Juliet, on behalf of Impact Blue, will be joining the leg from Antigua-Bonaire-Aruba with the aim to collect data, on a citizen-science level, of on microplastic pollution on the surface of the waters and in the air, as well as toxins in the waters around Aruba and Curacao. The samples collected could help determine which plastics – from what type of plastic products – are predominant. That information is crucial in determining specific priorities moving forward. The data is meant to provide a baseline assessment, with the aim of long-term collaboration with local organizations and institutions, specific to each island. Then practices, regulations and tools can be put in place to curb the population's plastic dependency. Stay tuned to Impact Blue for further details!
When it was created in 1907, plastic seemed like a revolutionary new 'miracle material' that was going to do wonders for the world. In many ways it has – just think about plastics in a hospital setting. However, did you know that 79% of all the plastic that was ever made since the 1950's has ended up either in landfills, dumps or our natural environment? Did you also know that that same plastic will still be here 1,000 years from now? We humans need to take responsibility and use plastics as responsibly as we can – the planet's depending on us!
Here are a few simple ways you can reduce your plastic use. Juliet Carvalhal inspired an entire island to take control of their plastic consumption. Imagine what could happen if we all joined her crusade.
For more information on Aruba's Plastic Bag Ban, on Impact Blue, on the evaluation study of the Plastic Bag Ban, or to find out how your company can partner up with Impact Blue for their next activities, please contact Juliet at info@impact-blue.org.
To keep up to date with Impact Blue, follow them on Facebook and Instagram!