March 18th is a day of jubilation on Aruba as the entire island gets decked out in Aruba Blue and celebrates Independence Day. We've recently told you the story of the Father of the Aruban Nation: Betico Croes, a national treasure. He valiantly jumped through political hoops to give the island of Aruba to her people, but the seeds of independence were planted long before Betico.
In August 1947, Aruba presented a constitution and formal request to Holland to receive 'status aparte' from the Netherland Antilles. Over 2,000 people signed a petition requesting that Aruba become an autonomous state within the Kingdom of the Netherlands. Yes, yes…we do realize that almost 30 years passed between 1947 and 1986 – even back then the island ran on CST. (Wink)
Joking aside, the old adage is true: good things come to those who wait. 'Status aparte' grew from a fragile dream to an imminent reality as the 20th century progressed. In the late 1970's the movement gained both momentum and organization. The citizens of Aruba knew it was only a matter of time until they gained the freedom to govern themselves. There was just one thing missing, well…two things really: a national flag and an anthem.
The Flag
It probably won't shock you to learn that the predominant color of Aruba's flag is blue – Aruba Blue in fact. Deeper than baby blue, not as green as turquoise, more peaceful than aquamarine…try as we might we still can't accurately describe Aruba Blue. Some publications refer to it as Larkspur but we're not having it. Nothing is Aruba Blue except for Aruba Blue because it's so much more than just a gradation of color, Aruba Blue is the swirl of crystalline water around your toes and the breeze playing with your hair. On the flag, that blue represents the sea and sky as well as peace and hope for both the past and future.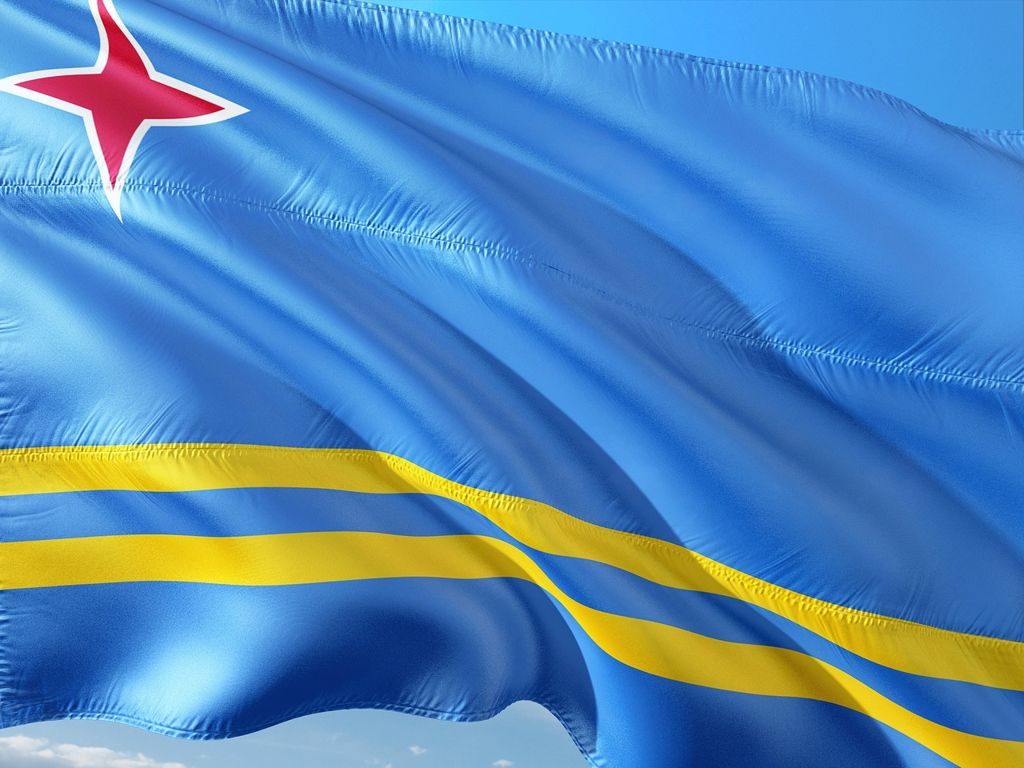 The two narrow, bright yellow stripes are said to have several symbolic meanings. First, they are reminiscent of the status aparte movement. Second, they give a nod to two exports of the past; gold and petrol.  Third they represent Aruba's almost ever-present Sunshine and the color of our famous wanglo flowers.
Last (but not least), we come to the red, four-pointed star. That's where you can find yourself on the flag. The star points to the four cardinal directions and it represents the people who make up the island. Did you know that Aruba's citizens come from over 100 different countries?  It also gives a nod to all of our spectacular and savvy visitors who enjoy our major export – incredible experiences! The star is red for a more somber reason, it represents all of the blood that was shed by Aruba's first inhabitants: the Caquetio Indians who were massacred during Colonial times.  The white that surrounds the star represents purity, honesty and the gorgeous white sand that surrounds this little rock that we love.
Aruba's flag is one of a kind but it's not unusual to see it in a sea of other flags. Aruba might have fought for the right to stand for herself, independent, but that doesn't mean we feel the need to stand alone.
Our very own history maverick, Anthony Croes was the first citizen to raise the flag after Status Aparte. He'll tell you that story and many more during your personal tour of Etnia Nativa – your foremost source for an authentic Aruba you'll only find 'beyond the beach'.
The National Anthem
Aruba Dushi Tera is a waltz composed by Rufo Wever with lyrics written by Juan (Padu) Lampe and Hubert Booi. It was formally accepted as the national anthem on March 18, 1976.  There's really nothing more to say about it, the song speaks for itself.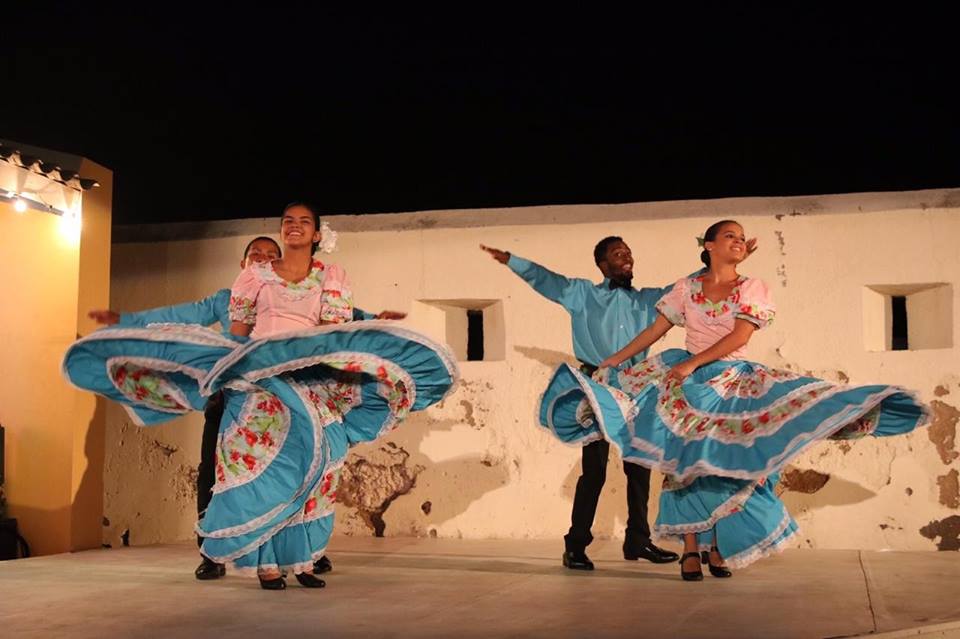 Aruba patria aprecia
nos cuna venera
Chikito y simpel bo por ta
pero si respeta.
Chorus:
O, Aruba, dushi tera
nos baranca tan stima
Nos amor p'abo t'asina grandi
cu n'tin nada pa kibr'e, cu'n tin nada pa kibr'e.
Bo playanan tan admira
cu palma tur dorna
Bo escudo y bandera ta
orguyo di nos tur!
[Chorus]
Grandeza di bo pueblo ta
su gran cordialidad
Cu Dios por guia y conserva
su amor pa libertad!
[Chorus]
English Translation
Aruba appreciated native land
our venerated cradle
you may be small and simple
but yet you are respected.
Chorus:
Oh Aruba, dear country
our rock so beloved
our love for you is so strong
that nothing can destroy it.
Your beaches so much admired
with palm trees all adorned
your coat of arms and flag
is the proudness of us all!
[Chorus]
The greatness of your people
is their great cordiality
that God may guide and preserve
his love for liberty!
[Chorus]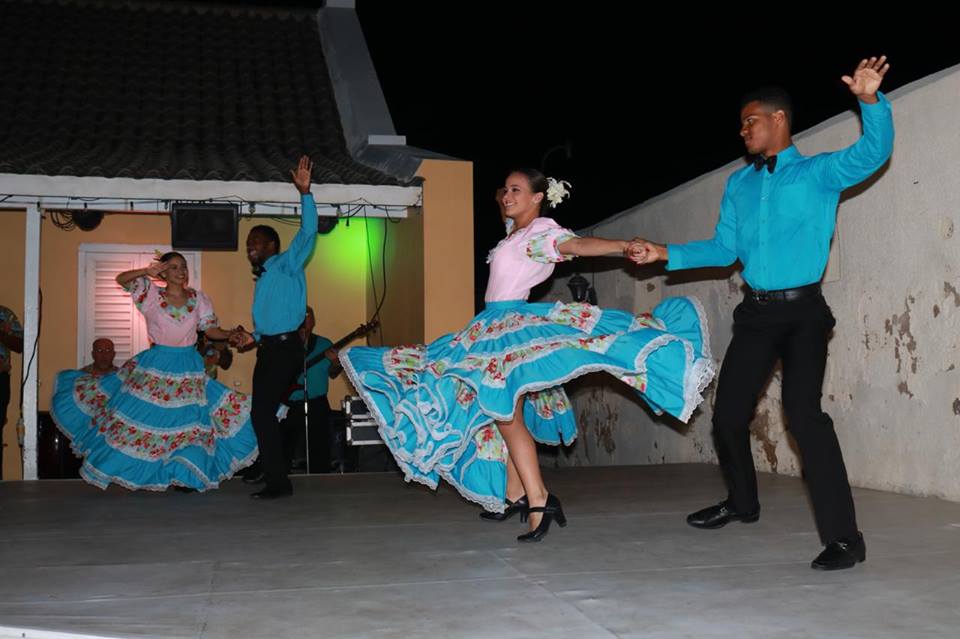 This Monday most everything on the island will be closed – so stock up on your supplies early. The island will be a sea of Aruba Blue as we wave (wear and even eat) our beautiful flag to celebrate 32 years of status aparte.
Click here to learn more and check out these awesome events and specials if you want to celebrate too!