In Aruba there is a saying, "poco, poco", essentially translating to little by little, bit by bit… slow down, take it easy.  A necessity to enjoying life before it passes you by! It may be a small, simple motto of the island but you will find it can work wonders.
Many come to Aruba, the "One Happy Island" to escape their busy, everyday life with the intention of relaxing, re-charging and finding happiness. Doesn't this sound like something you could use right about now? Are you in need of some pure tranquility and sunshine? Well look no further, I've got the answer – The Tranquilo!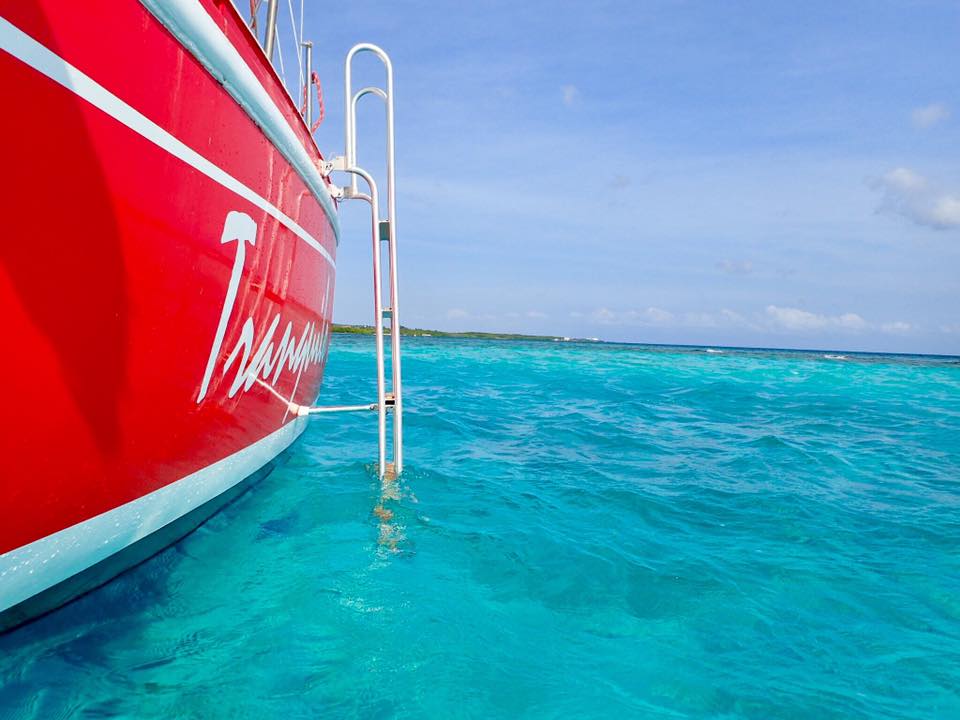 Aboard Tranquilo there is no room for anything but relaxation and happy vibes. Prepare yourself for a day of smooth sailing, smiles and a serious dose of vitamin sea!
I've seen the famous, bright red Tranquilo sailboat many of times out on the water and always hoped one day I could experience it for myself. Thanks to Captain Anthony's kind invitation to join their Famous South Side Lunch Cruise I can now cross this off my list – yay!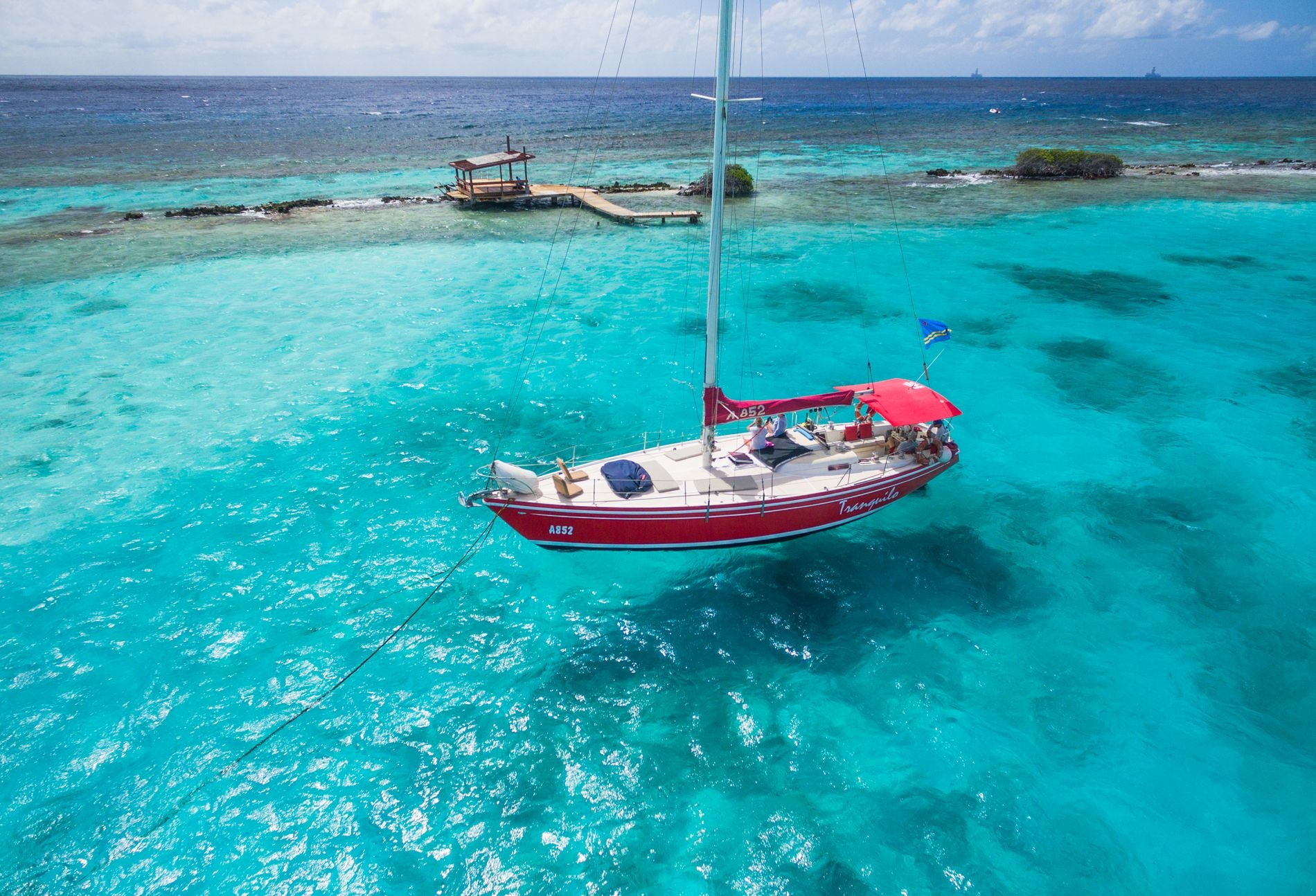 The 43 foot sailing yacht has a certain ambience and unique character to it that is hard to come by these days. With the many tours, excursions and high tourism demand it can be tough to stay afloat. Fortunately this has never been the case for Tranquilo!
This year marks Tranquilo's 40th year anniversary! For 40 long years The Tranquilo, first founded by Mike Hagedoorn and 20 years later taken over by his son Anthony, has managed to keep its charm and authenticity, and never lose touch of what a TRUE sailing experience ought to be. Okay, I must admit I am not exactly a professional with loads of sailing experience BUT I can assure you Captain Anthony and his first mate Buster are the BEST at what they do!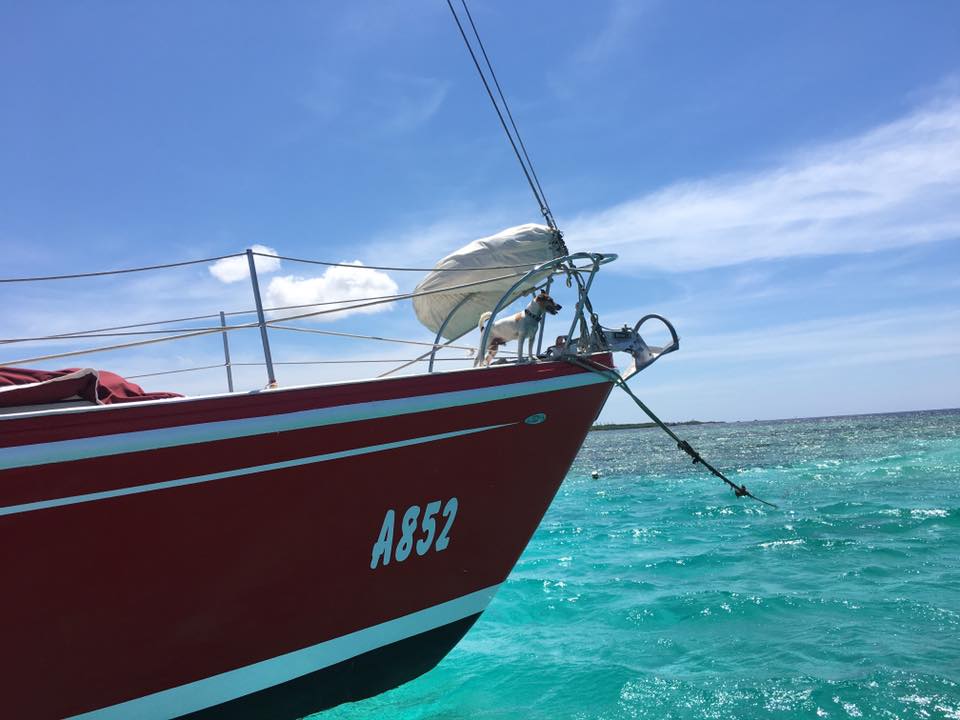 As soon as my lucky plus one (boyfriend) and I arrived at the dock we were immediately greeted with a warm, friendly… and genuine welcome by the Captain himself. Along with Captain Anthony and first mate Buster (who is a Jack Russell by the way and a very cool one) are crew members, Dwayne and Pascha… our new buddies (they aren't afraid to join in the fun with everyone and they happen to know how to make some really good drinks).
The sailing yacht is beautiful! I immediately took note of the large sun deck and found a comfy spot on one of the many cushions! The boat may be a bit on the smaller size to what you may be used to for tours but this is part of what makes Tranquilo so special! There was only a group of 12 of us and plenty of place to spread out and have privacy, yet still have the opportunity to socialize and mingle with everyone on board.
With Captain Anthony at the helm, Dwayne adjusting the sail, Pascha mixing up delicious drinks and little Buster showing the seagulls and marine life who's boss… the dynamic team made it look easy and it was clear they really know how a day out on the water is meant to be enjoyed! P.S. – Buster lives THE life, don't be surprised if you fall in love with this sweet little guy and have total envy of his life.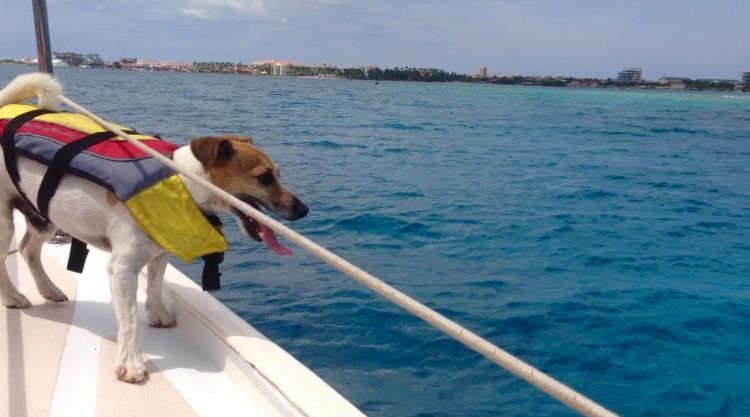 Anthony and his crew instantly make you feel right at "home", relaxed and at ease. There is absolutely no rush in the agenda and that I find to be a beautiful thing! It took just over an hour to sail to our destination, Mike's Reef (Tranquilo's very own secluded reef island) at the Spanish Lagoon.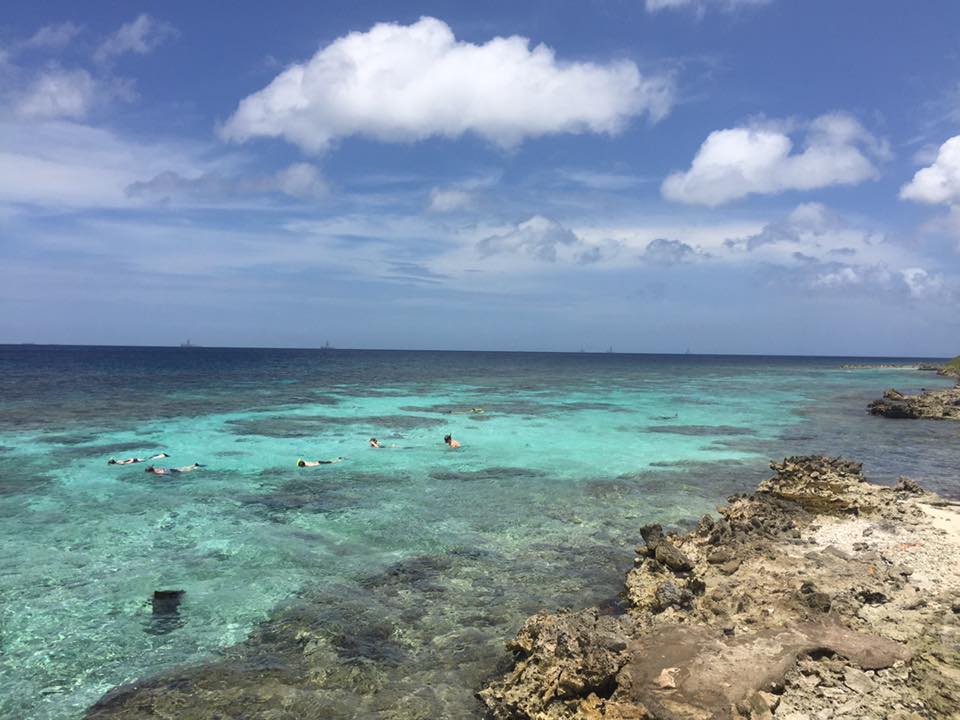 We had plenty of time for snorkeling and those who wanted to continue out to deeper waters for drift snorkeling were able to do so.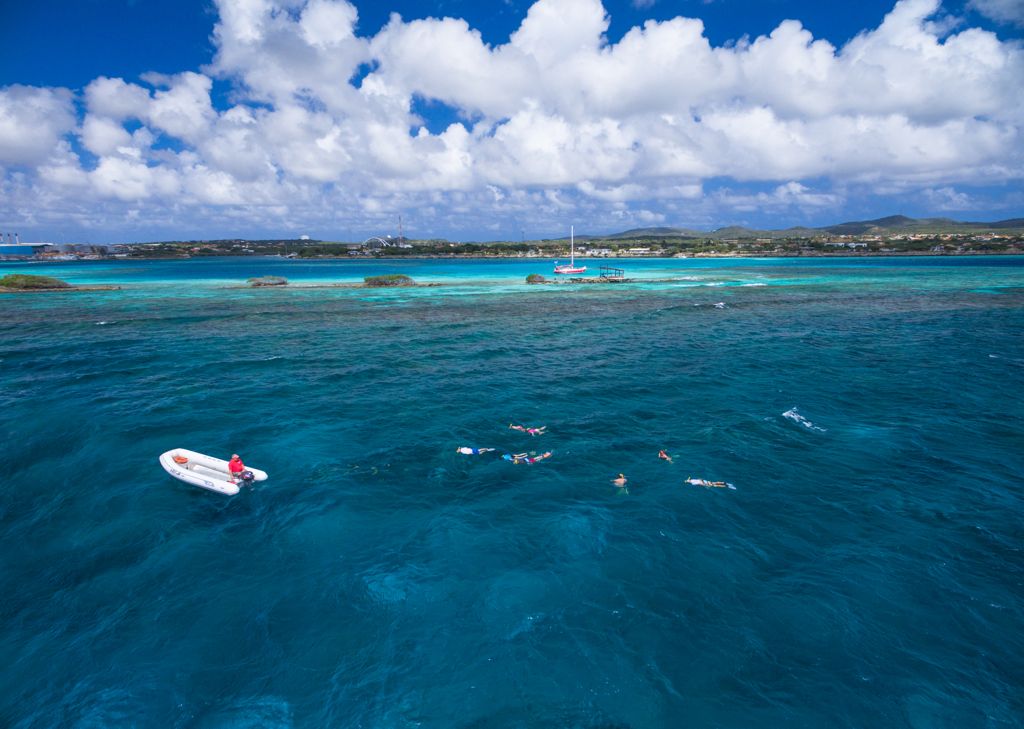 We saw PLENTY of colorful fish, sea urchins and beautiful coral.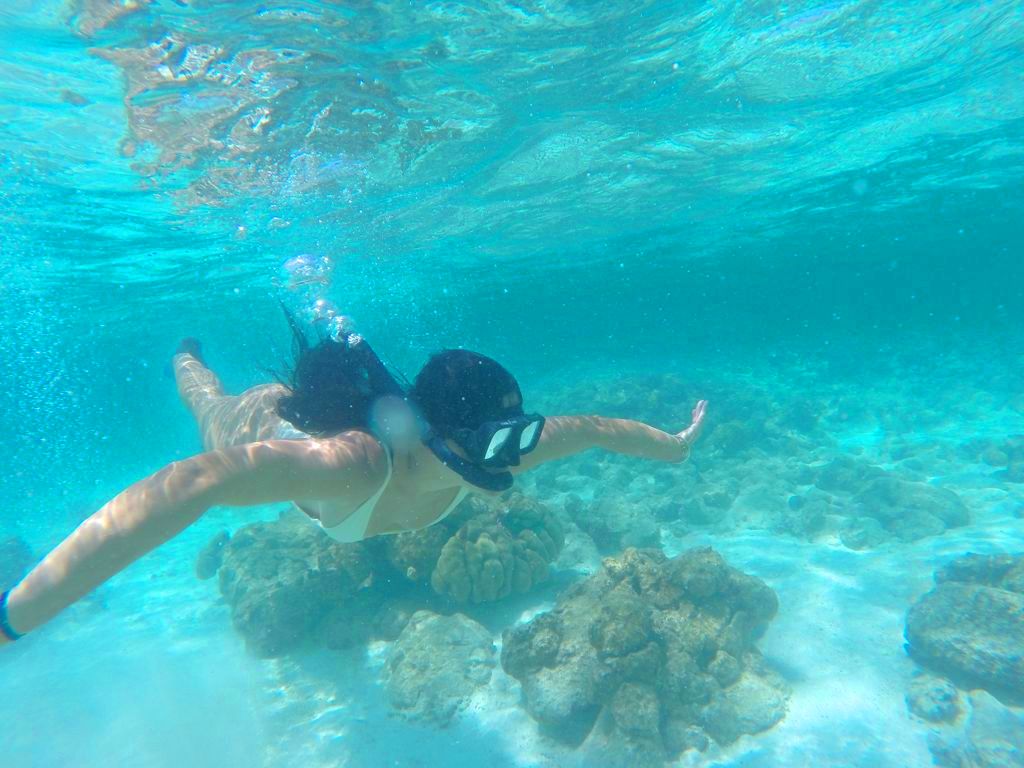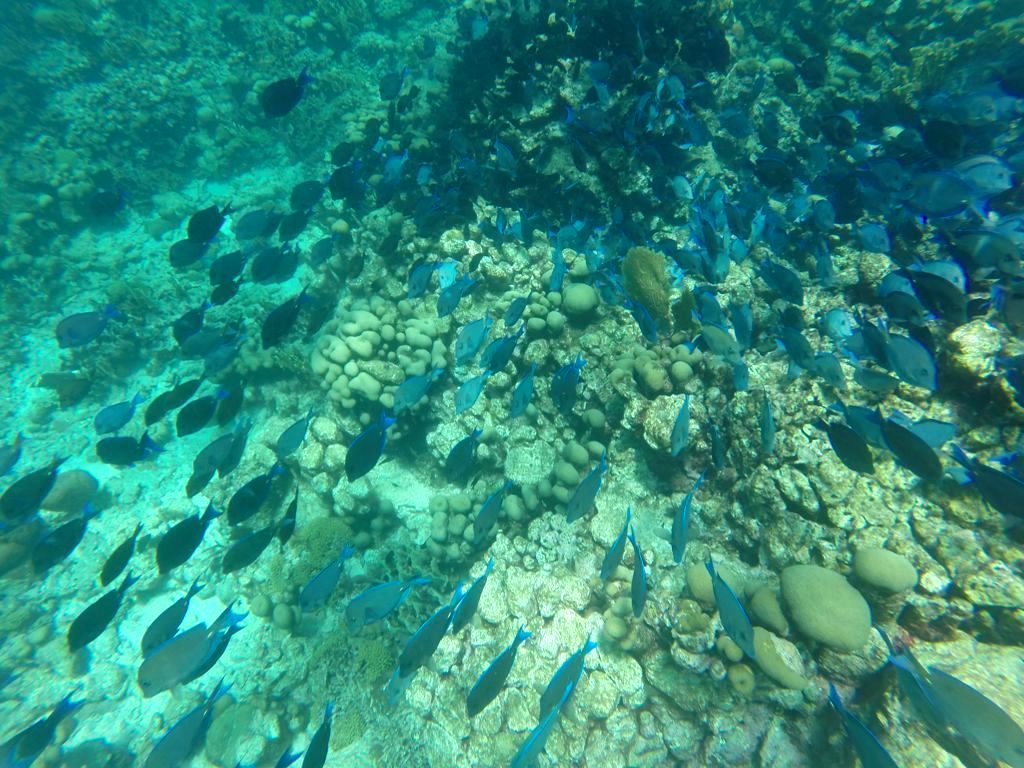 After snorkeling we headed back to the boat for lunch, the crew served us freshly made sandwiches and Anthony's mom's famous Dutch pea soup! I know what you may be thinking, soup… on a boat… in the middle of the day? Trust me after tasting it… you will no longer have any questions other than can I have seconds?
There was plenty of time to relax, enjoy some drinks and take in the views of the never ending shades of blue surrounding our every turn. Pascha and Dwayne did an amazing job at keeping the drinks and fun conversation flowing, the mood and setting was amazing! You have to try their homemade rum punch and piña coladas – so good!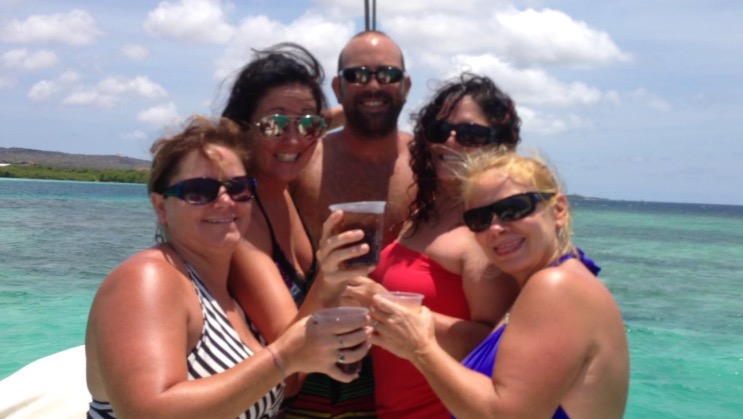 We had a lovely sail back with absolutely no rush, Captain Anthony took his time allowing for everyone to soak up the last bit of sunshine and happiness. With music in the background and more gorgeous views ahead everyone was having a great time. No rush, no worries, just good vibes and happy times! Dolphins even graced us with their presence…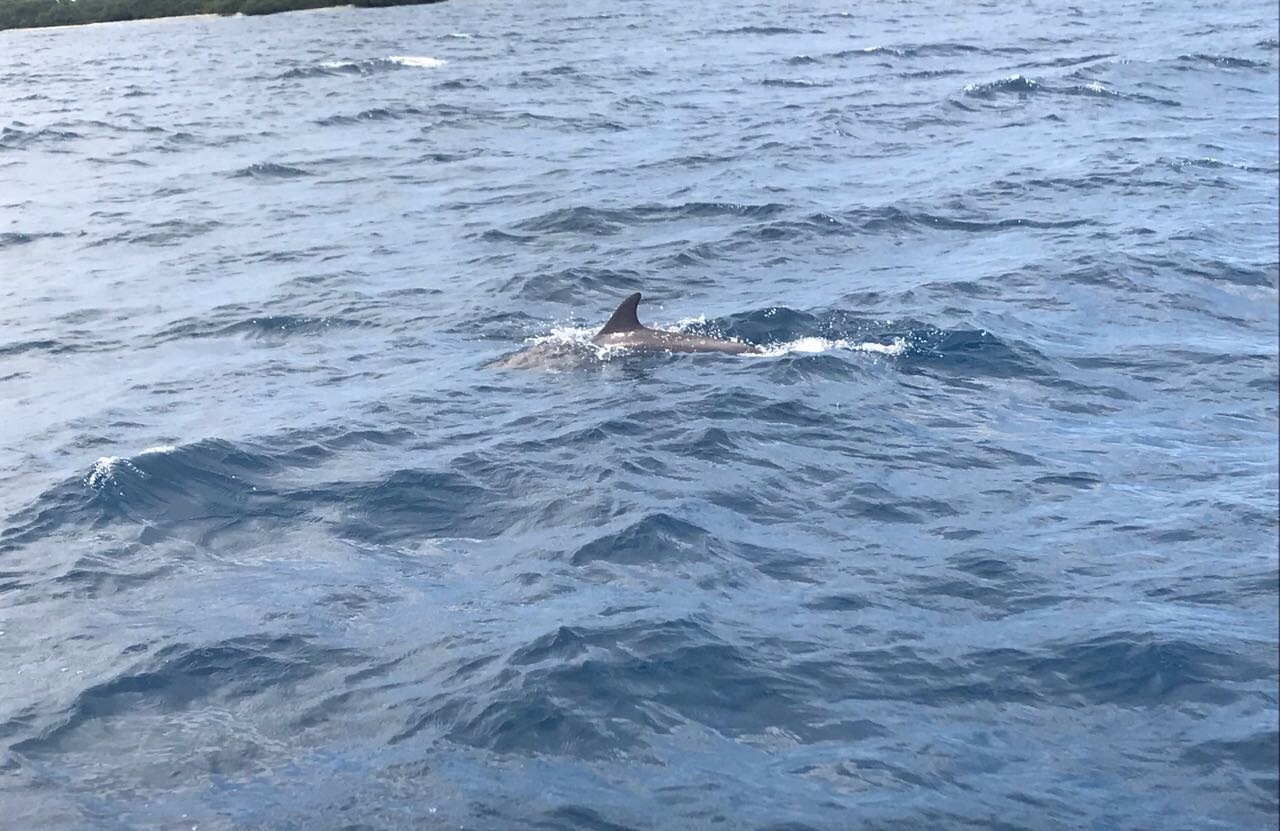 … swimming alongside our boat! Definitely making for a special moment to remember!
Once we arrived back to the the marina and docked at the pier we were totally "tranquil – oed", with not a worry in the world (other than not wanting to get off the boat). Thank you Tranquilo I will definitely return! Who knows maybe my boyfriend wants to take me on the Romantic Dinner Sail for Two (hint, hint… boyfriends and husbands you may want to take note of this fabulous idea).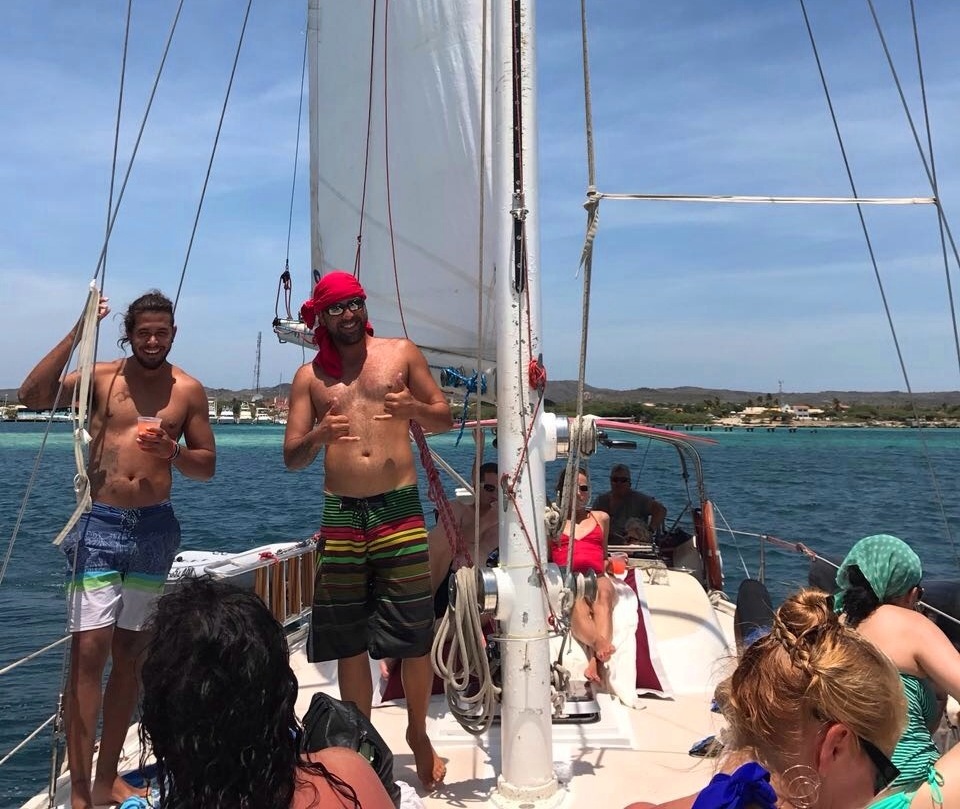 For those of you looking to book a trip for just you and your friends or family, Tranquilo also offers private sailing trips allowing you to have the boat all to yourself!
Discover more about Tranquilo Charters Aruba and remember to book ahead of time as there is limited space and availability!