The VisitAruba team recently explored Aruba's wild side on a (4×4) UTV vehicle and we can say that it was really exciting and a totally fun experience!
Upon arriving at Fofoti Tours we encountered Tanisha (Sales Manager), she was welcoming and really friendly. She took copies of our licenses and showed us the document we needed to sign, and explained a little bit about the tour. She later pulled up a box that contained several styles of bandanas, and they were included! All the styles were super-cooI, but I ended up choosing the bandana from "Scream" because I love the movie series and since my colleague Greg is a Web Developer, I chose the one of "Anonymous" for him.
As our tour guide Jonathan was coming up to us to introduce himself, you could feel his warm and down to earth energy. He talked a little bit about himself, the island, and gave us a brief description of what we were about to experience. UTVs differ from all-terrain vehicles (ATVs also called Quads) in that UTVs typically have a side-by-side seating arrangement, and include seat belts and roll-over protection too. Jonathan also took his time to make sure we were all comfortable in the UTVs and advised the drivers on how to operate the vehicles. He also stressed on safety and how important it is. After his speech, we were good to go and our adventure began!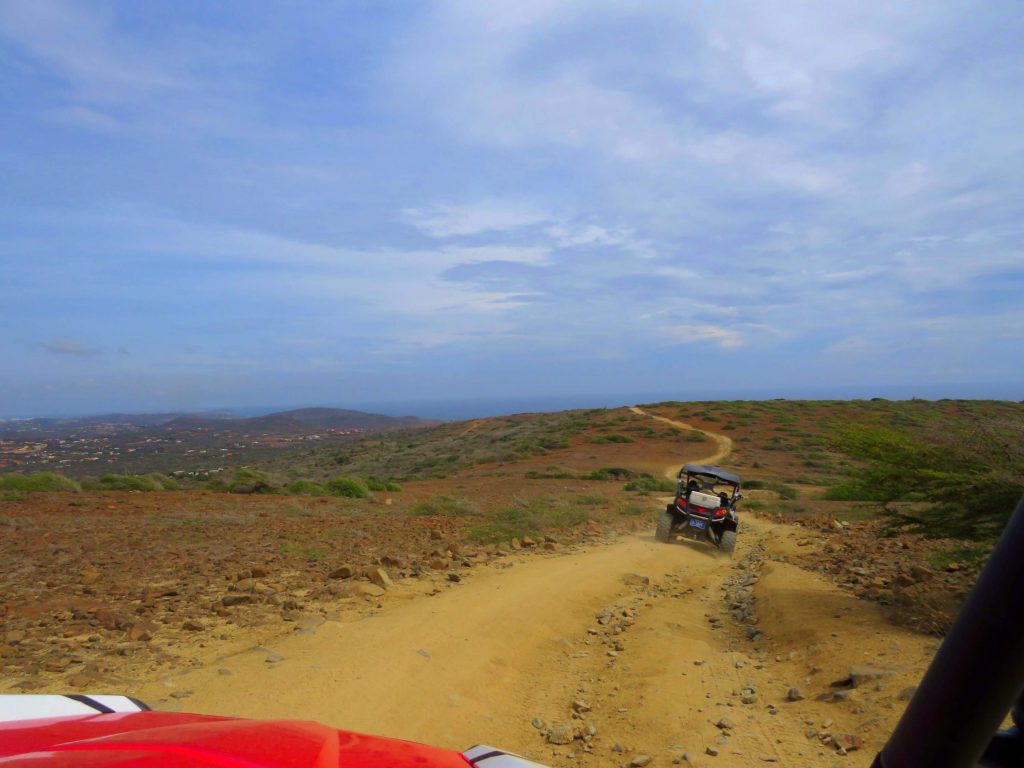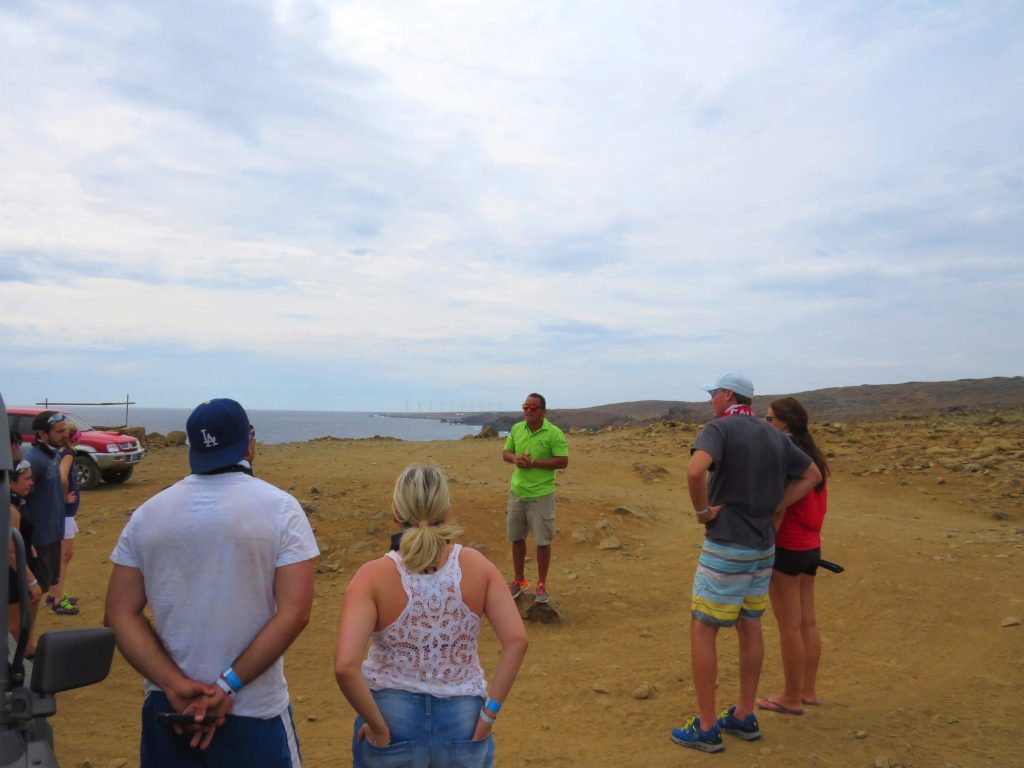 We started by driving through Arikok National Park. As we tackled the rugged and desert-like terrain we could not help but enjoy the panoramic views the park had to offer. The road got quite a bit bumpier as we kept driving, but the UTVs handled this with ease – the power and the off-road capability of these vehicles is unbelievable! Greg loved it!
Our first stop was the famous Natural Pool, it is protected from the rough sea by surrounding rocks and is also located in the National Park. This unique formation of rocks creates a peaceful place that is excellent for swimming, snorkeling, diving off the rocks or just to relax. It is not recommended to swim in the pool when the waves are too high as it can be dangerous, but that day, everything was just perfect!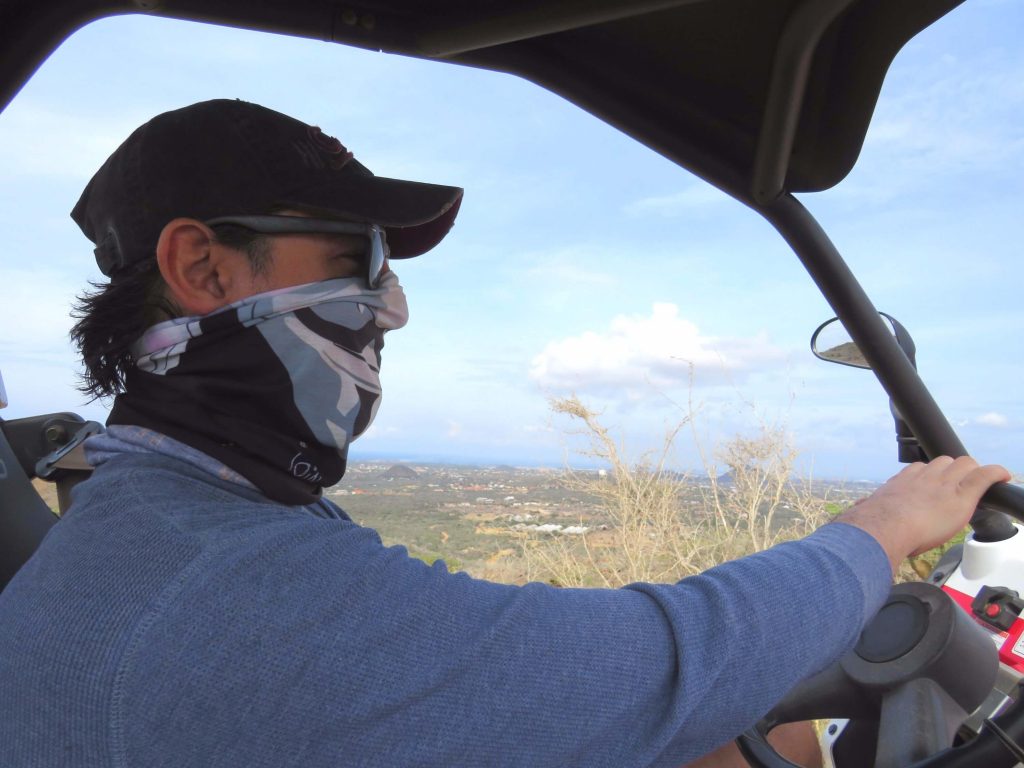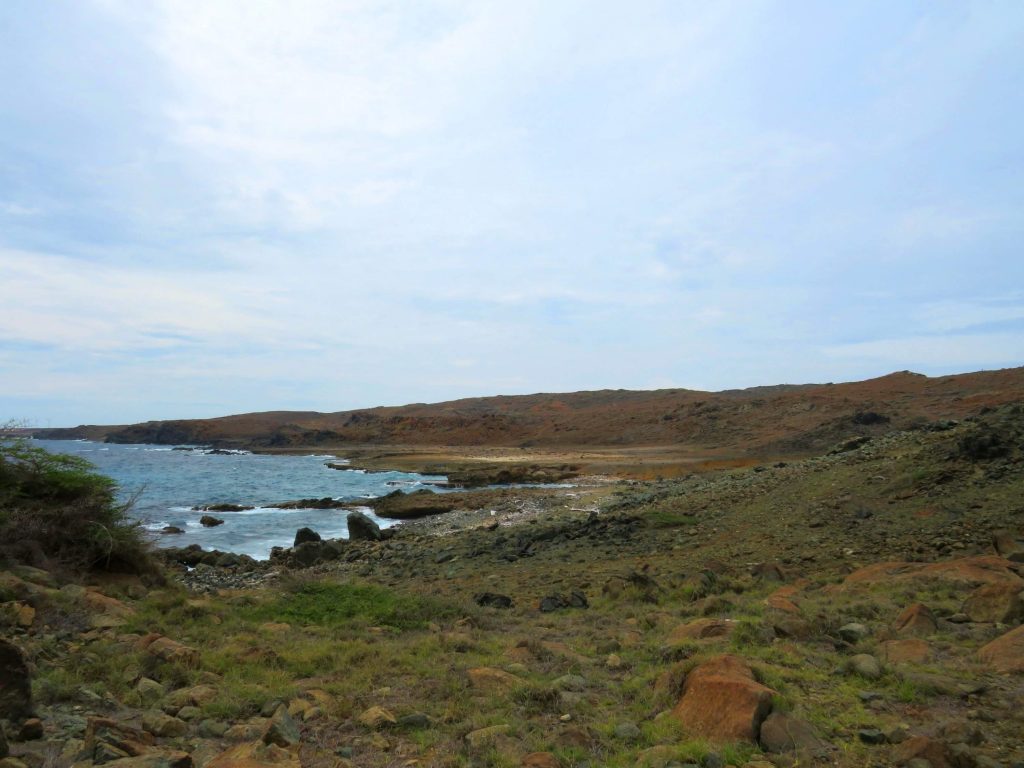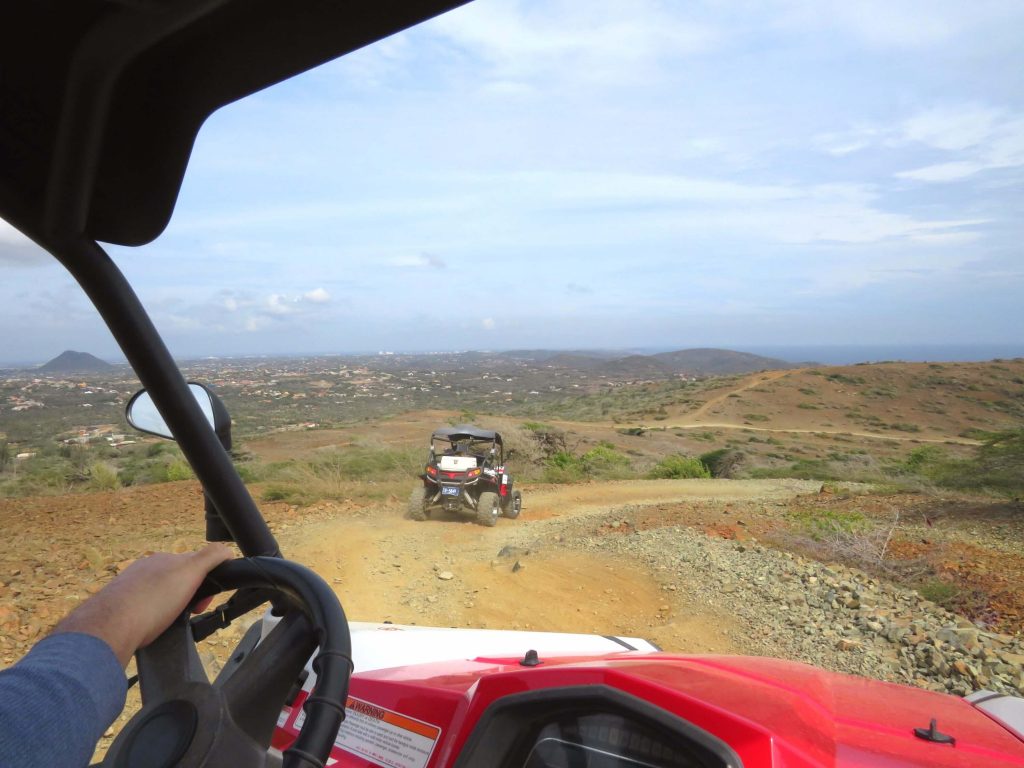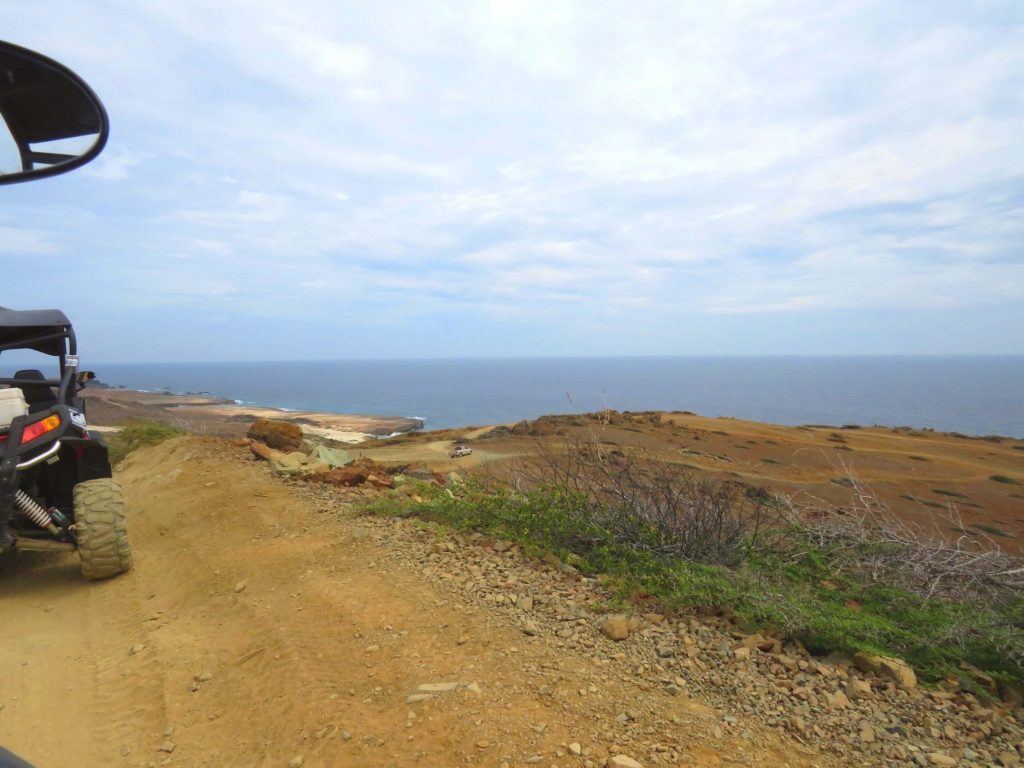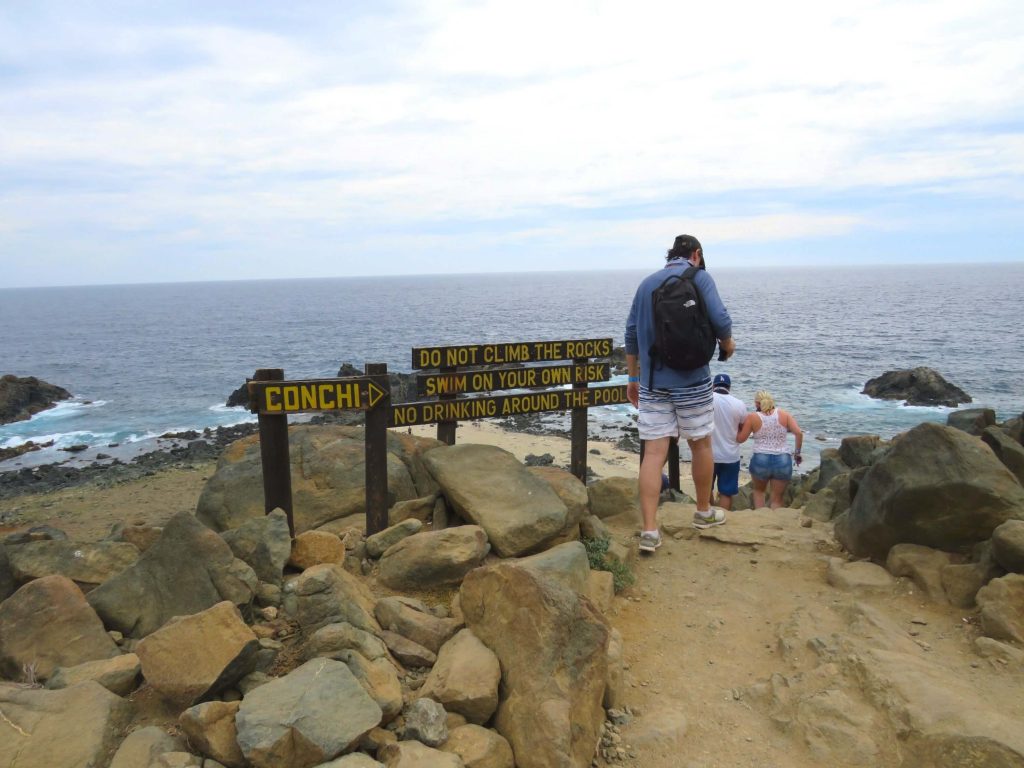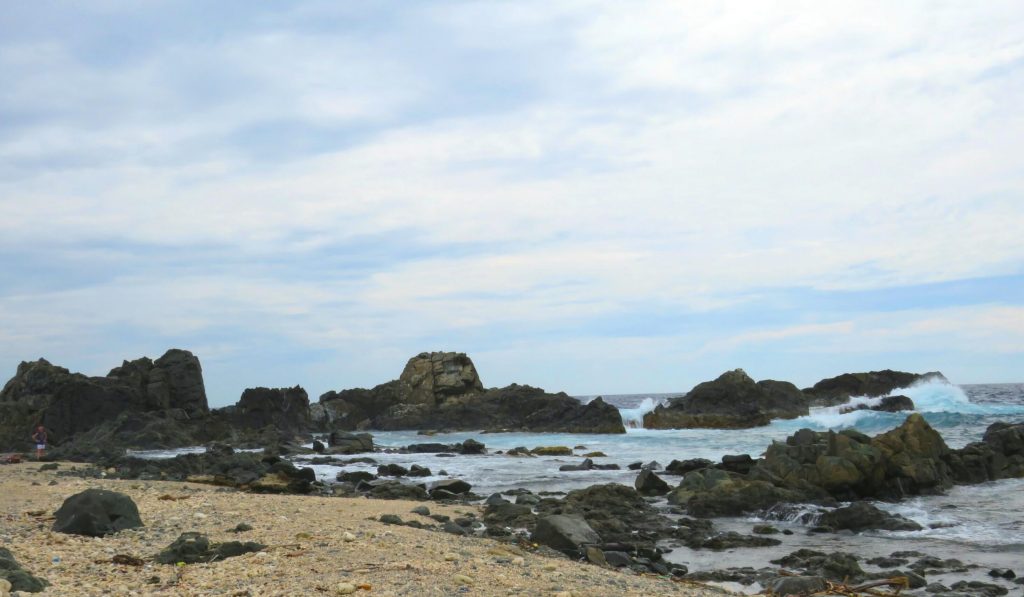 Following the amazing and refreshing dip in the Natural Pool, we headed to the northern coast of the island to visit the Bushiribana Gold Mill Ruins. Jonathan told us the history of the mill and gave us enough time to walk around and take pictures. This deserted old gold mill used to process the gold that was being mined at Seroe Plat and in its surroundings. Although the smelting works were only in use for 10 years, the construction was so solid that the impressive ruins still remain, making it a really awesome spot for photos!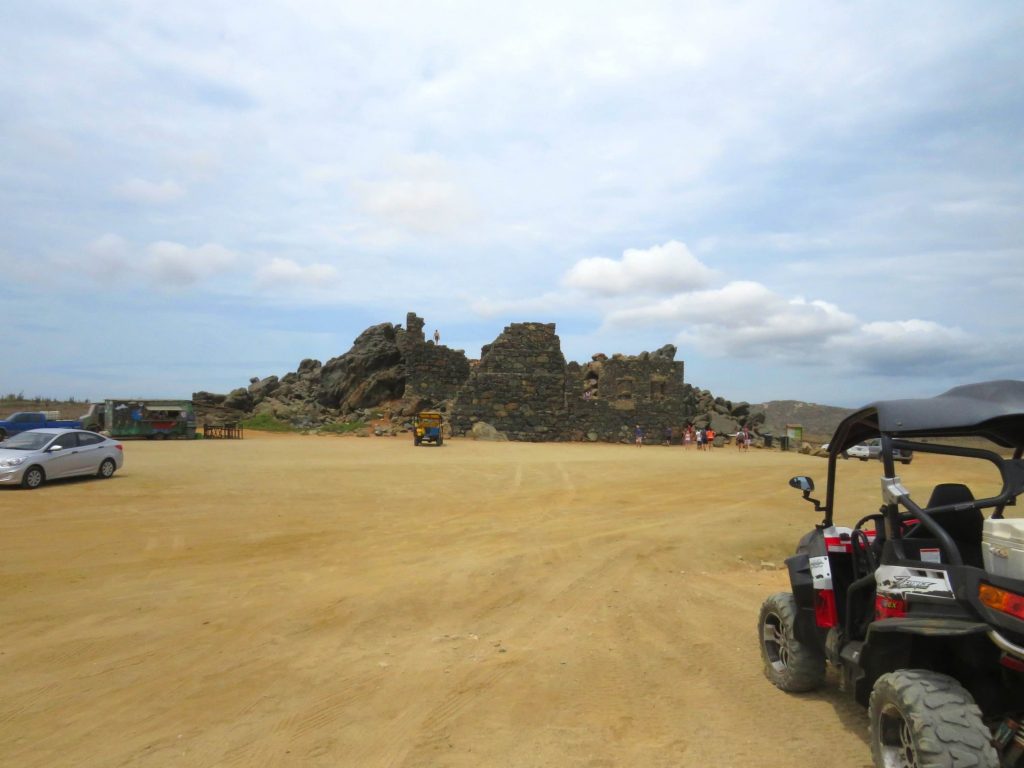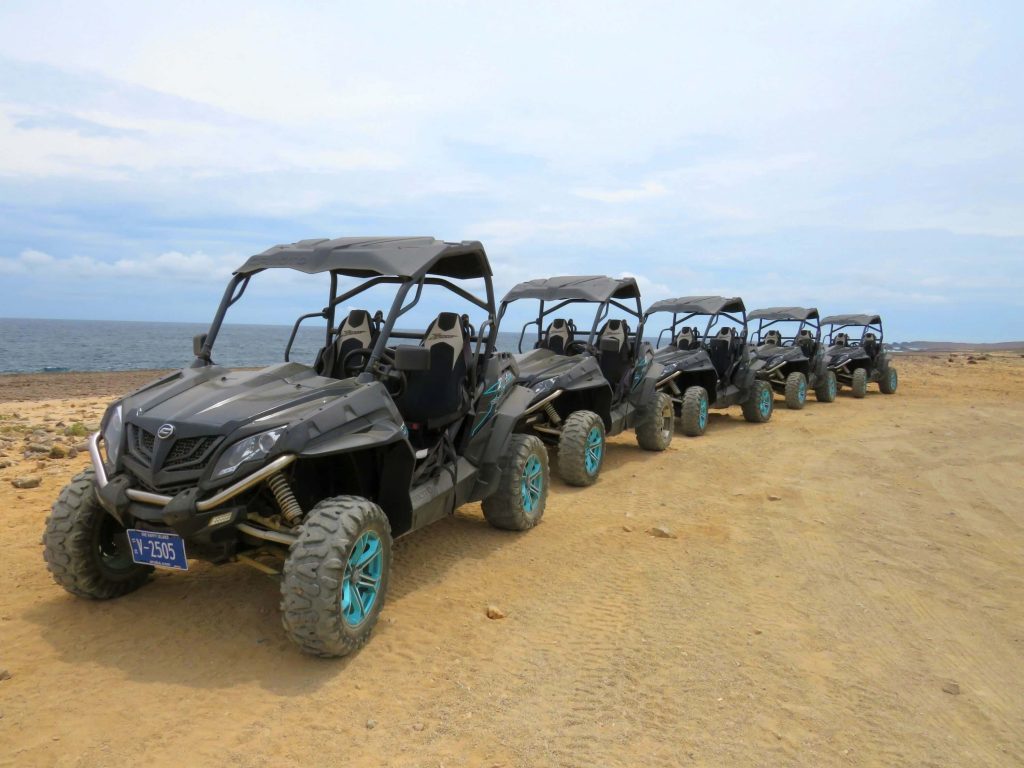 We continued our off-road adventure, with loads more fun driving – these UTVs are a real blast to drive! We made our way along the northern coastline towards our final stop, the Alto Vista Chapel. "Alto Vista" stands for high view and it is a popular spot for visitors and locals.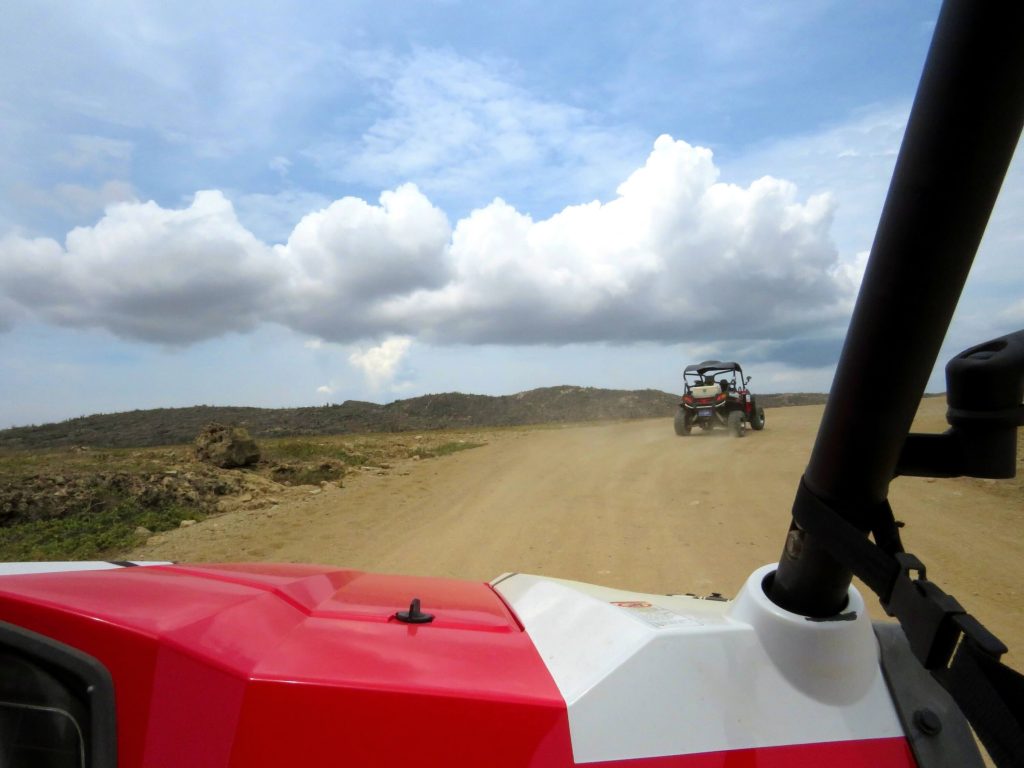 The chapel was the island's first Roman Catholic Church, built in 1750 and reconstructed in 1953. The location exudes peace, tranquility and contemplation. Because of its location, Alto Vista is the perfect place to witness the sunrise and sunset. We walked around, took photos and breathed in the fresh air.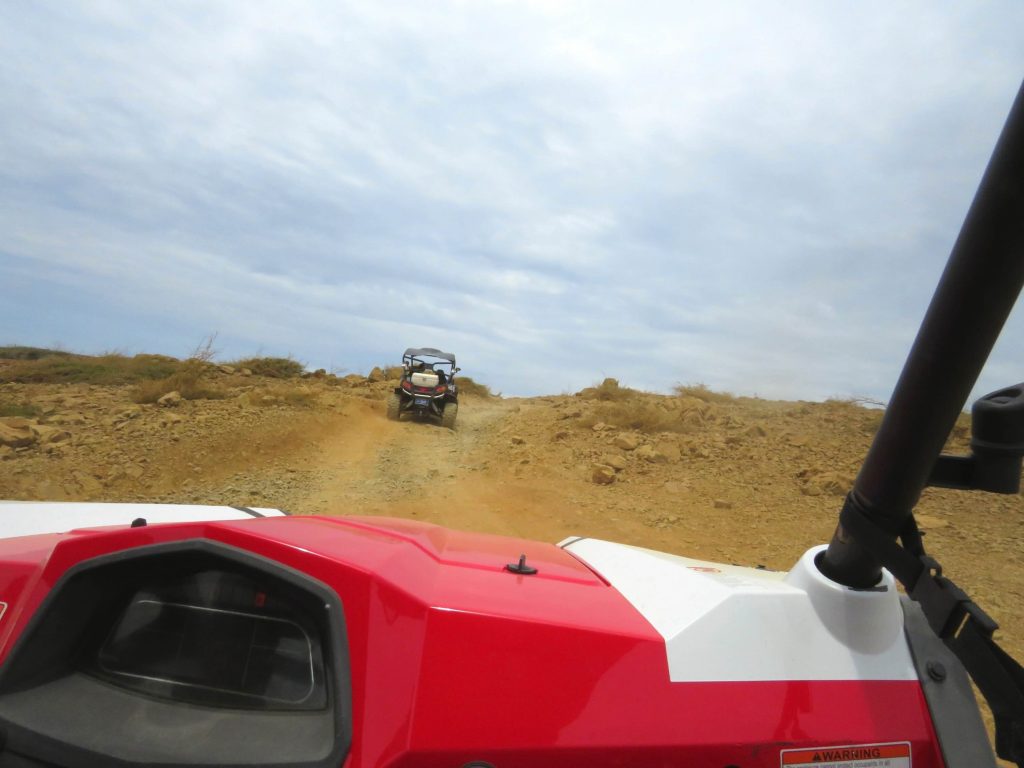 With that, our exciting and thrilling UTV tour came to an end. We headed back to the main office where we parked the UTVs and hopped on a colorful bus with upbeat music for Jonathan to drop us off. Fofoti offer free pick-up and drop-off to and from your hotel, which is really handy.
Greg really enjoyed driving and even said he was thinking of getting himself a UTV! The ride was awesome, with bumps along the way and the wind blowing through your hair! It was definitely a 3.5 hour adrenaline-filled experience. It's a great way to explore the island and learn about its history along the way!
Check out the before and after photos of ourselves! Messy hair and dusty shirts! It was a blast!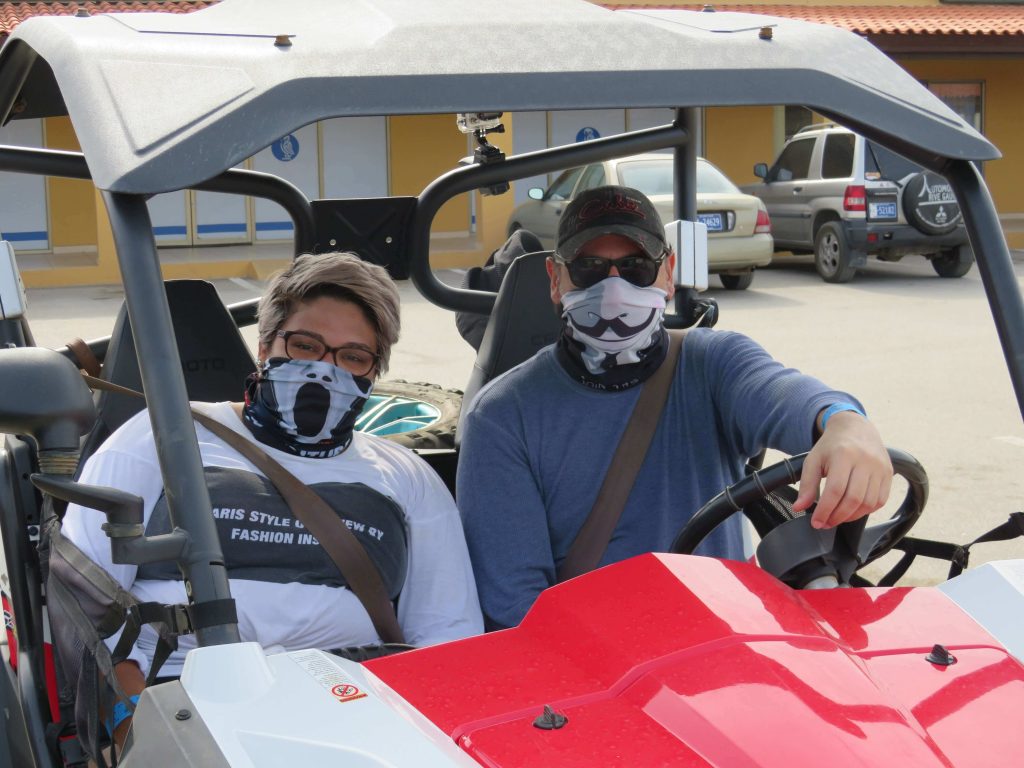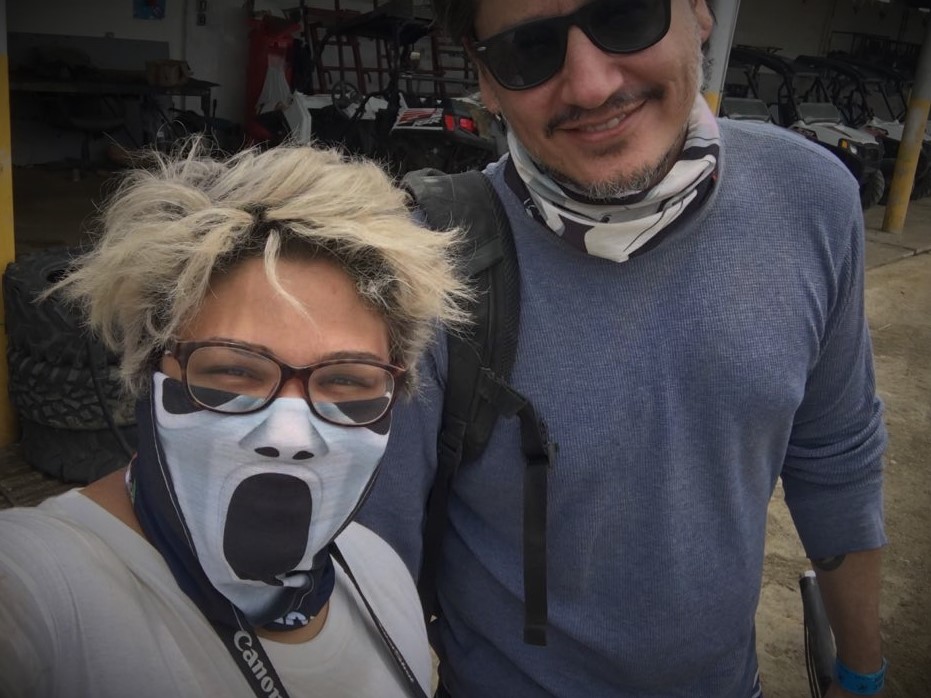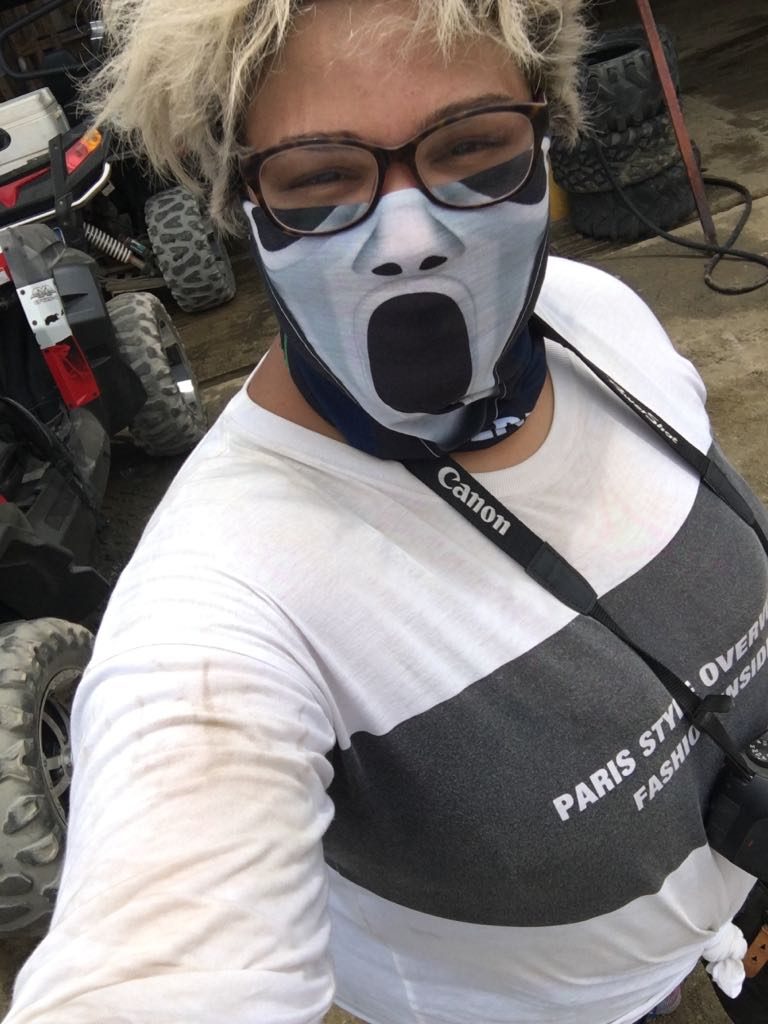 If you want to experience this thrilling adventure, check out Fofoti Tours Aruba and book your off-road adventure!