With so many different tours and things to do in Aruba it can be hard to decide how to spend your time. I am here to help make it quite simple for you, discover Aruba how it is meant to be explored: by sea. After having had the pleasure of joining one of Aruba's newest and most unique sailing tours I can assure you that between the sparkling turquoise Caribbean waters and the gorgeous coast of Aruba, being aboard Lady Black of Sailaway Tour is PURE sailing PARADISE!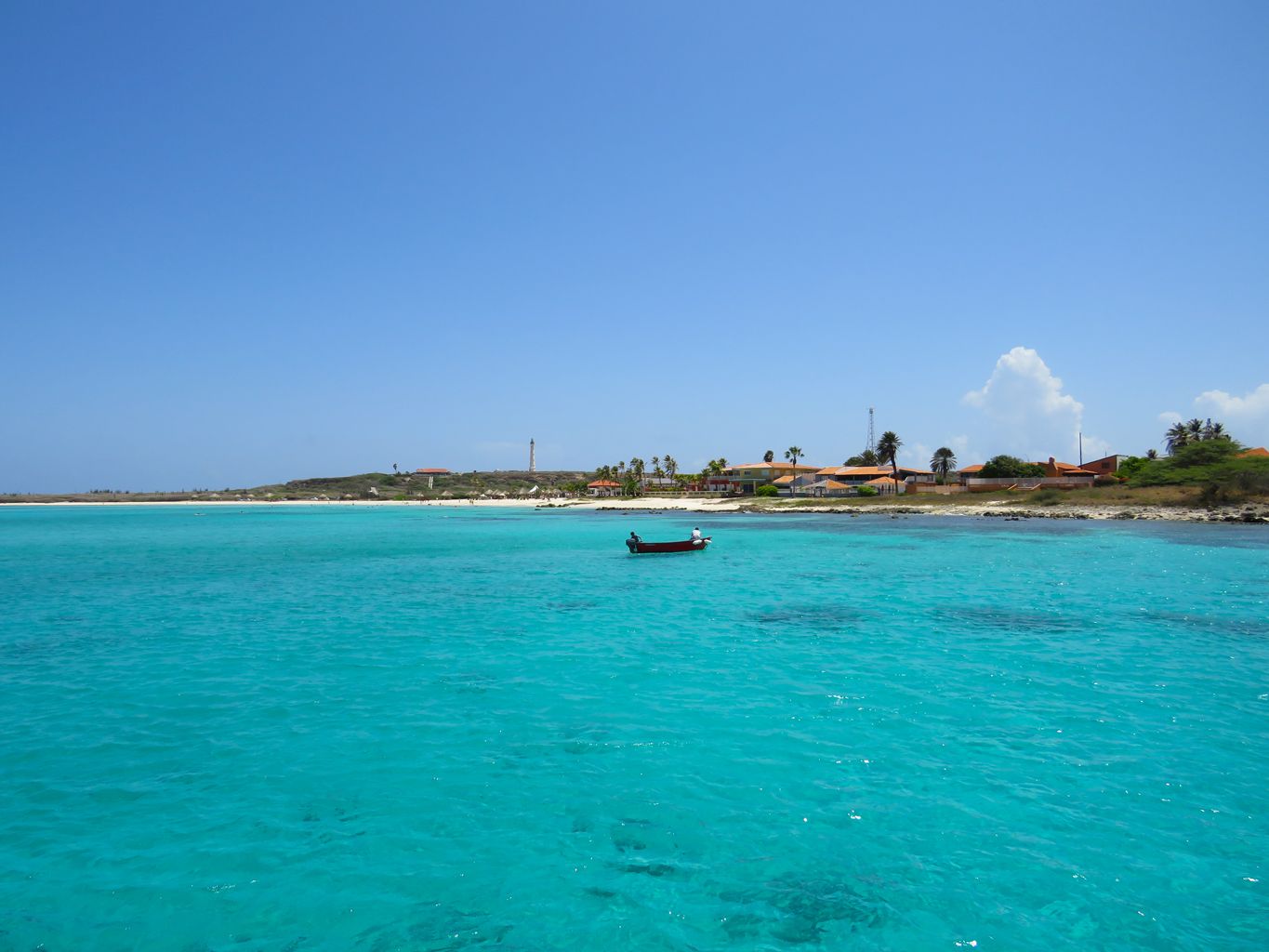 Lady Black is unlike any ship you've seen in Aruba before, beautifully crafted and impressive in size. This wooden sailing vessel measures up to approximately 110 ft long and 24 ft wide! Not until you approach the ship up close will you witness the beautiful design, detail and spacious layout. The quality design and fine details of the ship make for an ultimate luxurious experience at sea. Modern and sleek, yet maintaining true character of an old historical sailing vessel, Lady Black is sure to take your breath away.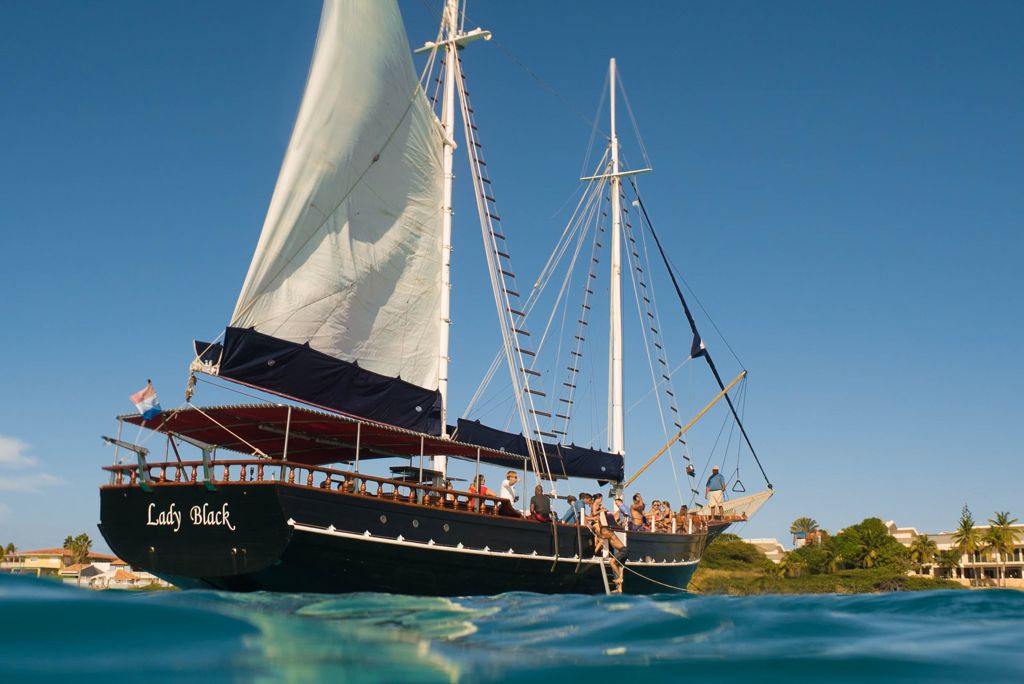 Owner, Jarl Lillesalt, has traveled a LONG way from home (a total of 8,161 km to be exact) with hopes of making his lifelong Caribbean dream come true. Hailing all the way from Norway, Jarl, along with the help and support of his loving family has introduced Sailaway Tour…making his dream a reality!
He purchased Lady Black in Spain and just recently renovated her last year (2016) in Brazil, making sure to perfect her just right for his soon to be passengers.
The ship includes a large, spacious deck with lounges to relax and soak up the sun, a full bar, a surround sound speaker system, a large shaded area with tables to enjoy lunch or dinner and take a break from the sun for a bit, and even a rope swing to do (or try to do in my case) fun tricks while jumping into the water! Be sure to ask Juan Carlos to show you how it's done – he's a pro! He makes flips, twists and turns look easy. If you're lucky he may even ask you to come and join him by jumping on his back, just remember to hold on tight!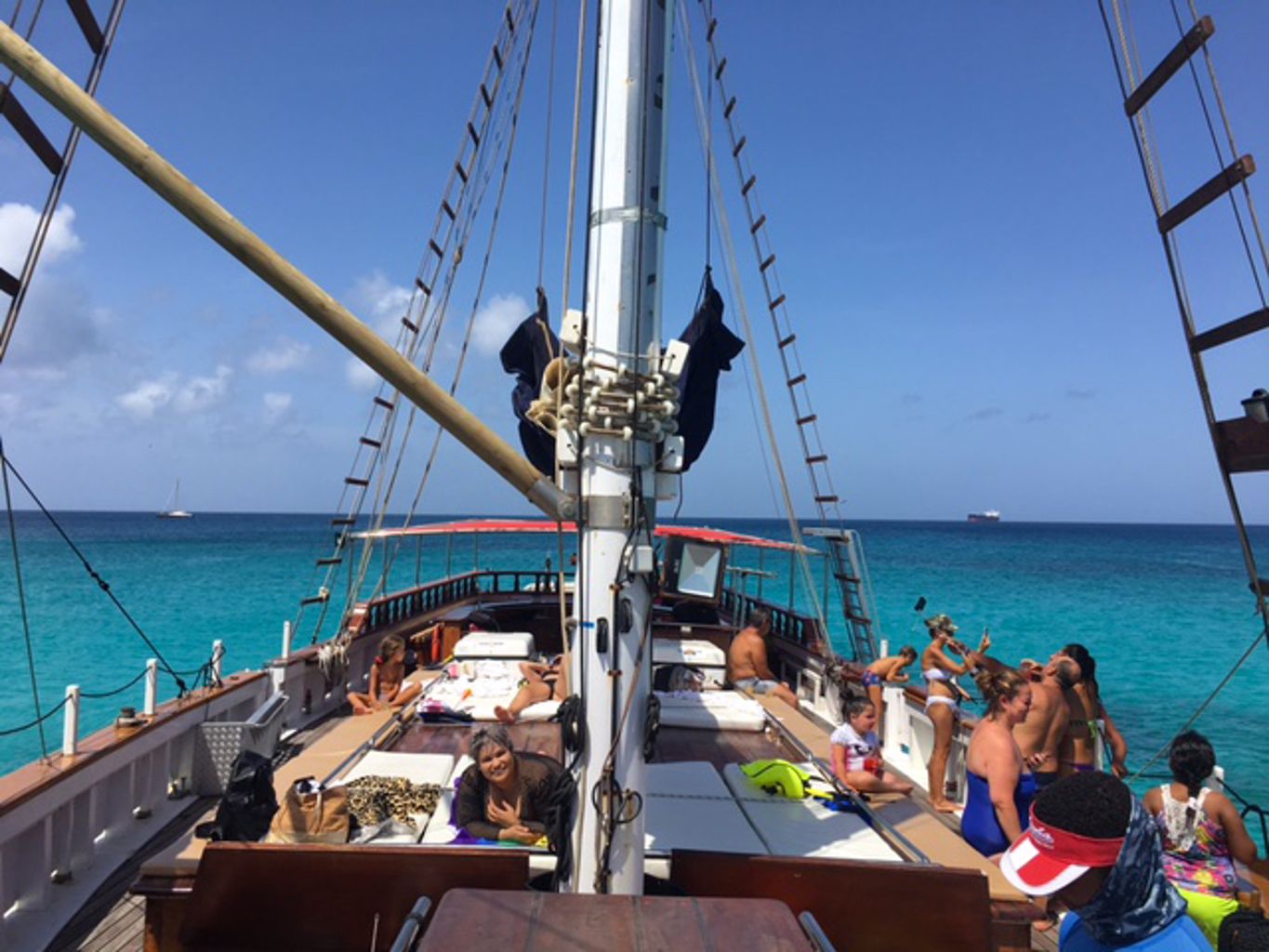 My favorite area of the boat has to be in the front where you will find a large hanging net to climb in, making for a quiet, relaxing little nook – just lay back, feel the breeze, look down at the crystal clear blue waters beneath you and enjoy your beautiful surroundings!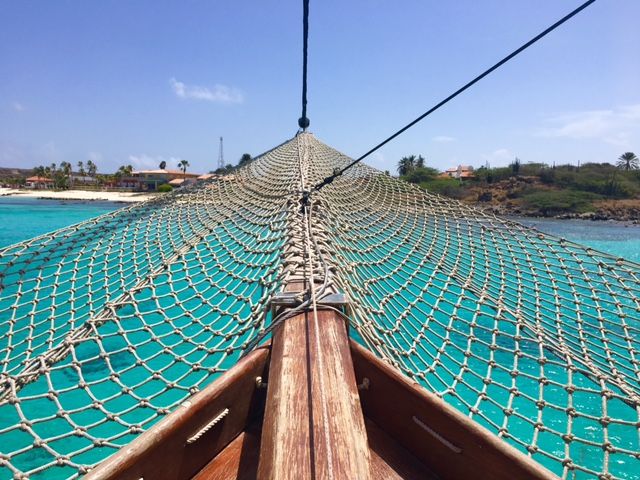 While the ship may be what first catches your eye, it is the crew and ambiance that makes for a perfect day out on the water. The only thing warmer than the Caribbean sun is the welcome you will receive once you climb aboard!
My colleague and I were able to join one of their morning tours to get a better feel of what they are all about. Thanks to the crew Jonathan, Virus and Juan Carlos we had an amazing time! They were super attentive, friendly and funny… making sure all passengers had a smile on their face and a full drink in hand (very important)! Our day consisted of sunny skies, smooth sailing, cold refreshing drinks, good music, new friends and happy, relaxing vibes… what more can you ask for?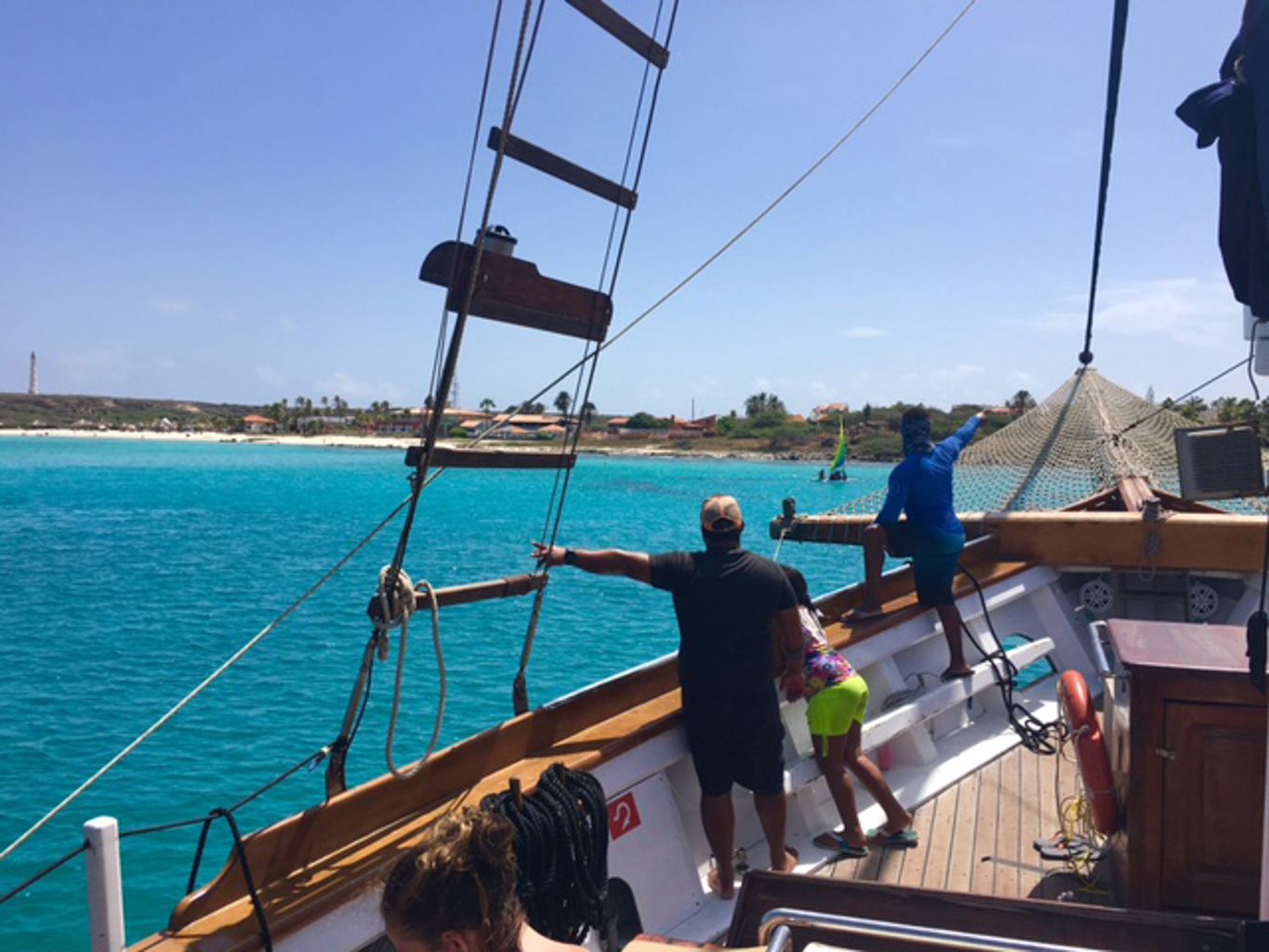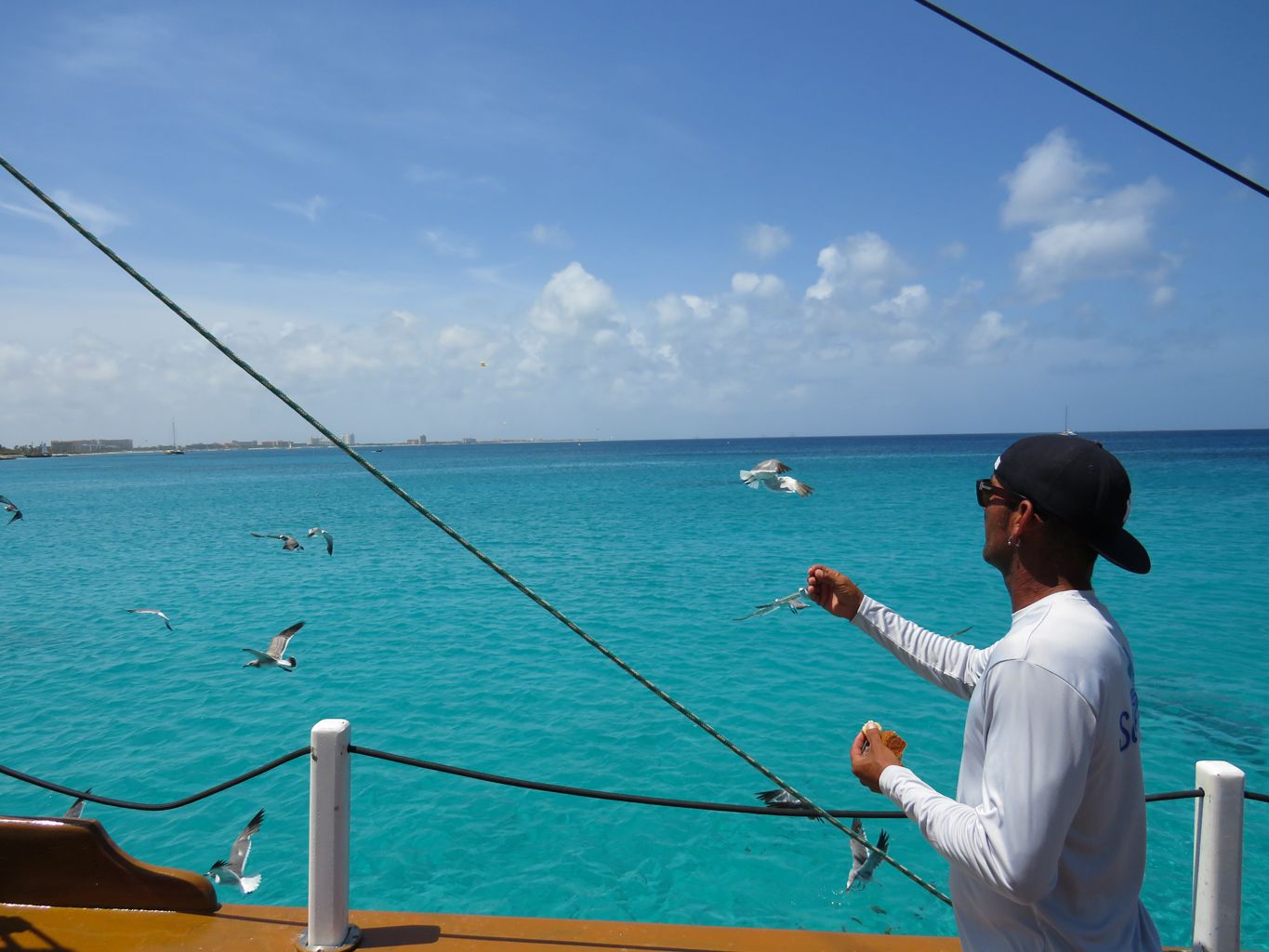 We started out at one of the Caribbean's largest shipwrecks, the Antilla, for some amazing snorkeling and then sailed our way to Boca Catalina bay. Just imagine warm, clear blue waters and tropical fish of every hue surrounding you everywhere you turn.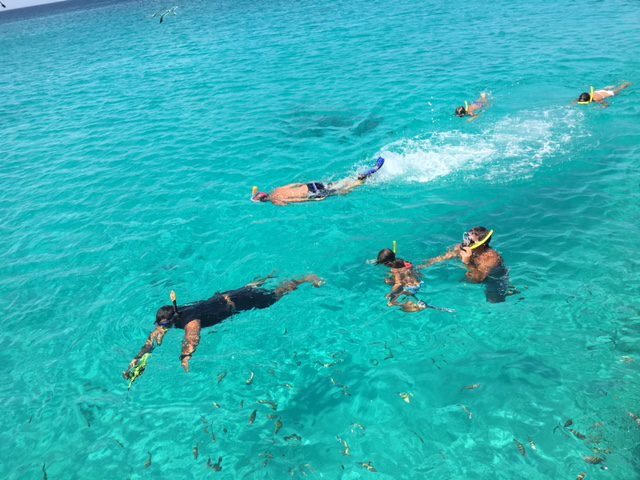 There was plenty of time for snorkeling, swimming, relaxing, dancing, jumping off the famous rope swing and quite possibly most important – lunch! Lunch was delicious. They served grilled chicken, fish, rice and salad. I'm big on food so I can attest that they did not skimp out on the food department – it hit the spot!
During the sail back we were in a state of total bliss – lounging on the deck, soaking up a few more rays of sunshine and sipping our cocktails, a perfect ending to our day! We are now very excited to try their other tours! Sailaway offers a variety of tours allowing you to choose the perfect one for you. Looking for something family friendly? Romantic? Or perhaps you're looking to get your party on… no worries, they've got you covered! Choose from their morning tour, afternoon tour, sunset tour, sunset dinner & party tour or the party cruise after the sun goes down! They even offer private charters!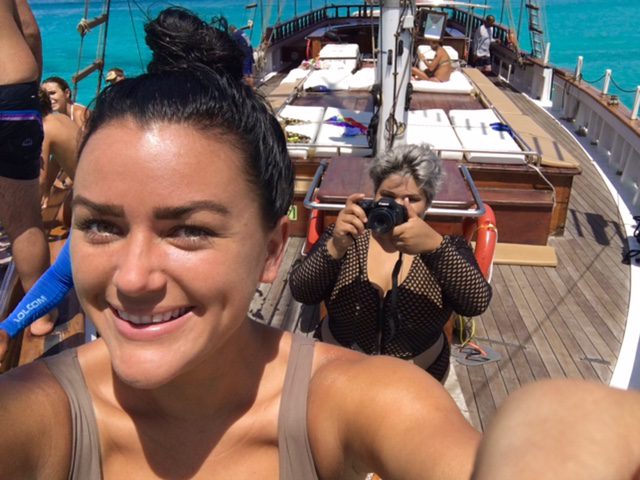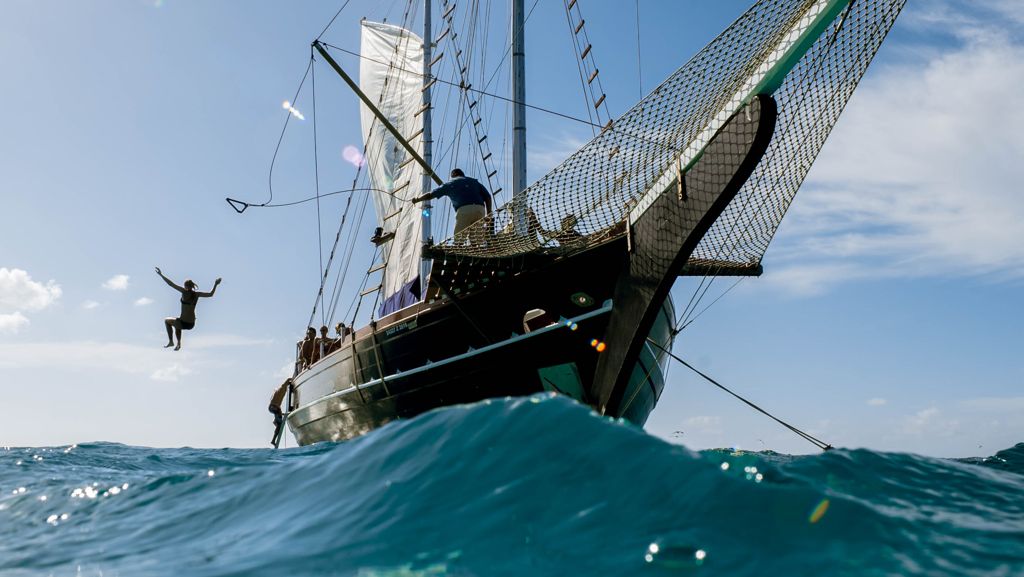 Ready to set sail? Discover more information on Sailaway Tour Aruba or book your trip now!