Sergio Silva was born during Carnival season 43 years ago. That fact might explain why he's got music pulsing in his veins and pounding in his heart. Sergio has lived his entire life in front of a backdrop of music. Sergio laughs when he recalls how frustrated his parents used to be his inability to be still – even at the dinner table. If he wasn't using his silverware as makeshift drum sticks on the edge of the table; he was softly humming whatever song was playing in his head that day. He can't remember a time when he wasn't a musician and Aruba's Carnival festivities are one of the pillars of his musical passions.
The first time Sergio was in the Carnival he was a just 6 years old. His role was as a tiny dancer in the Esso Petrolera's Carnival group. Sergio's favorite memories of childhood carnivals are of the brass and steel pan marching bands that have given way to the motorized musical stages of today.
Sergio loves everything about the Carnival but he misses the purity of old school asembo (ensemble) music. Back then, members of the many-membered marching bands didn't need electrical amplification to make themselves be heard.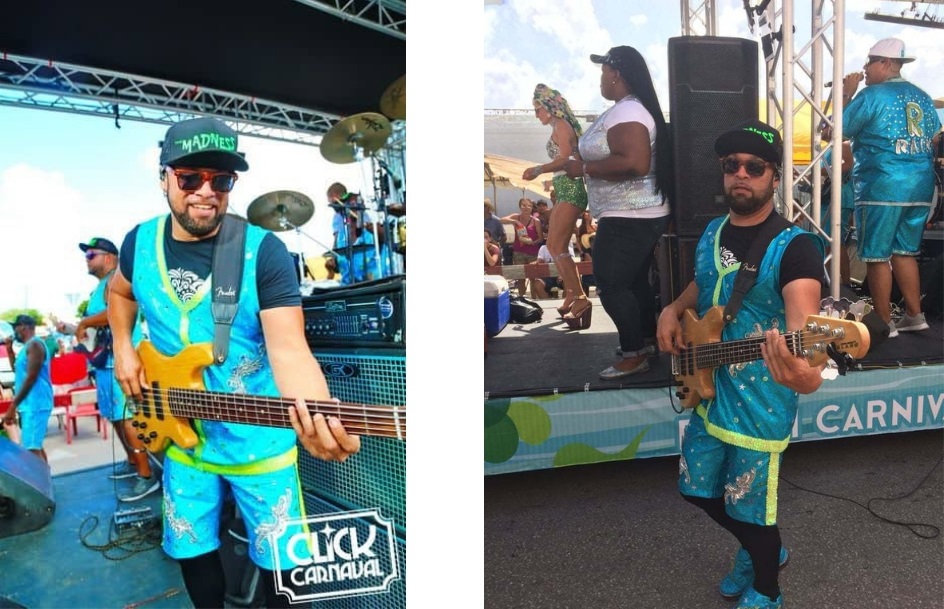 The first instrument Sergio learn to play was a drum but when he was 12 years old he fell in love for the first time- with a Bass guitar. He started teaching himself to play by plucking along to songs on the radio. How cool is that? Sergio was in his late teens before he received any formal training. His first music lessons involved studying music theory with Lucio Rivadeneina. He also counts the late Roy Keteldijk, Chicho Kock and his personal hero, Reno Steba, among the most significant musical influences in his life.
Sergio's played with several prominent local bands over the years but it's only recently that Sergio was able to devote himself to music full-time. He has a gorgeous wife and two amazing daughters who are his top priority. (You might not know this – being a musician isn't exactly the most stable job in the world.)
For a long time, Sergio was hesitant to leave his day job as a Sea Trek instructor. However, the music man has unwavering faith in the Universe. He knew that one day, when the time was right, everything in his life would fall into place and allow him to pursue a career in music without sacrificing his family's quality of life. It did.
These days, Sergio is an independent musician. He currently plays classic rock covers with 'Robin and the Rebels' every Wednesday night at 9:30 at Aruba's Hard Rock Cafe. Other than that he's busy gearing up for Carnival 65.
This year he'll be performing with 'Madness' for a third year but this is not his first musical rodeo at Carnival. Sergio has played with other prominent Carnival bands such as BMW, TIGO and ATNG. Obviously, Sergio's favorite parts of Carnival are the parades but he can't decide which one he likes the best because each one feels different.
Be on the lookout for more Local Spotlights to come!