The VisitAruba team went for a wild night out with Aruba's very own Karaoke Party Bus, and THE EVENING WAS FULL OF MEMORABLE MOMENTS of singing, dancing, laughing, and plenty of drinks!
If you aren't afraid of a rowdy rendezvous on a bus fully-equipped with fun-loving strangers who indefinitely, and happily, turn into singing partners…
Or, an entertainment crew that keeps everyone smiling and dancing…
Then keep reading to reveal our amazing ADULT ADVENTURE, bar-hopping around Aruba, with the Karaoke Party Bus!

MEET THE KARAOKE PARTY BUS
This bar-hopping bus is covered from the inside-out with graffiti artwork of famous singers and performers. Including, but not limited to the likes of Lionel Richie, Michael Jackson, Elton John, and Tina Turner.
The evening starts off with HOTEL PICK UP SERVICE. Our fellow karaoke-goin' crew was picked up from the Hilton Aruba Caribbean Resort & Casino, and the Aruba Phoenix Beach Resort. While the rest of us rocked the resort pick up and drop off with the Divi Links guests.
The bus was packed with props for journey-takers to enjoy. Some of which included LED light up maracas that made for great 'microphones' too. Speaking from experience of course – he he he…
You know those IN-FLIGHT ENTERTAINMENT OPTIONS you can get while on a plane? You know, the TV screens that are attached to retractable ceiling mounts? Well, the Karaoke Party Bus has these on-board, so that everyone can sing along, even if you don't know the song lyrics by heart!
LAST, BUT NOT LEAST, let's not forget the best party additions of all: Giovanni and the Karaoke Party Bus Crew!!!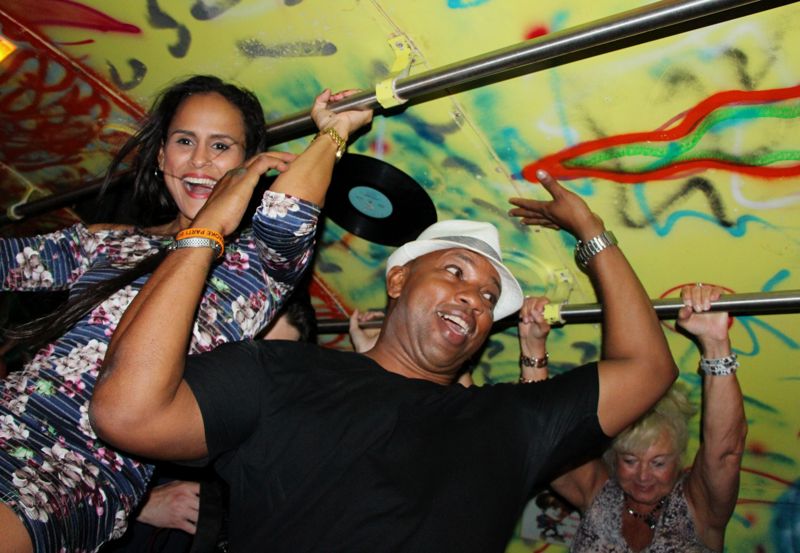 Giovanni Trim is the man behind the Karaoke Party Bus. He is also known around the One Happy Island as 'Aruba's #1 singer & entertainer' and it's true: the man truly knows how to entertain. You meet him at first handshake and you feel like you've just met up with an old pal.
The team of ladies were beyond amazing too. When it came to making everyone feel comfortable, and confident in just-letting-loose and having fun, the ladies were the first to be there to dance with you and poke fun at themselves too.
It didn't take long at all for the whole group to feel like a collective crew of professional karaoke singers. Everyone's efforts definitely made for very lax yet vibrantly upbeat vibes!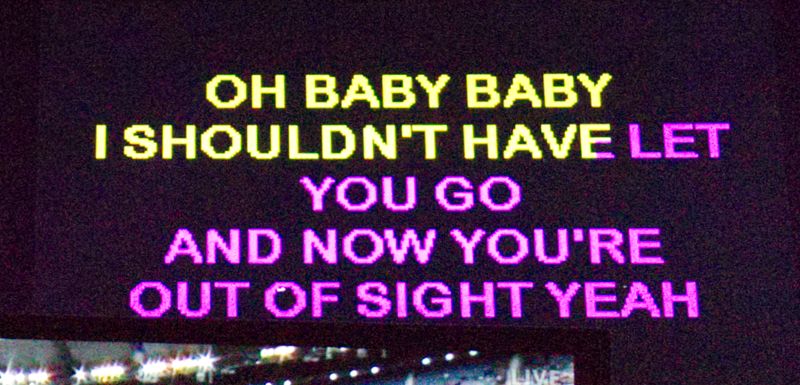 As for me, I told the VisitAruba team I had one objective for our night out.
Goal of the evening: SING A BRITNEY SPEARS SONG.
*Spoiler alert: We did, and onstage too!
Before we get too ahead of the journey though, let's get on board, and hop off at the first bar of the evening.
Welcome to Cafe 080 – Shots on Us!
First stop of the evening brought the FUN BUS FANATICS to Cafe 080 where everyone was welcomed with a complimentary shot right before walking into the venue.
Shortly after entering the bar decorated with quirky decor, their friendly staff brought out some delicious typical Dutch snack platter foods for us all to enjoy! Some of which included bitterballen, frikandellen, and nuggets.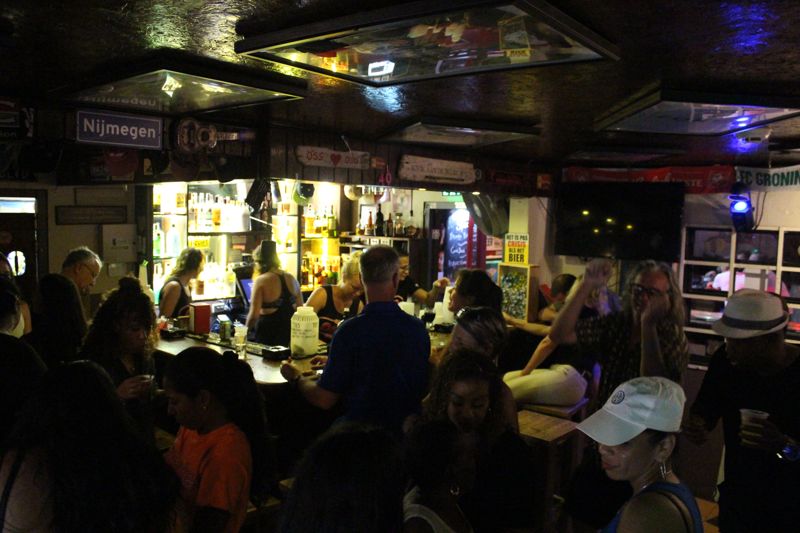 After everyone replenished themselves with some crunchy snacks and drinks from the bar, the ladies of Karaoke Party Bus had a little dance show for us to GET THE FIESTA STARTED!
Fun fact: French fries and bitterballen are WELL LOVED by locals who frequent this Dutch bar.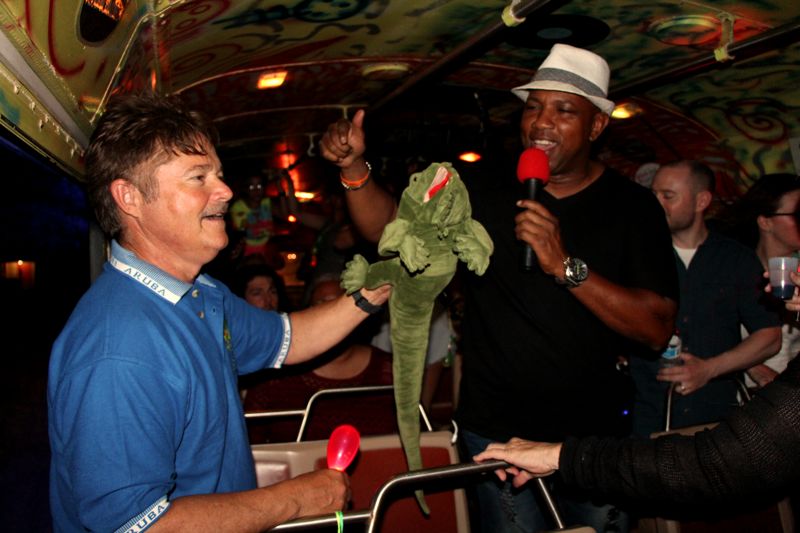 As the wheels on the bus went round and round, and the cocktails were going down, everyone started transforming into confident performers: rocking the mic and doing duets with strangers on the bus on our ride to the next spot.
On to the Dance Floor at Eclipse Nightclub
We arrived at Eclipse Nightclub, welcomed with our next round of shots and disco lights painting the interiors. The lighting and music, played by their in-house DJ, made smiles turn bigger, and hips a bit looser with each step closer inside.
The big win for this venue was definitely the group dancing and dance offs. All in good fun of course.
The ladies of Karaoke Party Bus guided us with some famous group dances that most of us couldn't resist to dance along to. EXAMPLE A: catch us dancing to Dj Casper's Cha Cha Slide in the following pic!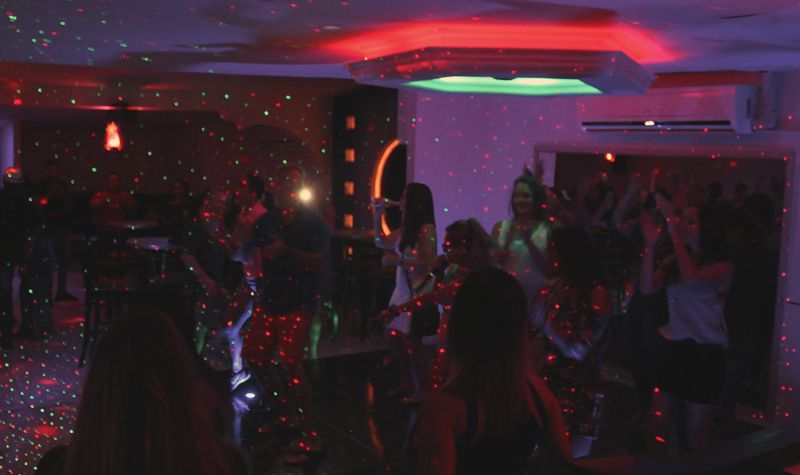 After joining in on some of the dances, we went over to the bar, as we were quite parched from all of the hopping around and hip-shaking.
While re-hydrating we got to enjoy mini dance battles between couples (ex: wife vs. husband), AND IT WAS AWESOME.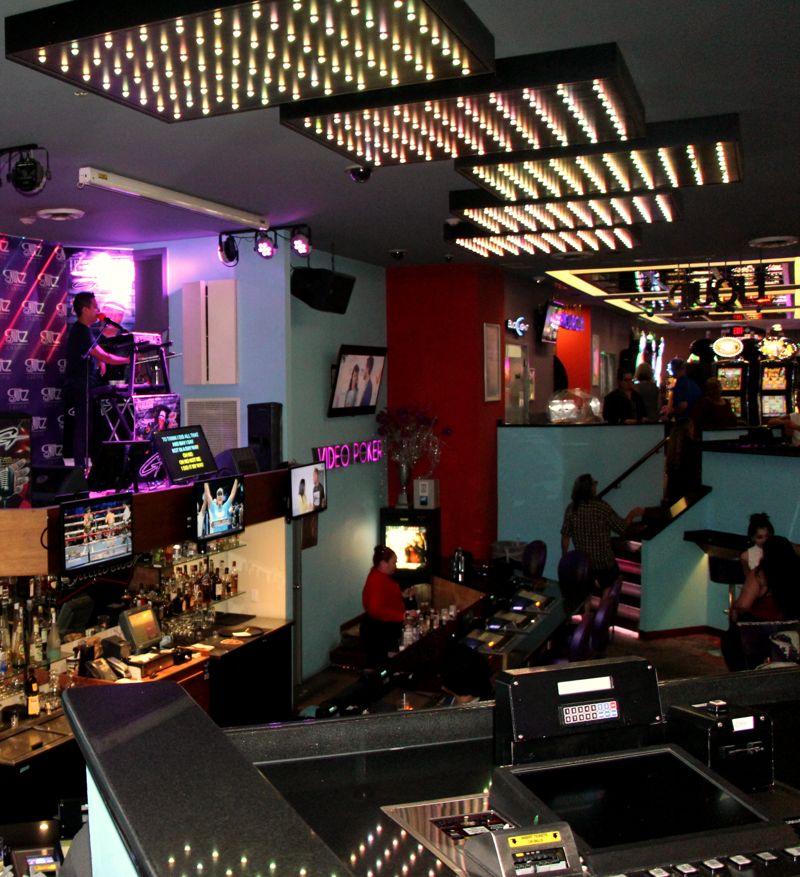 Last Call for STEALING THE SHOW at Liquid Lounge
Our last stop brought us to the Glitz Casino Aruba's lower level bar area, the Liquid Lounge. Here we were welcomed with a green frozen shot. I'm going to say that the hulk-esque drink is to blame for our (liquid) courage when it came to performing on stage!
Before we were escorted on stage with some of our fiesta bus friends, Giovanni and his team brought up one of our karaoke singers, so that everyone could sing her HAPPY BIRTHDAY.
To top it off, this woman's wondrous birthday experience was held for her 86th celebration of life! How cool is that?
Being in my early 20s, I found it extra cool to be able to experience a fun night out that people of all ages could enjoy.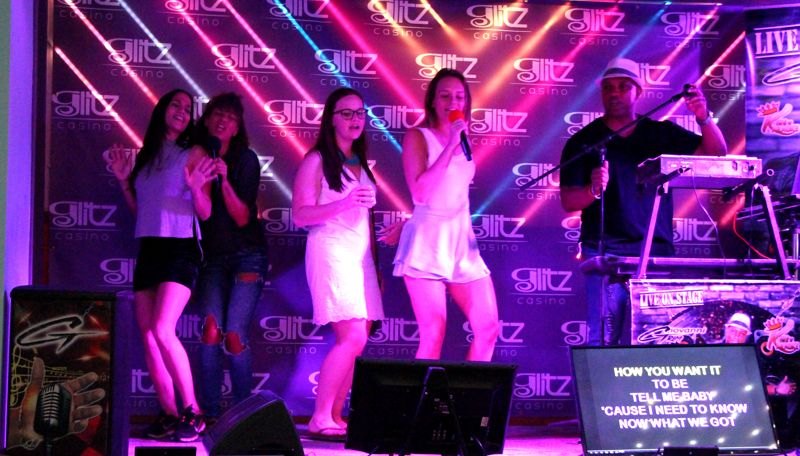 We didn't just get to sing Britney Spears karaoke on stage, we got to be back up dancers while Giovanni had a duet with a Glitz employee, AND  we had the opportunity to unwind those Spanish speaking skills with some Latin American musica too!
AYO – Until We SING AGAIN!
Our night out on the Karaoke Party Bus was definitely a memory-maker that involved lots of maraca shaking, waving-at-and-greeting random fellow night owls, and so many CHEERS TO A FUN NIGHT moments.
Of all their diverse types of tours, from daytime and more family-friendly ones that take you to beach areas, to dinner tours, we had the pleasure to enjoy one of their more 'LIVING LA VIDA LOCA' tours titled, the Bar Jam Tour.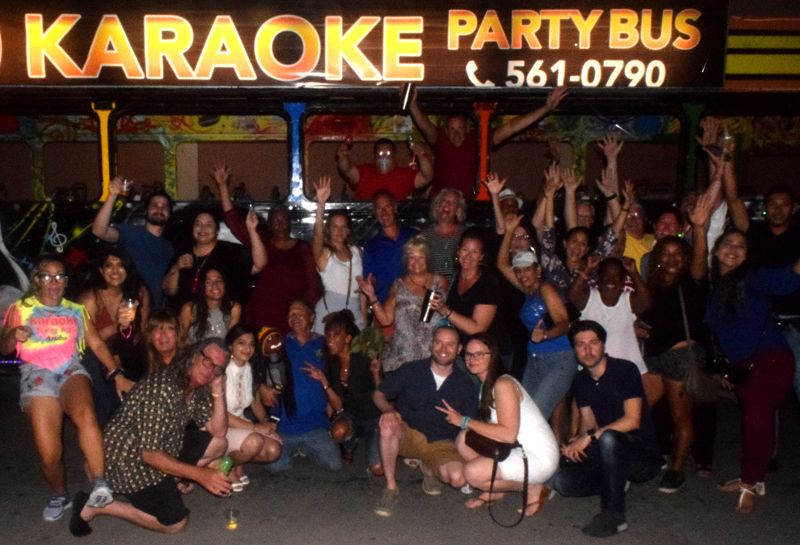 With the Bar Jam Tour we got to enjoy complimentary welcome shots at each bar stop, some entertainment provided by Giovanni and his team, and enough time to unwind and ENJOY THE SHOWS, and socialization with our friends.
Which was great, because you had enough time to easily socialize and get your-drink-of-choice from the bar, without feeling any sort of pressure to hurry up.
Our Instagram followers got a more in-depth and LIVE-IN-ACTION peek of the shenanigans as we were snapping videos and sharing them on our Insta Story.
For those of you who missed it, follow us on Instagram to get the exclusive look of Aruba in REAL TIME (we also frequently snap our beach lay days, so you get to see what the weather and water looks like too! *wink wink*).
ARUBA LOVERS – You can keep up with latest news, articles, and intrigues of the One Happy Island by following the VisitAruba blog here.
*DISCLAIMER: The VisitAruba Team are not professional singers.