The 12th edition of the Caribbean Sea Jazz Festival served up an eclectic mix of Cuban jazz, Colombian vallenato, straight up 70s pop, blues, funk, rock, smooth jazz, and stunning virtuoso jazz fusion – there was something for everyone!
The festival covered two jam-packed nights of music, on Friday September 21st and Saturday the 22nd across three stages, the largest one named Padu after Aruba's living musical icon Padu del Caribe, the Divi stage, and the Purple stage – an indoor, air-conditioned stage that offered a welcome respite from the heat and became something of a cooling-off room over the weekend, but was also the venue for some of the most mind-blowing jazz fusion Aruba has ever seen. More about that later. The aptly-named Naked Stage was the place for solo performers to lay bare their talents, this time it was drummer Oscar Kraal's turn; no stranger to Aruba, having been Dutch sax sensation Candy Dulfer's drummer of choice during her earlier Aruba performances at the jazz festival.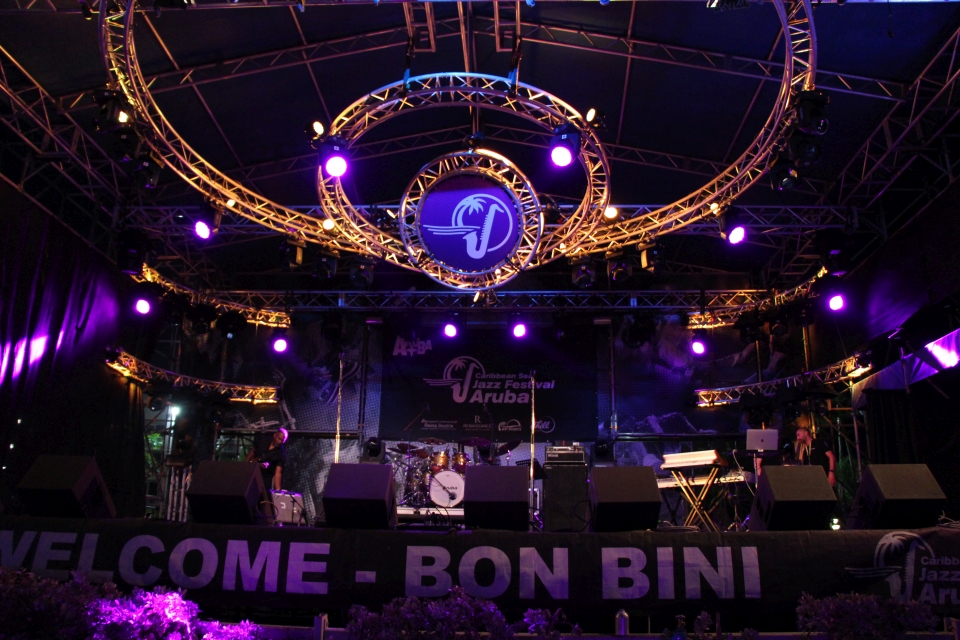 Rincon Boyz were first on the bill on Friday. Originally from Bonaire this group of four musicians took up residence in Aruba with the idea of keeping Bonaire folk music alive, especially for the many Bonaireans who live in Aruba too!
Next up were Anacoana, a 14-girl orchestra from Cuba. Originally formed in the 1930s as an all-female group of eleven, they rapidly became a popular mainstay of Cuban music and salsa, and quickly dispelled any pre-conceived macho notions that women were not up to the task! This generation of musicians are headed by bassists Georgina and Dorita Aguirre and their salsa rhythms did not disappoint the predominantly latin audience.
Another Friday night attraction was Eric Essix a well-rounded Jazz guitarist with southern roots. Hailing from Birmingham Alabama, Eric has enjoyed success with his thematic concept albums format, giving his music a very personal and passionate feel. Gospel influences and indeed tributes to that genre have been very important to Eric throughout his career. He definitely did not disappoint his fans in Aruba!
Habana Vieja All Stars were also a memorable addition to this year's event. An ensemble headed by saxophonist Eduardo "El Prove" Proveyor, he brought together a group of childhood musician friends, including Diego Valdes on bass, Raul Pineda on drums, Miguel Valdes on percussion, Coto on guitar, pianist Javier Gutierrez and singer Shurby Mariah. The music was a mix of traditional Cuban music with Jazz influences. This made for a very interesting delivery – again very much appreciated by Aruba's Latin-American community.
To the delight of Aruba's Colombian community and other vallenato-lovers in Aruba,  four-time Latin grammy award winner Jorge Celedón was the headliner for Friday night, and everyone was on their feet and swaying to his popular tunes. He kicked off his performance with his 2001 hit Parranda en El Cafetal, written by him and Jimmy Zambrano, and continued to entertain his ecstatic audience flawlessly, wrapping up the first night of the festival.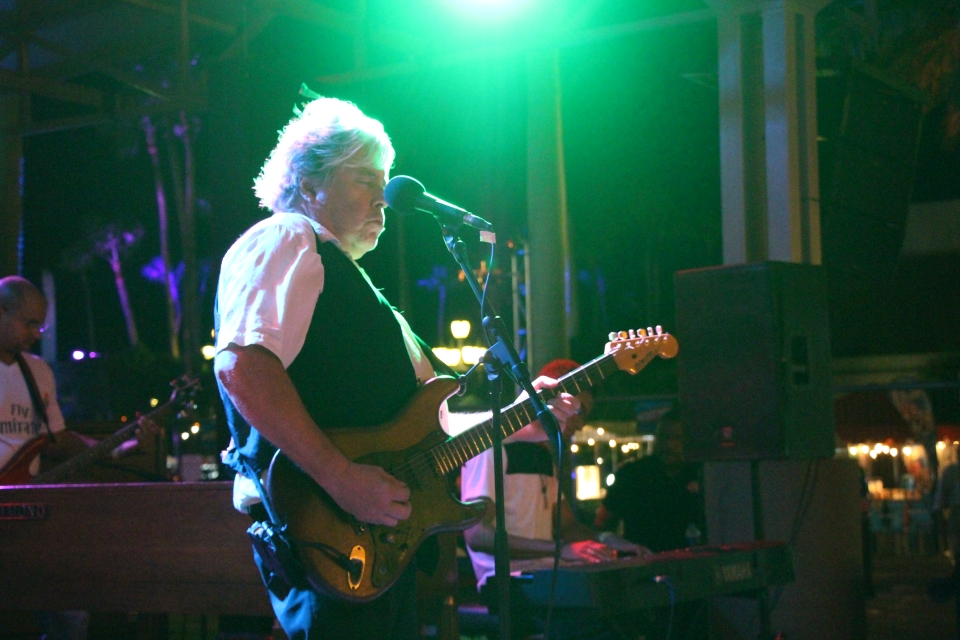 On Saturday the Cosy Cotton Band were first to hit the Divi stage, and delivered some great blues to a very receptive audience. Star of the show was definitely bluesman Bert Devies on guitar and vocals. Completing the line-up were Aruba's own blues musicians Rowald de Graaf on drums, Terrance Green on keys and Arnold Mohamed on bass.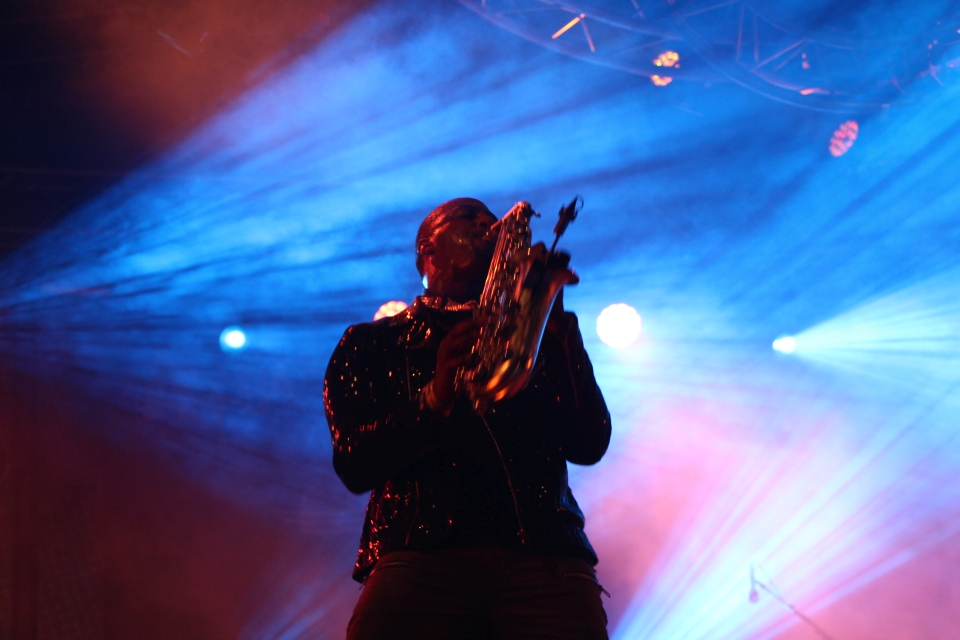 Sax player Eric Darius and soul-jazz flutist Althea Rene took to the main Padu stage and delivered a very up-tempo performance. His movements verging on the acrobatic, Eric Darius appeared out of nowhere into the crowd and was immediately surrounded by a smartphone-wielding audience hell-bent on capturing his every move and note. After contributing to enough combined footage for multiple Godfather trilogies, he sprinted back onto the stage and continued a very exciting set of high-power sax combined with Althea Rene's improvisations on her flute. Surrounded by very talented musicians, this was definitely a performance to remember.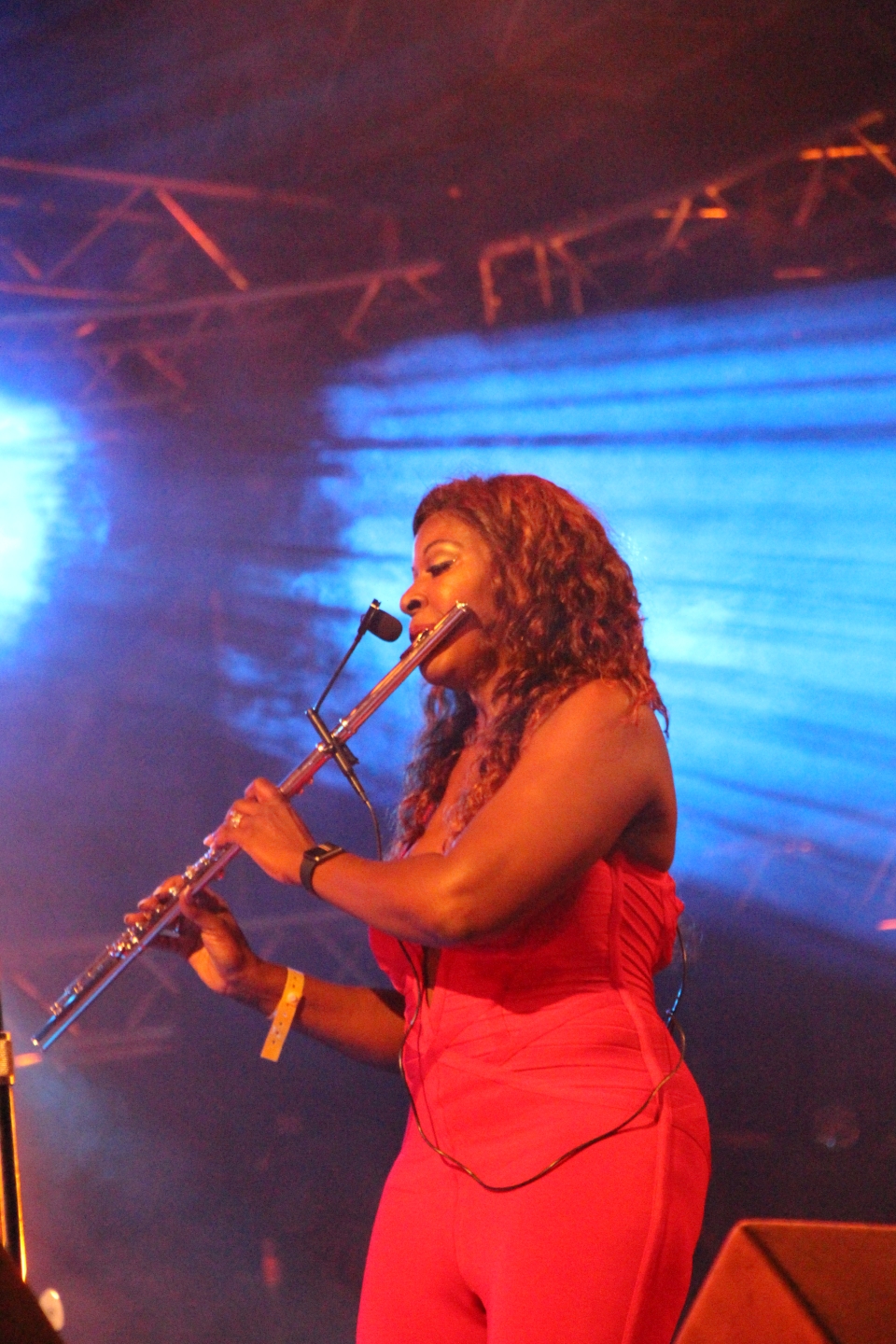 Partially overlapping with Eric Darius and Althea Rene on the indoor Purple stage was the Robert Pablo Trio, a young group of talented Aruban musicians with drummer Robert Pablo as bandleader, and accompanied by Kyle Winklaar on keyboards, and bassist David Bernabela (son of sax player Delbert Bernabela who also performed right after on the Divi stage along with Aruban jazz drummer Carlos Bislip).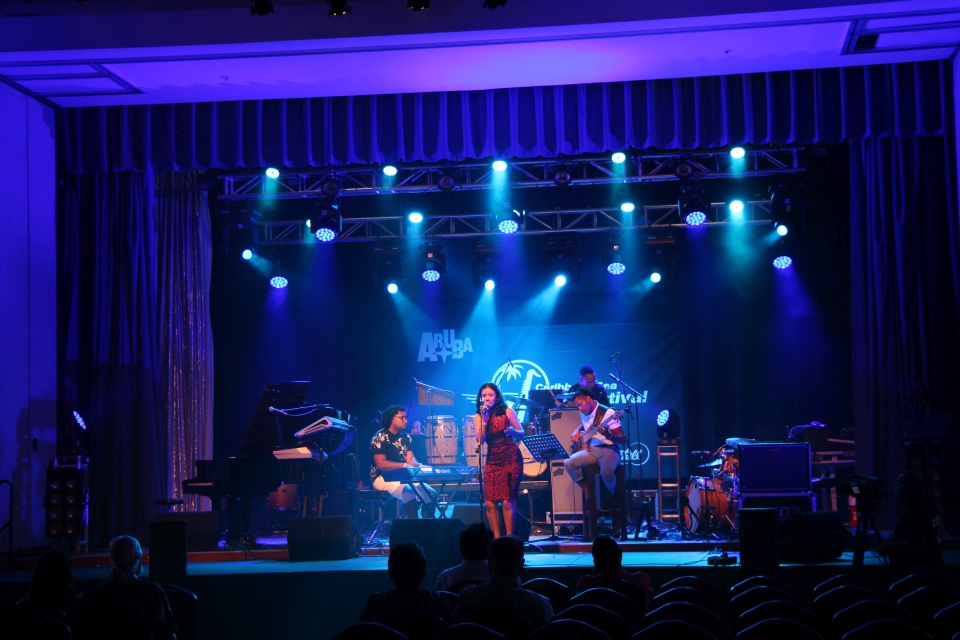 On this night the Robert Pablo trio expanded to four, since they were fronted by – apparently unbilled – Susjaira Kerpens, a talented female singer/songwriter from Aruba with a very beautiful voice. I heard some Astrud Gilberto overtones in there but perhaps that's just me and I may well have been influenced by the musical style of some of the songs. Either way, she is definitely one to watch out for!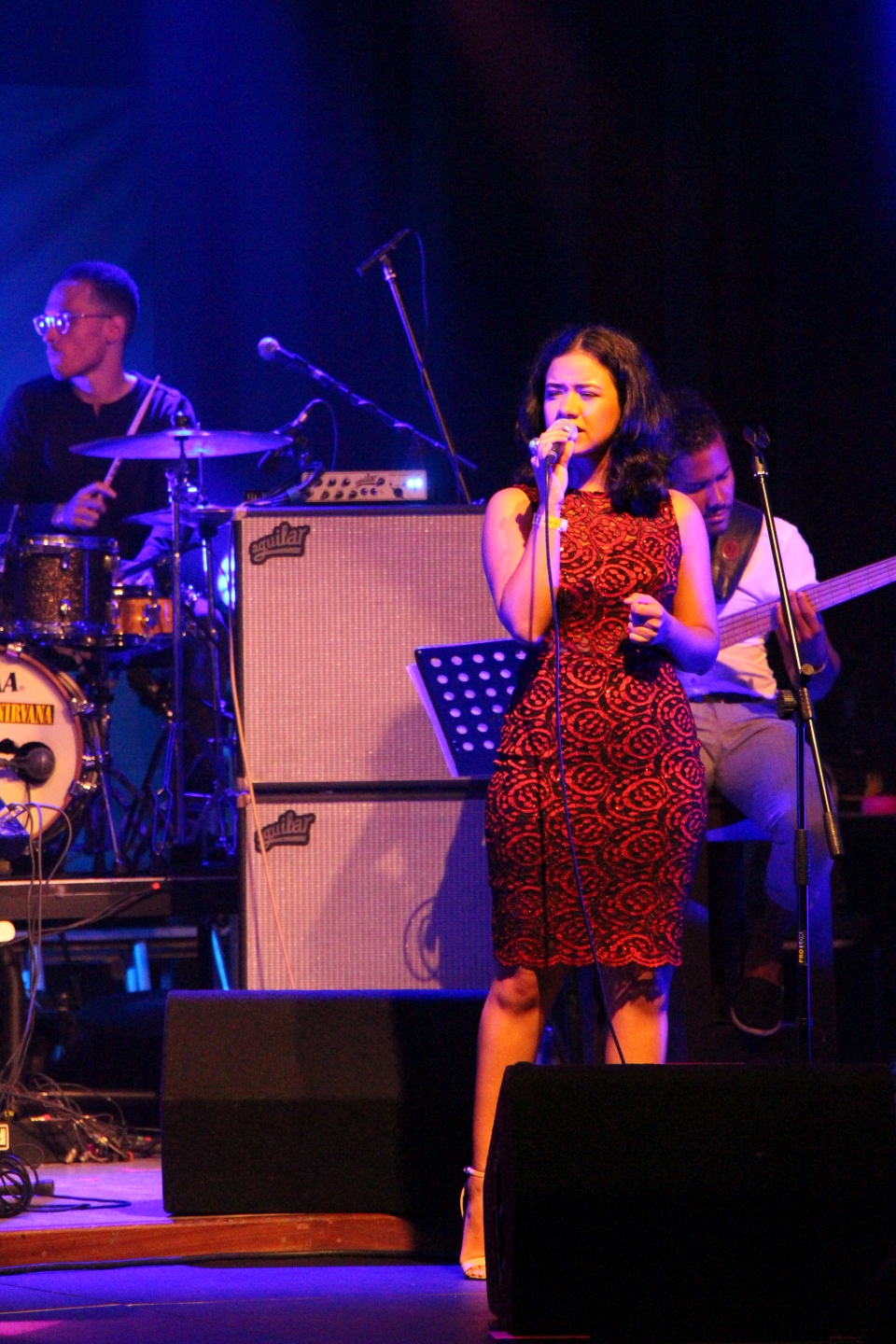 Speaking to Robert after the performance he came across as the consummate perfectionist, self-critical about his performance and upset because someone had apparently fiddled with his bass drum pedal settings. Nonetheless the trio managed to sound pretty tight, but perfectionist musicians will always be very particular about their sound and setup. I recall seeing Chick Corea step up on stage one time, only to keep an eager audience waiting for an hour or so while he re-tuned his piano after he didn't find the original tuning to his satisfaction, and it had to be spot on for him to perform!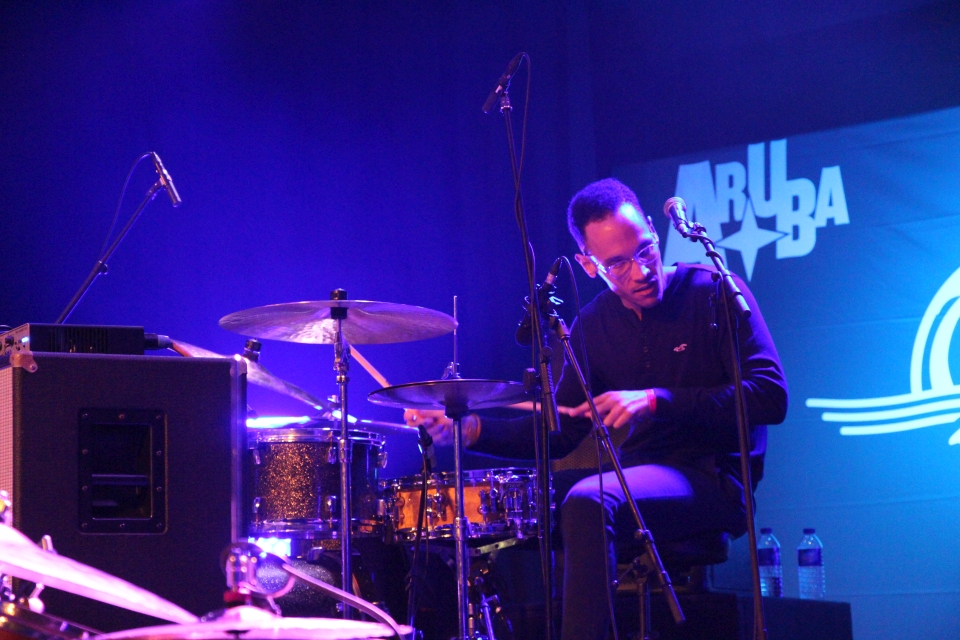 At this point Sister Sledge, featuring original sister Kathy Sledge, graced the Padu stage and played several of their hits including the 1979 anthem We Are Family from the album with the same name, as well as their unforgettable hit Lost in Music with it's distinctive funky guitar sound from the same album produced by Chic's Nile Rodgers.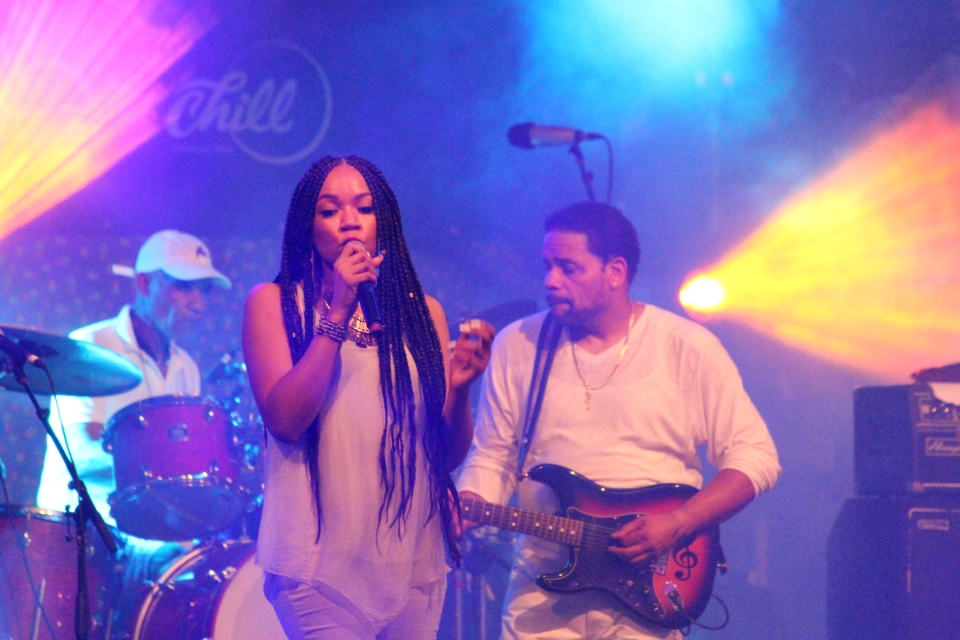 Audience participation was central to their performance and to the fans' delight some members of the audience were invited to strut their stuff on stage along with the group.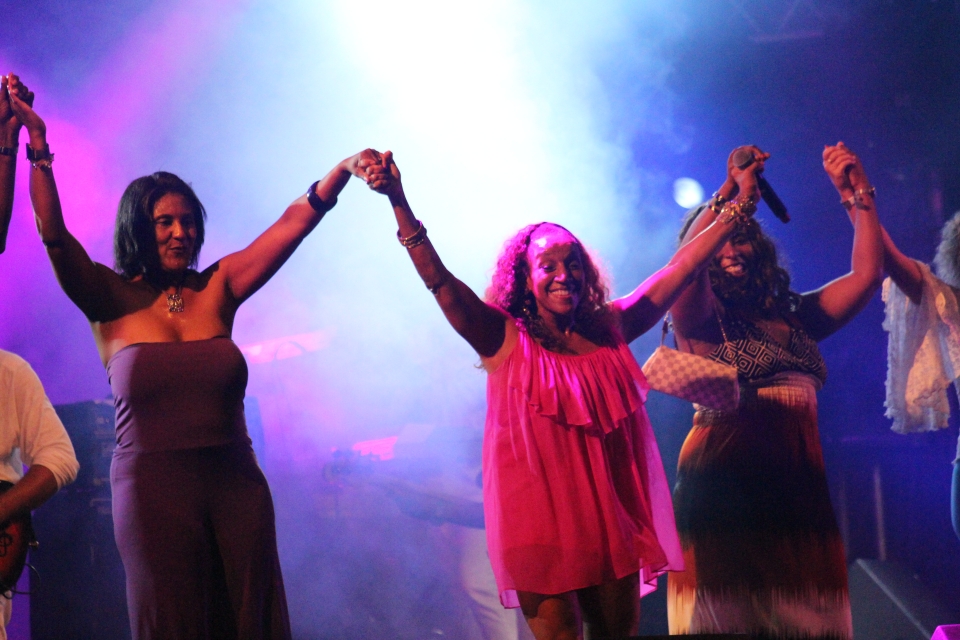 Around the same time, on the Purple stage, Live Xpressions were delivering a tribute to Sade, including hits such as No Ordinary Love and Smooth Operator. The musicians delivered well, but in certain songs the vocalist appeared to be struggling to keep up with Sade's vocal range. For their encore, the band opted to take it up a notch with a spirited rendition of Wild Cherry's funk hit Play that Funky Music, one that was very well received by the audience.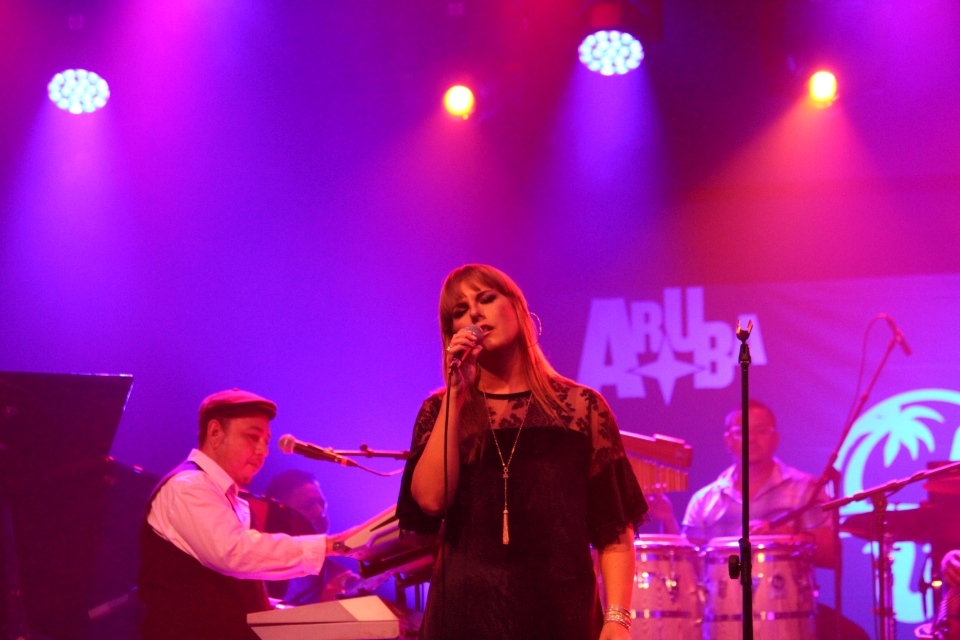 Following this performance, the Purple stage started to be cleared little by little, leaving a grand piano, a Selmer sax paired with a solitary Sennheiser microphone, a New York Bass Works 6-string bass, and an understated set of Pearl drums. But although these instruments definitely set the stage for something special, it's not really the instruments that count, it's what the players do with them.
Unassuming and low-key, the musicians appeared on stage one by one – Will Kennedy, Dane Alderson, Russell Ferrante and Bob Mintzer. What followed was a tour-de-force performance by The Yellowjackets, the likes of which this Jazz Festival probably has not seen before.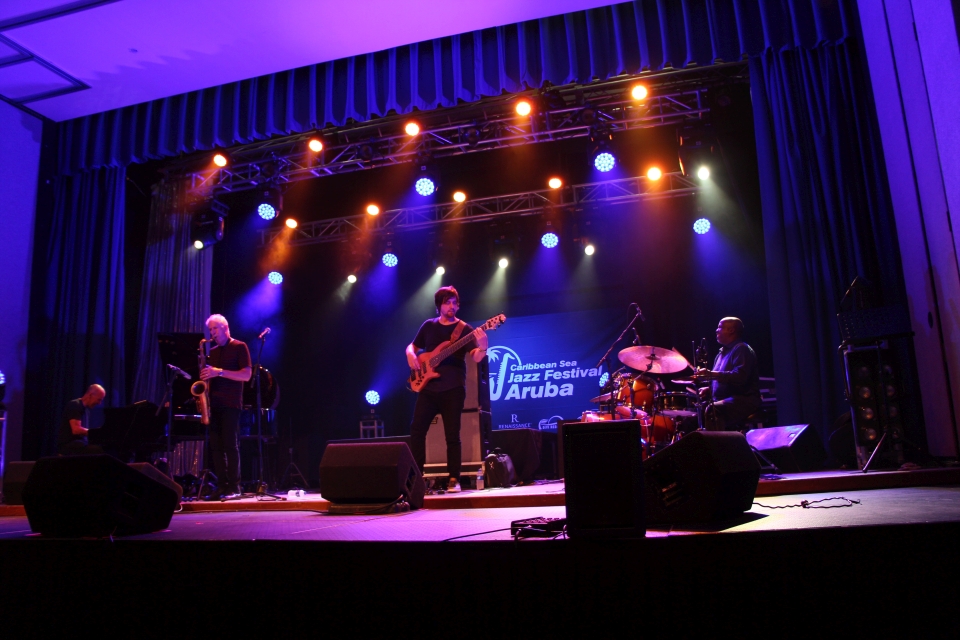 Tune after tune, the band wowed the audience not just with their musical prowess, mind-blowing tightness and virtuosity, but with the almost spiritual rendition of their beautiful compositions, not least of which was "Geraldine", the song from The Spin which introduced me – and I suspect many others – to their music back in the early 90s and which is in my view one of their best ones, and perhaps arguably one of the best jazz numbers ever written. At certain points in the performance sax-player Bob Mintzer appeared a bit uncomfortable with what he was hearing through his stage monitor, but any discomfort definitely did not rub off on the music which was nothing short of impeccable.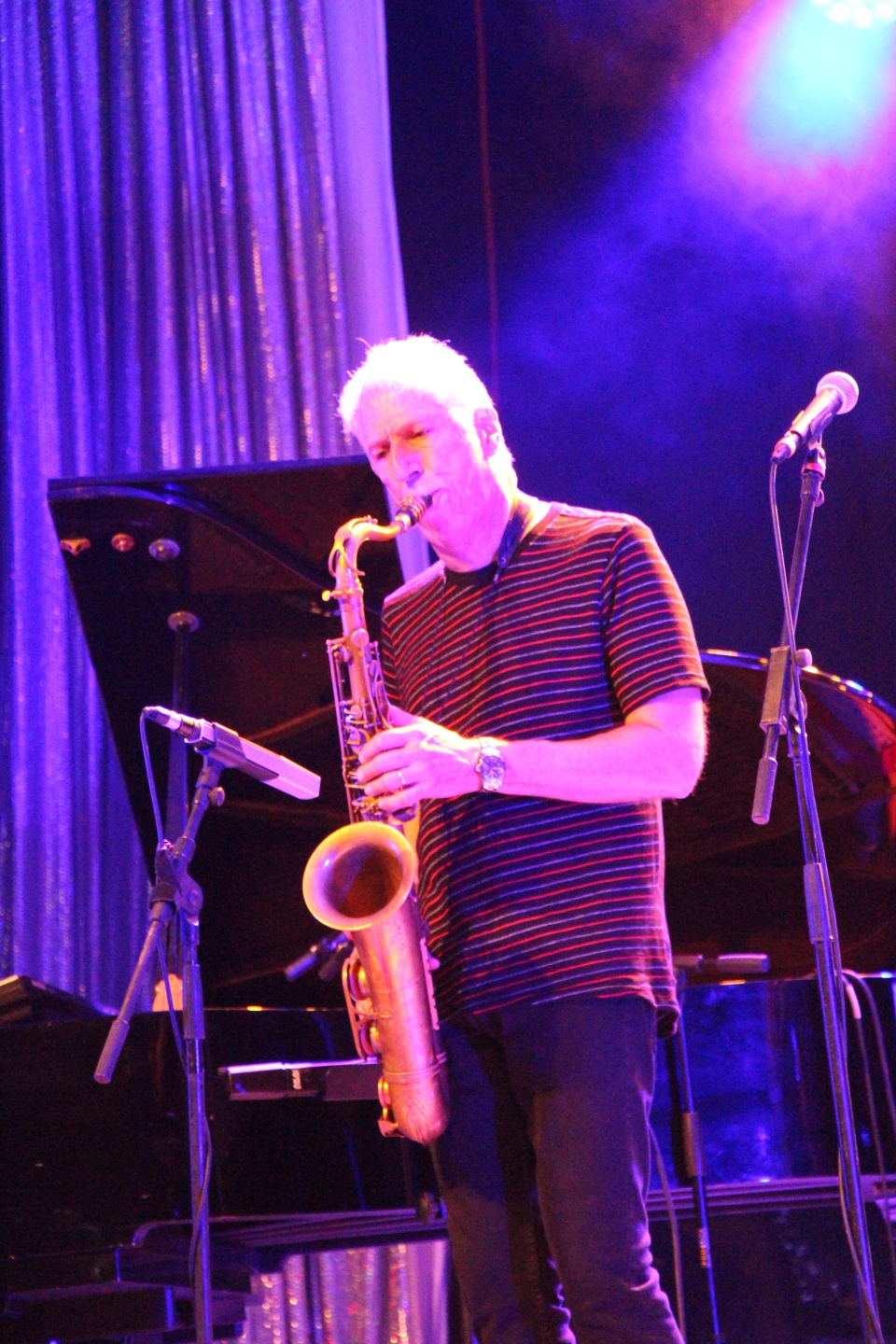 The audience was clearly blown away by Aussie bass prodigy Dane Alderson's playing whose solo parts and interactions with monster drummer Will Kennedy were nothing short of phenomenal. The total experience was pure magic, and by the time the Yellowjackets finished their hour-or-so long set that passed in the blink of an eye, I don't think anyone was quite ready to see them go, despite the welcome assault on the senses that we had just been dealt. It was – in a word –overwhelming to see them perform live, and quite a few people were left in awe of these musical giants.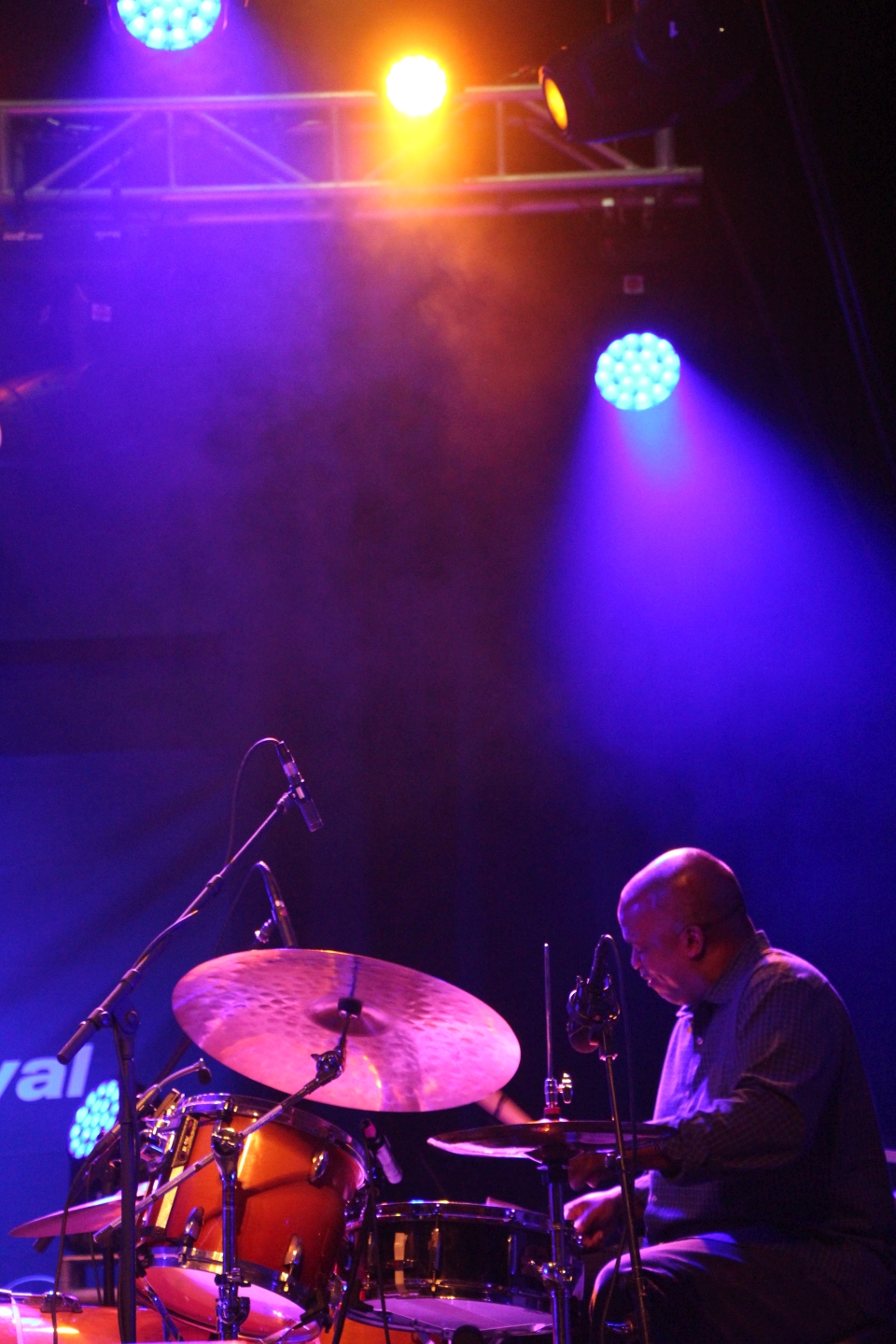 Still reeling from The Yellowjackets' onslaught, I totally missed the final part of the last act on the main Padu stage, Di-Rect, but am told they gave a great performance, complete with miming antics by their frontman.
The Yellowjackets' performance will be ringing in our ears for many months to come and definitely holds a special place in the Caribbean Sea Jazz Festival's history. Hopefully they will be invited to return in a future edition.  Can't wait!!