While our team at VisitAruba is known to take you on plenty of snorkel, island and beach excursions, today I will be taking you on a different kind of adventure… an adventure that will have your tastebuds going wild in anticipation! Yes, I am going to be taking you on a culinary journey brought to you by Hilton Aruba's one and only, Sunset Grille!
Five Exceptional Courses
Wine pairing selected and presented by Divino Aruba
1st Appetizer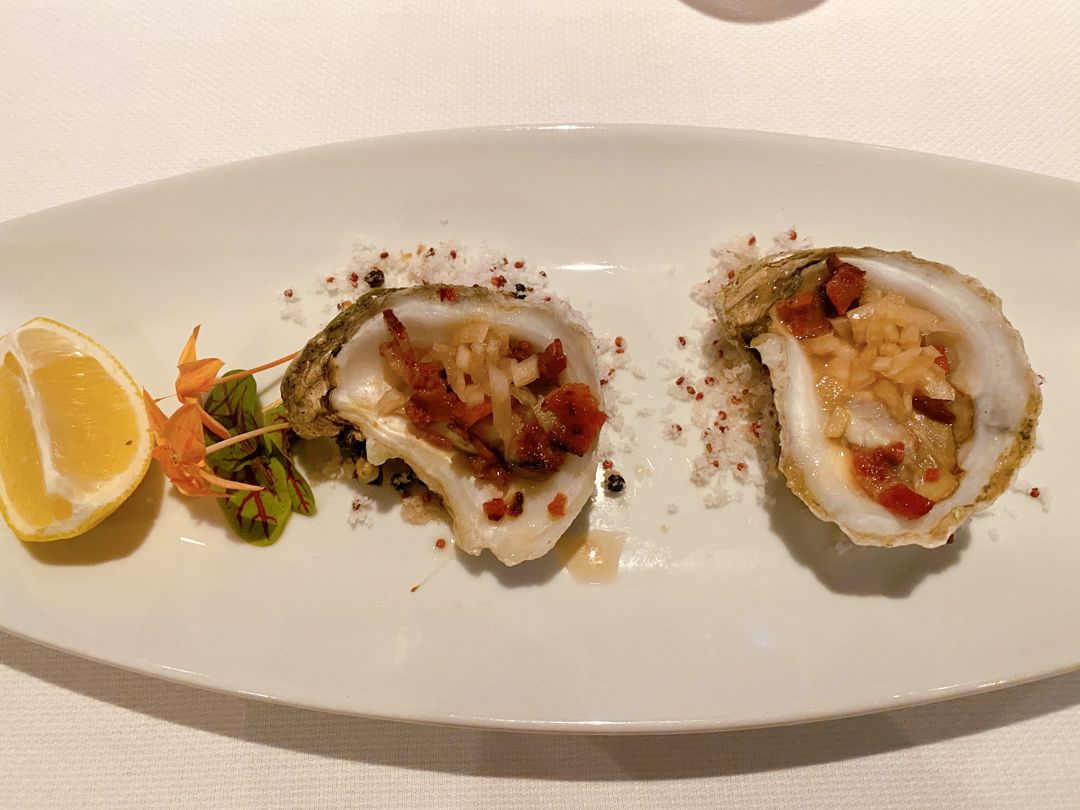 Dish: Grilled Oysters.
Delectable details: Grilled oysters topped with a classic mignonette sauce and bacon crumble served over a bed of rock salt.
Review in short: This starter dish was simply to dine for.
Noteworthy pairing: Meiomi Rose (California, USA). Fresh, crisp, and vibrant with aromas of watermelon, orange peel and subtle hints of rose petal. Fruit forward flavors of strawberry, cranberry, and watermelon with a touch of honey!
2nd Appetizer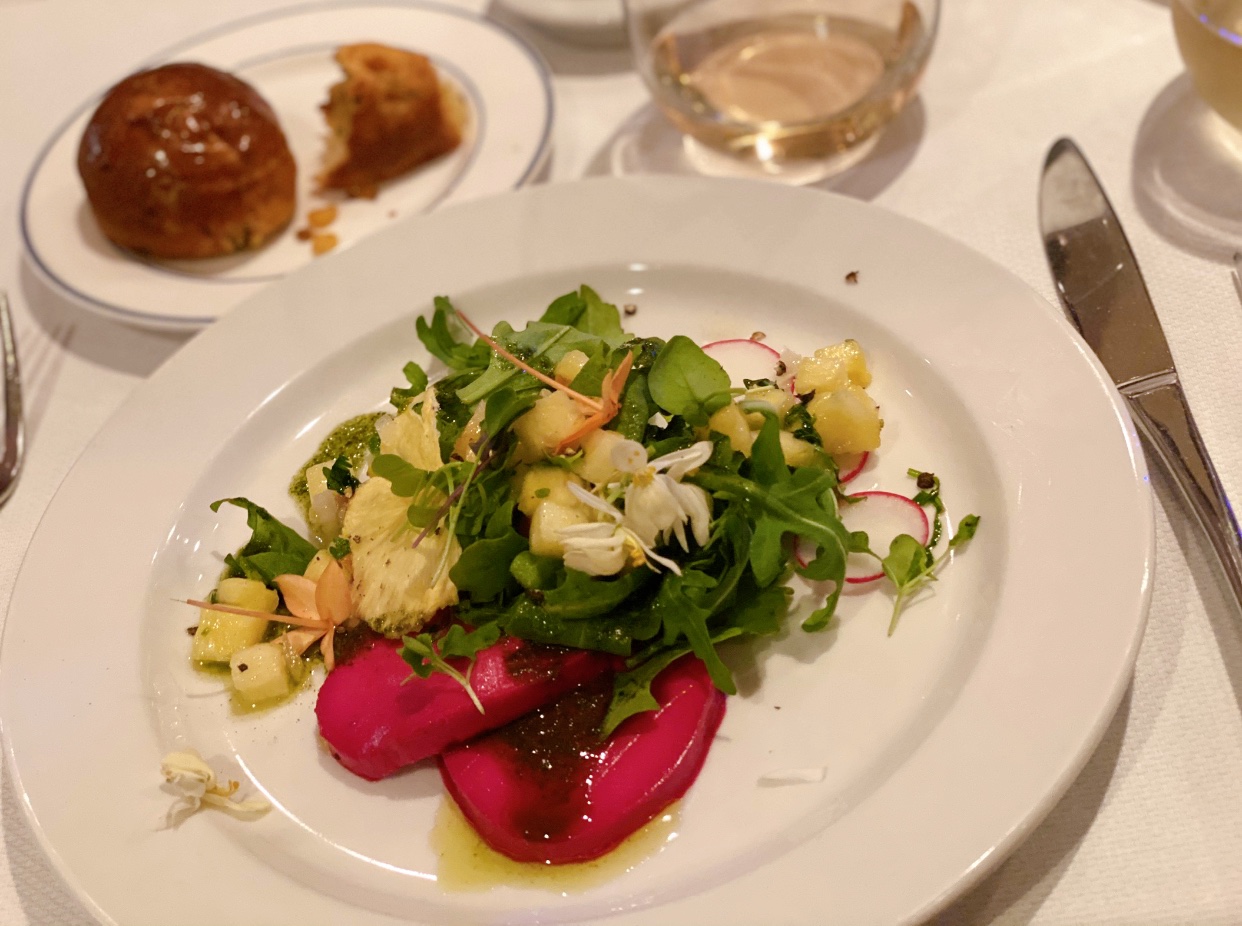 Dish: Buffalo Mozzarella Salad.
Delectable details: Buffalo mozzarella marinated in red beet juice, topped with fresh grilled pineapple and drizzled with a balsamic vinaigrette.
Review in short: This dish was bursting with a perfect and unique combination of flavors!
Noteworthy pairing: Gnarly Head Viognier (California, USA). A unique Viognier with flavors of peach, apricot and honeydew melon. Balanced by earthy notes of minerals, stone, and honey with a hint of grilled almond.
3rd Course
Dish: Local Grouper.
Delectable details: Local fresh Grouper (caught by the resort's Bellman Johnny) served with a creamy Moutarde de Meaux sauce and a side of oven-baked Funchi.
Review in short: Fresh, fresh, fresh! And, that sauce… unforgettable!
Noteworthy pairing: Caymus Sea Sun Chardonnay (California, USA). A subtle nose with scents of grilled mango, soft butterscotch, ripe pineapple and apricot. With a round and creamy touch to the palate, it brings forward flavors of lemon curd and brown spice.
4th Course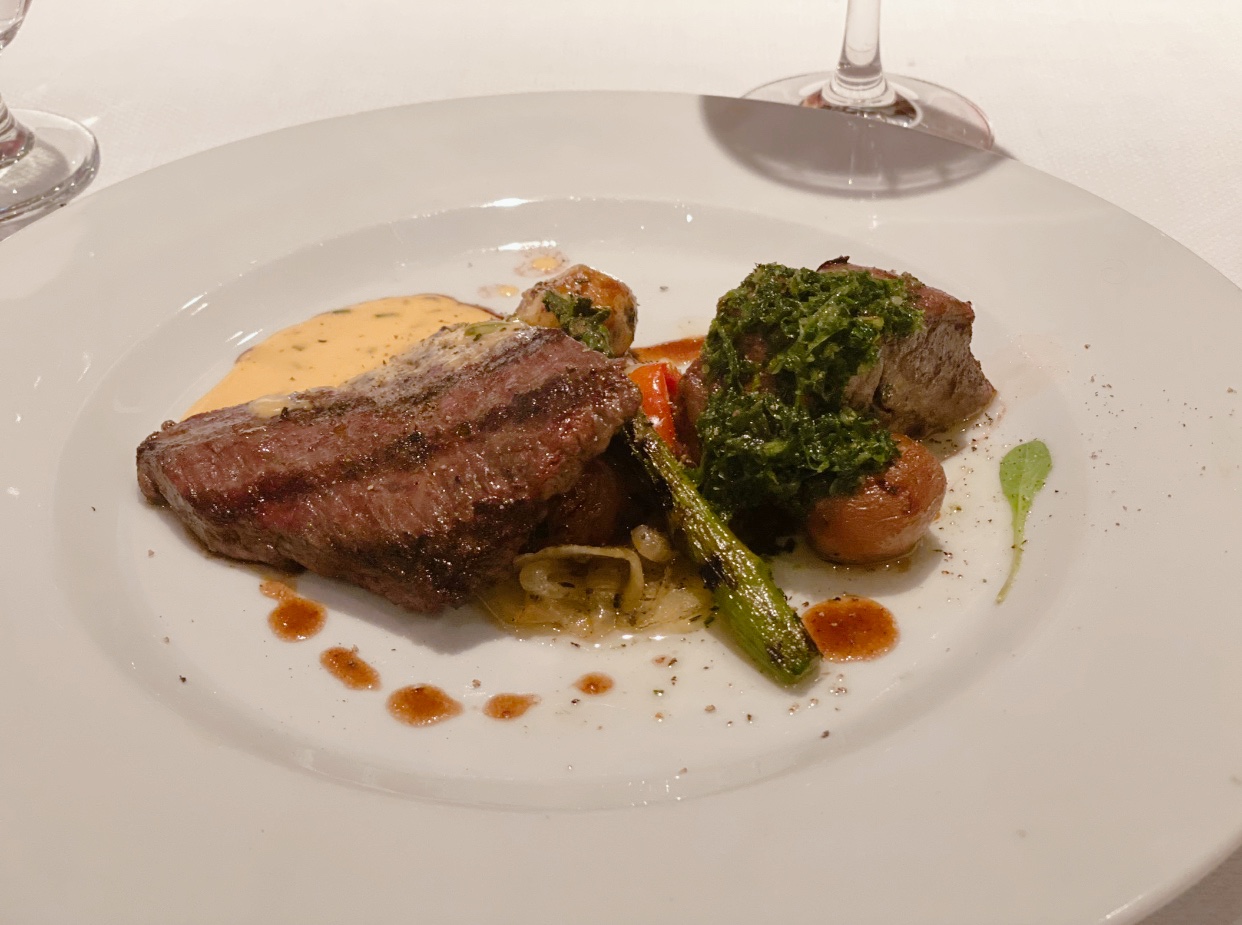 Dish: Skirt Steak and Filet Mignon.
Delectable details: Grilled Skirt Steak topped with a mouth-watering Chimichurri sauce and Filet Mignon topped with a savory Choron sauce, served beside a bed of baby rainbow potatoes and vegetables.
Review in short: Melt in your mouth, grilled to perfection and the oscar goes to… the Chimichurri sauce! (I heard there's a secret ingredient responsible for this green goodness).
Noteworthy pairing: Rodney Strong  Knights Valley Cabernet Sauvignon (California, USA). This bold and decadent wine is bursting with aromas of blackberries, dark plum, cocoa, cassis, and juicy raspberry. With complex layers of spice, red fruit and chocolate concluding in a velvety and long lingering finish.
Dessert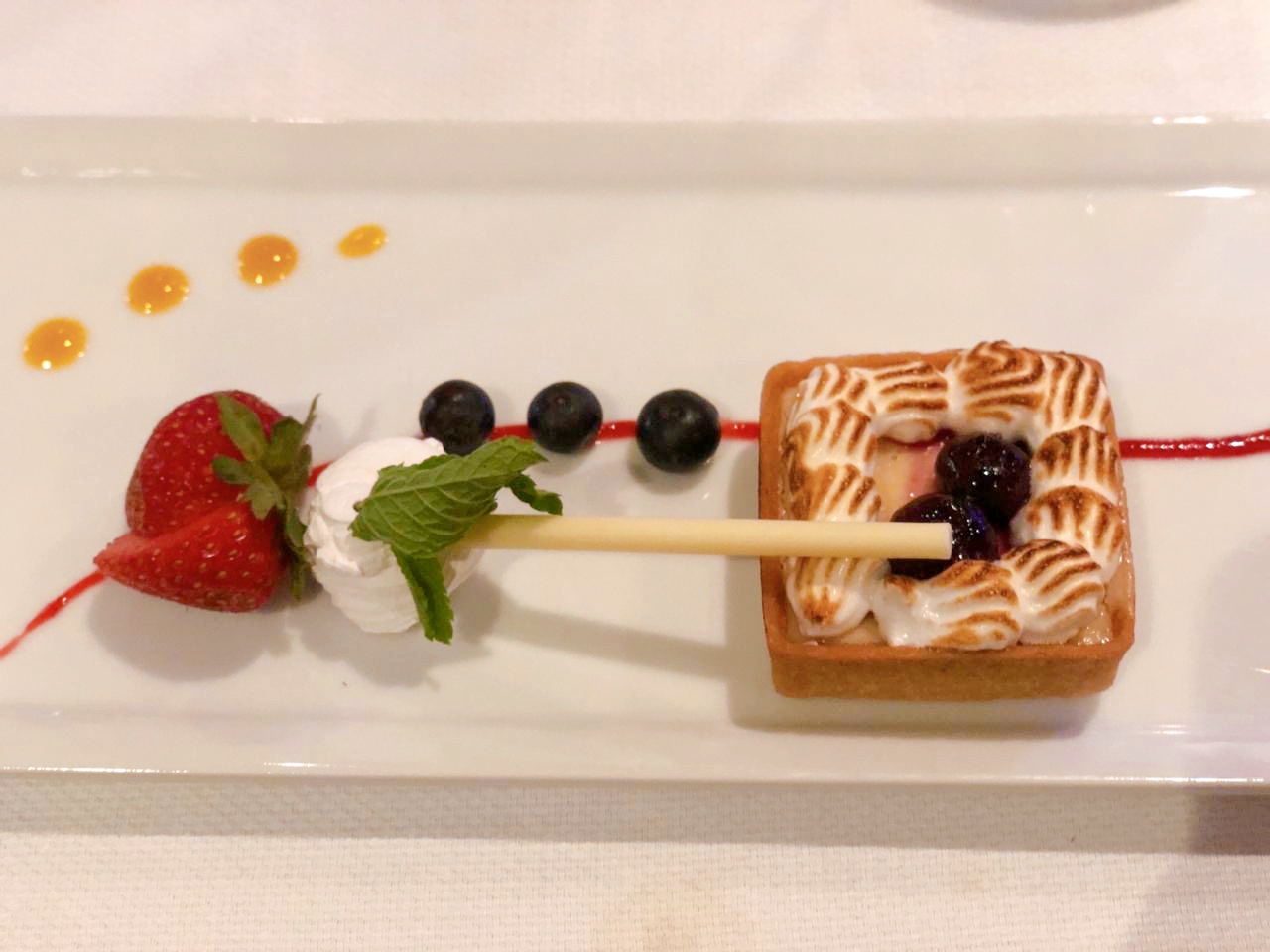 Dish: Key Lime Fruit Tartlet.
Delectable details: Fresh out of the oven Key Lime Fruit Tart served with blueberries, strawberry and whipped cream.
Review in short: A light, fruity and extremely pleasant finish to an exceptional culinary experience!
Noteworthy pairing: Mia Sparkling Moscato (Spain). A delightful fruity aroma with hints of white floral notes. This sparkling wine is elegant yet friendly and offers subtle flavors of peach and ripe apricot.
Warm and Friendly Service
The entire culinary team starting from management to the servers, to the kitchen staff, were extremely warm, friendly, attentive, and personable. Even the head Chef, Matt Boland managed to make his way to each table to greet and enjoy an intimate moment with guests!
It was evident, the service was extremely organized and well thought out. When it comes to a wine pairing dinner I find there to be three very important factors, no. 1: the pace and timing of each dish being served, no. 2: how generous the server is with their wine pour, and no. 3: the company you find yourself dining with. Well, let me tell you, all three factors absolutely exceeded my expectations! The service was spot on, wine pours were more than generous and our table mates were ever-so-friendly and social! Overall, I am happy to report, wine, mouth-watering dishes, and fun, laid back conversation was flowing throughout the entire evening!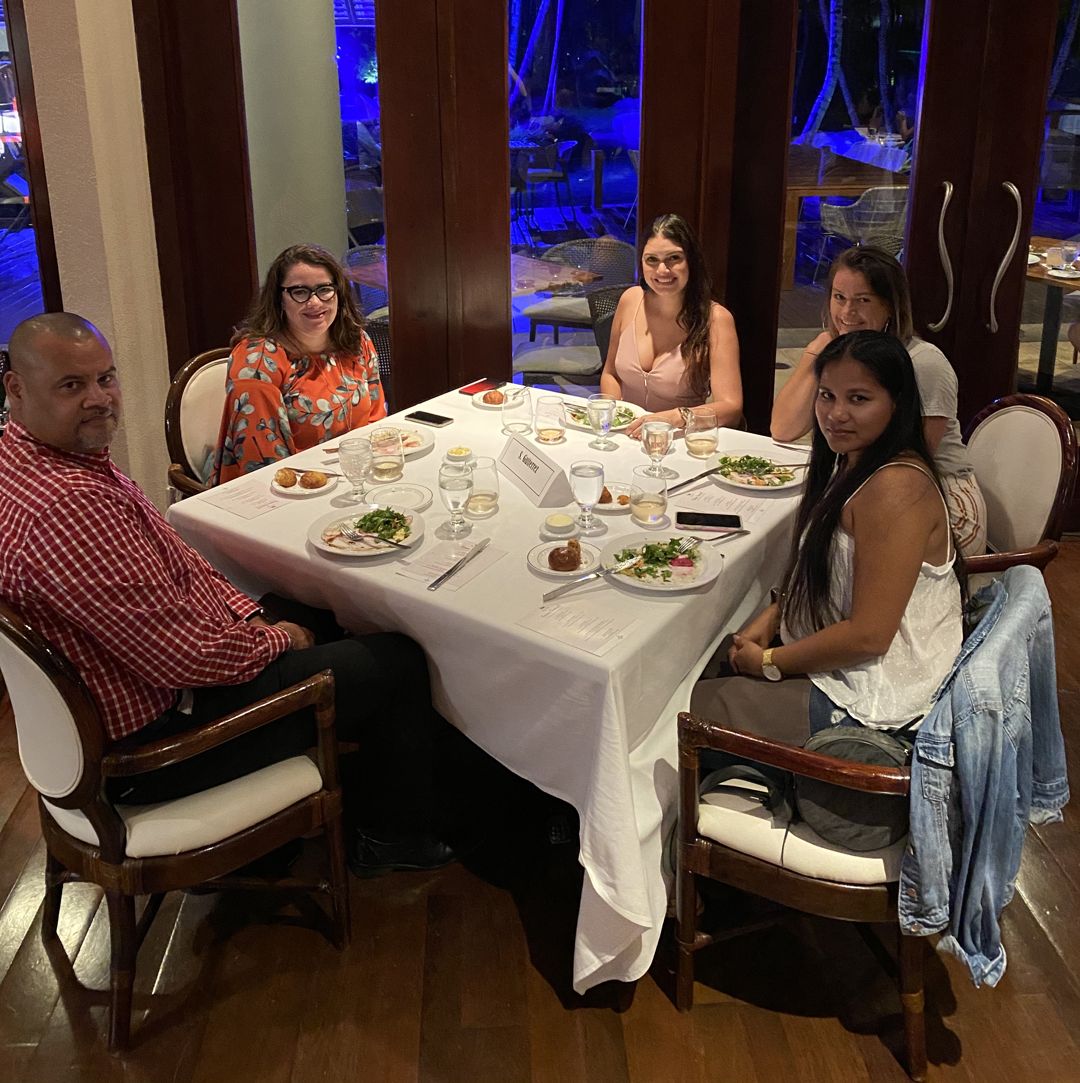 Safe Dining at its Best
Going into the dinner I was intrigued to see how new safety and hygiene practices would be implemented, with regards to the "new normal" when it comes to dining. I was pleased to see, upon arrival guests gathered in the spacious, open-air lobby to check-in. Upon check-in, a Hilton staff member wearing a mask stood ready with hand sanitizer for each person to use before receiving their welcome bubbles. After guests mingled at a distance it was time to enter Sunset Grille's dining room. Upon entry, we were presented with hand sanitizer once more and directed in an orderly fashion to our assigned tables. Each table was well spaced out throughout the room and all employees were wearing masks and gloves.
Conclusion
As you may have guessed, my colleague and I give this wine pairing dinner a 5 out of 5 stars! And we are already drooling in anticipation of our next Sunset Grille dining experience!
You may very well feel disappointed to have missed out on this one-of-a-kind dining experience (in-person), however, worry not! Luckily for you (and me), the culinary team at Sunset Grille is always stirring up something new, creative and delicious. With this being said, there will be plenty of more dining events and specials to come, so make sure to stay tuned and make your reservations in advance!
Discover more of Hilton Aruba Resort's Sunset Grille Restaurant or make your dinner reservation now!