If you're dreaming of sipping your favorite drinks while gazing out at the sparkling turquoise Caribbean Sea or the gorgeous sunset, you've come to the right place. We've rounded up the best places for drinks with a view in Aruba, where the vibrant island vibes meet the magic of picturesque settings. Get ready to clink glasses with friends, meet fellow travelers, and indulge in delightful concoctions while soaking in the island's mesmerizing scenery.
Be sure to add these spots to your vacation agenda and let the happy vibes flow!
Sunset Bistro at Radisson Blu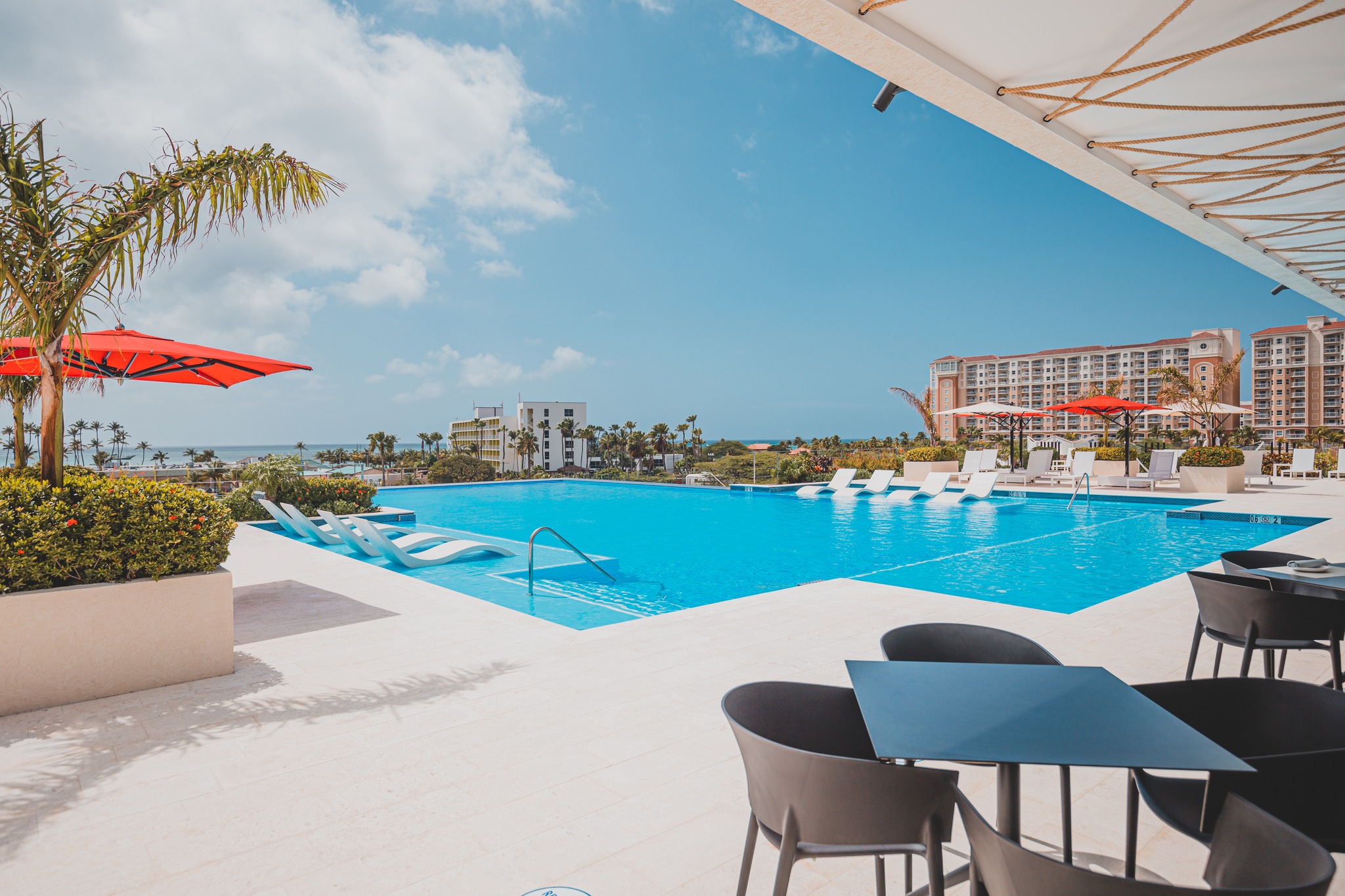 Thirst quenching highlight: Sunset Bistro is located overlooking Radisson Blu's adult-only infinity pool, the only rooftop infinity pool on the island. With Palm Beach in the distance, the views are simply stunning!
PS – During the weekend try their "Super Breakfast" which consists of an entree of your choice, pastries, fresh fruit, and unlimited mimosas.
Matthew's Beachside Restaurant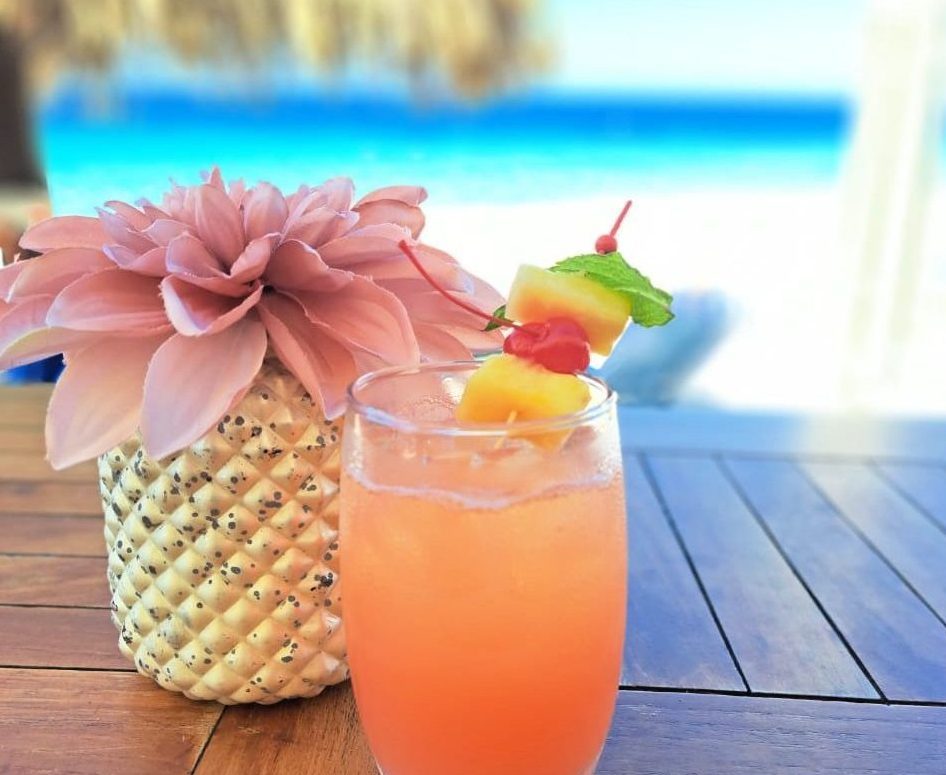 Thirst quenching highlight: Visit Matthew's Beachside Restaurant just once and you will feel at home right away. The staff is always extremely welcoming and kind making it hard to leave when the time comes. Other than the warm welcome the first thing you cannot help but notice is the gorgeous view! Located right on the beach (Eagle Beach) Matthew's has a picture-perfect backdrop for you to enjoy while sipping your frozen concoction. With delicious food, refreshing cocktails, friendly service, and specials, you can't go wrong with Matthew's!
Mira Solo at Hilton Aruba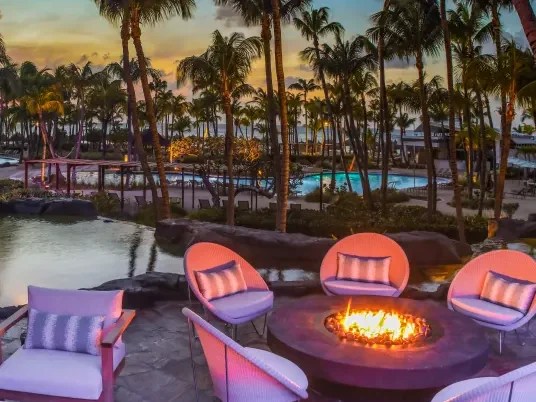 Thirst quenching highlight: Mira Solo, located on the lush and tropical property of Hilton Aruba Caribbean Resort & Casino, is a vibrant open-air bar and lounge with nightly live entertainment and happy hour specials. Take in the spectacular views and cascading waterfalls and sunsets of Palm Beach while you savor small bites and sip on a refreshing cocktail.
Pelican's Nest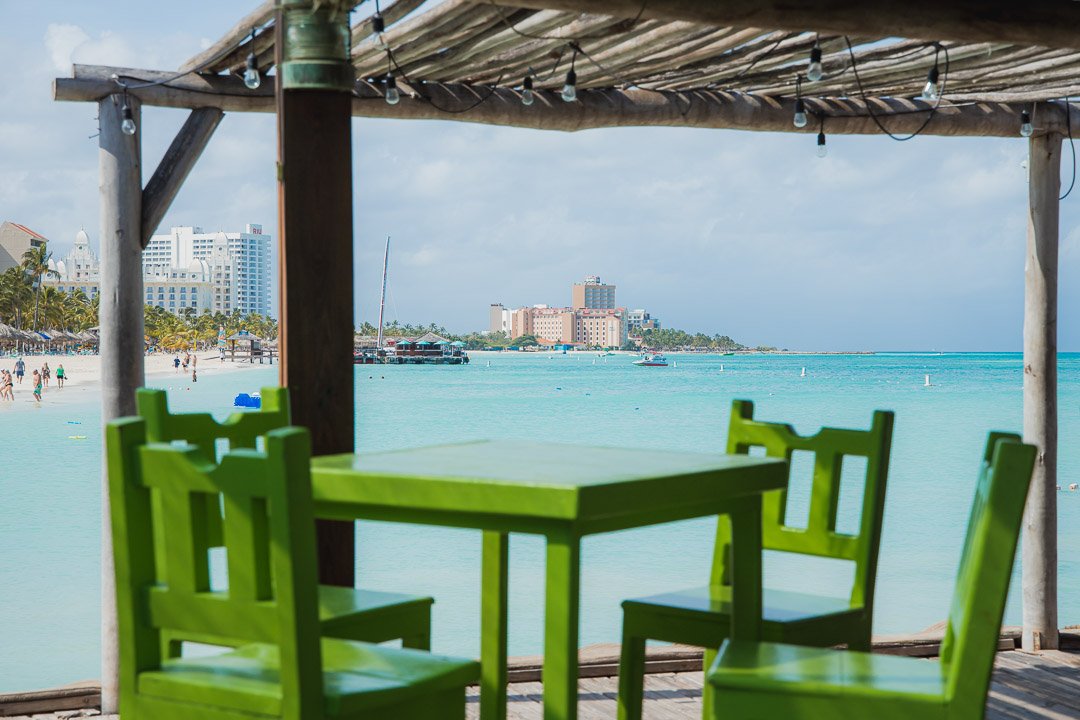 Thirst quenching highlight: Pelican is a hot spot in Palm Beach… once you hear that loud siren signaling the beginning of happy hour, you can expect fun music, friendly and entertaining bartenders, specialty jumbo cocktails, mouth-watering seafood dishes, and delicious appetizers, oh, and not to mention mesmerizing views of turquoise water surrounding your every turn!
Lucy's Retired Surfers Bar & Restaurant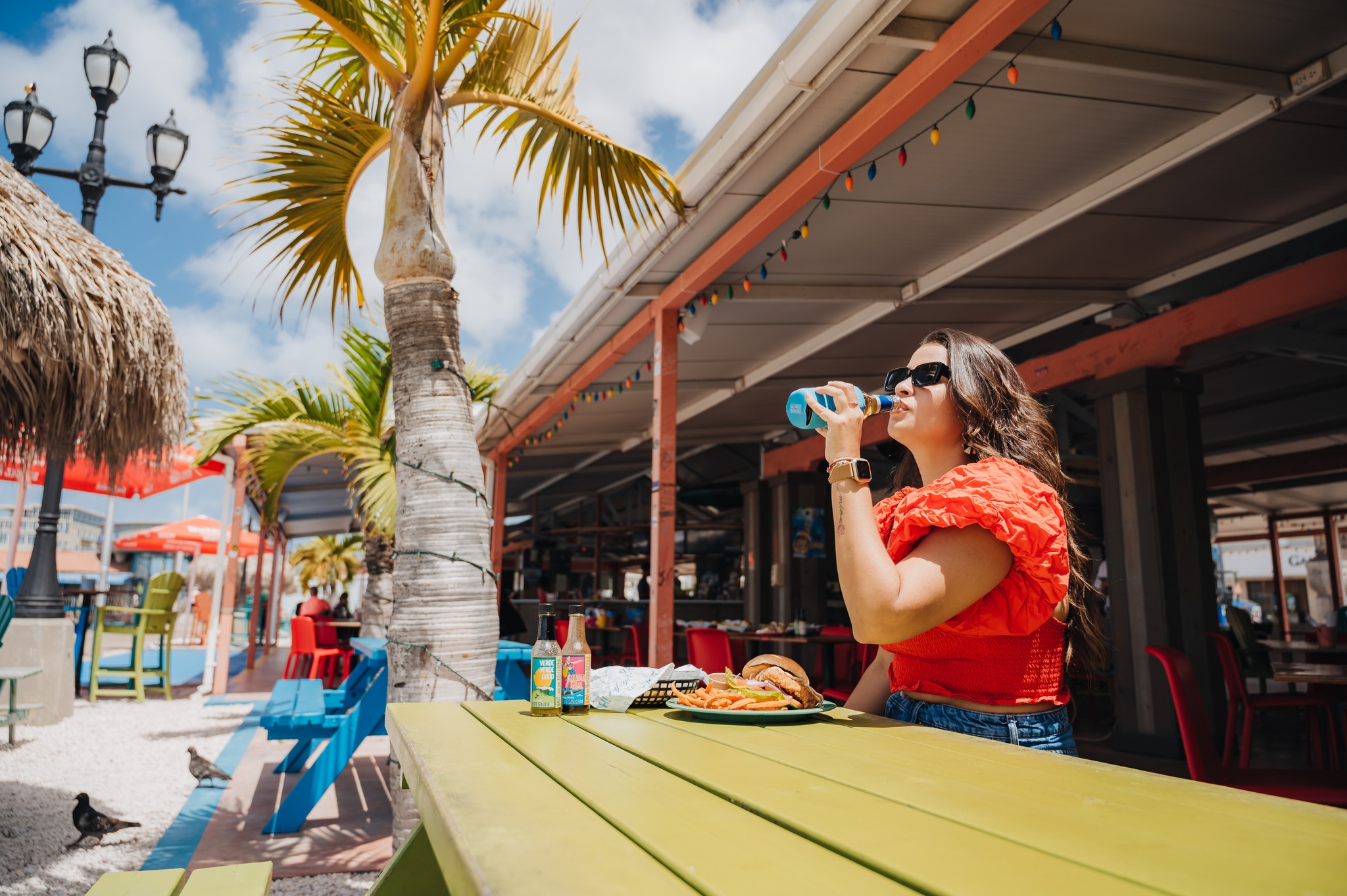 Thirst quenching highlight: Lucy's has great grub, famous cocktails, good music, and a fun dining experience overlooking the Renaissance Marina. This fun, colorful and chill spot serves nothing but good vibes and pretty views. Trust us, you don't want to miss out on Lucy's Aruba. Tip – Go on a Tuesday for their famous "Taco Tuesday" and enjoy $2-5 tacos and drink specials all night long!
Water's Edge Restaurant & Bar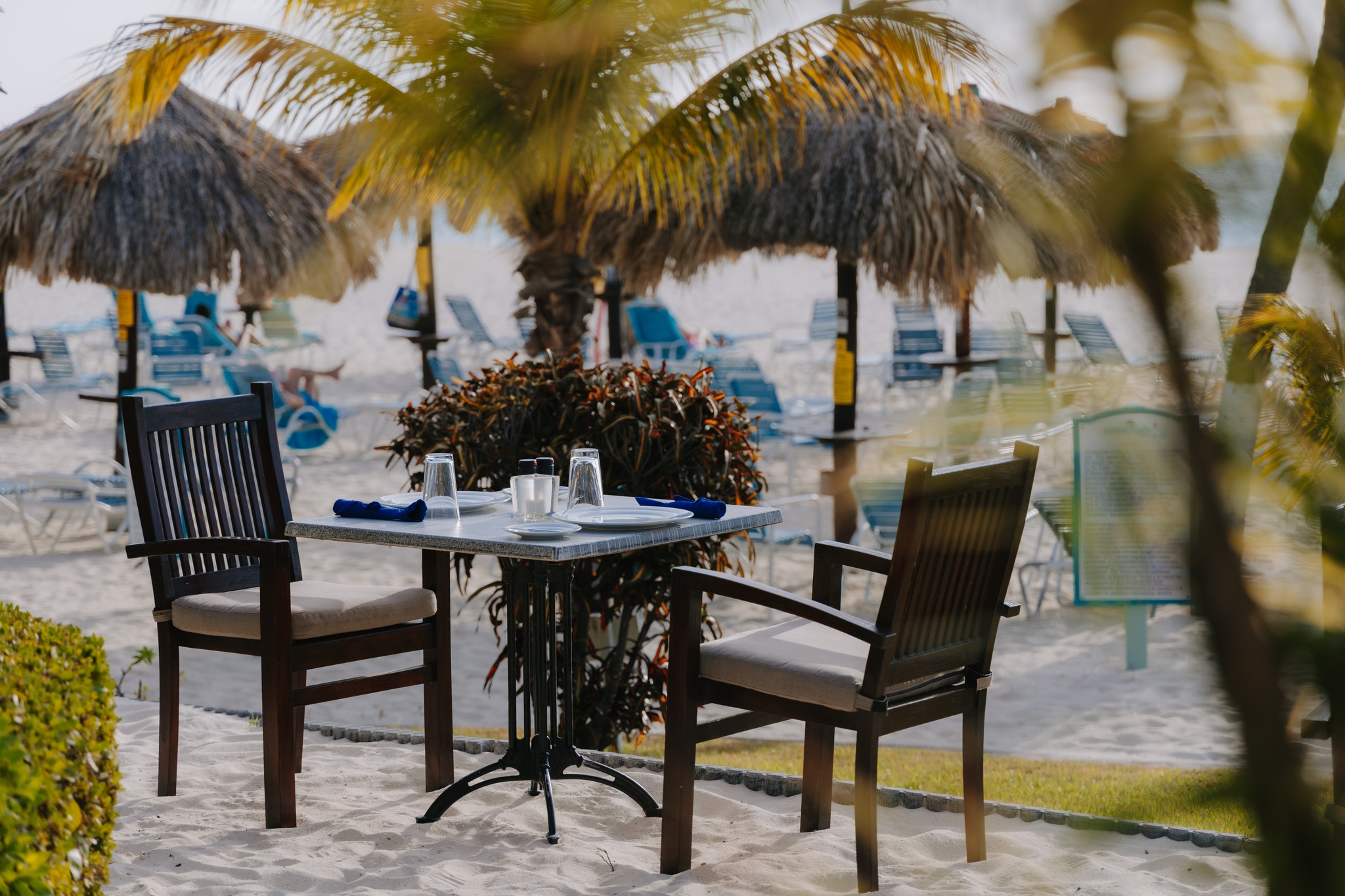 Thirst quenching highlight: Located beachfront on the dreamy and famous Eagle Beach, Water's Edge offers the perfect beachfront view and casual, laid back vibes. Whether you are coming just for drinks or want to grab a bite, it is the perfect spot to relax with your toes in the sand. PS – they have three daily happy hours!
Nos Clubhuis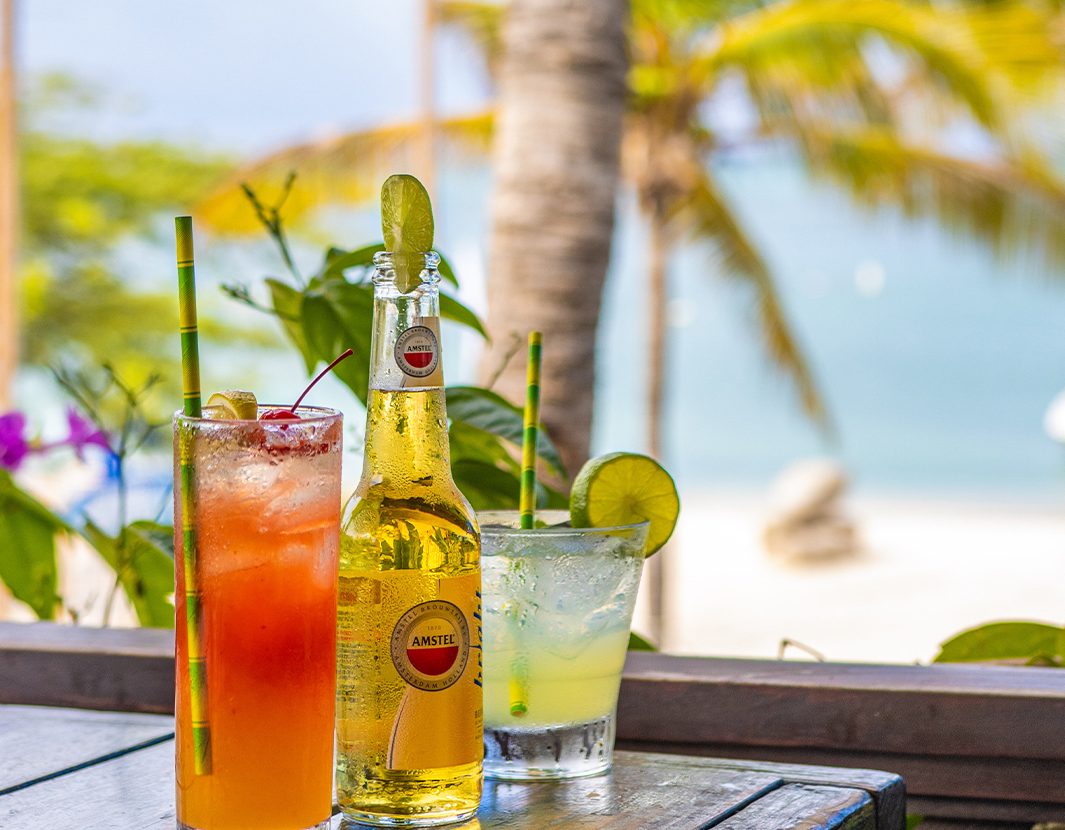 Thirst quenching highlight: Nos Clubhuis is located next to MooMba and offers some of the best views of Palm Beach. Located above a restaurant, you will get perfect views of Aruba's pretty blues and swaying palm trees. They have two happy hours, one from 12-1 PM and the other from 5-6 PM.
Beach Bar Aruba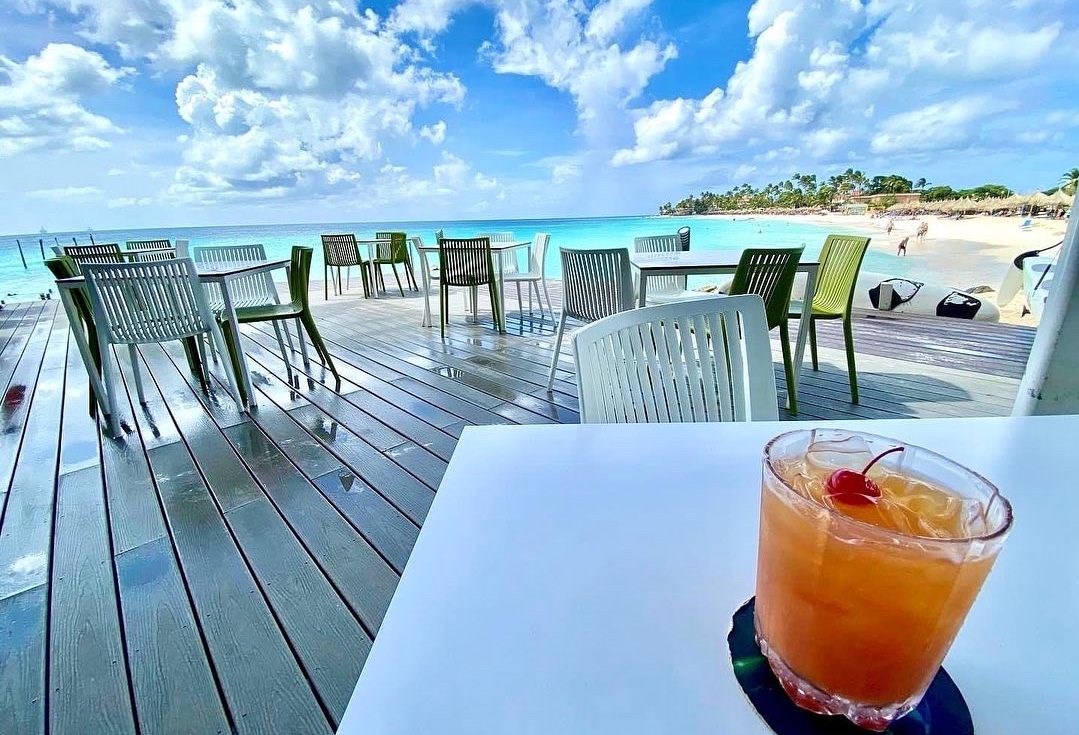 Thirst quenching highlight: Quite the picturesque beach bar. It has a spacious bar and patio area overlooking Druif Beach, the view does not get any better than this! With a great food and drink menu, friendly staff, and fun music this is truly a spot for everyone. Take a break from the sun in their shaded bar area or choose to get some sunshine on their deck.
MooMba Beach Bar
Thirst quenching highlight: Your trip to Aruba is not complete without a visit (or 5) to MooMba, one of the most popular spots on the island. MooMba provides the perfect balance of relaxation on the beach and entertainment at the bar. It's a party any day of the week, MooMba is always bound to be a great time. Enjoy all of the friendly people you will meet, and make sure to catch the breathtaking sunset light up the sky!
Bugaloe Beach Bar & Grill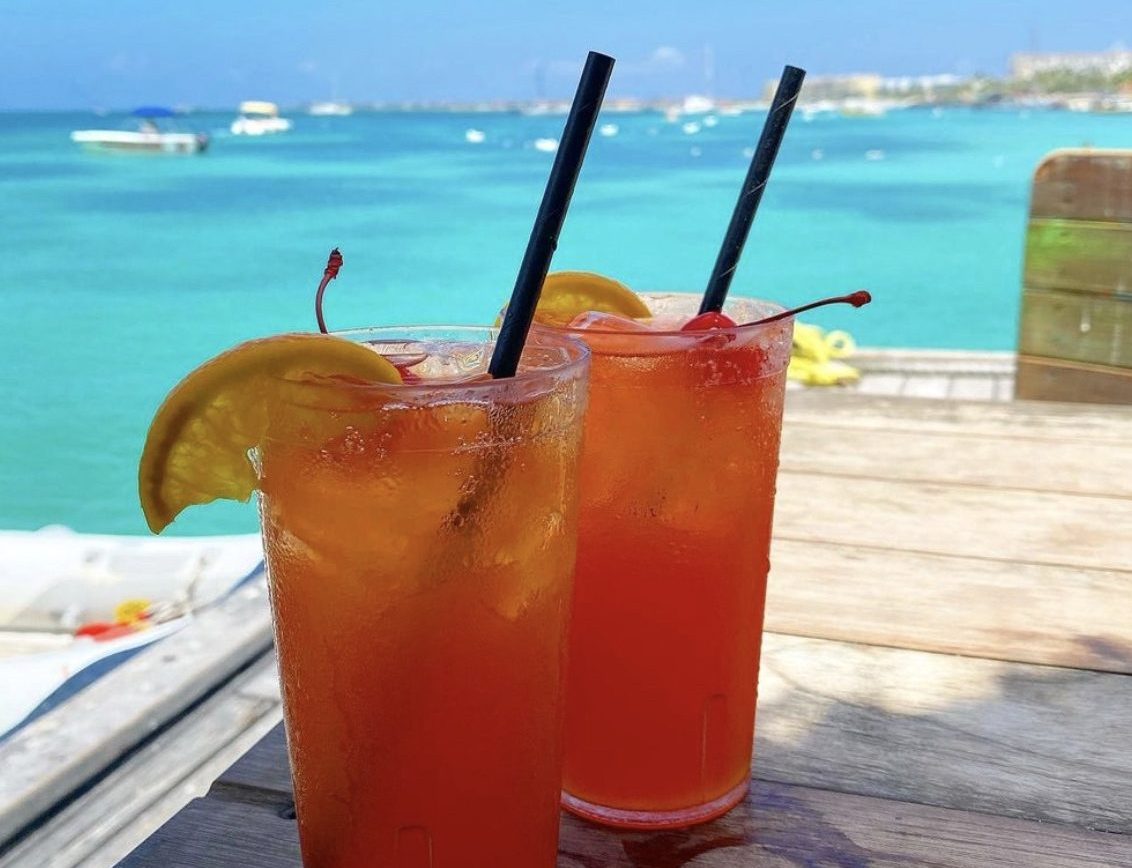 Thirst quenching highlight: A fun, bright, colorful atmosphere. Picture perfect views of the crystal clear water of Palm Beach. Some of the most fun and energetic bartenders and staff members. Bugaloe is well known for putting on a good karaoke show and have quite some talented singers on their team. Their food menu is quite extensive so you're sure to find a delicious appetizer or lunch option.
Surfside Beach Bar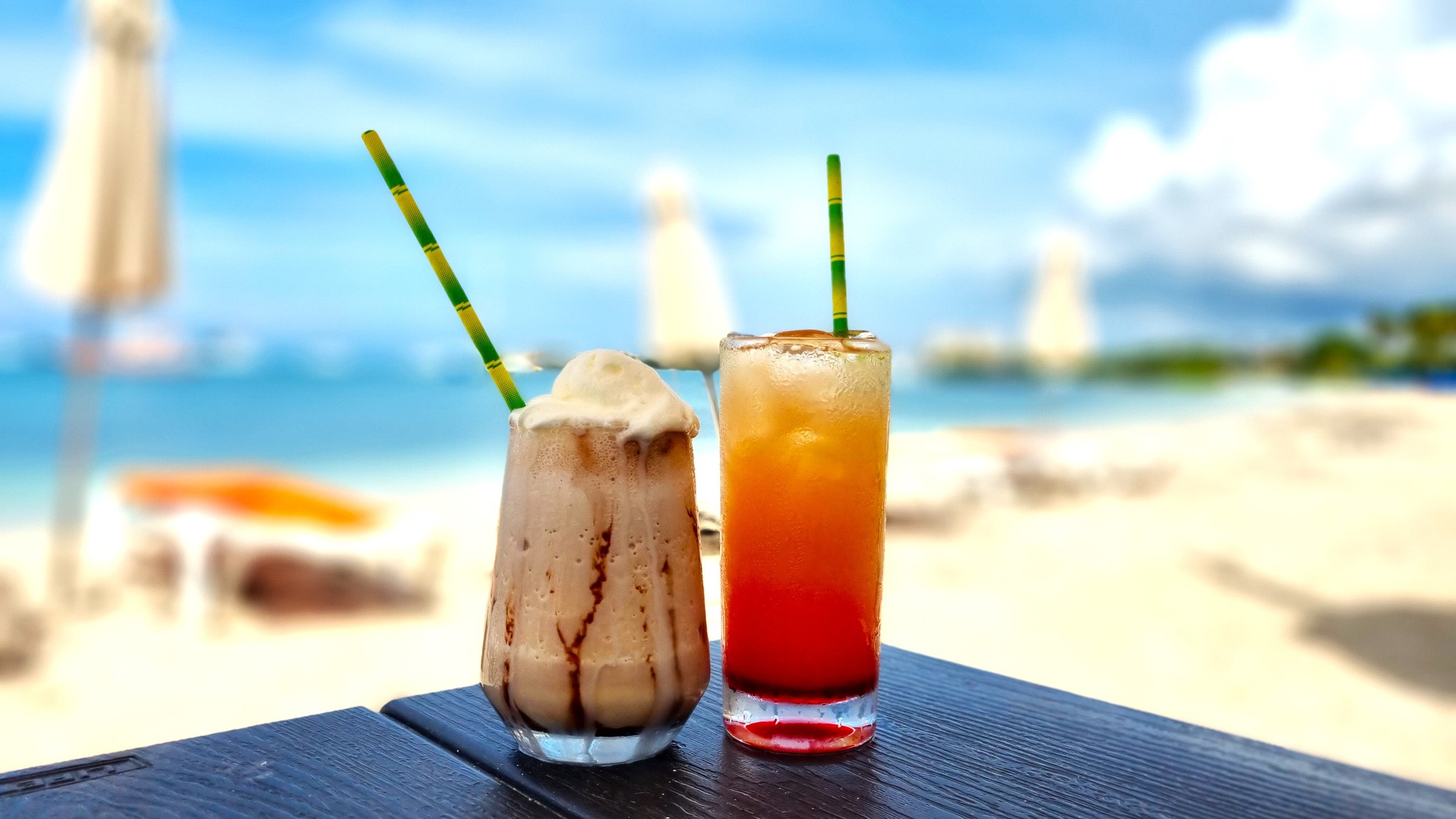 Thirst quenching highlight: Want to have a fun, chill day at the beach? Surfside is a laid-back spot where you can have a delicious bite to eat and catch up with friends over a bucket of ice-cold beer (or cocktail, whichever you prefer). Since they are located close to the airport runway, you will be able to watch the planes come in, making for some fun sky gazing!
Rum Reef Cocktail Bar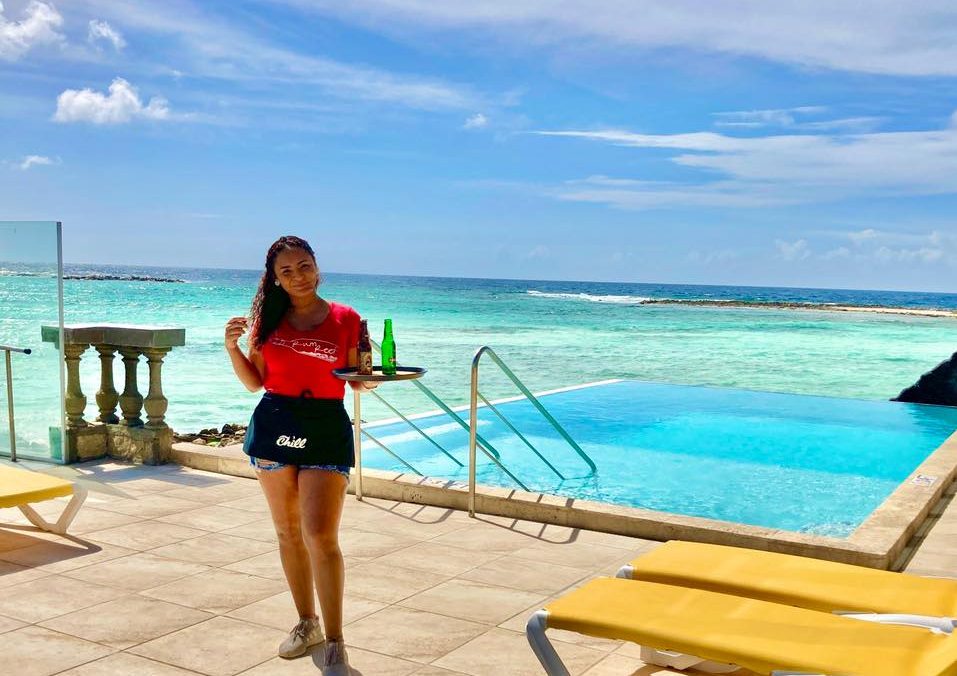 Thirst quenching highlight: Rum Reef is located at the southern tip of the island and is known for their alluring infinity pool overlooking Baby Beach. The views are everything and more! Sip on your favorite libations, cool off in the pool, and let the good times roll.
View more places for drinks and dining in Aruba.