You know you're in for something special when French-trained Executive Chef Matt Boland is at the helm of any food-related event, and the "Wonderful World of Wagner" dinner and wine-pairing at the Sunset Grille restaurant located at the Hilton Aruba Caribbean Resort & Casino was no exception.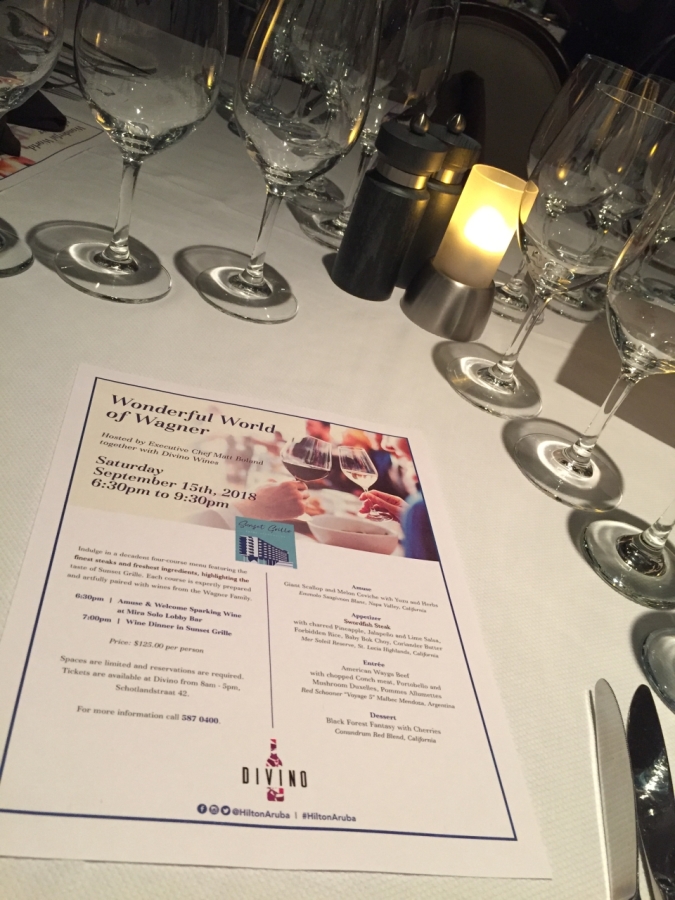 Napa valley-based Wagner wines – represented locally by Divino – lent their name to the event and provided the accompanying vintages.
The event started off with an aperitif at the outdoor Mira Solo lobby bar, and true to its name we were treated to a beautiful Aruba sunset as we sipped in anticipation of the main event.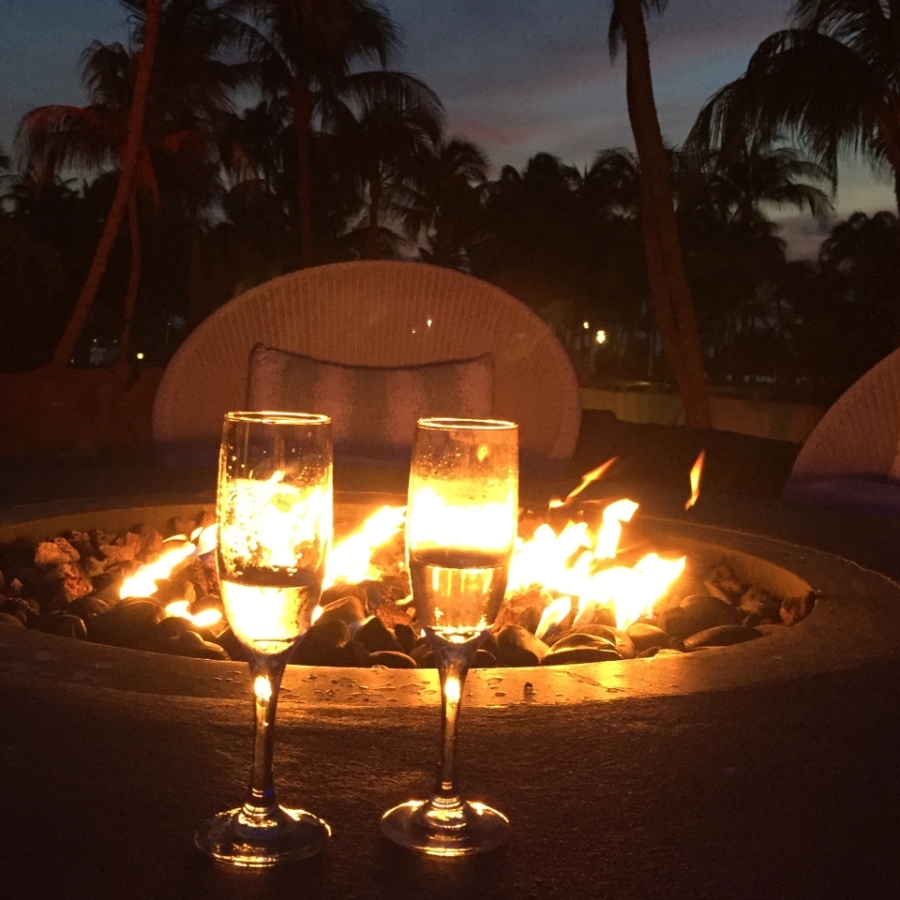 Right after sunset we made our way to the dining room of the Sunset Grille where we were greeted by Matt who was busy balancing preparations and welcoming guests.
"You guys are in for a treat tonight!" He exclaimed with a broad grin. "We've got delicious fresh giant scallops and the Wagyu beef is fantastic!" Whipping out his phone and showing us a picture of the perfect marbling on the raw meat before he worked his magic on it, Matt was clearly very excited about this particular dish, and it definitely rubbed off on us.
That is quite typical of Matt – his feverish passion for food is highly contagious and his own excitement is enough to trigger eager anticipation! In our case just the mention of his involvement when the event was announced was enough to seal the deal way ahead of the actual date.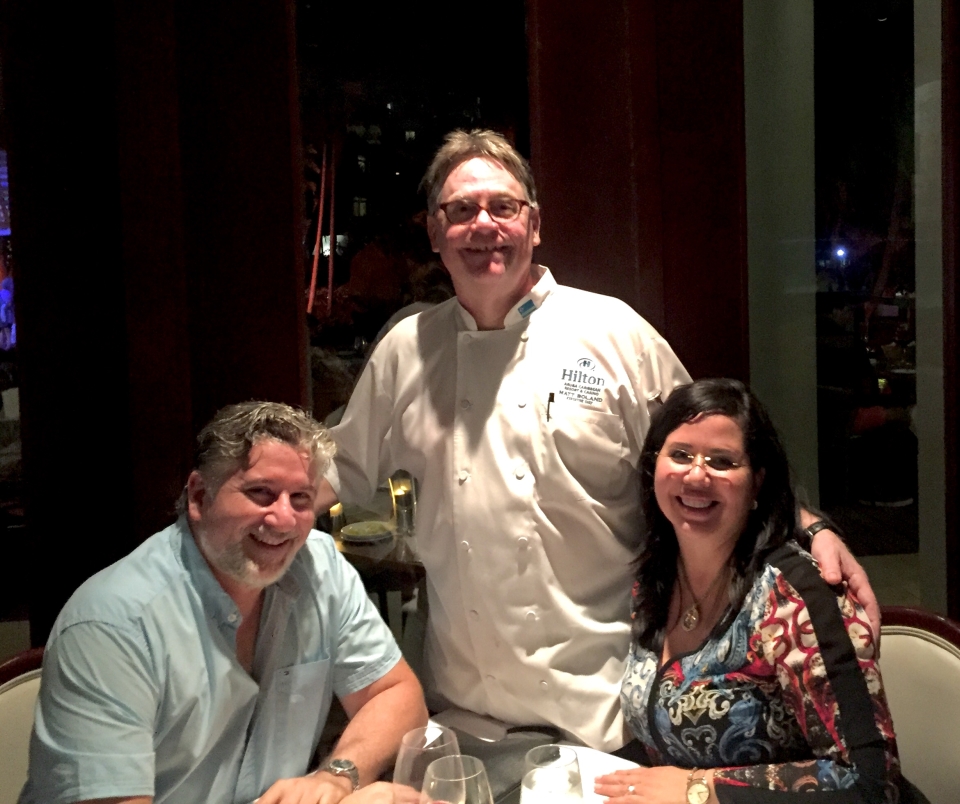 The staff at the Sunset Grille were also perfectly attentive and friendly without being over-zealous or intrusive, just the type of service that makes a sublime evening even better.
The first of four courses was a wonderful amuse, a ceviche variant combining giant scallops and melon with yuzu and herbs. It was matched with a fruity Sauvignon Blanc called Emmolo, the line of wines handled by Chuck Wagner's daughter, Jenny – this wine also had it's own hints of citrus and melon with a mild acidity also making it a great pairing.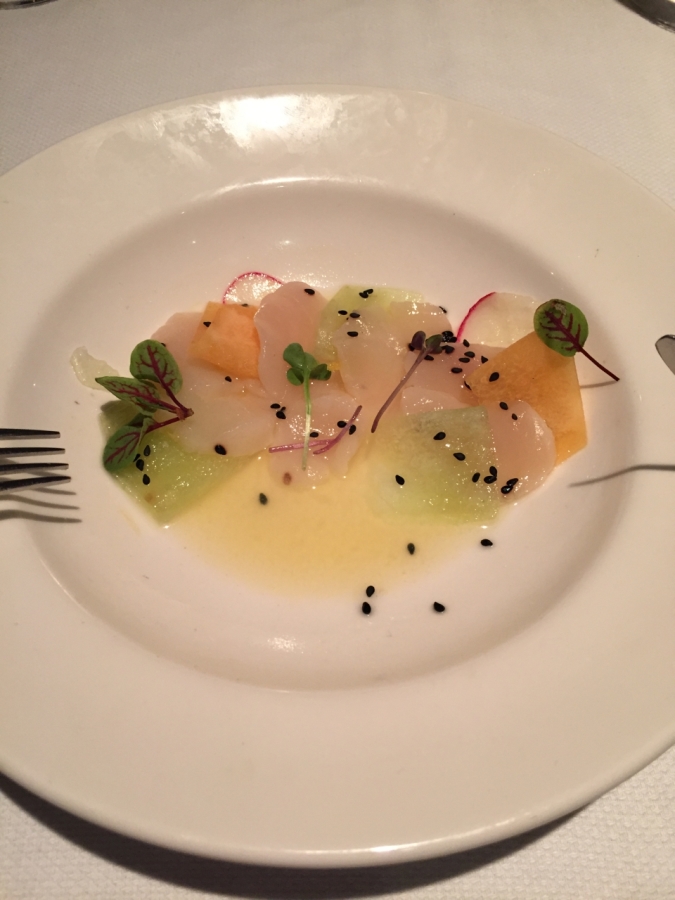 The second course struck a familiar chord with my Mediterranean roots – you know how certain tastes take you back in time to a good place, that was the case with the appetizer – a grilled swordfish steak. In contrast with the Mediterranean version that would normally have some combination of capers, tomatoes, onions, garlic and olives, although Matt's creation had the same unmistakable sea-salty flavor, it was countered with the sweetness of charred pineapple, and pepped up with the zing of a spicy jalapeño and lime salsa. A small disc of coriander butter, a cone of forbidden black rice, which took on a purple hue when cooked, and some baby Bok Choy completed the fish. The dish was paired with a delightful Chardonnay, the Mer Soleil Reserve. The menu mentioned the Santa Lucia Highlands version of this Chardonnay although the wine staff were also serving the Silver version which is named because it is fermented in a combination of stainless steel and small concrete tanks imported from France's Bourgogne region.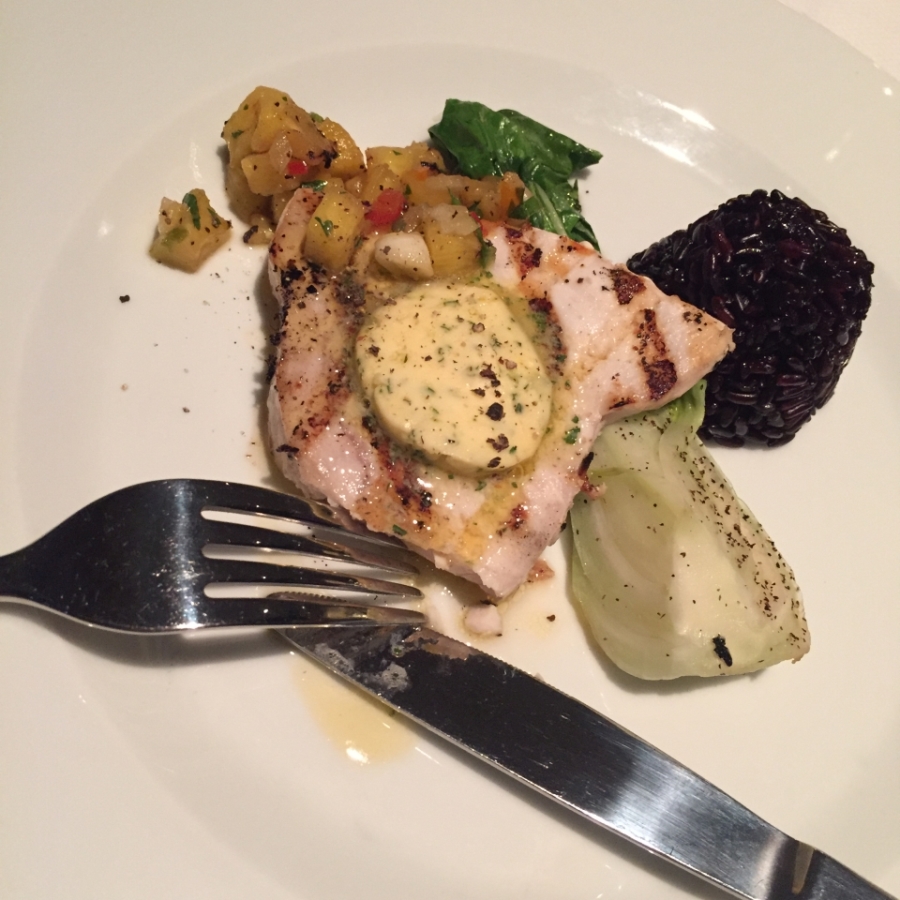 Matt made it a point to walk around the tables, chit-chatting with guests, also cracking jokes about plates being scraped clean after each course! Clearly everyone was thoroughly enjoying his creations – and we were only half way along this culinary adventure!
The piece-de-resistance, for us at least, was the next course, with the Wagyu beef that Matt had drawn our attention to upon arrival as the centerpiece. Matt explained that he came across a technique of stuffing cuts with conch meat, something he saw a Dominican chef do. In tonight's main dish he decided to put his own spin on it, opting to seat the beef on chopped conch meat accompanied with portobello and mushroom duxelles, some very thinly sliced shoestring potatoes and asparagus for greens. This was one of those ooh-la-la moments I didn't want to end, and found myself making all sorts of "yummy sounds" as the portion slowly shrank in front of me. It's the foodie's dilemma, you know you're going to savor each bite but it also takes you one step closer to finishing! The pairing with this dish was the Red Schooner, a unique-tasting, complex, dark and fruity Malbec that had hints of pepper and spices. In this case not my favorite combination but the food quality dismissed any possible gripes.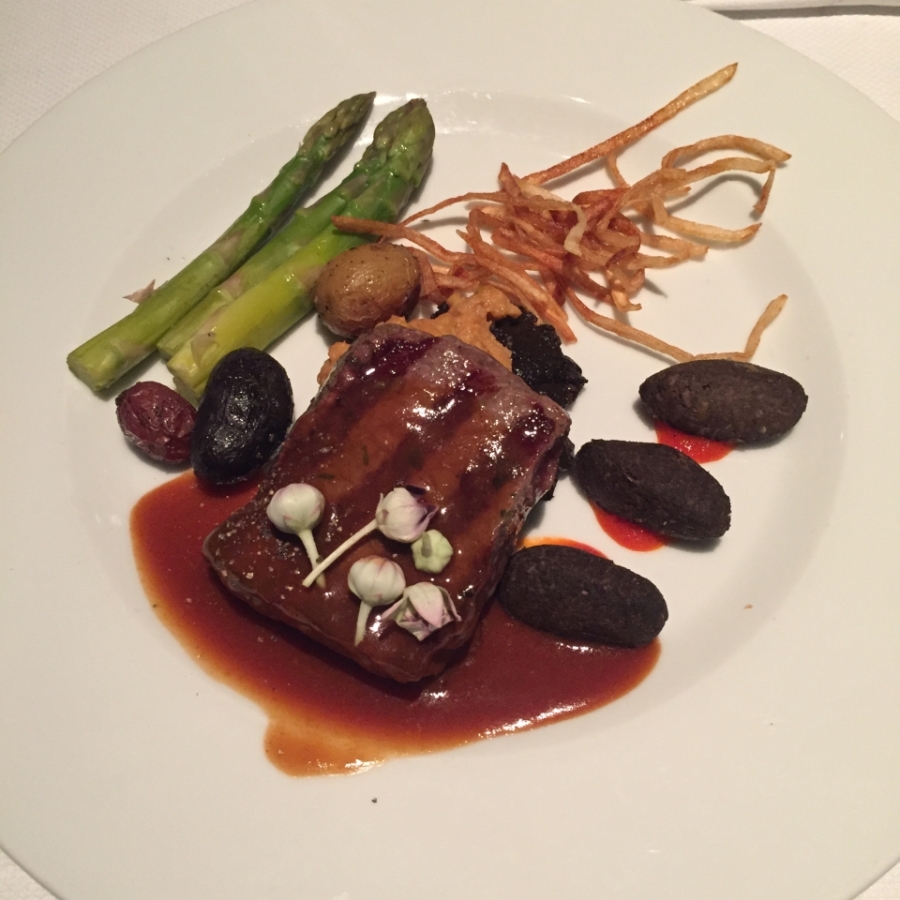 Still reeling from the flavors of the delicious third course, Matt came round for feedback but none was really necessary – the proof of the pudding as they say is in the eating and there was absolutely no eating left to be done on our plates. Licking perhaps, and while etiquette dictates against licking plates clean, it's amazing how close one can get armed with a fork and knife and gourmet motivation!
"Make sure to leave place for dessert!" Matt announced as he paid tribute to Hilton's young pastry chef. Tribute that was well deserved as we soon found out. The Black Forest Fantasy dessert featured a chocoholic staple, a fluffy chocolate mousse, this time surrounded by red velvety tufts of cake, cream balls, cherries and garnished with flower petals. At this point you already know based on what has hit your palate so far, that this was going to be up to par, and it was therefore no surprise that this creation was the perfect culmination to a gourmet-par-excellence experience. I'm not going to comment much on the dessert wine pairing, because I'm not a big fan of any wine with dessert, I'm sure the Conundrum combination was suitable, it's just not my thing.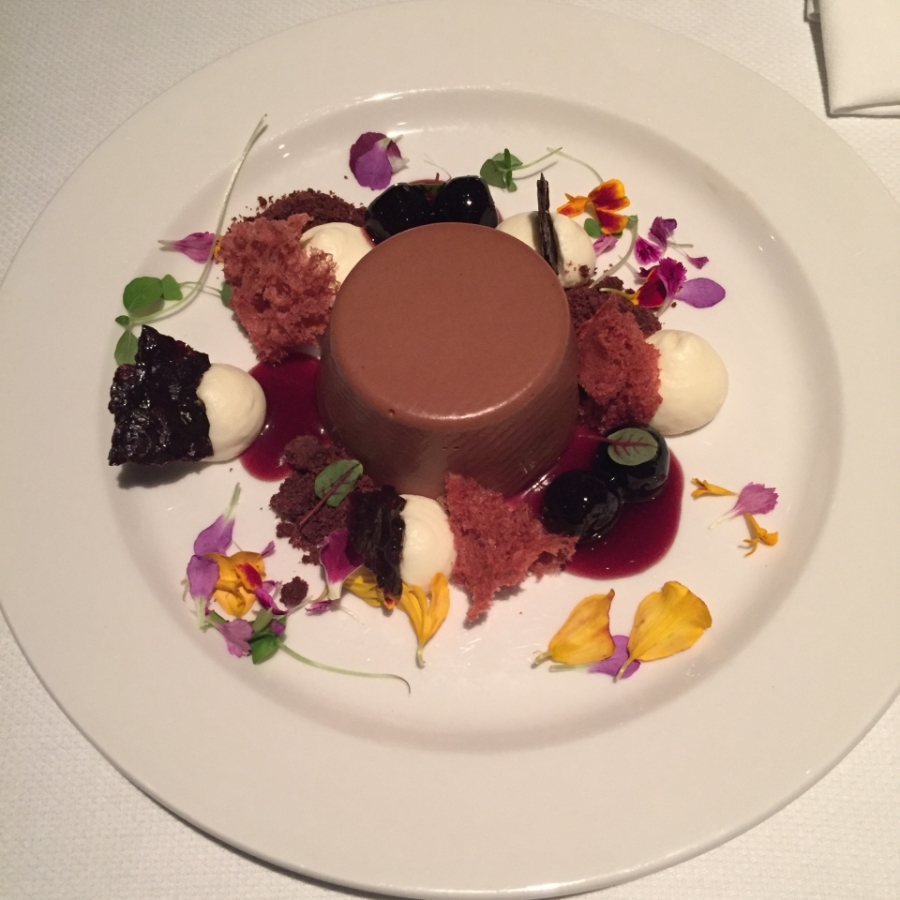 Everything else however definitely was my thing and from the satisfied smiles of everyone present and the verbal and physical pats on the back Matt was getting, most seemed to agree that this was a fantastic event with a very high level of food creativity and wine offerings. Guests at the Hilton are definitely spoilt when it comes to the enviable quality available at the Sunset Grille under Matt Boland's stewardship.
Kudos first and foremost to Matt for his creativity, continuous presence and super hosting skills and also to the Hilton Aruba Caribbean Resort & Casino staff and to Divino for putting a memorable event together.
Look forward to the next one!!