We've got good news to share, in fact, it's so good it has our mouths watering just thinking about it. It's always exciting when a new restaurant opens its doors on the island, but it's especially exciting when it checks off all our boxes, fulfilling our foodie dreams and expectations!
Radisson Blu Aruba has just unveiled the newest addition to their F&B lineup, and it is without a doubt dine-worthy! Blu Bar, a pop-up restaurant, offers authentic Peruvian fusion cuisine with a modern twist and international flair. While the menu specializes in fresh and vibrant Peruvian eats, such as ceviches and tiraditos, as well as seafood-centric dishes, it also offers a variety of elevated meat, vegetarian and vegan entree dishes to satisfy the palates of all diners. Each entree is served with unique and creative sides complimenting the main attraction perfectly.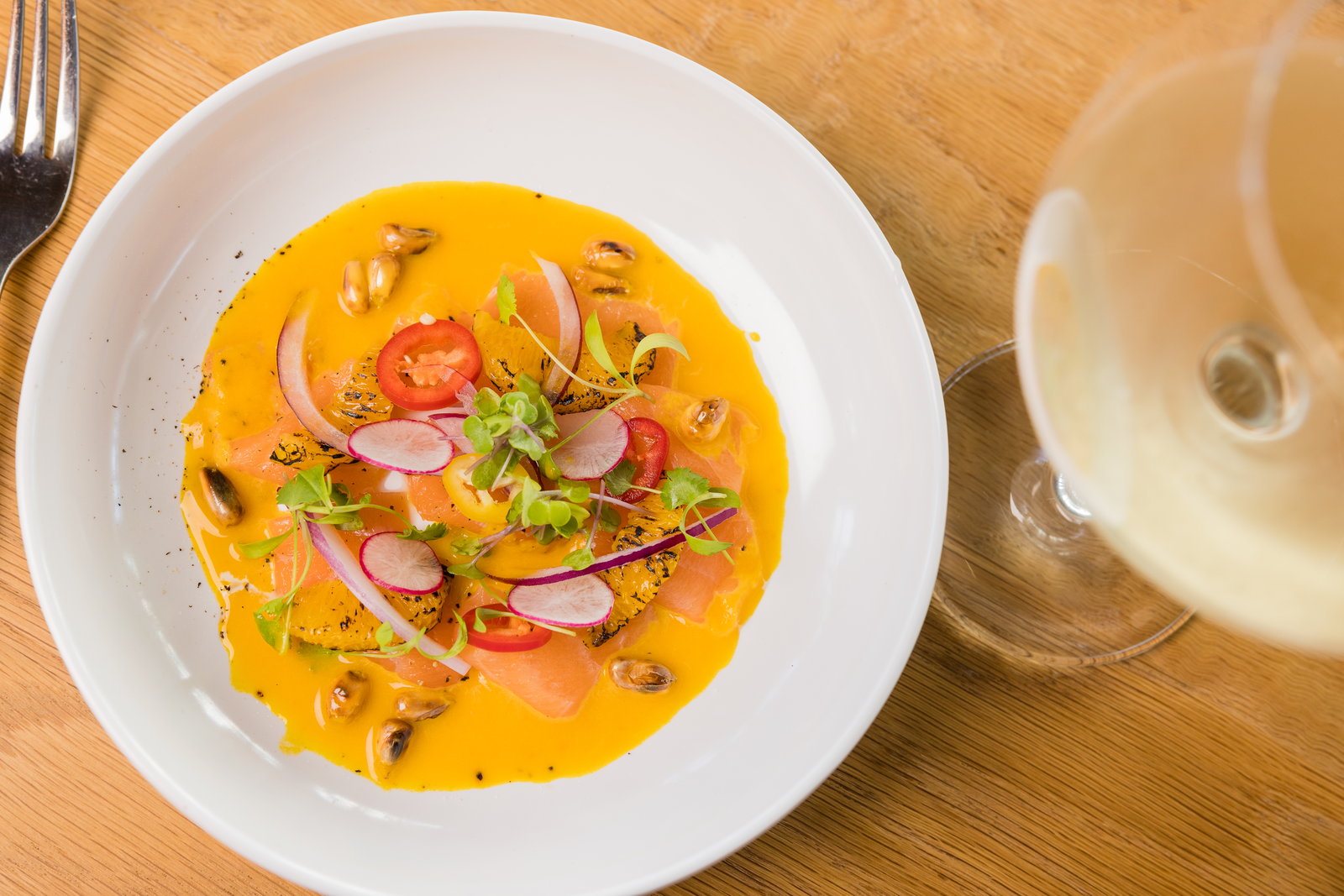 You may have noted the phrase "pop-up" earlier, and yes, you've read that right –  the restaurant cuisine and concept are open to change in the future, allowing for more culinary surprises and creative concepts. Not many pop-up restaurants are offered on the island and certainly not at resorts, making Blu Bar a very refreshing addition to the culinary scene! Worry not, if you've already fallen in love with their Peruvian fusion and international dishes it is not going anywhere anytime soon!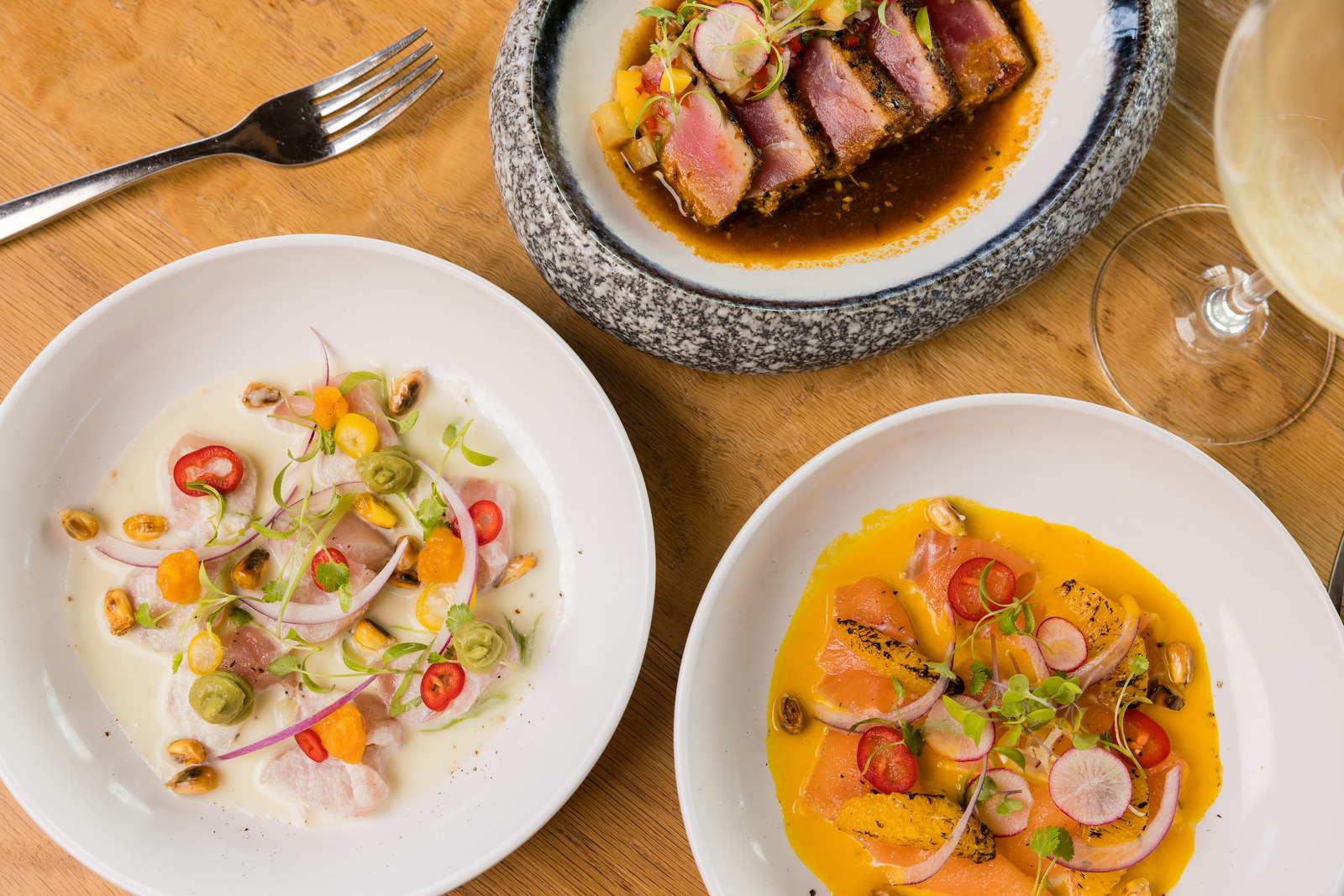 Aesthetically pleasing
Blu Bar's ambiance is modern, chic, and spacious with plenty of unique architectural detail. The panoramic floor-to-ceiling windows surround diners from just about every angle and give an incredible indoor-outdoor feel. The view looks out onto the resort's illuminating pool and lush gardens.
Foodies are sure to flock to this inviting atmosphere in no time. It's a lovely dining option for all, whether you are staying at Radisson Blu, a nearby resort, a vacation rental, or you are a local, you need to put Blu Bar on your dining list! Try it for your next date night or even for a social business meet-up.
Tip: Gather your group of friends and grab a seat at their fun and eccentric bar for cozy vibes and sip-worthy libations.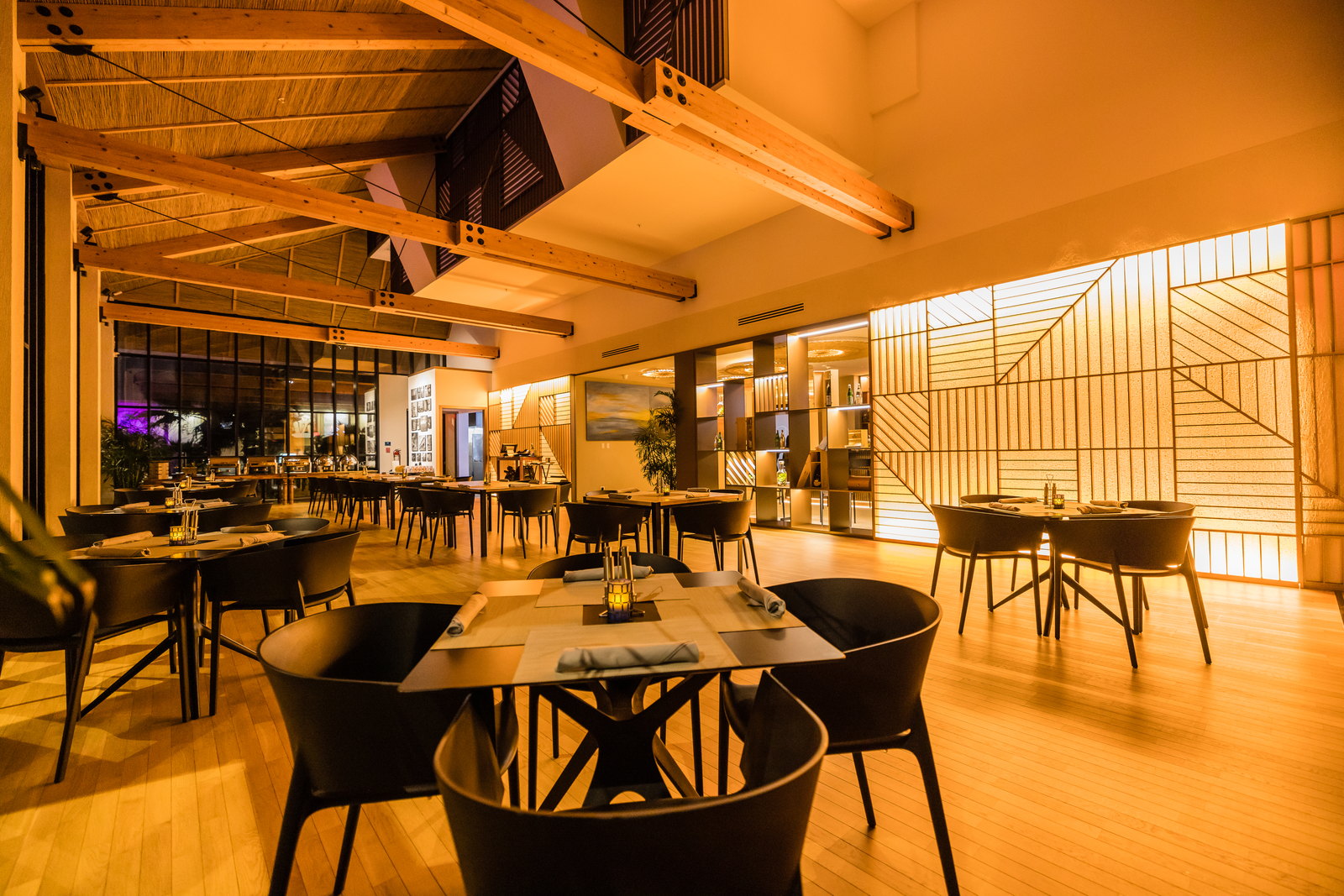 It's all in the (foodie) details
The menu includes a variety of authentic Peruvian and tasty seafood appetizers to select from, all created with fresh, vibrant, and colorful ingredients. The dishes are so good that you may choose to share a selection of appetizers with your group and enjoy a tapas-style dinner. However, if you are a diner with more of an appetite (and don't like sharing), their entrees are sure to satisfy your hunger and all of your foodie cravings! View Blu Bar's dinner menu to get all of the mouth-watering details.
Appetizer highlights
Ceviche Blu: Catch of the day marinated in leche de tigre, red onion, Peruvian aji, cancha crujiente, sweet potato puree, and maiz mote.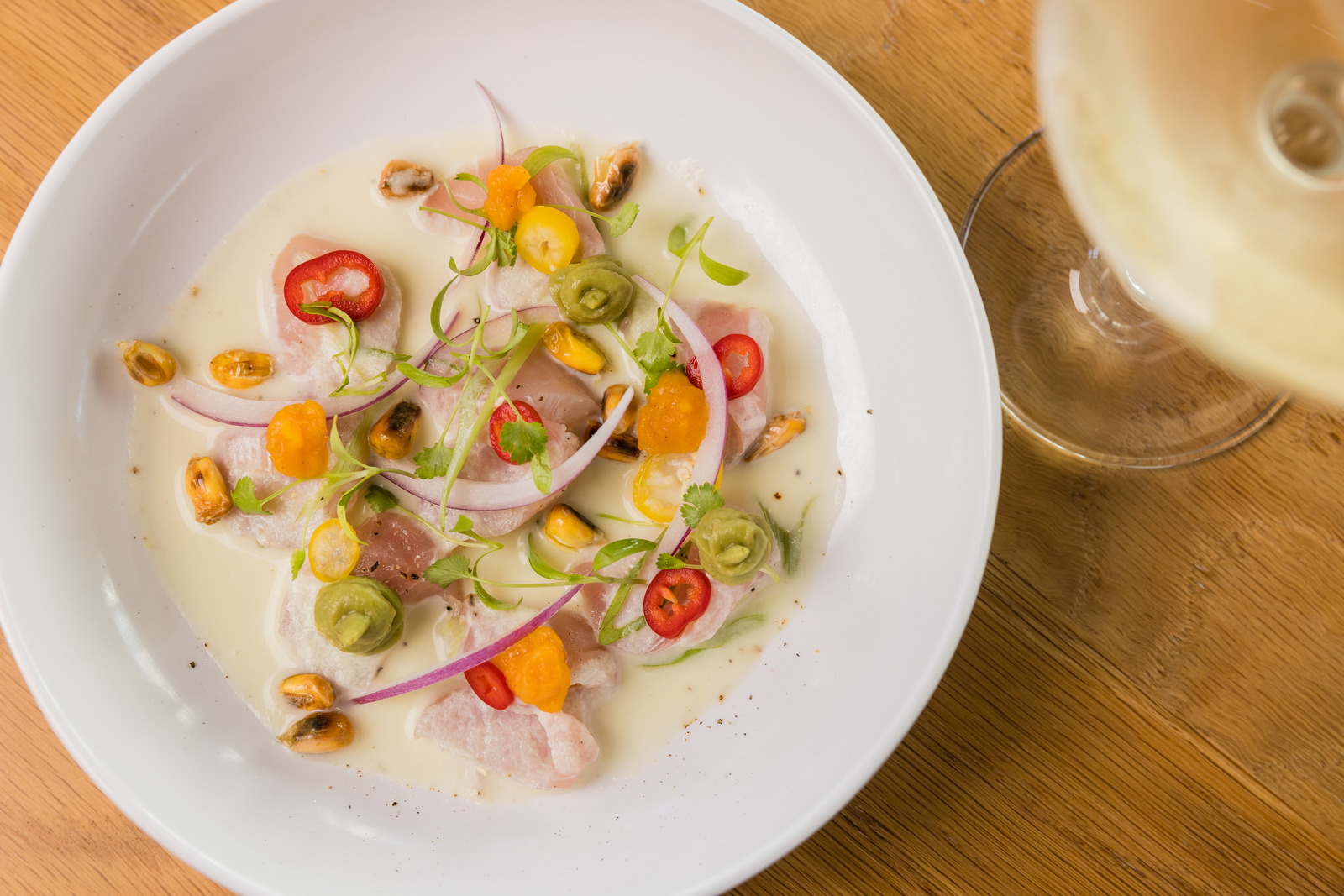 Tiradito Nikkei: Thinly sliced, fresh blackened tuna, bathed in homemade oriental sauce served over pineapple and mango relish.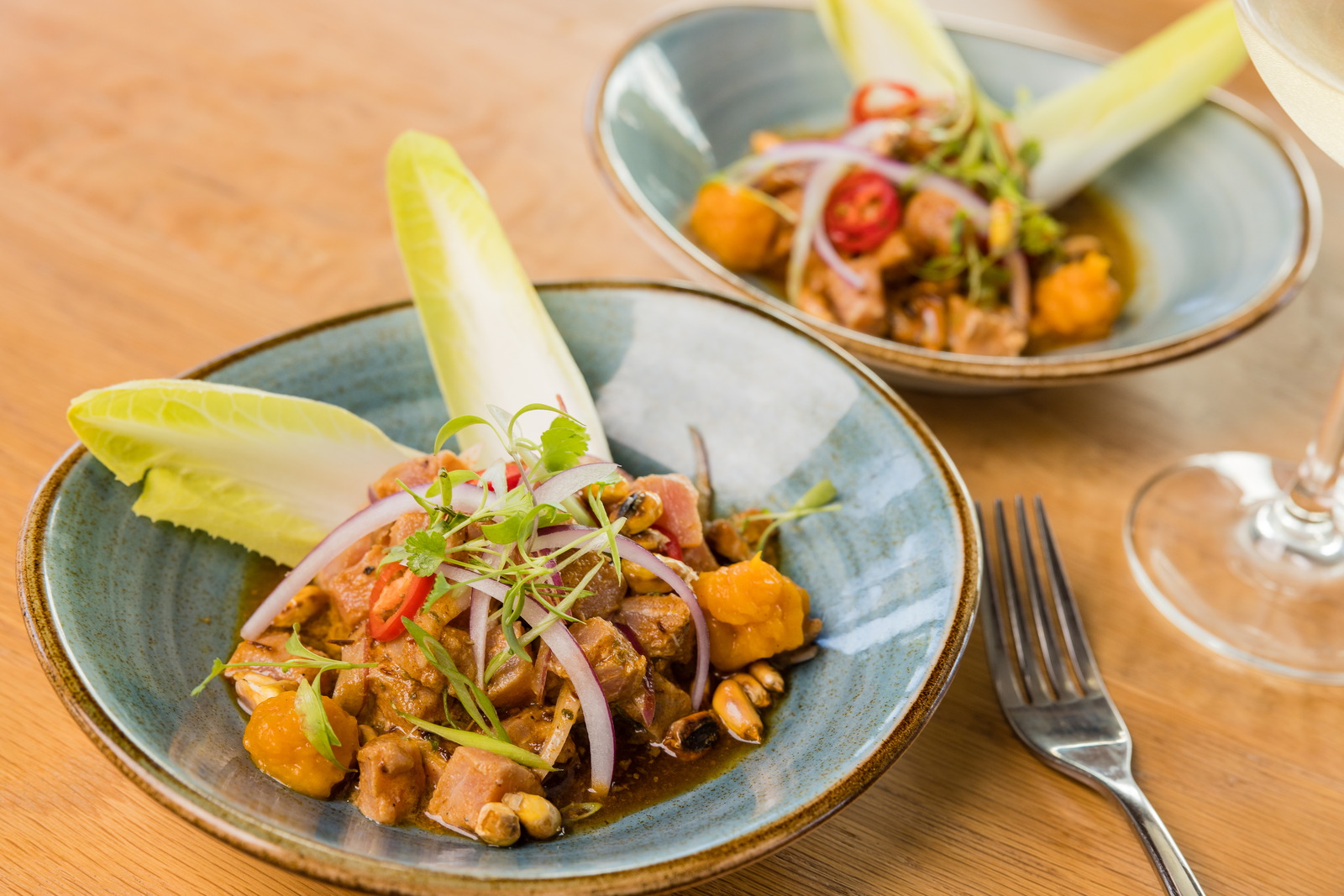 Beef Tataki: Lightly seared, thinly sliced beef in ponzu sauce, coriander pesto, charred leek mayo, and microgreens.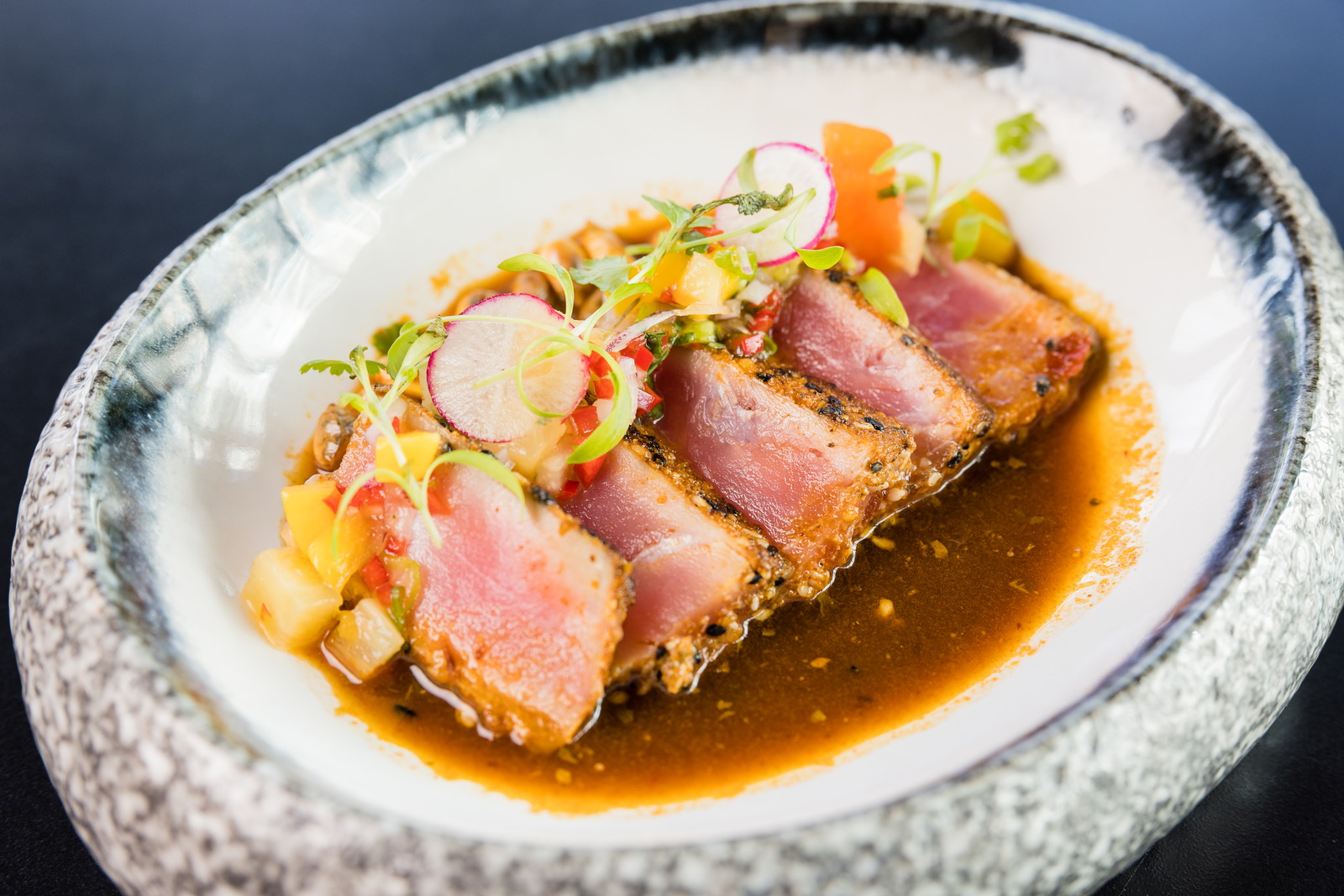 Want to split an appetizer with your plus one? Try the Cold Seafood Platter: Lobster tail (4 oz), prawns (2 pc), fish ceviche, remoulade sauce, charred lemon and pica di papaya. Served with smoked salmon cream cheese and totopos – perfect for two!
Entree recommendations
Cowboy Pork: 12 oz Cowboy Pork glazed with blackberry jam, served with fufu (mashed ripe banana, onion & butter) and popcorn tajine butter seasoning.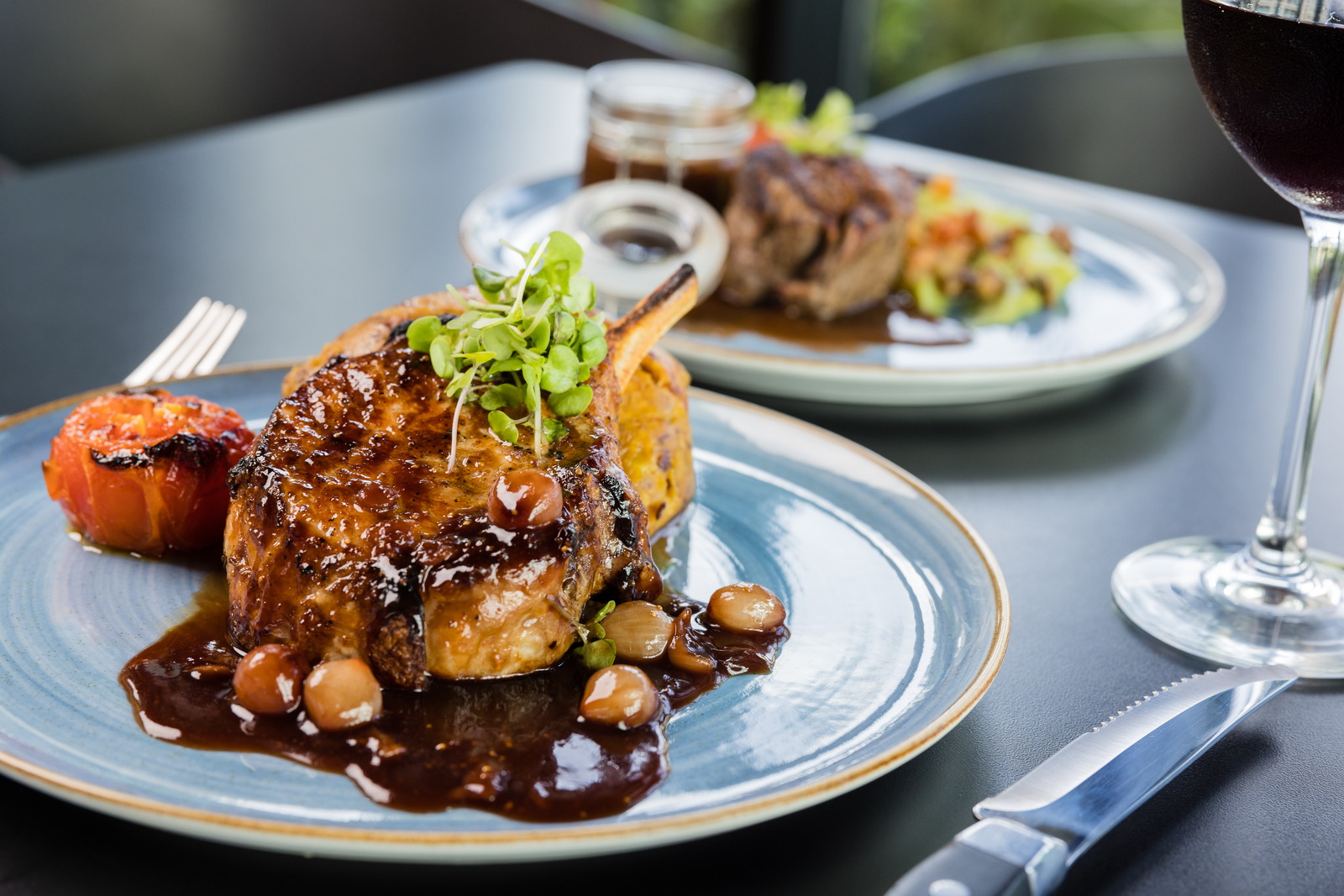 Pan Fried Local Fish Fillet: Local fish of the day served on sugar snap pea puree, sprinkled Dukkah nuts, pineapple mango pico de Gallo, charred lemon, and coriander microgreens.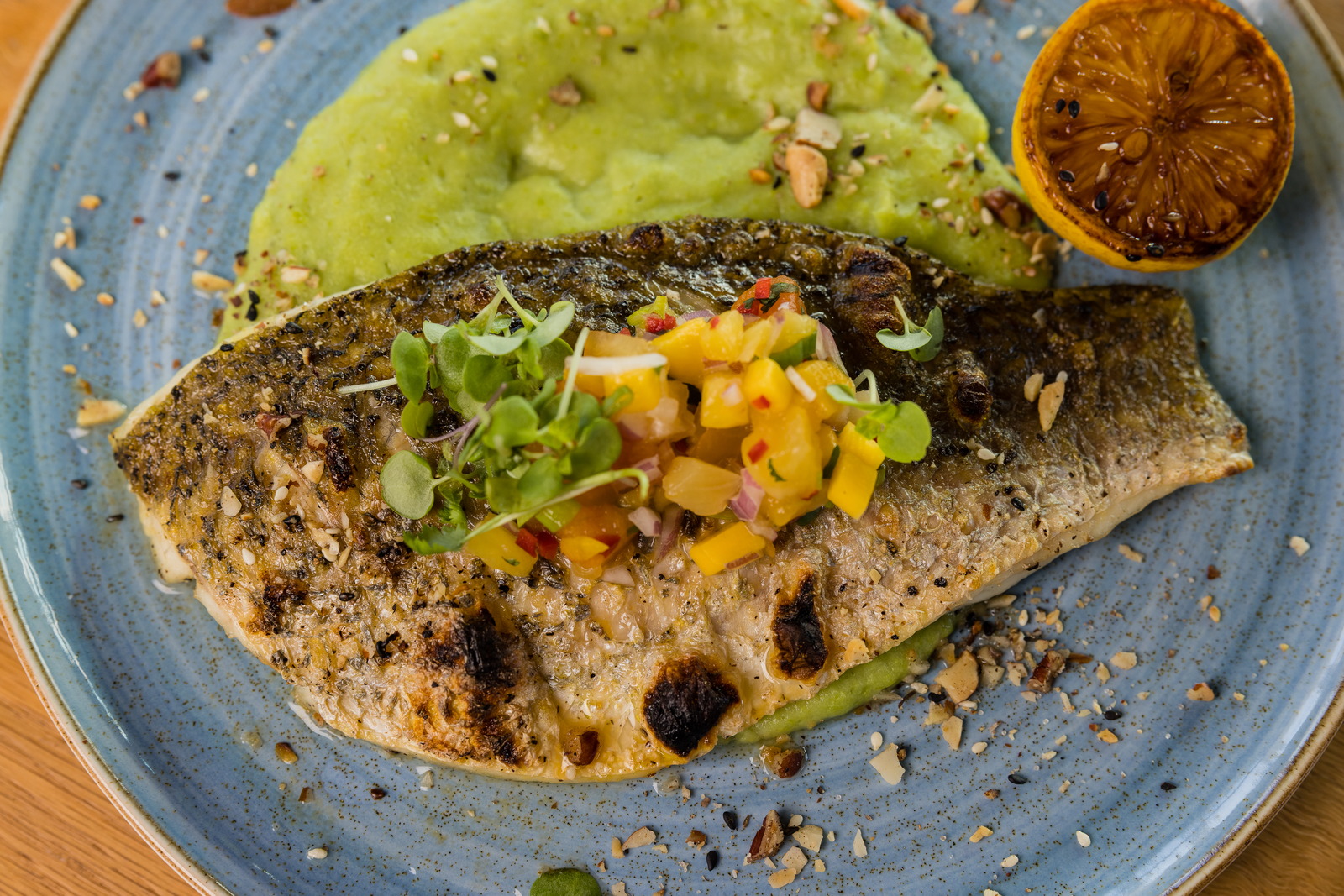 Stuffed Chicken: Locally seasoned airliner chicken infused with ranch cream cheese. Served on a bed of potatoes and leek puree with zhug (cilantro sauce), cherry tomato confit, sprinkled with Dukkah nuts.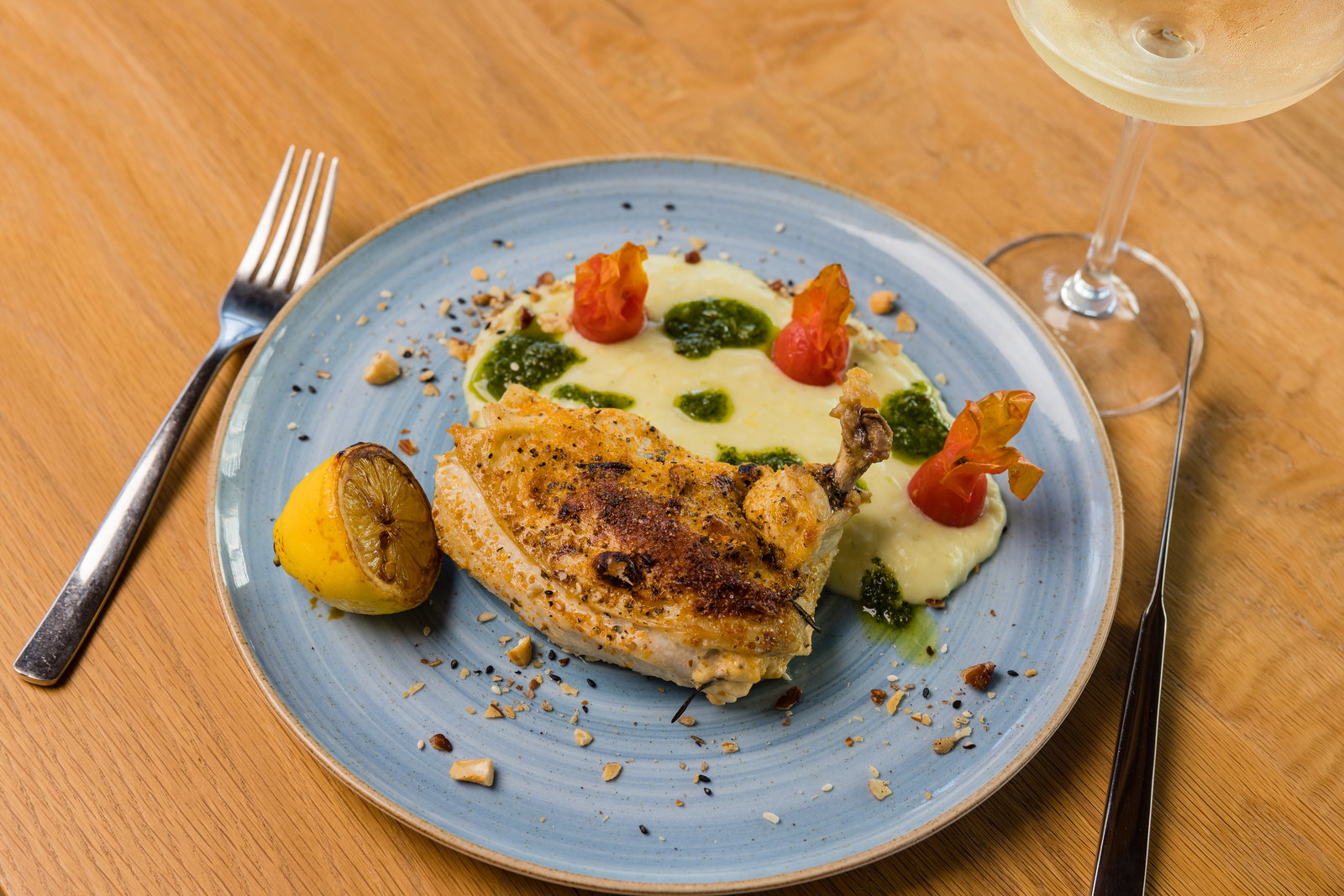 Looking for a Vegetarian or Vegan option? Try their flavor-packed Cauliflower Steak: Open flame cauliflowers marinated in aji panca. Served with modern ratatouille, tomato-bell pepper chutney, Dukkah nuts and coriander microgreens (Vegetarian, Vegan)
Aside from the bold flavors and presentation, what makes their entrees really stand out is the unique and outside-of-the-box international touch on each dish. Whether it's dukkah spices from the Middle East, fufu mash hailing from Africa, or an unusual Peruvian take on the otherwise traditional Argentinean chimichurri, Blu Bar's chef and culinary team are exceptionally innovative and clearly enjoy pushing the culinary boundaries in a delicious way!
To quench your thirst, Blu Bar offers a well-thought-out (and not too overwhelming) wine and cocktail menu to compliment each dish as it should. Select a bottle of crisp and refreshing Albariño to pair with your ceviche or tiradito, or, opt for one of their handcrafted cocktails, such as the Pisco Punch… either way you can't go wrong – cheers! Oh, and let's not forget about dessert, you can browse their sweet grand finale menu here.
Plenty of reasons to come back for more
In addition to their regular offered menu, Blu Bar also offers weekly theme nights, including special food and drink deals, as well as live entertainment. Mark your calendars because Mondays, Wednesdays and Fridays just became a whole lot more exciting!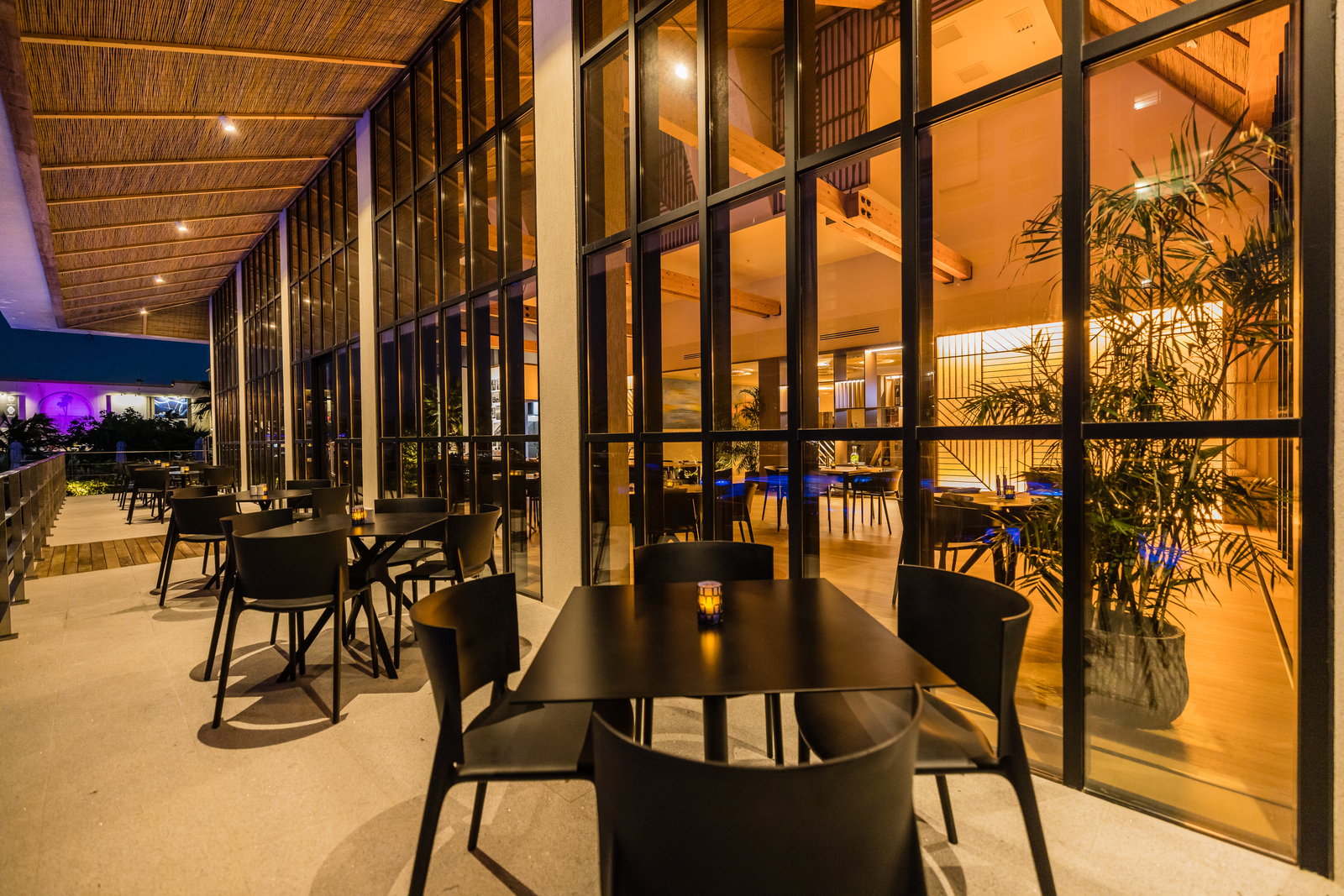 Sangria Mondays:  Savor their homemade sangria, priced at only $6 per glass and $25 per pitcher. PS – it's truly homemade, the recipe is based on their F&B Manager Leonie's Grandmother's recipe!
Winesday with Amy: Includes a live music performance by singer Amy Sorinio and Dollars to Florin on their special bubbles and wine bottles menu, now that's a deal, wine lovers!
Fridays are for Bar & Bites (coming soon): Enjoy a special happy hour menu including various small plates and wine, cocktail & beer options.
Blu Bar not only invites you for a lovely dinner experience, but they are also open for breakfast, serving traditional breakfast dishes fused with local cuisine. Try their Keri-Keri Benedict or the Super Breakfast including endless mimosas.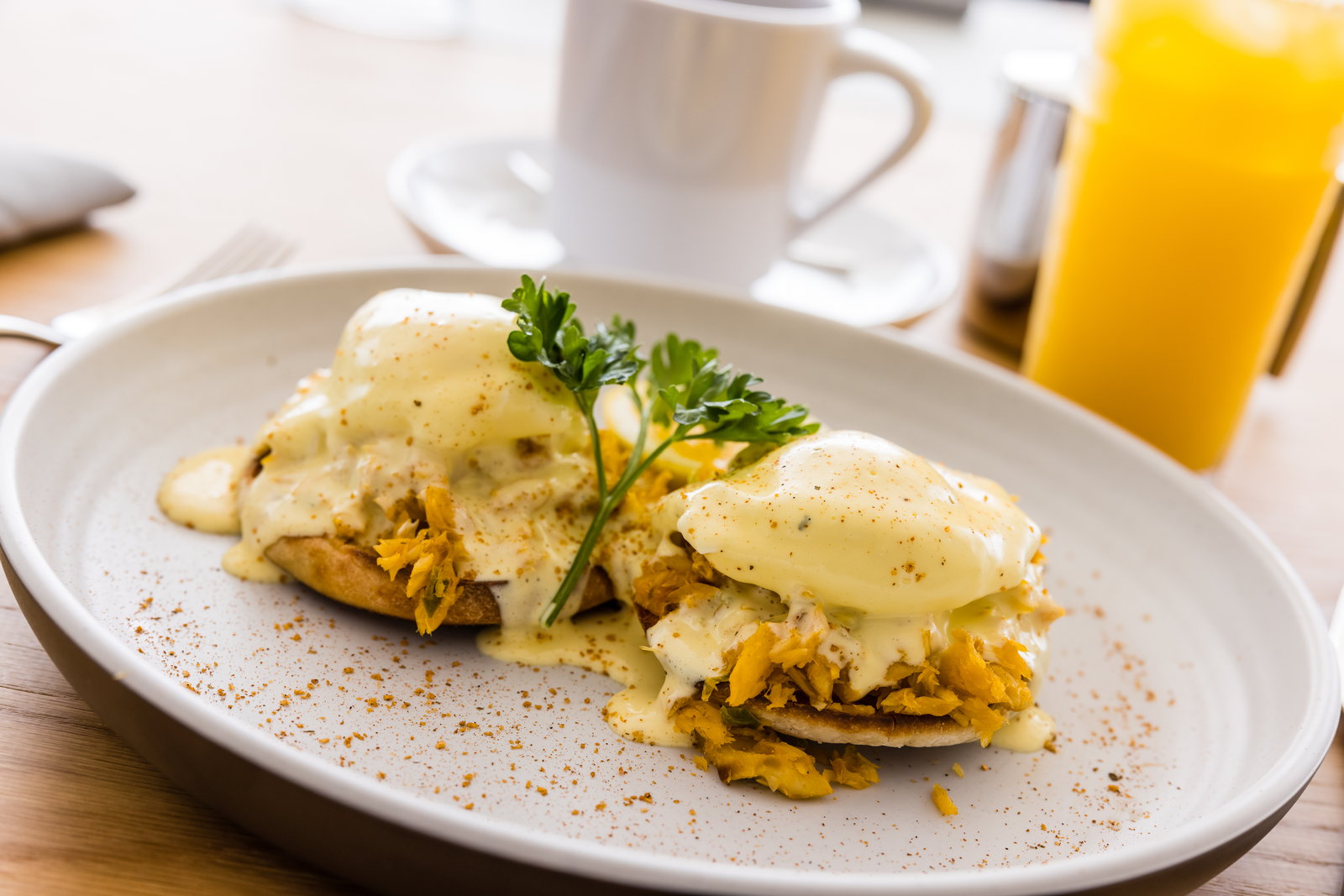 Blu Bar is located at Radisson Blu Aruba in Palm Beach, open daily, serving Breakfast from 7:00 – 11:00 AM and Dinner from 5:00 – 11:00 PM.
View more information on Blu Bar or make a reservation.