With so many different restaurants to choose from in Aruba it can sometimes make it difficult for visitors to decide where to dine and spend their time and money. New restaurants are popping up all over the island, but despite the rising competition, there are a few restaurants on the island that will never lose their charm, authenticity and success.
My colleague and I had the amazing opportunity to experience an evening at Buccaneer Restaurant; I say experience because that is just what it was…an experience. To simply say we had the pleasure to enjoy dinner there would be an understatement! From the moment we stepped through their door we felt as if we were in an underwater world, and surprisingly enough for Aruba no scuba gear was necessary! However, I will mention a rather large fish did manage to splash me with a little bit of water…so if you find yourself taken in the back to feed the fish – don't be surprised!
With aquariums and fish tanks from wall to wall, unique lighting to give you the illusion you are underwater, maritime decorations, a wooden buccaneer ship for a bar (that will make you feel just like a pirate sailing the Caribbean Sea, argh matey!)…the restaurant radiates a majestic and fun, yet soothing atmosphere. All thanks to the vision of Buccaneer's owner, Josef Muzenhofer. He opened his dream restaurant, Buccaneer in 1980, making it one of the oldest restaurants in Aruba!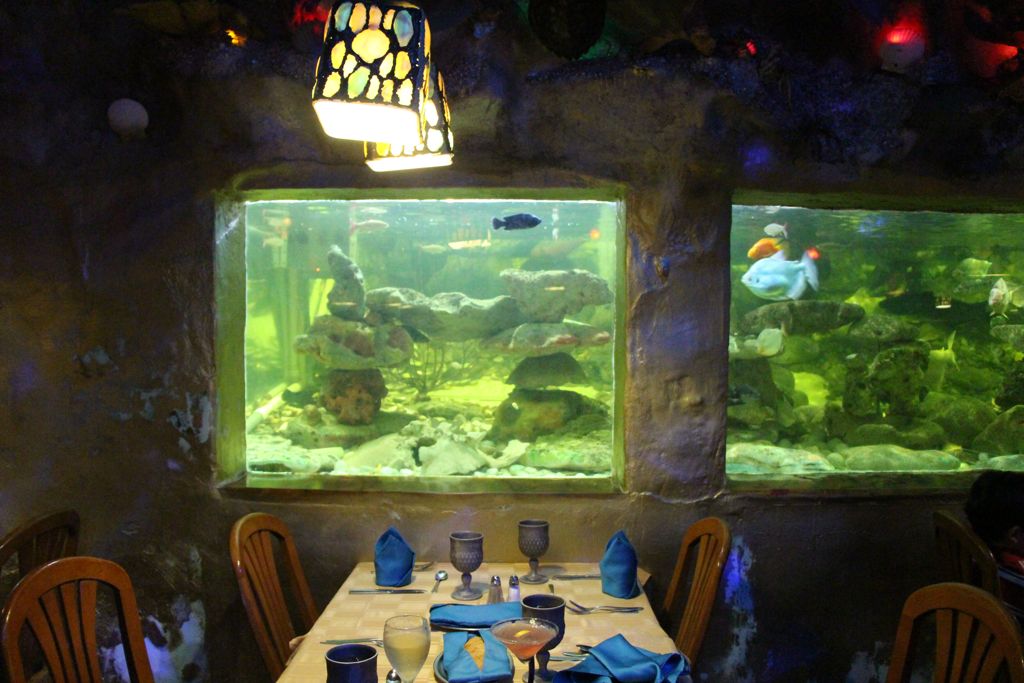 Buccaneer caters to both families with children and adults looking for a little "me time". The restaurant is big enough and spread out in such a way that one end you'll find to be more calm and serene, catering to adults and couples looking to get cozy. Whereas the other end provides more space for larger groups and families with children to really enjoy themselves.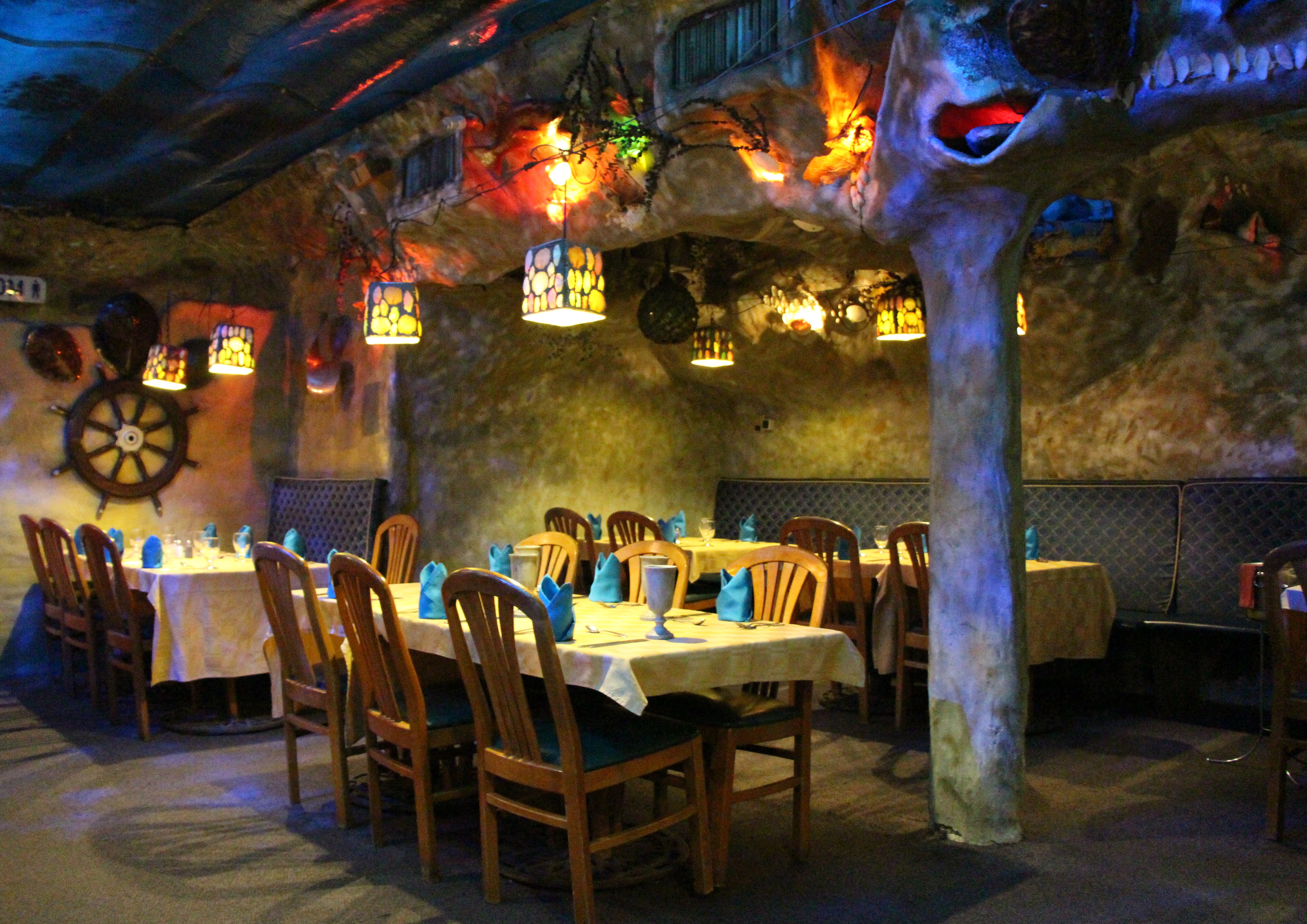 As I mentioned before, there is even fish feeding for the kids that we got to experience first-hand! Okay, we aren't exactly kids ourselves but someone had to experience the fun to be able to share this inside tip with you! Just ask Chef James Rogan and he will lead the way, don't forget your camera!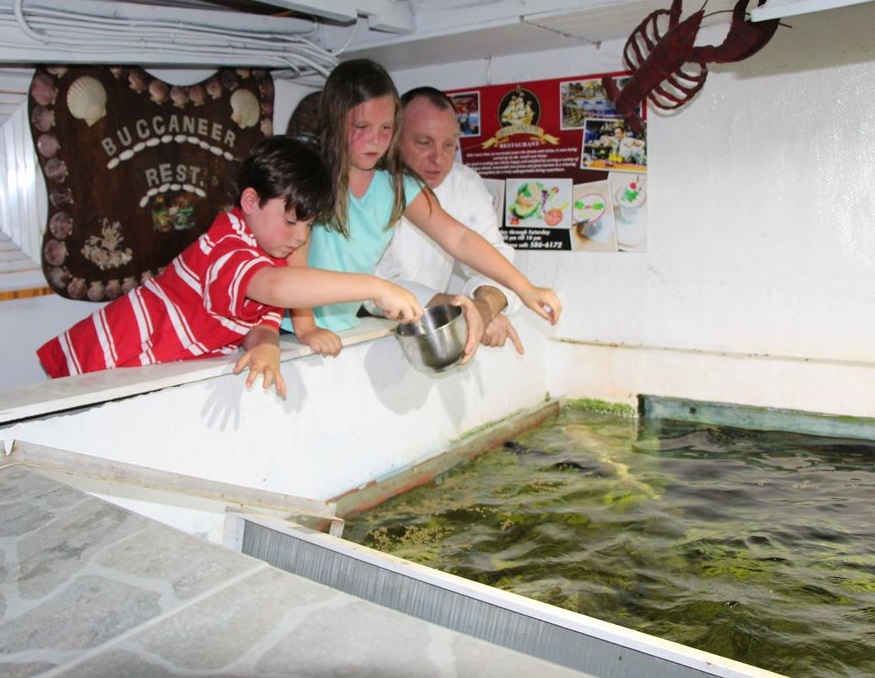 While we were taken in the back to feed the fish we came across their hydroponic watering system. Chef Rogan started telling us that they grow their own fresh herbs, hot chili peppers, spinach, asparagus and a few other items with a constant running water system that is fertilized by the fish – what a neat idea!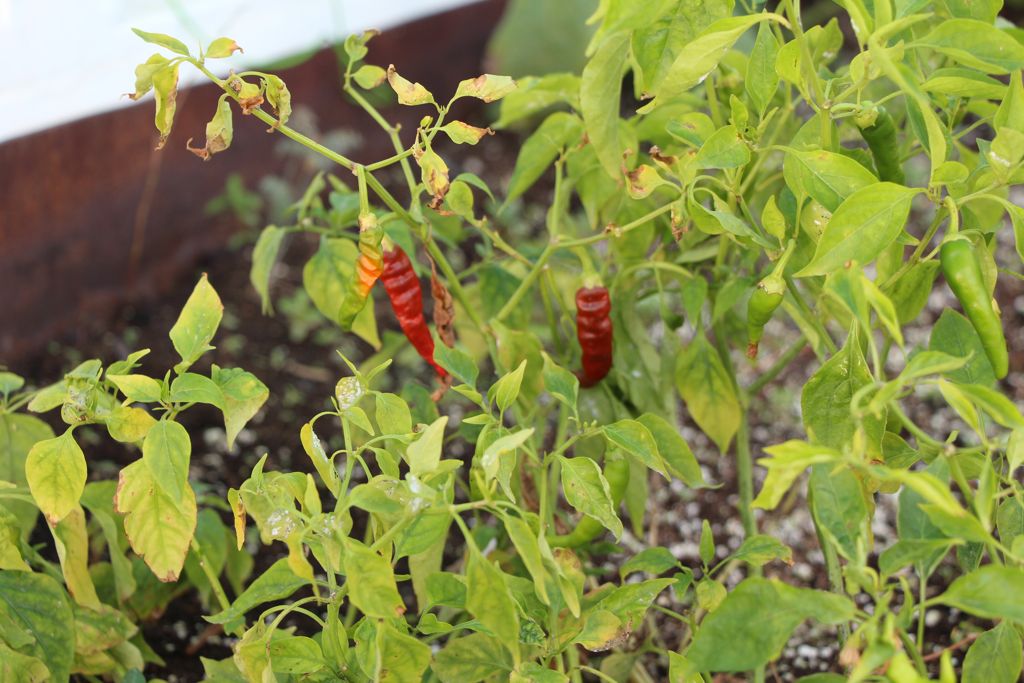 As we continued the evening sipping wine and savoring a meal in the company of marine life, which is such a fun experience in itself, it would have been nothing without Chef and General Manager, James Rogan and his exceptional staff! With his hard working culinary team and friendly, attentive wait staff your evening is sure to be one to remember.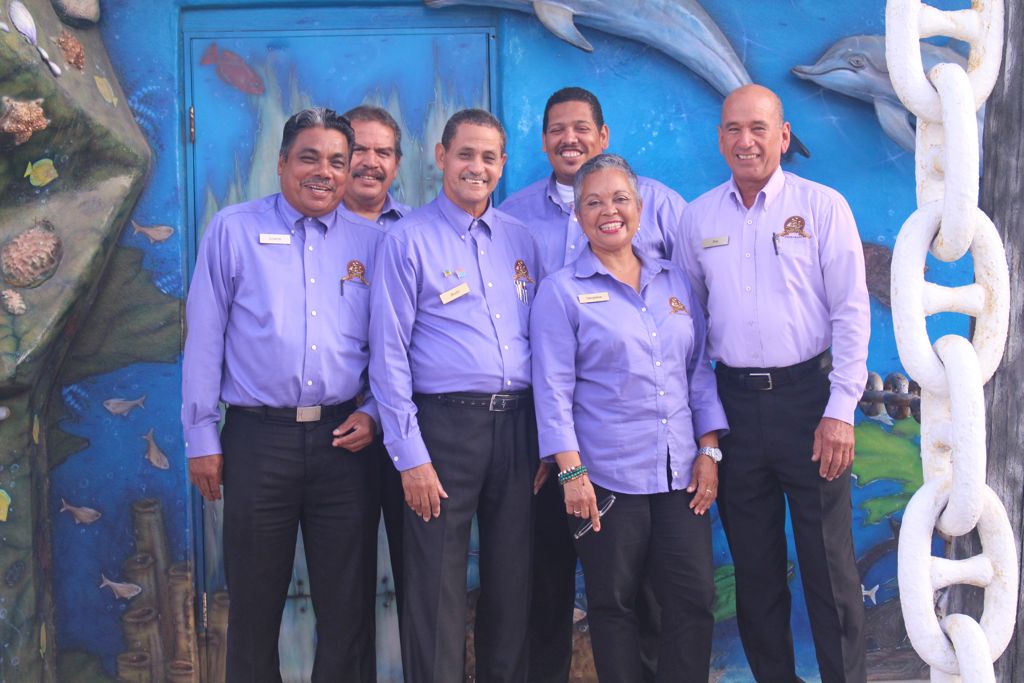 Let's just say Chef Rogan is far from the "ordinary" Chef.  He not only oversees the kitchen and his staff, throughout the ENTIRE night you will see him bouncing around from table to table, chit chatting, sharing one of his hilarious stories…spreading his infectious humor…you are in for a laugh and some serious entertainment. All jokes aside, he has a serious background in culinary arts and the hospitality industry.  He started at the young age of 16 and has worked for the food and beverage industry for 36 years and counting! Chef Rogan jumped aboard the Buccaneer ship 2 ½ years ago and the rest is history. With his great passion, fresh outlook on service, expertise culinary skills, strong leadership and management skills he has put together an outstanding team! Kudoos to the team who helped make our evening a perfect one!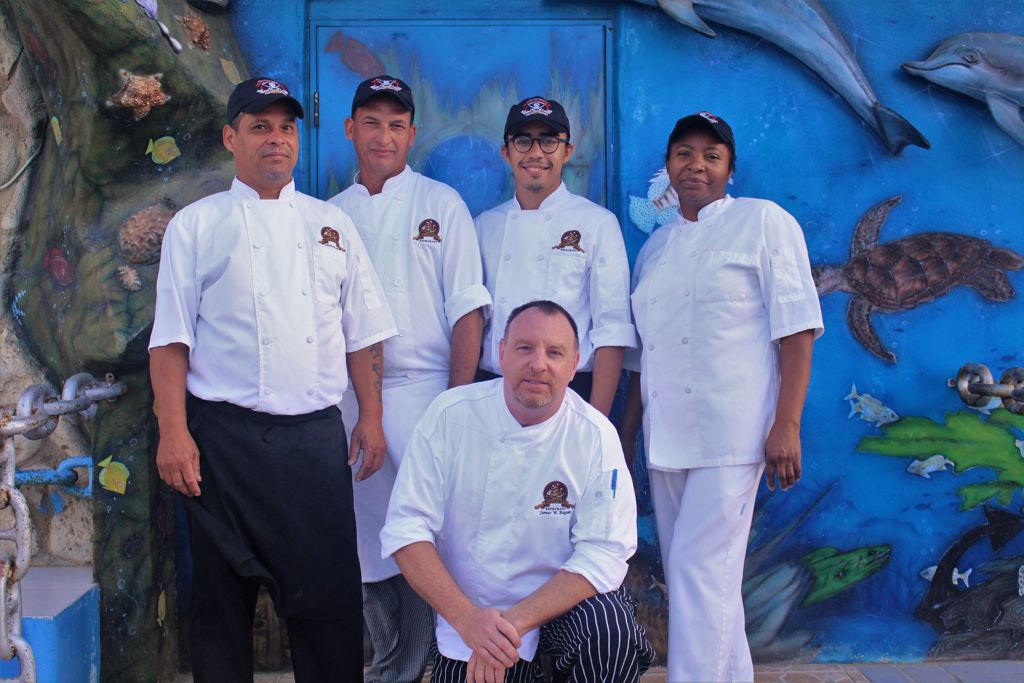 To indulge on scrumptious food and sip on fine wine is one of my favorite pastimes and oh, that we did! After seeing their extensive wine and cocktail list, of course we had to start off with a drink to quench our thirst after a long day in sunny Aruba! My colleague ordered an oh-so delicious Cosmopolitan and I went for a refreshing, oaked Chardonnay with lush tropical flavors, both equally pleased with our choice we toasted to the night! Side note: I will admit to being somewhat of a "wine snob" and give their wine selection two thumbs up! With reasonable prices and a great variety ranging from house to premium, you are sure to find something that suits your style and compliments your dish just as it should.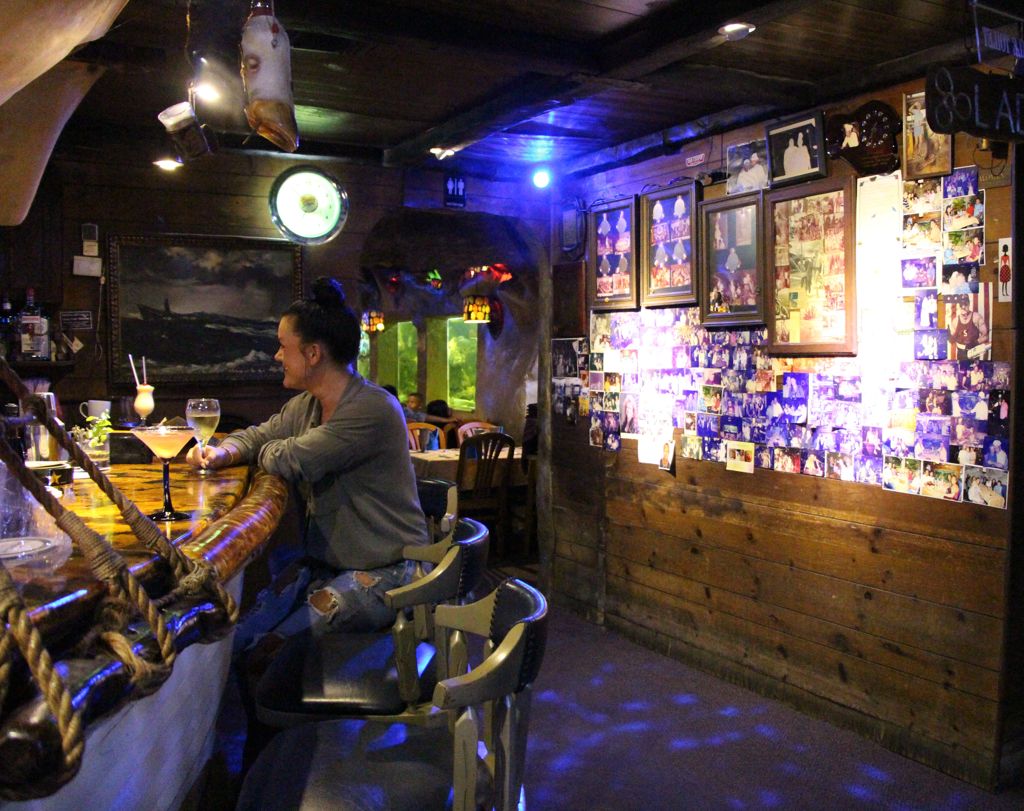 Now onto the part you've been patiently waiting for – the food! Warning: you may experience mouthwatering sensations and start salivating. Let's start with the food menu – it entails all you hope for and more! Quality AND quantity, can't get much better than that.
Fresh seafood, Caribbean lobster caught on a daily basis, a variety of unique shrimp dishes, seafood fettuccine, grilled barracuda, oyster rockefeller, great steaks, lamb, duck and much more!  If you and your party are having a tough time settling on a restaurant due differences in food preference look no further, Buccaneer is the place for you!
Our meal started off with an appetizer sampler including calamari (generous size, not overly battered and freshly fried to perfection), coconut shrimp with a zesty Thai dipping sauce (yum), seaweed salad and scallops in a basil pesto sauce (to give you an idea my colleague was eating the sauce on its own it was so good). We were satisfied to say the least!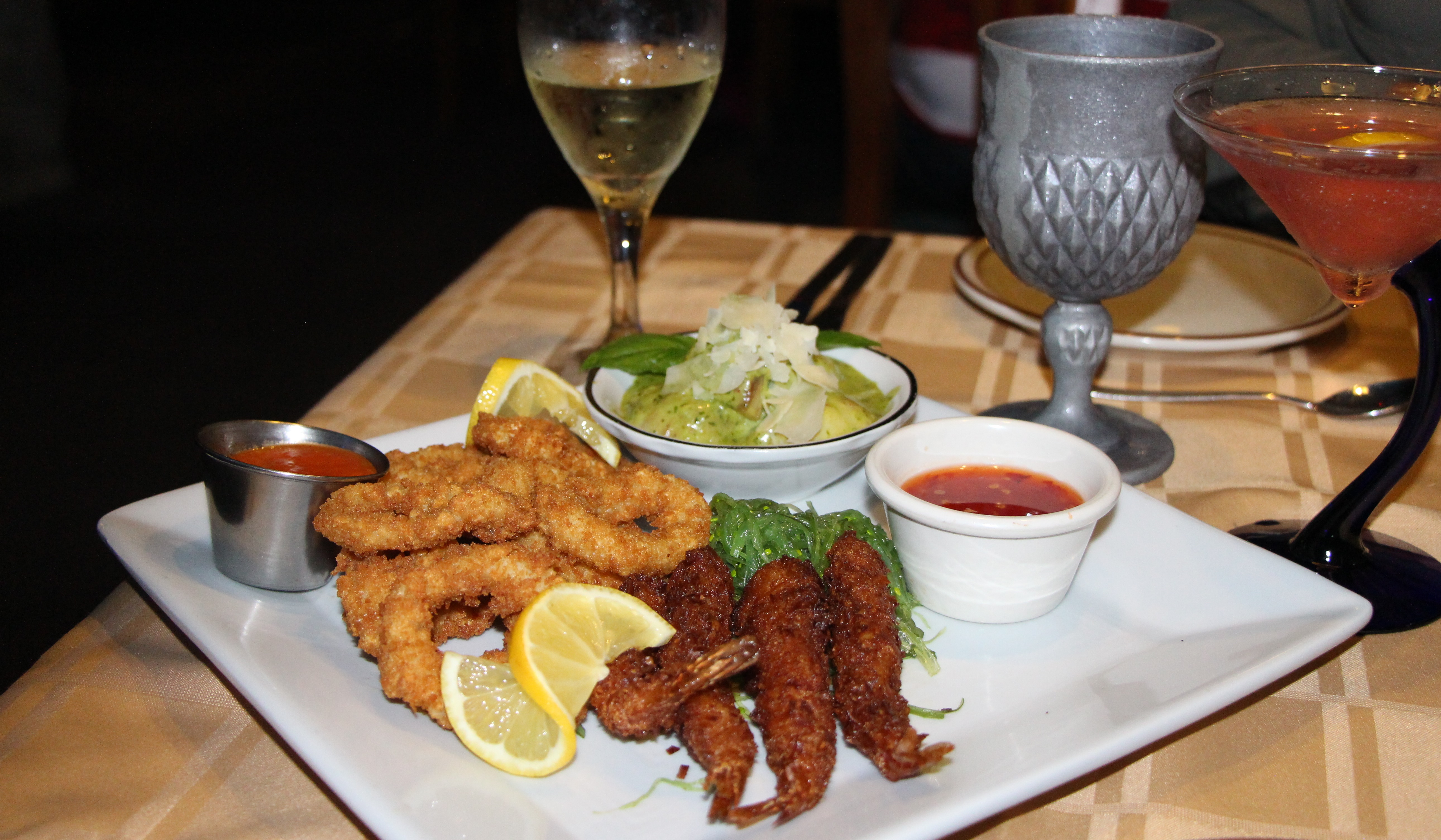 Chef Rogan surprised us with an unexpected in between treat before our entrée (as if we needed that). I am so sorry to say it is not on the menu but who knows maybe if you mention you heard about his famous Shrimp Pizza from our blog he might feel gracious enough to whip it up for you!  What makes this pizza so special you ask? The dough! He lightly deep fries the dough making for a perfect consistency and then piles on cheese, shrimp, garlic and herbs…heavenly.
It was hard but we made sure to save some room for the main event (I know, poor us). Chef Rogan treated us to a little bit of everything so we could get a true experience of their offered cuisines and dish variations.  When our plates hit the table we were in awe and salivating from the mouth. He presented to us a juicy filet mignon with a demi glaze, lobster tail (perfect texture, firm with just the right amount of tenderness and not overpowered by any added flavors making for true, juicy lobster perfection!), fried avocados (yes, mmm fried), grouper filet and shrimp served in a sundried tomato sauce. He even added an extra sauce for us to try – saffron vanilla bean (which paired very well with the grouper and lobster).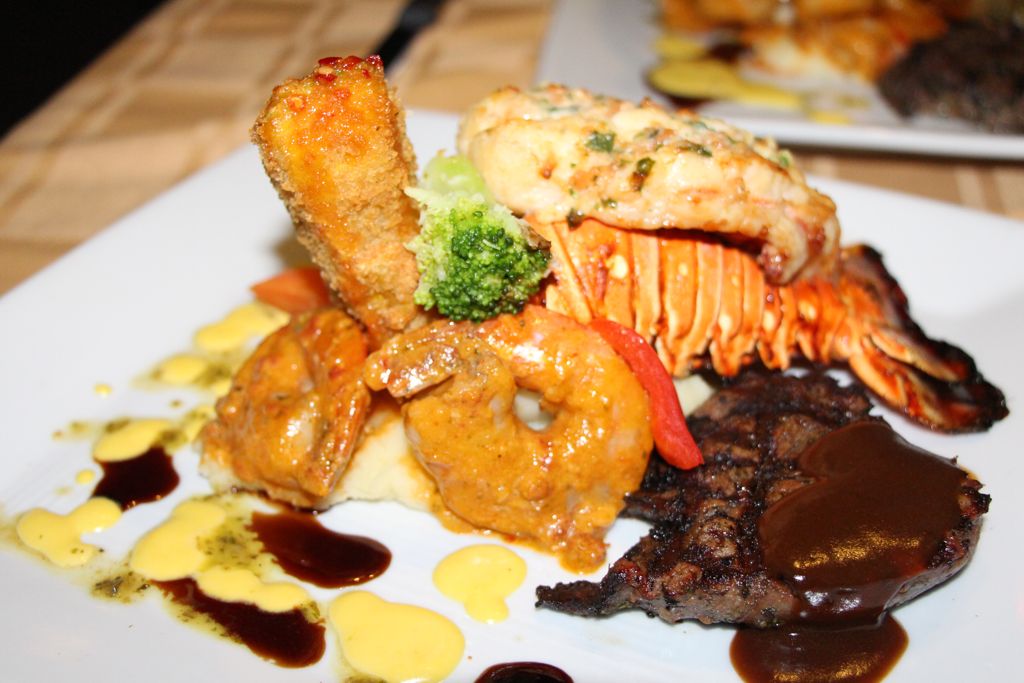 As we were putting in some serious work we asked him for customer favorites (since Buccaneer has so many repeat and return guests which we now clearly know why). He mentioned the Land and Sea Platter with Filet Mignon, Grouper and Shrimp, Escargot and their steaks are very popular.  So if you find yourself at a loss from what to choose, you can't go wrong with one of those dishes.
While you're there don't forget to get up out of your seat and visit the wooden Buccaneer ship and hop aboard for a refreshing drink in between courses!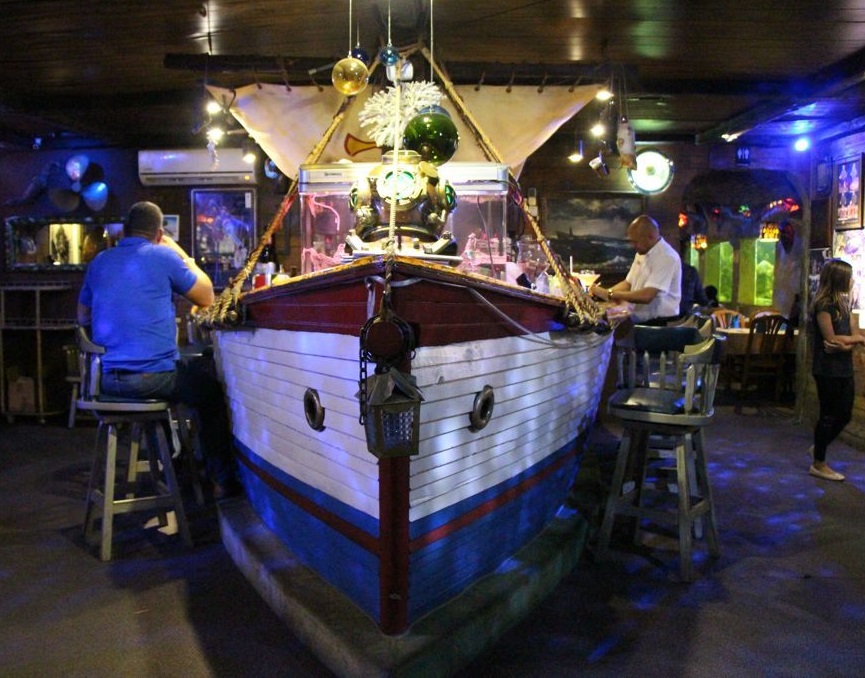 I am not too sure how we did it but yes, we even had dessert (along with a bold, full-bodied Cabernet Sauvignon with dark fruit flavors which paired beautifully!). With the help from our neighboring table, Linda (of Atlanta, Georgia) came to the rescue and joined in as we sampled three delightful slices of Red Velvet Cake, Oreo Cheesecake and Reese's Peanut Butter Cup Pie (all rich, smooth and heavenly). Chef Rogan claimed all three were "fat free, sugar free" but something tells me he was just trying to make us feel a bit better about ourselves. But hey – no regret here!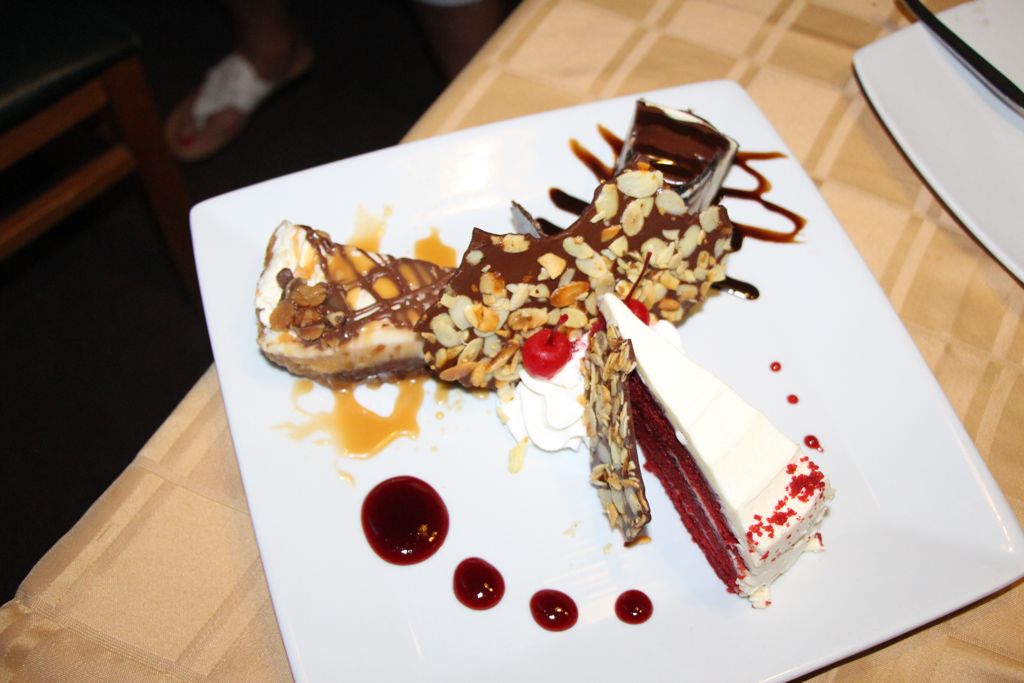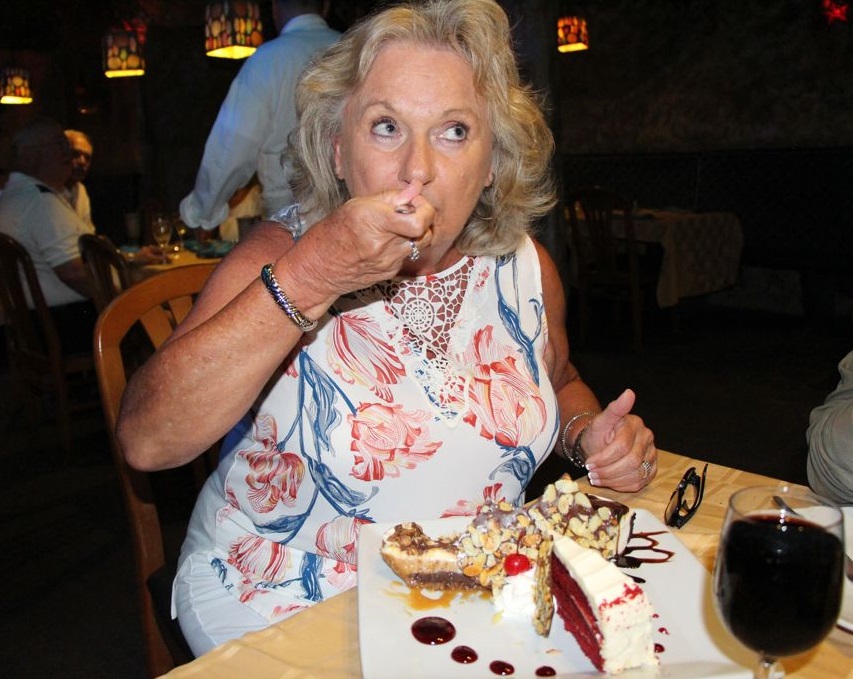 In addition to the endless menu options you can also take advantage of one of their specials! They have a very popular, ongoing Early Bird Dinner special. Also, be sure to check for their offered specials for holidays and special occasions. Next up is their Mother's Day Special available May 12-14th!
Family owned, a local favorite, tourist dining destination and one of the oldest restaurants on the island it's a MUST-try if you are on the island.  Buccaneer has managed to keep their one of a kind ambiance, top notch food, an experienced culinary team and with passionate, energetic leader, Chef Rogan this restaurant is sure to leave a footprint on your foodie heart.
Make a reservation or view more information on Buccaneer Restaurant Aruba!