I think many can agree, a vacation in paradise is not complete without a perfect dining experience! And, what better way to dine, than in the warm island breeze with a breathtaking sunset as your backdrop?
Here are our picks for open-air dining options in Aruba.
Note: There are plenty more outdoor restaurants to choose from, this is just a selection, so be sure to discover more restaurants in Aruba here!
Matthew's Beachside Restaurant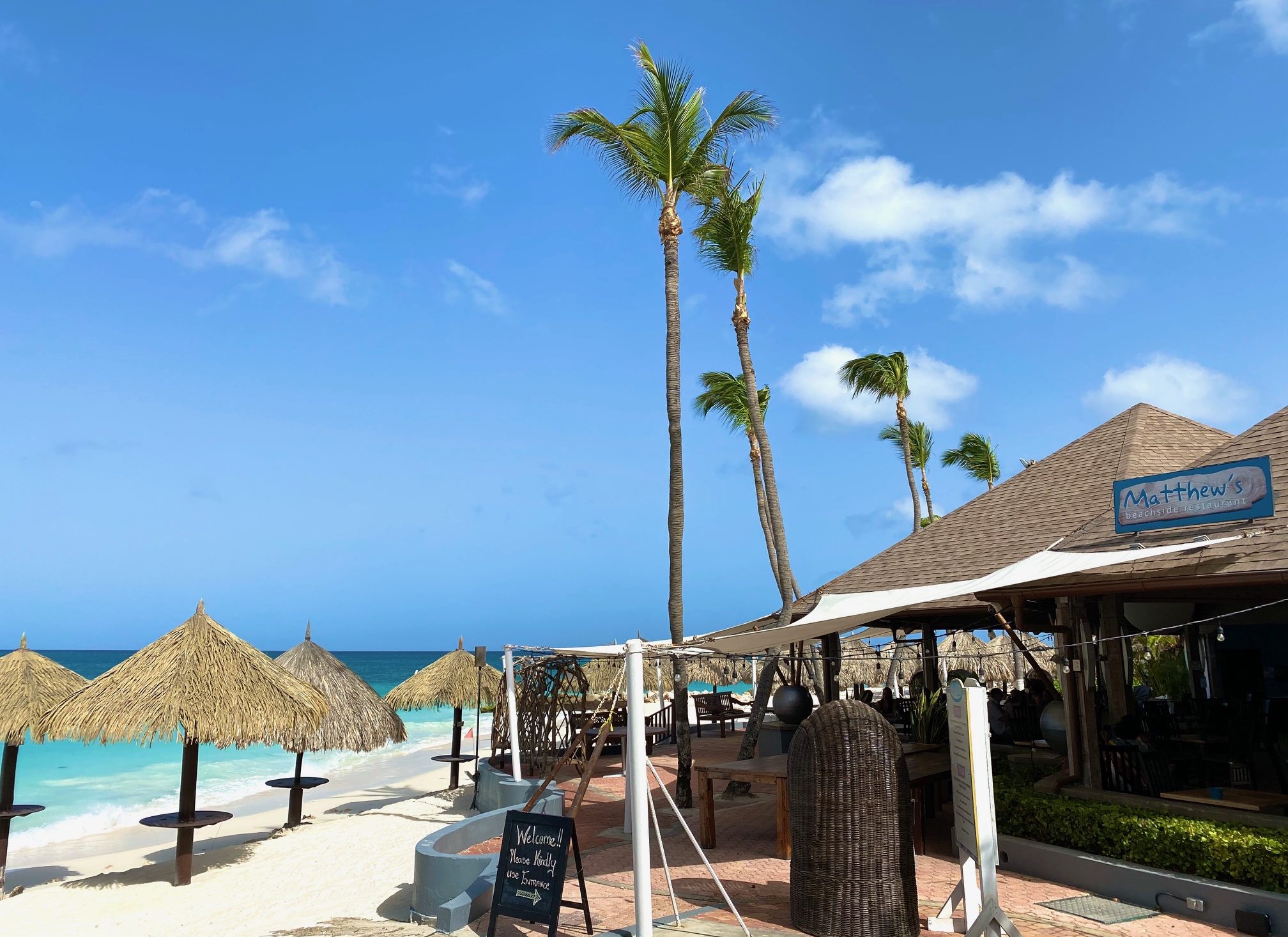 Location: Casa del Mar Beach Resort, Punta Brabo Beach
Cuisine: International
Highlight: Come and enjoy delicious food, three daily happy hours, friendly service, and a beachside view to dine for! Whether you need a fun night out with the family or a romantic date night, Matthews won't disappoint, trust us! PS – the restaurant recently underwent renovations, check out their fresh new look!
Barefoot Restaurant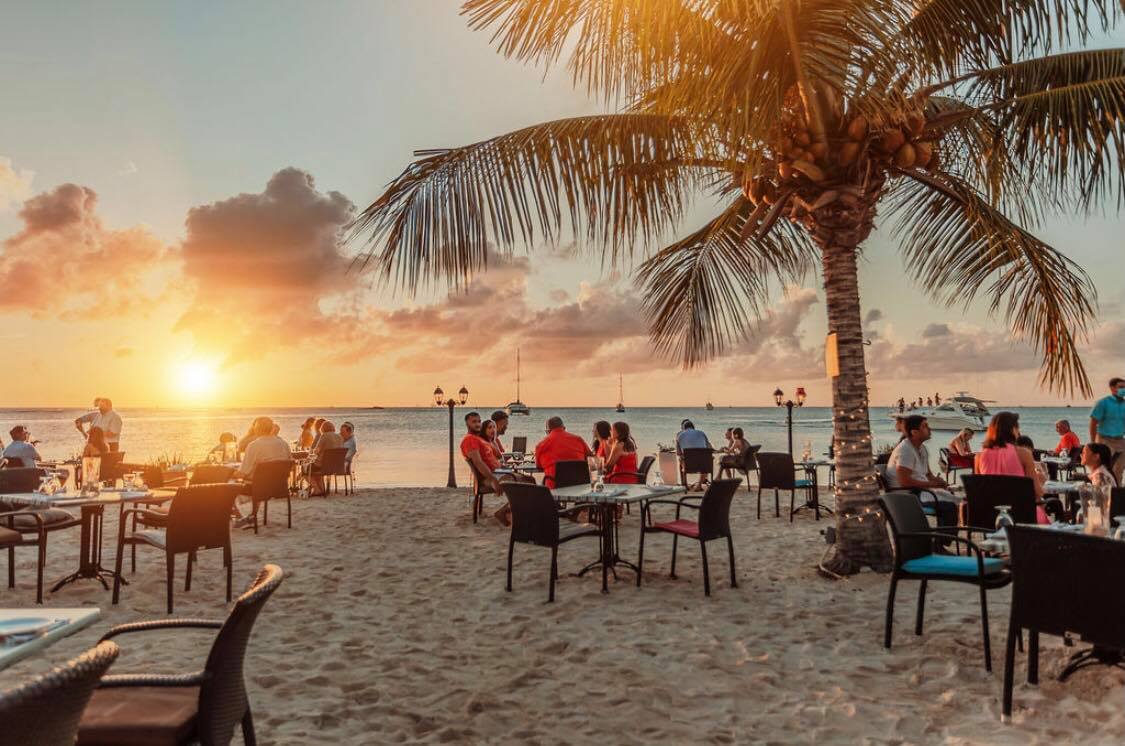 Location: Surfside Beach, on the beach across from Talk of the Town Hotel
Cuisine: International, Seafood
Highlight: Picture this: sipping on fine wine as the sun goes down with your loved ones, and enjoying a magical moonlit dinner on the beach… yes, dining at Barefoot with your toes in the sand, nothing quite tops that! Barefoot Restaurant offers top-notch, friendly service and mouth-watering dishes. PS – Keep an eye out for their creative and irresistible weekly specials.
Gilligans's Seafood Shack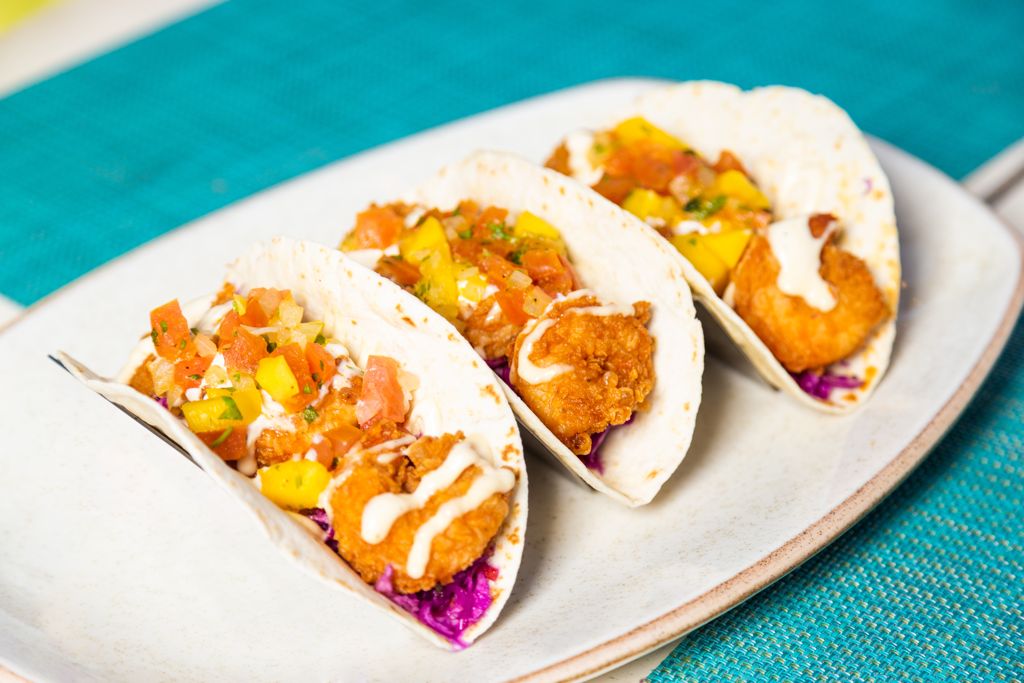 Location: Beachside at Hilton Aruba Caribbean Resort & Casino
Cuisine: Seafood, Local, International
Highlight: An extensive menu, including an array of delicious seafood dishes with a local twist and friendly prices! Oh, and a perfect view of Palm Beach! Tip: We highly suggest ordering one of their refreshing tropical cocktails, you will receive instant happiness!
Yemanja Woodfire Grill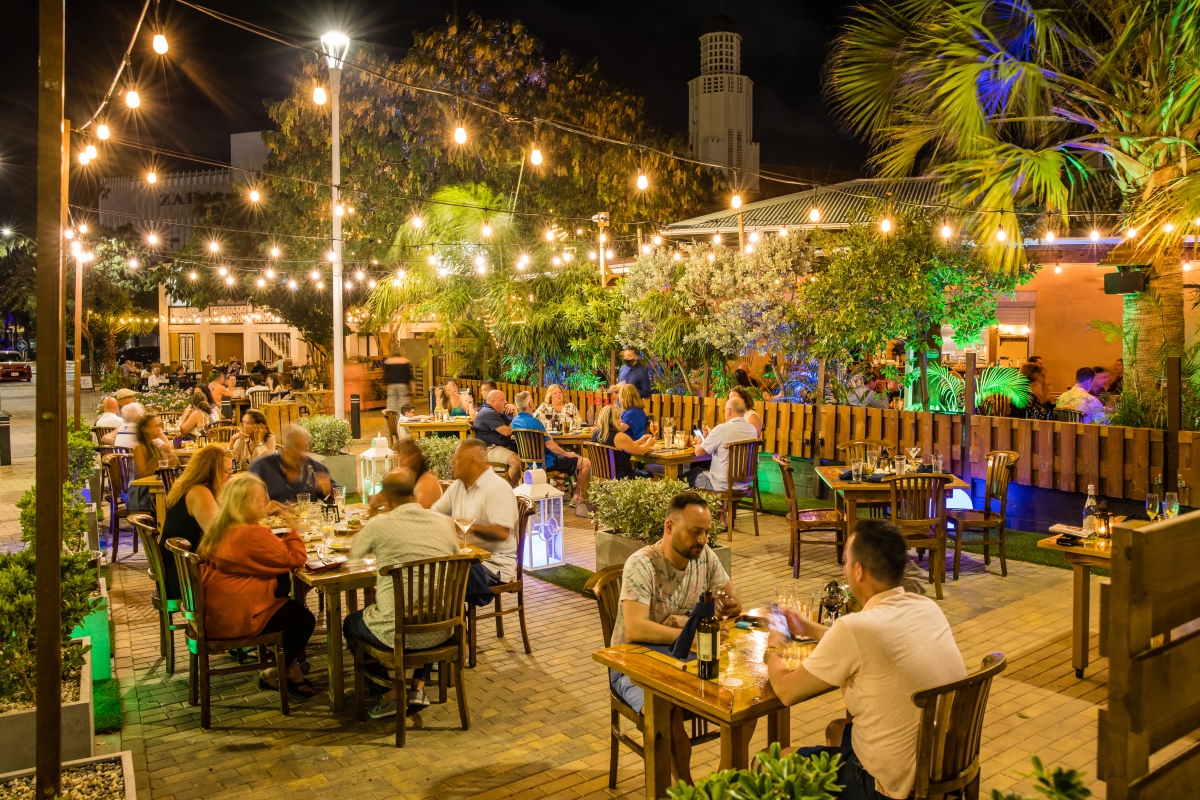 Location: Nestled in downtown Oranjestad, near Renaissance Wind Creek Aruba Resort
Cuisine: International, Caribbean, Vegan
Highlight: Yemanja's menu is unique, extremely extensive, and truly has something to offer for everyone. From seafood to meat, and even Vegan, each dish is well-executed, created with only the best and most fresh ingredients… making for a beautiful work of art! We urge you to come experience Yemanja for yourself!
Element's Restaurant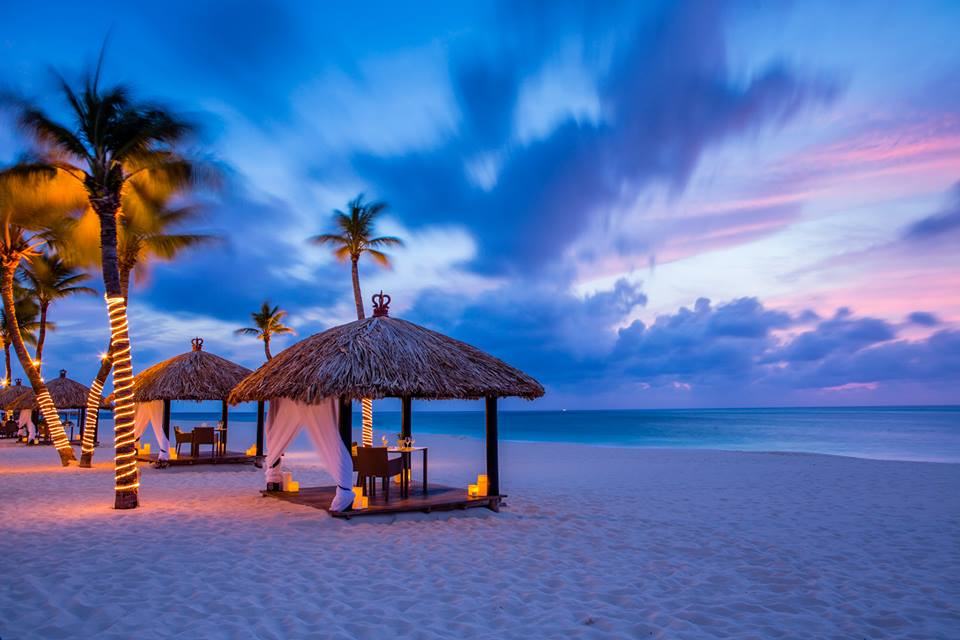 Location: Bucuti & Tara Beach Resort, on Eagle Beach
Cuisine: International, Vegan
Highlight: Location, location, location! You will capture the picture-perfect sunset view sitting directly on world-famous Eagle Beach. The food and wine menu are stellar and it even includes an extensive Vegan selection!
Sunset Grille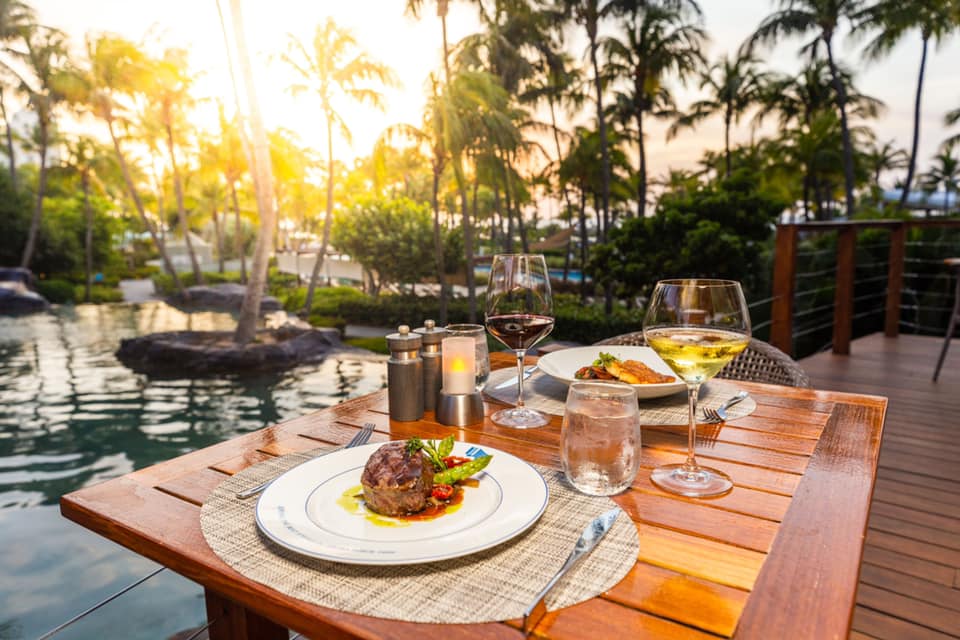 Location: Hilton Aruba Caribbean Resort & Casino
Cuisine: International, Seafood, Steakhouse
Highlight: Their dining patio is situated up high, making for lovely views of Hilton Aruba's lush tropical grounds! Sunset Grille's dishes are nothing short of extraordinary as their Chef puts extra thought and detail into everything he creates! While the food is absolutely exceptional, so is the service – you can expect a warm embrace from their team each and every time!
Cadushi Sunset Terrace – Straddle it Saloon
Location: Moko
Cuisine: International, Seafood
Highlight: Situated high atop Aruba's beautiful boulders, Cadushi Sunset Terrace has amazing 360-degree views of the entire island. This restaurant is surrounded by beautiful nature and is accompanied by a steady and cool breeze. You even get a breathtaking view of the sea off in the distance! Indulge in their delicious full menu or grab a drink and get comfortable in one of their VIP lounges with fireplaces for intimate gatherings!
Sunset Bistro at Radisson Blu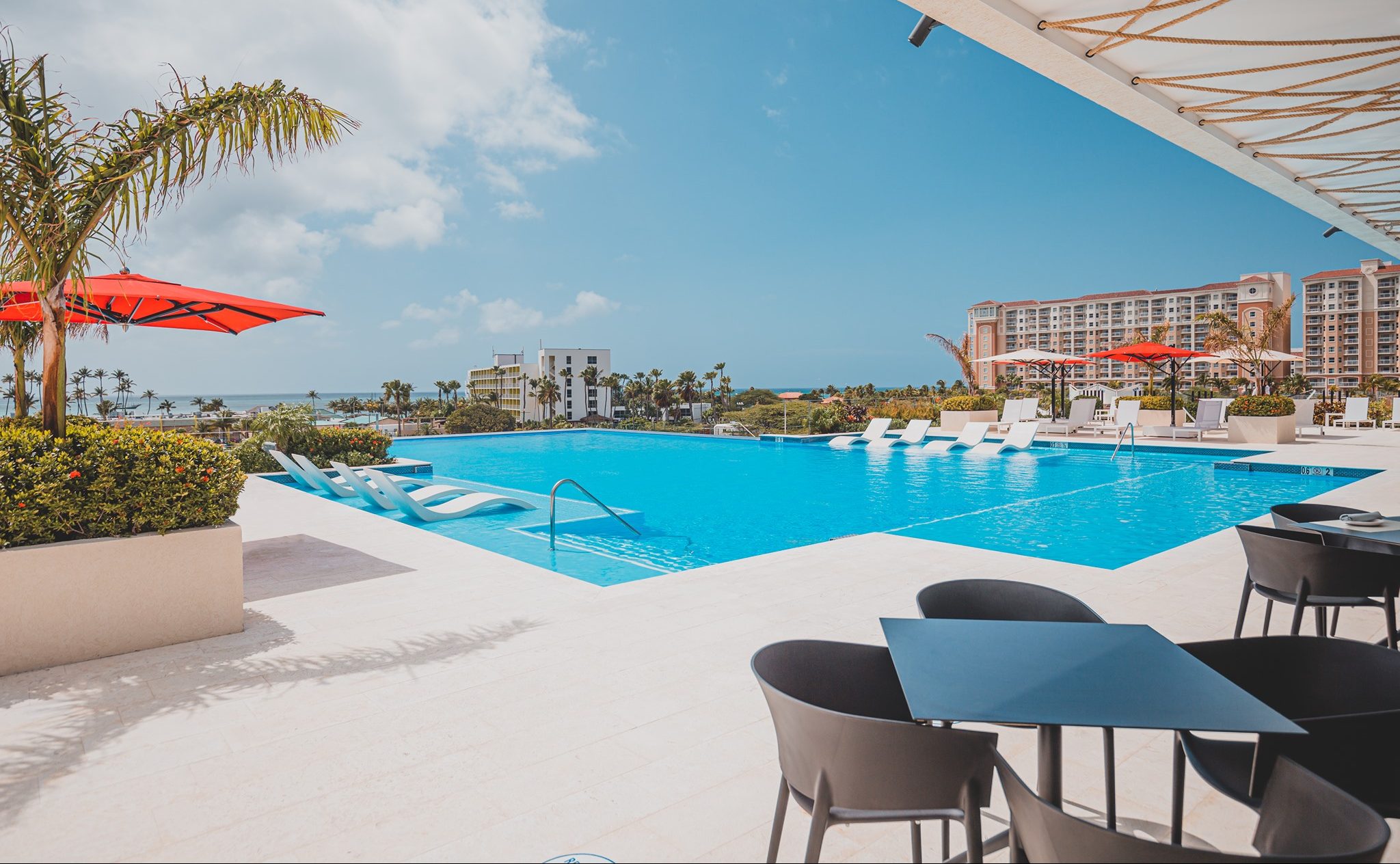 Location: Radisson Blu Resort, Palm Beach
Cuisine: International
Highlight: Views, views and more views! Make your way to the glorious, chic rooftop to enjoy a delicious bite at Sunset Bistro and take in the mesmerizing infinity pool views with a backdrop of the lovely Palm Beach! You're sure to enjoy the variety on their menu, from steak to salads, colossal burgers, and vegan dishes, their menu has something for everyone.
Ricardo's Restaurant & Bar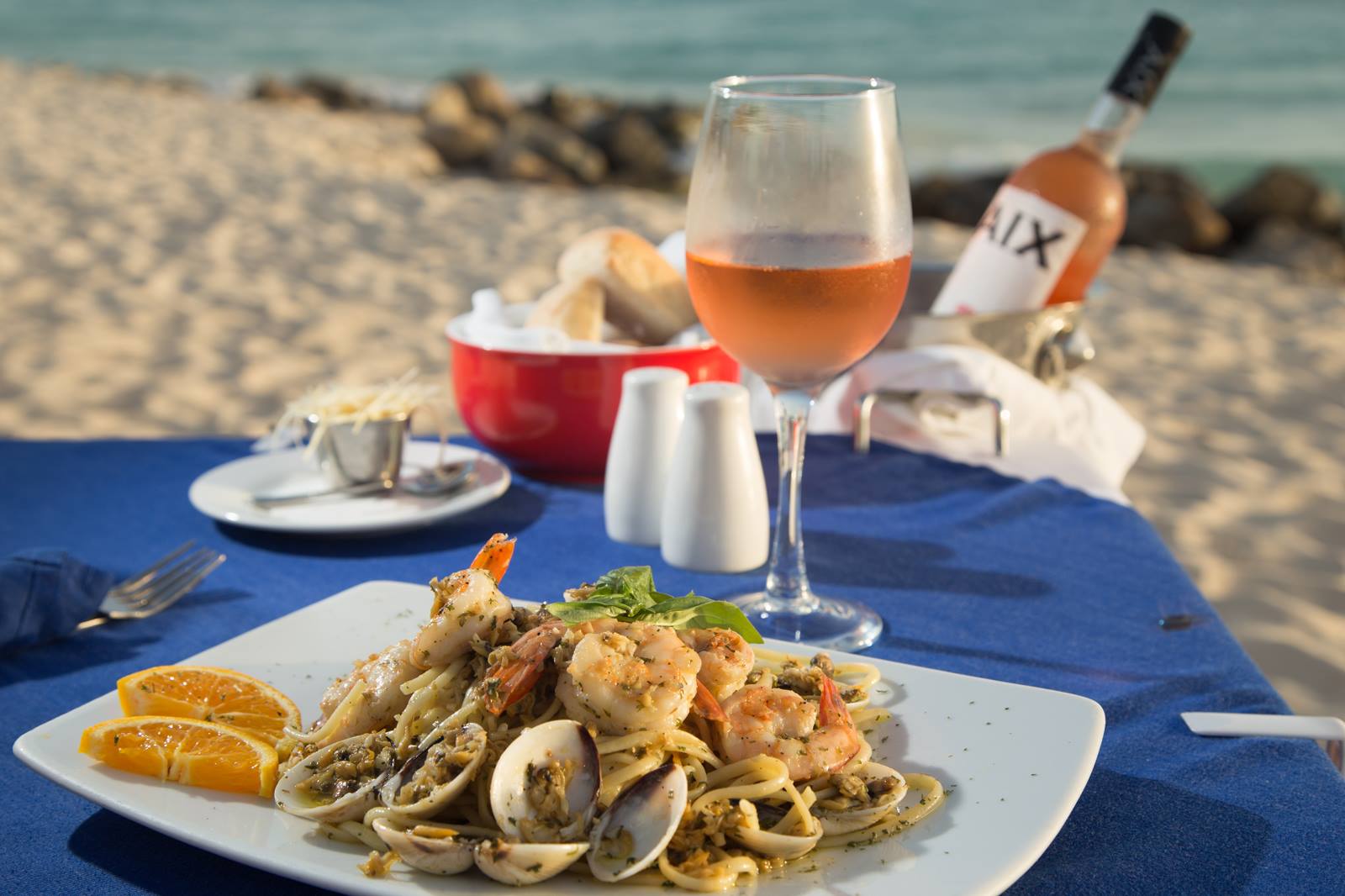 Location: Aruba Beach Club, on Eagle Beach
Cuisine: International, Caribbean
Highlight: This place is full of delicious food, friendly service, perfect views, and non-stop fun entertainment from sun up to sun down!
Pelican's Nest Seafood Bar & Grill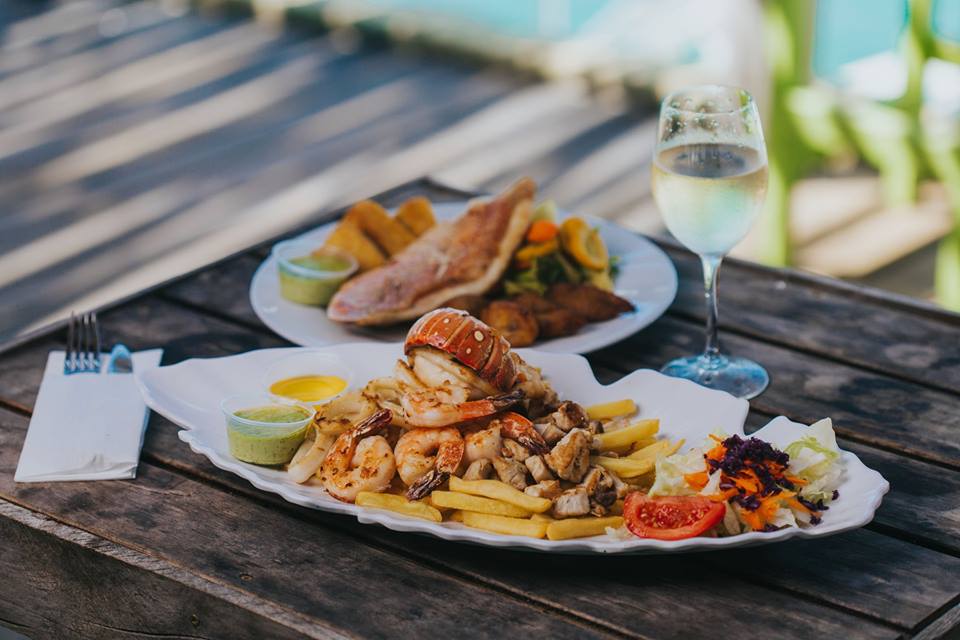 Location: Pelican Pier, on Palm beach
Cuisine: International, Seafood
Highlight: Join them for a romantic and fresh seafood dinner on the pier overlooking Palm Beach, or simply stop by for their famous cocktails, fun, and appetizers, either way, you can't go wrong… Pelican is the place to be!
Faro Blanco Restaurant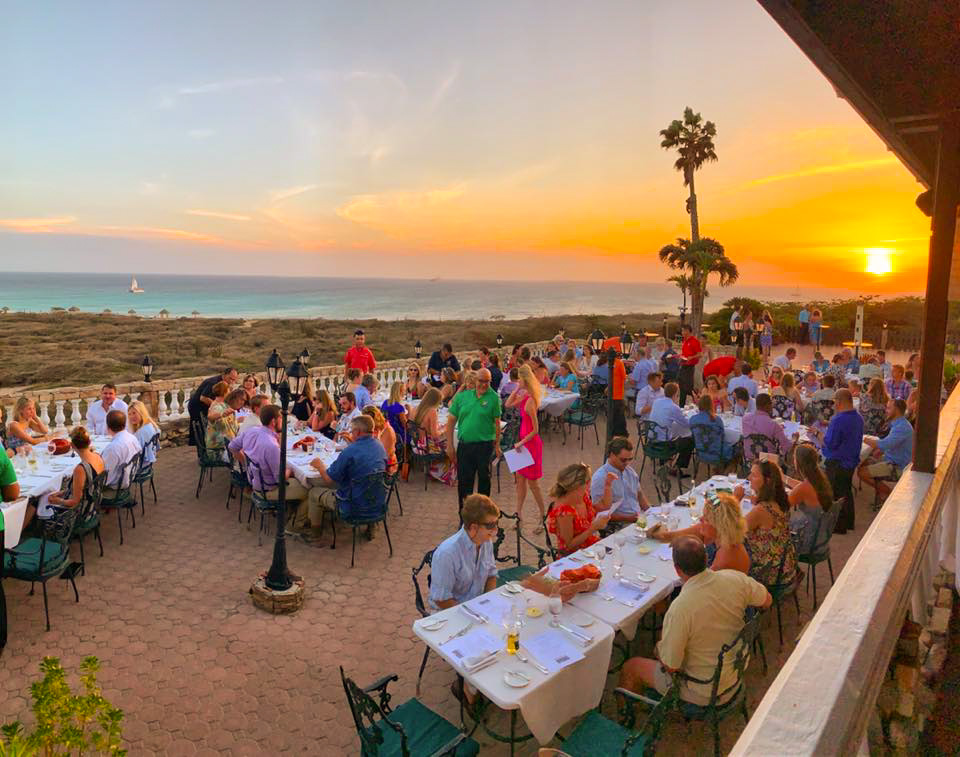 Location: California Lighthouse
Cuisine: Italian, International
Highlight: Views, views, views! The views from Faro Blanco are simply amazing and so is their food. The restaurant is charming and their Italian and Seafood dishes are delicious!
Quinta del Carmen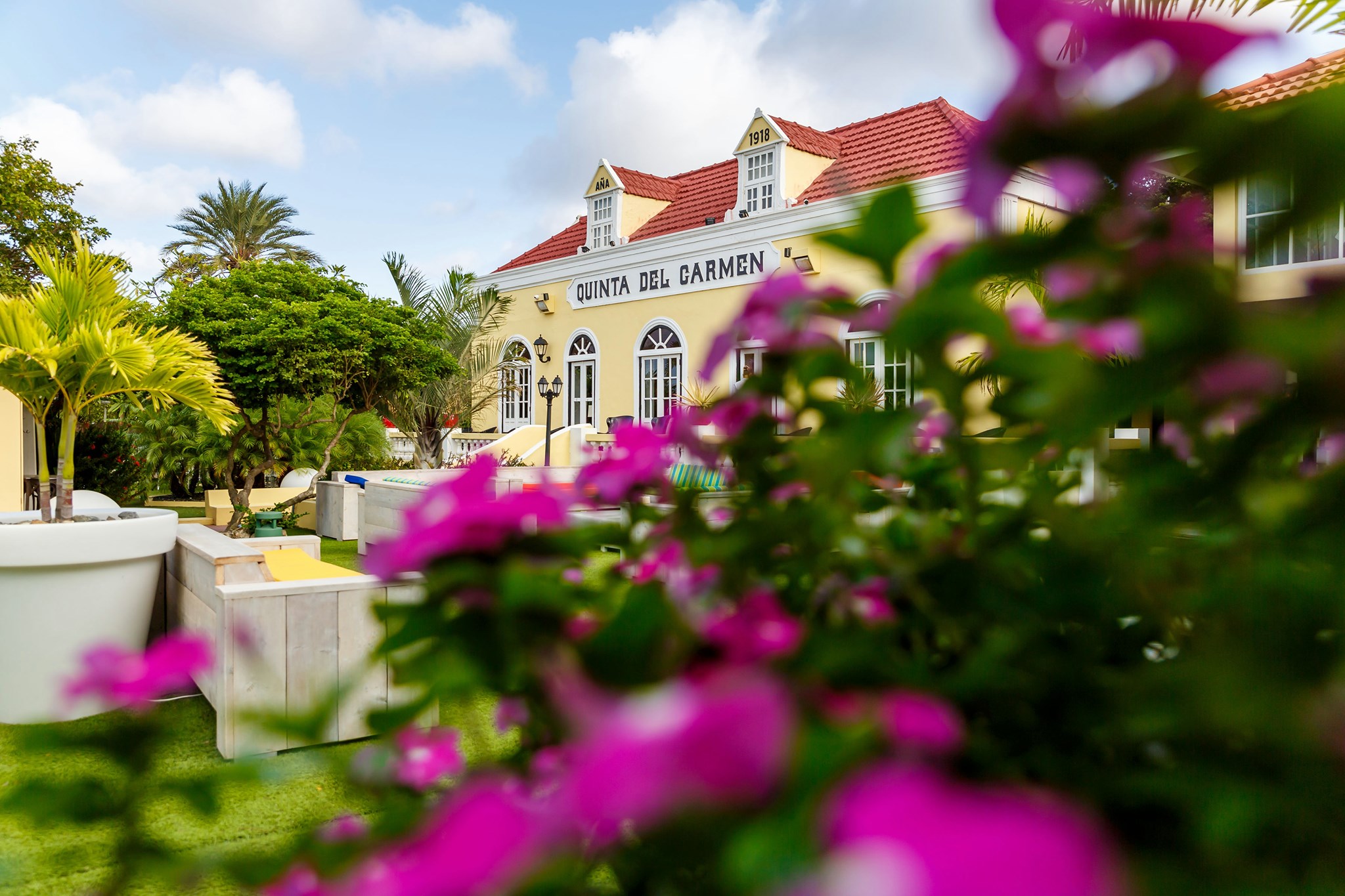 Location: Noord/Bubali area, situated just off the main road, in between Superfood and Cheng's Supermarket
Cuisine: International
Highlight: Their spacious beautiful garden is breathtaking! Dine under the twinkling lights and enjoy their excellent food, wine and cocktails… you will not be disappointed! To make dining at Quinta del Carmen even more spectacular, they now give you two options, you can sit in the front garden to enjoy their special (and oh-s0-very-delightful) tapas menu, or ,opt for the other side of the garden for their regular menu with full entrees. The choice is yours, either way you can't go wrong!
Aqua Grill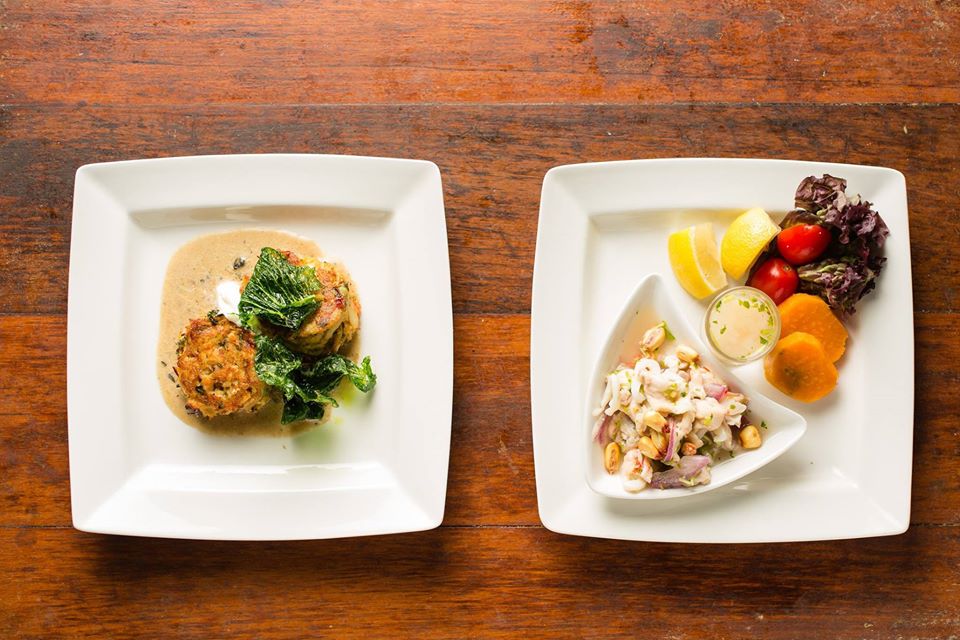 Location: Palm Beach area
Cuisine: Seafood, International
Highlight: If you are a true seafood lover don't think twice about making a reservation at Aqua Grill! Their extensive menu is filled with fresh, quality seafood dishes that will have you coming back for more! Tip: Ask to be seated outside as they have both indoor and outdoor seating.
Flying Fishbone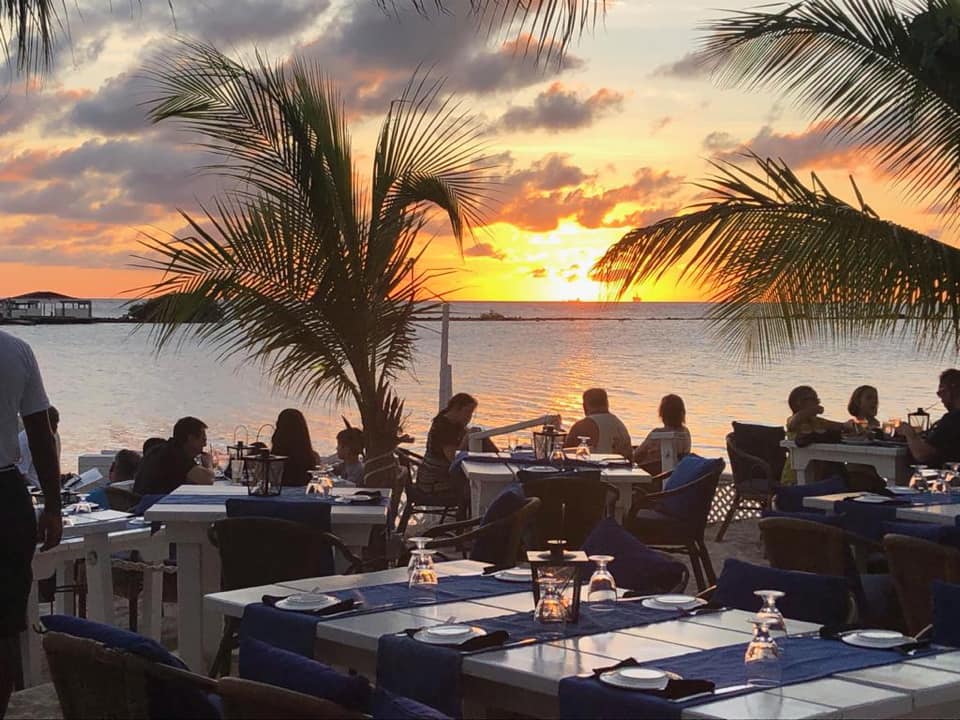 Location: Savaneta
Cuisine: International, Seafood, Caribbean
Highlight: Escape to the quieter South side of the island, Savaneta, and enjoy the picture-perfect scenery. Dine with your toes in the sand or even in the water! The food is top-notch and their cocktails and wine list are amazing!
Local Store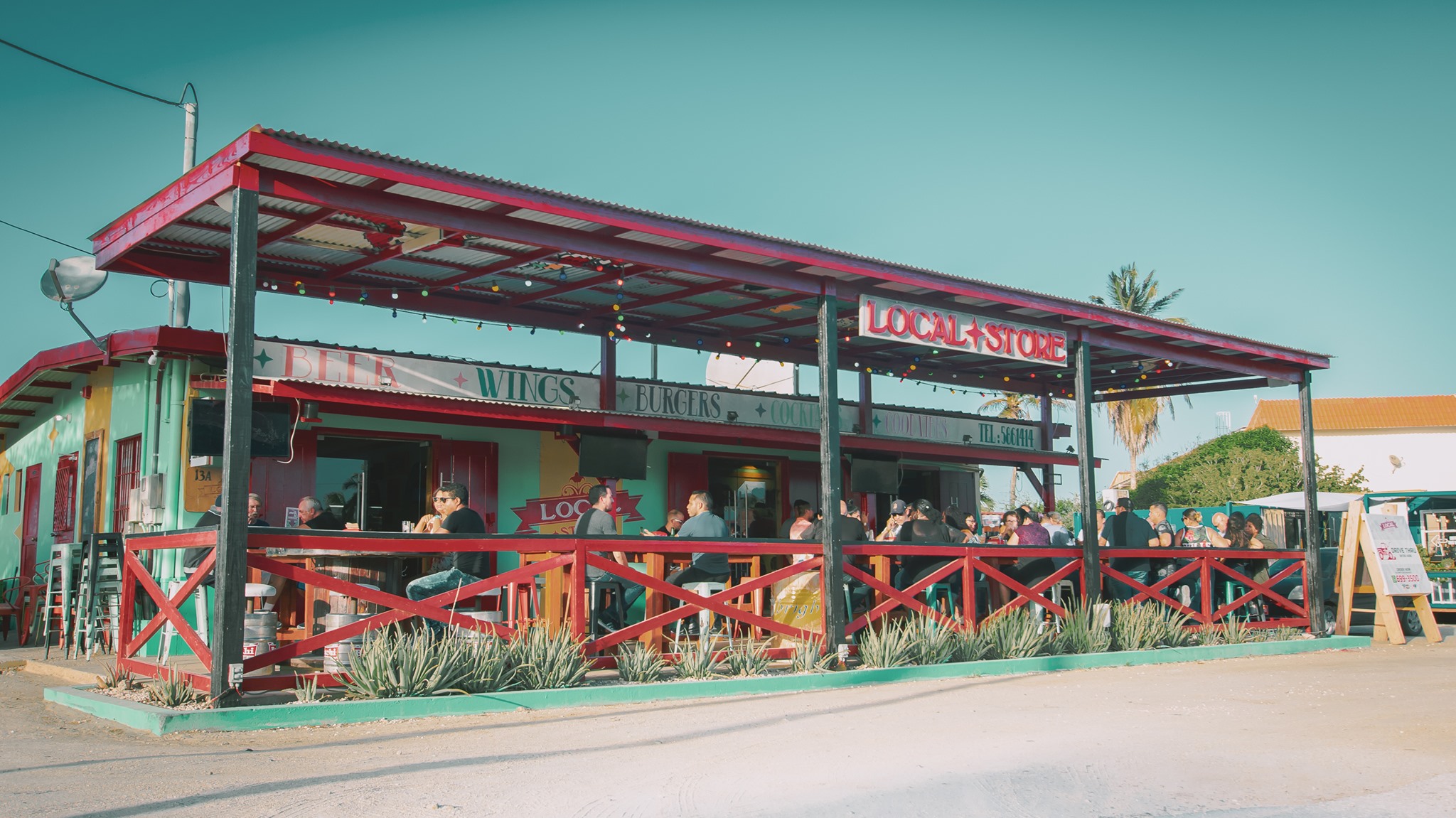 Location: Palm Beach/Noord area
Cuisine: Local, Bar Food
Highlight: Sit on their outdoor patio and enjoy their vast selection of craft beer, wings (dressed with tantalizing locally inspired sauces), juicy burgers and local specialty funchi fries topped with Gouda! They are now also offering a delicious breakfast menu!
Bohemian Restaurant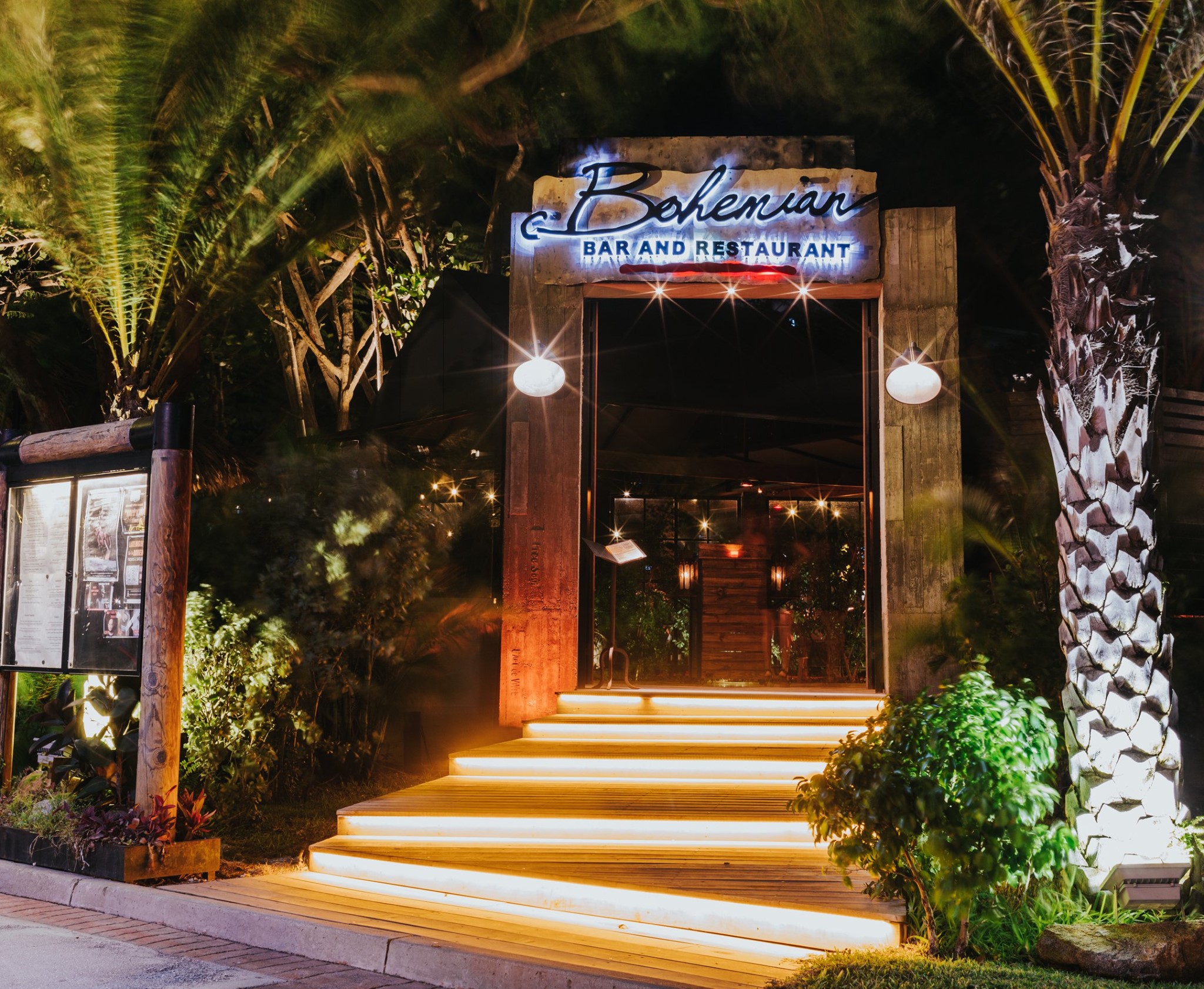 Location: Palm Beach hotel area
Cuisine: International, French
Highlight: The perfect night out, whether it be for dinner, or drinks and appetizers. Bohemian's chic and magical, lush garden provides such a beautiful and unique atmosphere, there's nothing like it! PS – Planning a special date night? This is the place, super dreamy and romantic!
The West Deck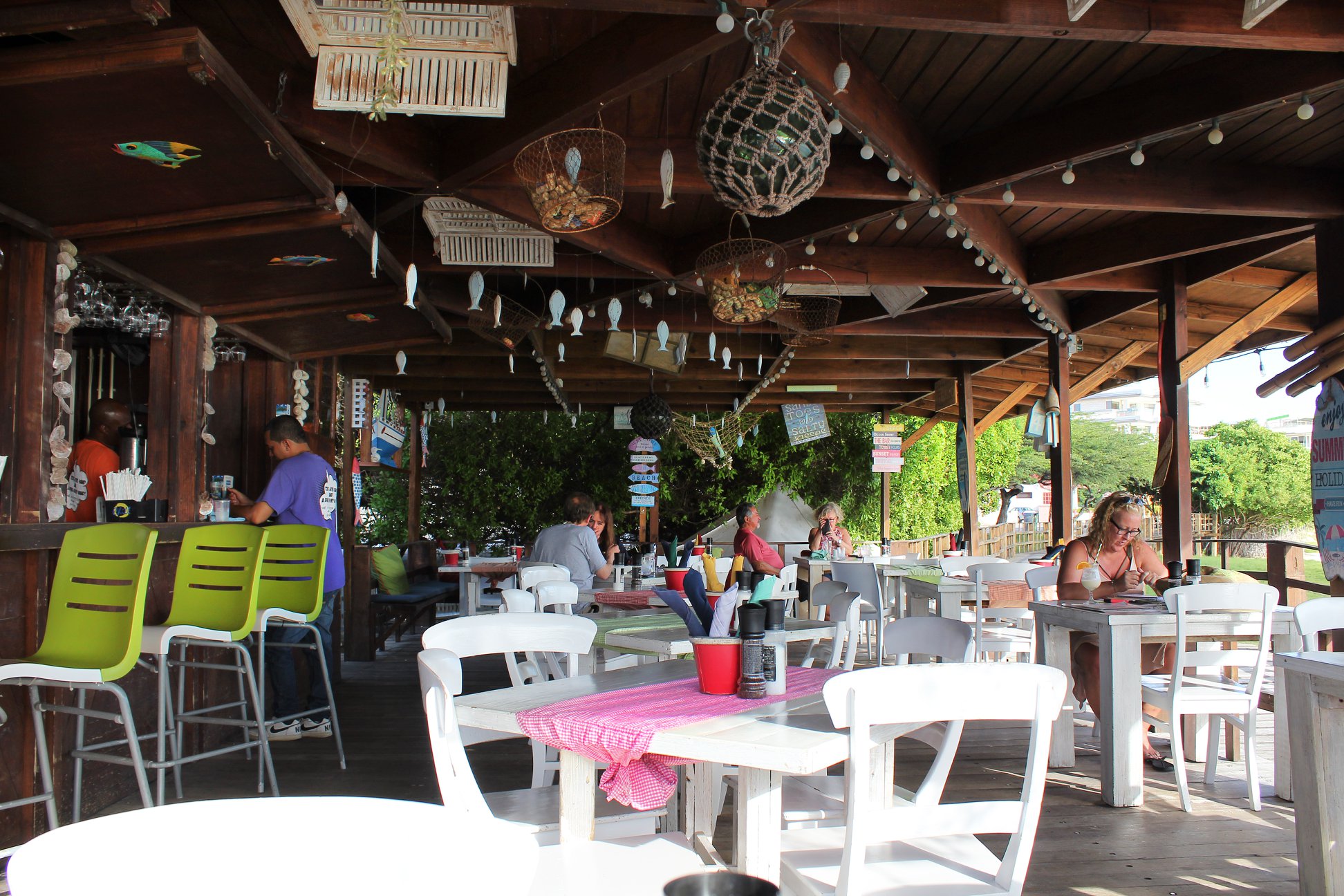 Location: Situated at the Governor's Bay on the Beach, just past Renaissance Marketplace and Wilhelmina Park
Cuisine: Local, Caribbean, International
Highlight: At this cute and casual little spot you will find nothing but happy vibes and super delicious food! Serving a variety of seafood and local dishes that will surely have you coming back for more! Also, make sure to try their specialty cocktails.