With Chef Romeo Penacino's new promotion to Complex Executive Chef at Aruba Marriott Resort, VisitAruba could not pass on the opportunity do a Q&A with him. Sharing his experience and passion for the Culinary Arts, Chef Penacino gives us a taste of what Aruba Marriott Resort's Food & Beverage Program has to offer.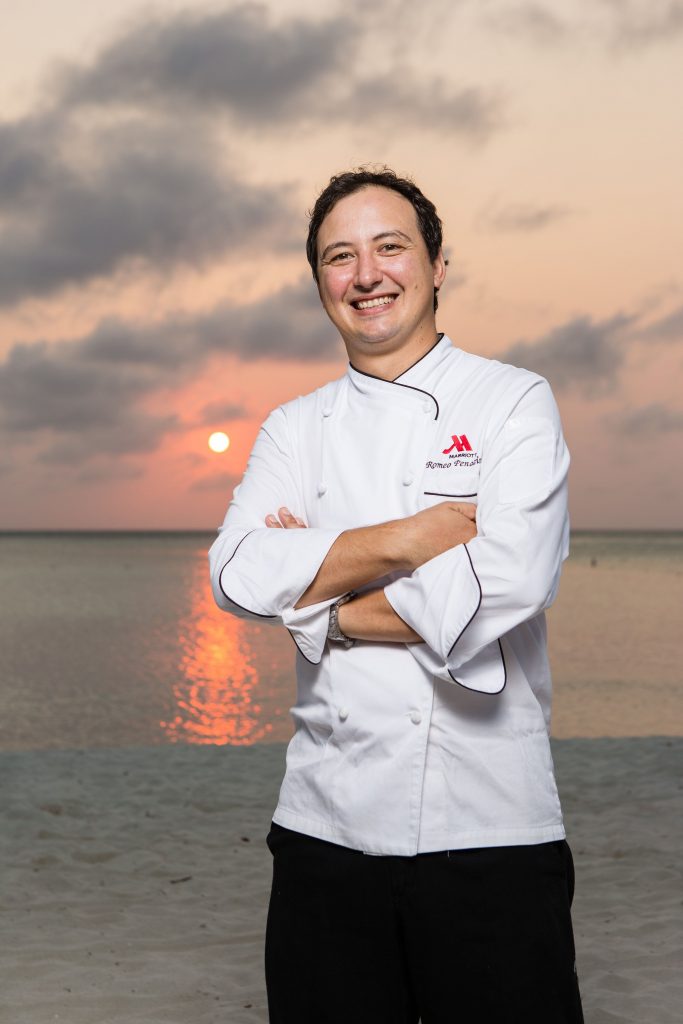 Q: To get a better idea of the food and beverage program at Aruba Marriott Resort we would first like to get a little background on your culinary career – we understand you have extensive experience in the culinary field.  Could you tell us when your career began and what do you think helped you to advance your career over the years?
A: I could say I began my culinary career since I was a young kid. My grandparents had a restaurant so I was always surrounded by the culinary world. Then when I finished high school I went to Buenos Aires to culinary school and by going to help at different events and helping is when I started to try different products, it exposed me to a different world. What kept me moving forward is actually the fact that there are always new things to try.
Q: Where else have you worked before coming to the Aruba Marriott?
A: 1999:El Pinton Restaurant
2000-2001: Melia Restaurant
2001-2003: Etoile Hotel
2003-2008: Marriott Plaza Hotel
2008-2013: Grand Cayman Marriott Beach Resort
Q: How have these places influenced your overall culinary style?
A: They were all places you had to be with the current trends, means you always have to be aware of the latest products, techniques, etc. Fortunately all of the places I worked had staff from diverse places so I learned a lot from them and the guests/clients were very demanding so you had to push yourself to deliver and be up to the standards.
Q: Do you have any tips for aspiring chefs out there?
A: Work hard, travel, be curious, ask and relate to other chefs, they always know something you don't.
Q: Have you implemented any of your personal culinary style in the Marriott food and beverage program?  If yes, how so?
A: All the time, but first in this kind of business is important to target the customer. From there you will imprint your personal touch to everything you do. It all starts from the menu and continues to its presentation to the final layout of a buffet.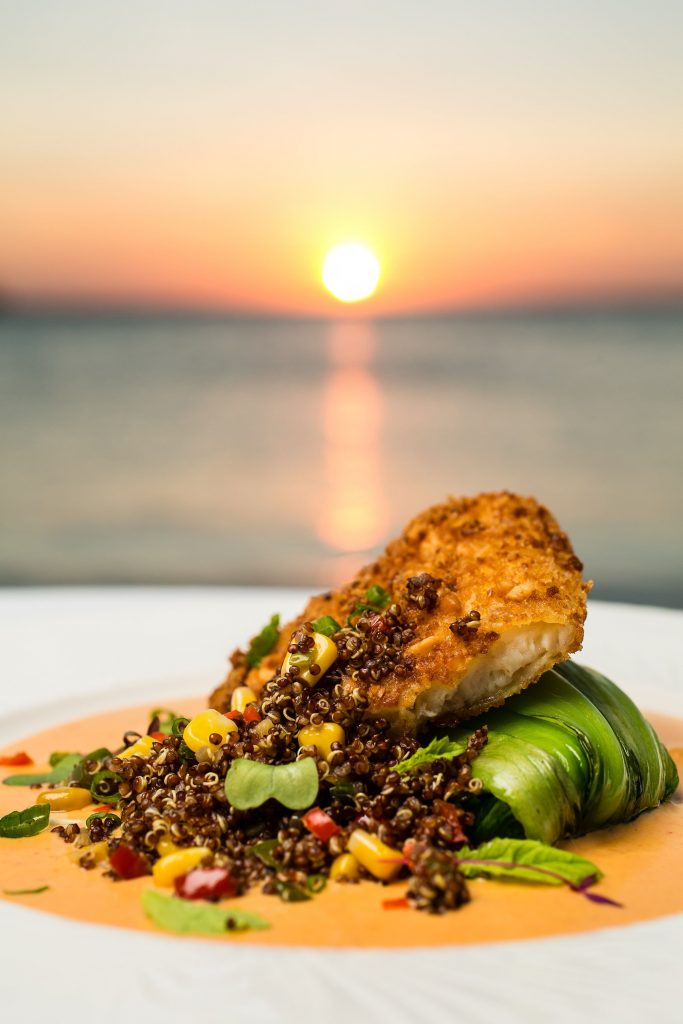 Q: What sets the food and beverage program at Aruba Marriott Resort apart from other resorts on the island
A: Marriott has a very strong culinary team so we are always informed about new techniques, or the latest trends. We try to differ by innovating and try to make ourselves better every day.
Q: How many different restaurants can be found at the resort?
A: Atardi, Ketsu, Ruths Chris, La Vista, The Great room
Q: Can you elaborate on the type of cuisine offered at each restaurant?
A: Atardi – Caribbean beachfront restaurant
Ruth's Chris – American Steakhouse
La Vista – International buffet and Italian a la carte menu
Ketsu – Sushi restaurant
The Great room – cocktails and light fare menu
Q: Atardi Restaurant, (formally known as Simply Fish) located on the beach has always attracted guests because of its beautiful beachfront setting, what sets Atardi apart from the other beachfront restaurants on the island?
A: Our menu has the freshest seafood and impeccable presentation. Our staff also makes it a point to go above and beyond and make sure that every dinner at Atardi is a memorable experience.
Q: Has the food or wine menu altered since the restaurant name change?
A: Not drastically. We modified a few items from our menu, depending on our best sellers and guests requests.
Q: La Vista Restaurant has always been a great success with tourists and locals alike.  The extensive, daily buffet is a big hit!  Can you tell us more about what the buffet entails?
A: Yes, our breakfast buffet has a little bit of everything, the freshest fruit smoothies, with a made to order omelet and waffle station accompanied by breakfast sides, fresh deli meats and cheeses, fresh baked breads and pastries and much more. We have recently introduced a Gluten free station as well.
For dinner, we have a variation of themed nights and of soups, salads, an assortment of hot entrées, live cooking station, carving station, pasta station, pizza station as well as a decadent dessert station.
Q: Does La Vista still have its famous seafood night?  Or any other nightly specials?
A: Yes, La Vista is known for its variety of buffet options, making sure there is something for everyone; such as Italian Night, Flavors of the World Night as well as the famous Baked Lobster Night, where you'll find a large assortment of fresh seafood and much more.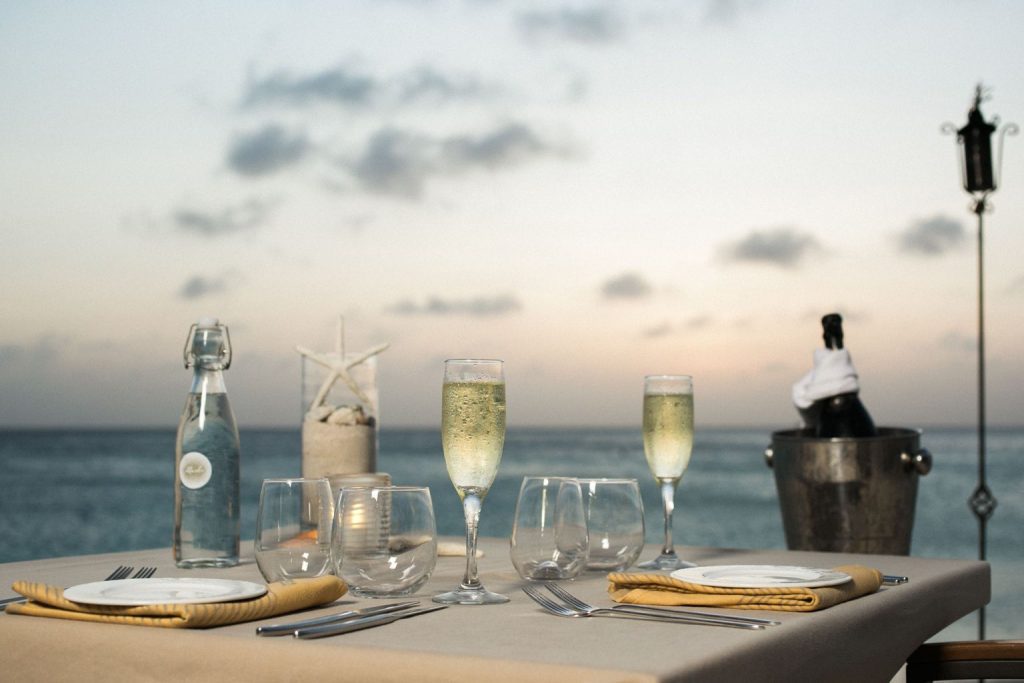 Q: Are there any new, exciting changes or plans in store for the food and beverage program?
A: We will be having our own Gelato Lab where will be presenting unique flavors.
Q: Last but not least, we want to know…in your opinion, which dish is a MUST try at Aruba Marriott Resort?
A: La vista – Risotto from the Italian a la Carte menu
Ketsu – Acevichado roll and Caribbean roll
Atardi – Macademian grouper
Ruth's Chris – Seafood tower and the Rib eye
For more information and reservations, you can call
La Vista at +297 520-6312, Atardi at +297 520-6537 and Ruth's Chris at +297 520-6600, don't miss out on their exquisite menus.