Tert di Pruim (Prune Tart)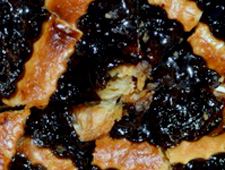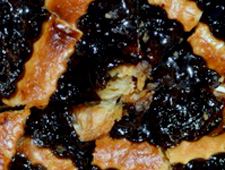 Soft crusts stuffed with sweet gooey prunes, yet very rich in taste that will make you ask for more.
read more
Ingredients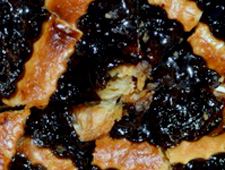 Dough:
1/2 pound margarine
3/4 cups cold milk
1 egg
1 teaspoon salt
2 teaspoon baking powder
2 cups white cornmeal flour
Filling:
1 pound pitted prune
2 cups water
1 pound brown sugar
3 tablespoons white cornmeal flour
1/4 teaspoon of mace
1/4 teaspoon cloves powder
1/4 teaspoon cinnamon powder
Directions
Preparation of the dough:
Add together the cornmeal flour, salt and baking powder in a bowl. Add the margarine, pour the cold milk little by little, and start kneading with your fingers. Keep on kneading until it smoothens. In a 8" pie form press the dough firmly against the bottom and the sides. Keep the rest of the dough in the fridge.
The filling:
After cutting the pitted prunes in small pieces, add them in water in a pan and start cooking. Mix the brown sugar and the flour, with a wooden spoon in the prune mixture. Keep on mixing with the spoon so it does not stick to the pan, and until it solidifies. Lower down the fire, add and mix the spices (cloves powder, mace and cinnamon powder) in the mixture. Turn off the fire and let the filling cool down completely. Add the prune filling into the pie form and spread it equally to the top. Take the kept dough from the fridge and create long strip to cover the prune mixture with it. Set the pie in the oven and bake at 400° for 45 or 50 minutes. Let it chill down. Slice and serve.