Spiced Yucca Chips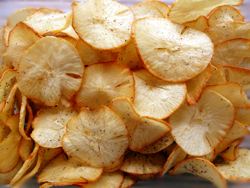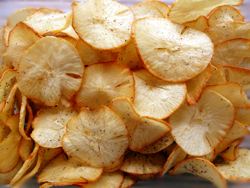 Yucca is rich in fiber and carbohydrates, an exotic new taste and great alternative to potato chips.
read more
Ingredients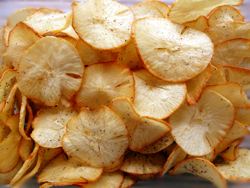 2 1/2 pounds fresh yucca, cut into 4" sections
vegetable oil
1 tablespoon chili powder
3/4 teaspoon salt
pinch of cayenne, or to taste
Directions
With a sharp paring knife make 1/8" deep slit down lengthwise of each yucca section. Use knife to pry off brown-white layer. Use 1 mm processor slicing disk to slice yucca crosswise or hand slice to 1/16". Separate slices and drop one at a time into hot oil. Fry in batches turning, 1-2 minutes or until pale golden.
Transfer as fried to paper towels to drain. In small bowl stir together chili powder, salt and cayenne. In large bowl toss chips with seasonings.