Shrimp, Tuna and Macaroni Salad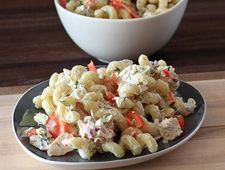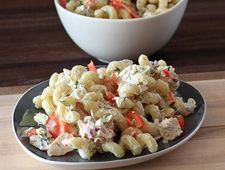 A favorite salad to company your roast chicken or barbecue dish.
read more
Ingredients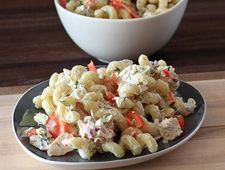 1 1/2 cups uncooked macaroni
1 tablespoon lemon juice
1-4 ounce can small shrimp, drained
1-7 ounce can tuna fish, drained
3 large hard boiled eggs, chopped
3/4 cup diced celery
2 medium kosher-style dill pickles, chopped 
1/4 cup green an/or red bell pepper, diced
2 medium carrots, grated
1 small onion, minced
3/4 cup mayonnaise
1 tablespoon sour cream
1/2 teaspoon Coleman's English Dry Mustard
Directions
At least 4 hours before serving, cook macaroni according to directions. Drain. Place in large bowl and sprinkle with lemon juice. Add shrimp, tuna fish, eggs, celery, pickles, bell pepper, carrots and onion. Mix well. Stir mayonnaise, sour cream and mustard in small bowl and pour over salad. Mix thoroughly. Chill.
Note: Third egg may be sliced and used for garnish, if desired.