Sancochi Di Galinja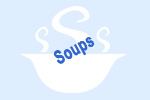 Sancocho comes from the Spanish verb sancochar which means "cook in water" it is a traditional soup often considered as a stew. It usually consists of large pieces of meat and vegetables served in a broth.
read more
Ingredients
3-3 1/2 pound chicken, cut into serving pieces
3 quarts of beef stock or 6 cups canned beef broth and 6 cups water
4 large tomatoes, peeled, seeded, coarsely chopped or 2 cups Del Monte chopped, drained canned whole tomatoes
2 medium-sized fresh, frozen, or canned corn-on-the-cob, cut into 3" pieces
2 medium-sized yams (about 1 lb.) peeled, cut crosswise into 1/2" slices 2 small boiling potatoes, peeled, cut into 1/2" pieces
1/2 pound calabas (West Indian, pumpkin) or Hubbard squash, peeled and cut into 1/2" pieces
About 1 1/2 cups green peas
2 small hot chili peppers, stemmed, thinly sliced (or Madam Jeanet to taste) salt and freshly ground balck pepper, to taste
2 tablespoons chopped scallion, green part only
Directions
Combine chicken and stock in 6 -8 quart casserole. Bring to a boil over high heat. With slotted spoon, skim off fat and cloudy residue. Reduce heat to low. Cover partially and simmer for 45 minutes. Skim fat again. Add all vegetables and seasonings, except scallion. Bring again to a boil. Reduce heat and simmer partially covered 20 minutes more or until chicken and vegetables are tender but not falling apart. Stir in scallions.