Salsa alla Liguria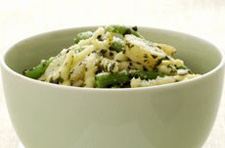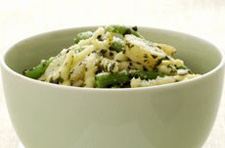 Not a typical Aruban sauce. Pour sauce over steaming hot pasta and complete with Parmesan cheese.
read more
Ingredients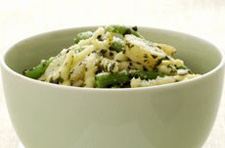 1 1/2 cups garlic-infused extra virgin olive oil
4 large garlic cloves, scored
2 garlic cloves, chopped
1/2 cup Del Monte golden raisins
1/2 cup pine nuts
1/8 teaspoon dried thyme
1/8 teaspoon dried basil
1/8 teaspoon dried chervil
Crushed red pepper, to taste
Freshly ground black pepper, to taste
1 cup chopped fresh parley leaves
1 cup small toasted croutons
1 cup Parmesan cheese
1 pound pasta, preferably linguine
Directions
In medium pan, heat oil with scored garlic cloves over low heat until cloves begin to color. Remove from heat and allow to rest for 5 minutes. Add additional garlic cloves, raisins, pine nuts, thyme, basil, chervil, crushed red pepper, freshly ground pepper, half cup parsley, half cup croutons. Stir. Return pan to moderate heat. Cook until garlic just begins to brown. Do not allow any ingredients to burn. Place well drained steaming hot pasta in warm bowl. Pour half sauce over with half Parmesan. Toss until well coated. Divide among 4 warm bowls. Garnish each serving with remaining sauce and Parmesan, croutons and parsley. Serve immediately.