Pudin di Coco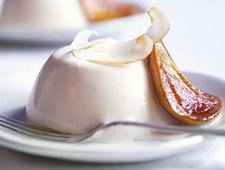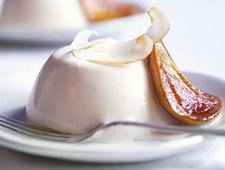 Coconut pudding
read more
Ingredients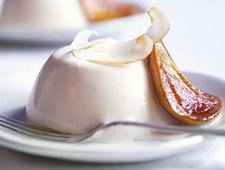 2 Tbs. gelatin
3 egg yolks, beaten until creamy
1/2 cup sugar
1 cup coconut milk
1 cup milk
3 egg whites Pinch of salt
1 cup heavy cream
Directions
Soak in one-fourth cup rum:
2 Tbs. gelatin

In a saucepan combine:
3 egg yolks, beaten until creamy
1/2 cup sugar
Stir in:
1 cup coconut milk
1 cup milk
Cook over low heat, stirring constantly, until mixture thickens.
Blend in the gelatine until it dissolves.
Chill in the refrigerator until the mixture begins to thicken.
Beat until stiff but not dry:
3 egg whites Pinch of salt Gradually add while beating:
1/2 cup sugar
In a separate bowl whip until stiff:
1 cup heavy cream
Beat the custard mixture with a wire whisk, then fold it gently into the egg whites.
Fold in the whipped cream.
Mound the pudding in a serving bowl and chill until firm.

Serve with lime sauce.