Signature Papaya Fish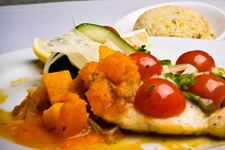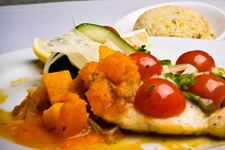 Red snapper filet, confetti polenta and The Old Man & The Sea's famous signature papaya sauce.
read more
Ingredients
1 whole ripen papaya
1/2 onion
1/2 liter fish stock
1 cup heavy cream
1/2 de-seeded Madam Janet hot pepper
Salt
1 tablespoon sugar
Pepper
Directions
Have all these ingredients boiled together for at least 20 minutes. Remove from the stove to cool. Liquefy all the ingredients together, pour mixture in a medium sauce pan on low heat. Add 1/2 cup heavy cream and Madam Janet pepper. Salt and pepper to liking.
Fish preparation
1 thinly slices red snapper filet, lightly seasoned with salt and pepper, dusting of flour and pan fried in sweet clarified butter until golden brown.
Confetti polenta: is broiled corn meal, with sauteed mirepois, spinach, olives and sweet butter. Bring all ingredients to boiling point and slowly whisk in the corn meal until thick. Have a metal tray at hand, cover the base of the tray with butter and pour mixture on tray and spread evenly. Let the mixture cool, cut and serve!
Courtesy of: The Old Man & The Sea