Lobster Bisque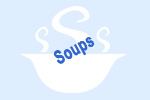 This smooth, creamy, rich soup of French origin is made from lobster and is sure to please, courtesy of Simply Fish.
read more
Ingredients
3 oz cull lobster
1/4 oz olive oil
1/2 oz diced yellow onion
1/2 oz diced celery
1/2 oz diced carrots
1/4 oz tomato paste
1/4 teaspoon chopped garlic
6 oz water
1/4 oz roux
1/2 oz dry or cognac sherry wine
1/2 each bay leaf
1/2 teaspoon fresh thyme
1/4 teaspoon paprika
1 pinch ground white pepper
1/4 teaspoon fresh tarragon
1 oz heavy cream
1 pinch cayenne pepper
Directions
1. Pre-cut and measure/weigh all ingredients separately.
2. Cut lobsters in half, lengthwise set aside on sheet pan.
3. In an appropriate size sauce pot or kettle, heat oil.
4. Place celery, onion and carrots in sauce pot and saute until onions are translucent but not brown.
5. Add lobster halves. Stir and continue to cook on medium heat for 5 minutes.
6. Add sherry wine (or cognac), "flambe it" (use caution when igniting alcohol). Add water, garlic, herbs, pepper and paprika.
7. Bring to a boil and simmer for 5 minutes.
8. Remove all lobsters from stock. Set aside to cool on sheet pan (keep the stocks simmering).
9. When lobsters are cool enough to handle, remove meat from tails and claws. Rinse meat under cold water. Drain well. Keep it refrigerated for later use.
10. Place all of the lobster, cleaned shells, bodies, legs, etc. into an electric mixing bowl with paddle attachment (or buffalo chopper). Turn it on the lowest speed to crush all shells until a mushy mixture is achieved.
11. Add this mixture into the stock and let simmer for another hour.
12. Strain liquid through a china cap into another saucepan to remove all solids and discard them.
13. Bring back to simmer; add tomato paste, salt & pepper and lobster base. Mix well to combine.
14. Add roux, a small amount at a time, whipping continually with a wire whip. When proper thickness is achieved*, allow bisque to simmer for 10 minutes.
15. Taste and correct seasoning, if necessary.
16. Pour through a finer china cap (chinois) to remove all impurities and discard them.
17. Dice the lobster meat into 1/2 pieces.
18. Add and cream to bisque and serve hot-immediately-or after step #16, cool down lobster bisque in an icy water bath to below 40 F and rapidly refrigerate in proper container for later use for up to five (5) days.
Depending on quantity of stock left after reduction and regional preference for thinner versus thicker product.
Note: If a darker red color is desired, add more tomato paste, a little at a time, blending it well with a wire whip.