Citrus Chicken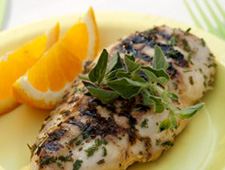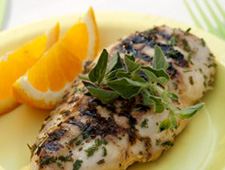 The chicken marinates in citrus juice so the meat stays tender.
read more
Ingredients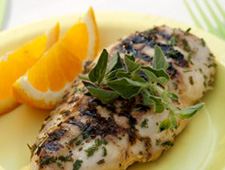 1 medium onion, sliced
6-8 garlic cloves, thinly sliced
1/4 cup olive oil or corn oil
1/2 cup fresh orange juice
1/3 cup fresh lime juice
3 tablespoons white wine
1 tablespoon sugar
1 teaspoon salt, or to taste
1/4 teaspoon freshly ground black pepper
1 teaspoon Roland white wine vinegar
Tabasco, to taste, optional.
3 1/2 pound roasting chicken
Garnishes: orange and lime slices, cilantro and / or parsley sprigs
Directions
Sautee onion and garlic oil in large deep skillet until soft, but not browned. Add orange and lime juices, wine, sugar, salt, freshly ground pepper, vinegar and Tabasco, stirring to mix well. Bring to a boil and remove from heat. Cool. Set aside 1/4 cup mixture and chill, covered. Place chicken in shallow baking dish and pour remaining sauce over. Cover and refrigerate at least 8 hours or overnight, turning chicken occasionally in marinade.
Remove chicken from marinade; discard marinade. Pat chicken dry with paper towels, place on lightly greased rack and place rack in baking pan. Bake in pre-heated 400 oven for 15 minutes. Reduce heat to 350 and bake for 1 hour to 1 hour 15 minutes, basting with reserved 1/4 cup marinade mixture. If chicken becomes too brown, cover with foil tent. Cut chicken into serving pieces and place on serving platter with garnishes.