Carnival Calamari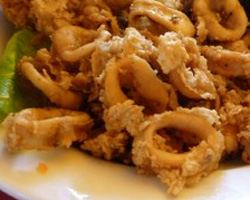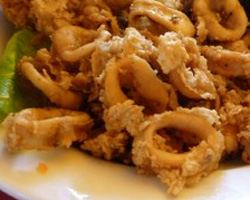 Dedicated to the greatest Aruban celebration
read more
Ingredients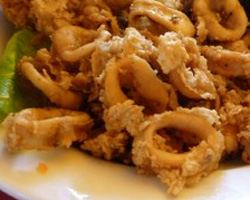 Sauce ingredients: (should be made prior to preparing calamari)
1 pound fresh whole, peeled tomatoes or 1-28 ounce can Del Monte whole tomatoes
1 tbs. olive oil
1/2 green bell pepper, chopped
1 stalk celery, chopped
1/2 cup chopped onion
3 cloves garlic, minced
salt and freshly ground black pepper, to taste
Ingredients: (should be made prior to preparing calamari)
3 pounds calamari (squid), cleaned and cut into bits and pieces
1/3 cup olive oil
1 tbs. minced garlic
1/4 cup B&G Graves (dry white wine)
1 cup dry Sherry
juice of half lemon
1/4 tsp. chopped fresh lemon peel
1 tbs. fresh oregano
1/4 tsp crushed red pepper, or taste
Directions
Sauce preparations:
Smash tomatoes with their juice and set aside.
Heat oil in medium-sized in medium sized pan. Add pepper, celery, onion and garlic and sautee, stirring occasionally until onion is transparent. Add tomatoes and their juice, salt and freshly ground pepper and simmer over low flame for 25-30 minutes, stirring occasionally.
Add more liquid if necessary, to keep from sticking and burning.
Preparations:
In large skillet heat oil over high heat. Do not allow to smoke. Add garlic and sautee, stirring. Add wine, Sherry, lemon juice, lemon peel and stir.
Sprinkle basil and oregano over and stir again. Add calamari. Sautee, stirring occasionally for about 4 minutes over high heat. Do not overcook.
Pour sauce over calamari and heat for 1 minute, stirring.