Caldo de Pescado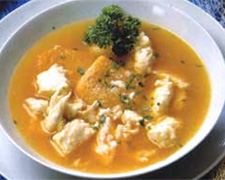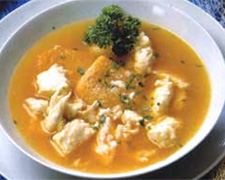 Celia Cruz, Legendary Cuban salsa singer Celia Cruz has held the title "Queen of Latin Music" for over 40 years. "With her throaty alto rasp, she trades Afro-Cuban rhythms with pop tunes, salsa with soulful ballads" before huge and continually growing audiences of all ages around the world. Celia has performed often in Aruba over the years and was a timeshare owner here. (Recipe reprinted from The New York Times with permission of Ms. Cruz.)
read more
Ingredients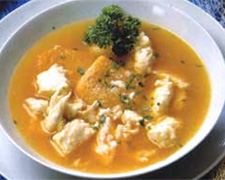 1 whole grouper or sea bass (about 1 1/2 pounds).
2 cloves garlic, chopped.
1 medium onion, quartered 1/2 teaspoon dried thyme.
1 bay leaf 10 black peppercorns.
2 tablespoons olive oil.
4 green bell pepper, seeded and chopped 4 plum tomatoes, peeled, seeded, and chopped.
1/8 teaspoon turmeric.
1/4 teaspoon cayenne pepper.
2 medium potatoes, peeled and cut into 1/2" cubes.
2 tablespoons chopped cilantro* or to taste.
Salt, to taste.
Directions
Fillet grouper or sea bass; reserve head and bones. Place head and bones in a large pot. Add 1 clove garlic, onion, thyme, bay leaf and peppercorns. Cover with 2 quarts of water and bring to a boil. Reduce heat to medium and simmer for 20 minutes. Strain and set broth aside: broth should measure 6 cups. Discard solids. Heat olive oil over high heat in another pot. Saute remaining garlic and green pepper for 2 minutes. Stir in tomatoes, turmeric, cayenne pepper and potatoes. Add broth and season with salt. Bring to a boil and simmer for 15 minutes. Cut fish filets into 1/2" pieces. Add to soup. Simmer another 10 minutes. Adjust seasonings to taste. Sprinkle with cilantro. Serve immediately.