Bolo di Tres Lechi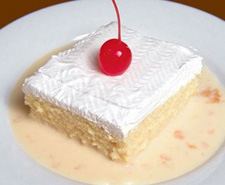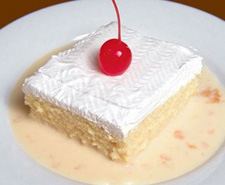 Tres leches cake
read more
Ingredients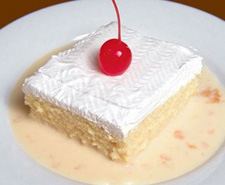 Cake / Pan Lefi:
6 eggs
2 cups of sugar
2 cups of milk
1/2 cup of milk
3 teaspoons of baking powder
1 teaspoon of vanilla
Cream:
1/2 large can of condensed milk
large can of evaporated milk
1 cup of whipped cream
2 egg yolks
Merengue / marshmellow cream:
4 egg whites
2 cups of sugar
2/3 cups boiled water
3 drops of vanilla
Directions
Cake / Pan Lefi: Beat the egg whites until it becomes "snow like". Then slowly add the egg yolks, sugar, flour milk, baking powder and vanilla. Pour this mixture in a large "throw away" foil pan. Bake in a 350 degree oven for about 30-40 minutes. When done let cake cool. After it has cooled poke the entire cake with a chopstick or anything similar
Cream: Beat the egg yolks with a little bit of evaporated milk. Slowly add the condensed milk, whipped cream and the rest of the evaporated milk until it is all mixed well. Pour this cream mixture over entire "poked" cake/panlefi and let it soak or penetrate into the cake/panlefi.
Merengue / marshmallow cream: Beat the egg whites. Add the sugar, water and vanilla. Spoon this mixture over the entire cake. This can be replaced with marshmallow fluff which can be purchased in your local supermarket. Place in freezer for one hour, serve and enjoy!