Bakiyou (cod fish)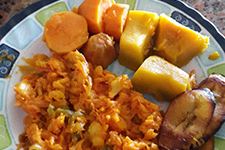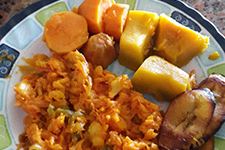 During lent this recipe has turned into one of the favorite dish of the season. It becomes a complete meal with rice with sweet red kidney beans or with steamed pumpkin, steamed sweet potatoes and fried plantain.read more
Ingredients
1

lb.

salted cod fish

2

tbsp.

salad oil

2

tbsp.

olive oil

1/2

cup

chopped onion

1/4

cup

chopped green pepper

1

tbsp.

chopped parsley

2

cloves

garlic, minced

2

tbsp.

tomato paste

1

medium

tomato

1/4

tsp.

pepper (preferably white)

2

tsp.

Worcestershire sauce
Optional:

1

tbsp.

capers

1

canned

red pimento
croutons
and for the hot fanatics 1 Madame Janet or 1 teaspoon of papaya hot sauce
Directions
Leave the cod fish in water overnight or for several hours to reduce the saltiness, changing the water once. Cover the fish with fresh water and bring to a boil. Cool. Remove bones and skin, then flake.
Saute the vegetables in oils until all are transparent, add tomato paste, 2 tablespoons water, Worcestershire sauce and pepper. Add the codfish and simmer for 15 minutes until heated through and codfish takes on flavoring. Serve with hot rice, or with steamed veggies and fried plantain.
*side note: "Bakiyou" is often times also referred to as "Bacalou" by locals.