main
Cocktail Name
Pina Colada II
Recipe Description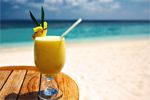 Garnish with fresh pineapple.
read more
Instructions
Ingredients
2-1/2 oz

(5 Tbsp.)

light rum

3 oz

(6 Tbsp.)

pineapple juice

or crushed pineapple (canned)

2 oz

(4 Tbsp.)

coconut cream

3/4 cup

crushed

ice

2 pieces

fresh pineapple

for garnish
Preparation Directions
Put ingredients, except fresh pineapple pieces, in a blender and blend at medium-high speed for 15 seconds.
Pour into a chilled collins glass or stemmed goblet.
Garnish with fresh pineapple.
Tip: substitute tequila for rum.