main
Cocktail Name
Cosmopolitan
Recipe Description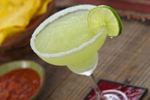 A classic, became really popular with the Sex and the City series.
read more
Instructions
Ingredients
1 oz. Cointreau
3.0 oz. Cranberry Juice
0.5 oz. Lemon Juice
2 oz. Vodka
1 Slice Lime
Preparation Directions
Stir or shake with ice and strain into a chilled martini glass. Garnish with a slice of lemon.