main
Recipe Description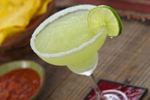 Cabuya in Papiamento means rope in English, we believe it indicates the color of the drink.
read more
Instructions
Ingredients
1 oz. Baileys Irish Cream
1 oz. Coconut Cream
1 oz. Creme de Banana
1 oz. Ponche Crema
1 oz. Triple Sec.
Crushed Ice
Banana
Preparation Directions
Mix all ingredients in a blender.