By Air
Aruba's Reina Beatrix International Airport normally receives over 150 flights per week from various cities in the USA, Canada, several countries in South America, the Netherlands, the United Kingdom and other Caribbean islands.
On this page you will find information about the peak hours at the airport, US pre-clearance, departure tax, transportation possibilities to and from the airport, and flight booking.
More information is available on our Airlines & Flights page, including which airlines fly to Aruba and their flight schedules. Please also take a look at our Air Travel Tips page with information about security measures, guidelines for passengers traveling with medication and/or medical issues, duty-free shopping at the airport, and guidelines for importing foods, pets, and other products to Aruba.
Book your flight to Aruba!
Peak hours and recommended check-in times
In general, peak hours at the Aruba Airport for US departures are on Friday - Sunday from 11:30 am to 15:00 pm. It is recommended to reserve additional time for check-in and customs on these days.
Check-in
Check-in time for all flights to the United States is three hours before departure.
Check-in time for flights to all other destinations varies from two to three hours. It is recommended to verify the check-in time with your airline.
Important: The Aruba Airport Authority has announced temporary elimination of the below "Passenger Flow Control" Check-in for US-bound passengers.
*Recommended check-in time for US flights remains 3 hours in advance
Passengers leaving Aruba on flights to the USA will be part of the new flow control program at the Aruba Airport. This program is designed to provide visitors with more prompt service and a reduced crowd at the airport. Travelers will be requested to arrive at the airport during a specific timeslot based on the Scheduled Departure Time on their airline ticket. Access to the check-in areas will only be granted to visitors when they arrive during the indicated times
| | | | | |
| --- | --- | --- | --- | --- |
| Group | Yellow | Blue | Green | Orange |
| Departure time | 2 PM or earlier | 2 PM - 3 PM | 3 PM - 4 PM | 4 PM or later |
| Check-in | 8 AM - 10:30 AM | 10:30 AM - 11:30 AM | 11:30 AM - 1 PM | 1 PM - 3 PM |
Passengers should double-check their departure times and coordinate with their hotels, tour operators, and transportation companies in order to ensure that they will arrive at the right time.
US pre-clearance
Aruba has US pre-clearance for all passengers traveling to the United States. This means that you will go through passport control in Aruba at the U.S. Customs & Border Protection facility and once back in the US you don't have that hassle.
At check-in one Custom Declaration form per family will be handed out and must be filled-in before entering the U.S. pre-clearance facility. After checking-in proceed to the Aruba Immigration where you must present your travel documents. After passing the Aruba Immigration you will need to pick up your baggage (which you would have dropped off during check-in) and go to the U.S. Customs & Border Protection facility. A uniformed U.S. Customs and Border Protection official will then run a computer check and take your Customs Declaration form. Once the official clears you to pass through, you place your baggage on a conveyor that gets it onto your plane. You then clear security, and walk to your gate. You arrive back in the United States as a domestic passenger and walk off the flight as if you were arriving from any other point in the US.
Departure tax
The departure tax (passenger facility charge) is normally included in your ticket price, but it would be recommended to double-check this with your airline or contact the Aruba Airport.
To and from the airport
There are several ways to get to and from the airport. These are the most popular options:
Airport transfers
Airport transfers can be arranged for either individuals or groups and need to be made before arriving on Aruba. Upon arrival on Aruba the tour operator will be awaiting you after which they will bring you (and your party) to your resort.
Transfer Services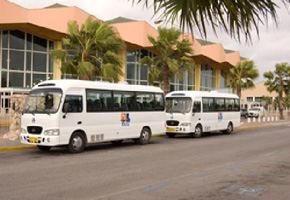 EL Tours staff member will meet and greet you at the airport or at the Cruise ship terminal and will escort you to the bus. Read more
---
Car Rentals
Several car rentals have their office at the airport across from the arrival terminal, but there is also a shuttle service available from and to the airport for car rentals with offices located outside the airport.
Please see below list of car rentals with offices at the airport:
Alamo
National
Dollar
Hertz
Shuttle service is available for the following car rentals:
Taxis
There are always several taxis waiting in line to bring you to your destination. Taxi rates are fixed as pricing is based on the destination instead of the distance. For more information about the taxi fares on Aruba, please click here.
Public transportation
Just outside the airport there are bus stops which are regularly serviced by Arubus which is Aruba's public bus service. Several public buses have a stop at the airport and you can take any of these buses in the direction of Oranjestad. At the bus station you can switch to bus line 10 which will take you to the low and high rise hotels.
The fee for the public bus is $2.60 per bus ride.
Parking
The airport has a large parking lot which operates with a ticket system. To enter the parking lot, you will need to take a ticket from the ticket machine next to the entry barrier and before leaving the airport you would pay for your ticket at one of the two pay machines located in the arrival terminal. After the ticket is paid you will have 15 minutes to leave the parking lot. Your paid ticket would need to be re-inserted next to one of the machines near the exit barriers.