The Numismatic Museum of Aruba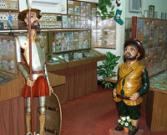 Don Quichote & Sancho Panza guarded the entrance of the Numismatic Museum. The Numismatic museum was established on November 13, 1981 and lodged the private collection of Mr. J. Mario Odor and was the first Numismatic museum established on Aruba. The museum contained over 35.000 different pieces covering over 400 countries.

The fantastic collection consisted of about 115 different collections, a.o.: Primitive, Strange, Proof, Zoo, Counterstamp, Overstruck, Mini, Chop coins, Leprosium, Errors, Gold, Ration, F.A.O., Square, Dollars & Crowns, Commemoratives, Centerhold, Scalloped, Tokens, Wooden, Food coupons, and also Chips, Medals and much more.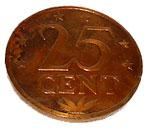 For those devoted to History, the Numismatic Museum, unique in this region and perhaps was the most extensive one of Central America and the Caribbean, offered a view on the powerful "Roman Empire", "Ancient Greece","Chinese Dynasties", "Mystic India", "Egypt", and the famous "Byzantine Empire".

Further on you could see large sets of German and Japanese occupation notes and special issues of the concentration camps and also of the more recent war "Operation Desert Storm". All these were well displayed and described with date, ruler, denomination and country.

For the lover of the Latin American continent the collection offered an extensive history, from the coins brought from the old world to the most modern ones. There was one that was led from the kingdom of Peter I of Brazil, through the Argentinean confederation, to the Colonial Bolivia, to the Republic of Granada, the Venezuelan Guyana, to Spanish Mexico and Mexico of Maximilliano.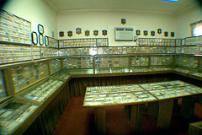 Looking over the collection one will remember Roman Britain, Feudal Europe, cities and countries that are long forgotten. The Numismatic Museum guided you through the infinite passage of time, a road marked out by the swords and spears of the great emperors, kings, dictators, wars, blood and glory.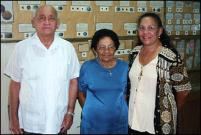 Mr. J. Mario Odor with his wife and daughter.

Much to our grief Mr. Odor the founder passed away February 25th 2001.
The Numismatic Museum of Aruba


Weststraat Z/N
Oranjestad, Aruba

The Numismatic Museum is permanently closed as the collection was sold.

[ All information & pictures by Carib Media, courtesy of the Aruba Numismatic Museum ]