Scuba Diving in Aruba
One of the most unforgettable experiences while in Aruba is scuba diving. Divers see a fabulous array of corals and fish, some even spot a seahorse and see how stingrays hover above the seabed. Swimming slowly over the corals, you're bound to see lobsters, moray eels and other exotic sea life. If you're lucky, you may even come across an energetic dolphin or a gentle sea turtle. Aruba is known as one of the main wreck diving destinations in the Caribbean allowing divers to visit eleven wrecks and over twenty dive sites

click here to see the dive map.

read more about diving courses.

Dive sites article by S.E. Aruba Fly'N Dive (Dive Shop).
Featured Dive Operators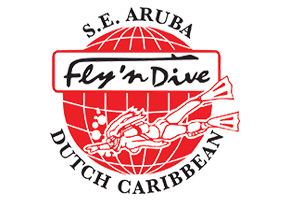 S.E.Aruba Fly 'n Dive / Diver Factory offers you a way to discover Aruba's natural resources and scenery. Whether you want to become a diver, continue your education or just enjoy some great diving on Aruba, our international instructors can teach and show you the way. Read more
---
Featured diving activities
Scuba diving equipment may seem pretty complicated to the uninitiated scuba diver. Should you choose to enroll for a one-hour course in a pool you'll find it's not as difficult as it seems. You'll learn to clear your mask while underwater and your Aruba scuba diving instructor will patiently practice the diving skills with you until you feel comfortable and in control of your equipment. After the initial pool session is complete, you will then dive with your instructor and other scuba divers at various scuba dive-sites near the Aruba coast.

Scuba diving near Aruba's south coast is often fascinating and calm since this is the lee side of the island and as a result waves and currents are not as strong. The northern coast is also spectacular, though much rougher, as the sea splashes onto the shore with more momentum from a much longer distance.
Off the south coast of Aruba, you can do a reef dive at Mangel Alto, which is located between Oranjestad and San Nicolas, near the drive-in cinema. There is an abundance of corals in all shapes and sizes; and colorful fish ranging from electric blue to bright orange.
You can also go reef-diving at Baby Beach, at the eastern-most part of Aruba, and also at Malmok Beach, near the California Light House on the northern end of the island.
Wreck scuba diving in Aruba
In addition to the Antilla, there are a several other wrecks near Aruba that make for great scuba diving. Let your imagination run free and add to the mysteriousness of these age-old wrecks lying at the bottom of the sea. Where was the captain's cabin? What caused the ship to sink? Was it a war ship? You may find it helpful to learn about the site by reading beforehand or asking your dive instructor.

Once you begin your dive you'll notice the numerous fish in and around the wreck that are feeding on variety of marine vegetation thriving in the area.
Night scuba diving
In addition to reef scuba diving, night diving is also very popular in Aruba. Reefs look completely different at night. The combination of spectacular reefs combined with the adventure factor will give you a thrill you'll never forget. An underwater torch will enable you to get a clearer look at all there is to see.
Aruba Reef scuba diving
This is by far the most popular type of scuba diving in Aruba. Depending on where you dive, you'll be able to see corals of all shapes, lengths and colors including those found at shipwrecks and rock formations. Each place you choose to go scuba diving in Aruba has its own uniqueness and every time you go will be different from the last.
Wall scuba diving
In scuba diving terms, a wall means a steep plunge of the seabed going down for many meters. Many divers find this is the best way to go scuba diving since many fish live and feed off the wall. The vastness of the blue water above and beyond the wall is a thrilling feeling.

If you are not interested in scuba diving in Aruba, but still want to explore Aruba's vast waters, consider renting snorkeling equipment or taking a tour on a glass submarine.